All hail victorious Caesar! Shard Phoenix will make its way to 9th Edition, and I'd like to think it was, in some small part, my words that convinced you to vote for the superior card.
I beat Ted so badly that he's gone underground to lick his wounds. My opponent today is Josh Rider, who I hear is the mayor of Alaska. Fancy politicians do not scare me, because they are all susceptible to one driving force:



Blackmail.
When I think about the color Black in Magic, I think about dirt. You know, Grave Pact, Dirty Wererat, Gravedigger – just getting in there and raking the muck. I've been around this game for over a decade now, and nobody has more dirt on people than me.
Sure, Josh will try to convince you that Addle is a superior card to Blackmail. History will show that Addle saw a lot of play while it was legal, while Blackmail was a huge disappointment. None of that matters, because each and every one of you is going to go and vote for Blackmail this week, see?
That includes you, Bennie Smith. If you know what's good for you, you'll go click on Blackmail as your 9th Edition discard spell of choice, or they'll be calling you Ben"no knee" Smith instead, if you catch my drift.
EDT, two words: Grassy Knoll. Two more words: Vote Blackmail. Capice?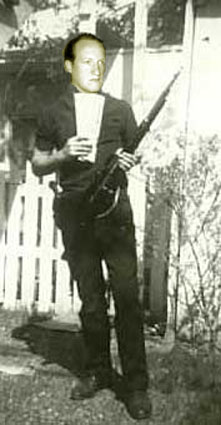 Photography courtesy of Tybuc
I better hear that each and every one of you mugs went and picked my card for 9th Edition, or you'll all be sleeping with the fishes. Wearing cement shoes. Doing the J. Edgar Hoover fashion show.
Josh Rider, you better change your vote from Addle to Blackmail or those picture of you and Geordie Tait doing you know what with Josh Bennett fro.
Nuff Said.
The Bleiweiss
Bonus section: You call this discard?

Wow, when I saw this week's dilemma, I got my mind in a twist. You know, my mind was really warped. You couldn't coerce me into thinking up a worse choice of cards than these two. It really addled me to see such poor choices this time around. Someone must have been blackmailed or duressed into having us choose the worse of two discard spells. I think that we should ostracize the selecting 9th Edition committee, or at least send them into therapy for a while.
I don't want to persecute any one particular person, but having to write a dilemma about the worse of two evils makes me want to abandon hope. It was so bad that my writing was bogged down by the cloak of confusion that had seemingly been thrown over it. I mean, was this the dying wail for this promotion? Did someone insidious bookworm perform larceny on an unsuspecting fellow?
I'm in a stupor. I could unmask the headhunter who was hired to unnerve us, but that would unhinge the very foundations that Wizards is built upon. Better to show my warped devotion by unburdening my words, lest they go to waste.
There's a void that will be left in 9th Edition, and I recoil in oppression at this pox laid on my computer screen. Are these the last rites for the game of Magic we so love? Whatever the verdict, the hint of insanity shown to us will rot and ravel our minds, which burst with the sludge that has peeled below the surface and slashed our grey matter. Be it Addle or Blackmail, these ill-gotten gains will sound a discordant dirge for the color Black in general.