It feels like just yesterday I was joining the StarCityGames.com team as the junior Event Coverage Coordinator, and now eighteen months later the Open Series and SCGLive are bigger than ever! The 2014 season means a lot of new and exciting implications for the Open Series as well as Classic Series and all of our In-Store Programs thanks to the brand-new StarCityGames.com Players' Championship!

The StarCityGames.com Players' Championship is our brand-new annual flagship event, an exclusive sixteen-player tournament that brings the year's four Invitational champions, the Top 4 Open Point leaders at the end of each season, and the Top 8 Open Point leaders not already qualified after the final Invitational of the year together for a knock-down drag-out battle for $50,000 in total prizes!
Would you like to learn more? Yes? Well, lucky for you we have several resources where you can learn the ins and outs of the new championship system! It was announced by Pete Hoefling here, and some frequently asked questions were answered by Evan Erwin here. And the official Players' Championship page has lots of good information on it as well. You can keep tabs on where you are on the leaderboard on the right side of any StarCityGames.com page just below the Organized Play event schedule for the weeks ahead. And follow #SCGPC on social media to keep up to date on the latest in the road to the Players' Championship.
Additionally, I'll be providing a brief recap of the movers and shakers of the week that was on the leaderboard in each of my future weekend preview articles, so be sure to check back each week right here for updates!
But that's later in the year. Let's look a bit sooner into the future to the StarCityGames.com Open Series in Indianapolis this weekend, January 4-5, the first Open Series of 2014! Our home in Indy is our usual Stomping Ground at the Indiana Convention Center: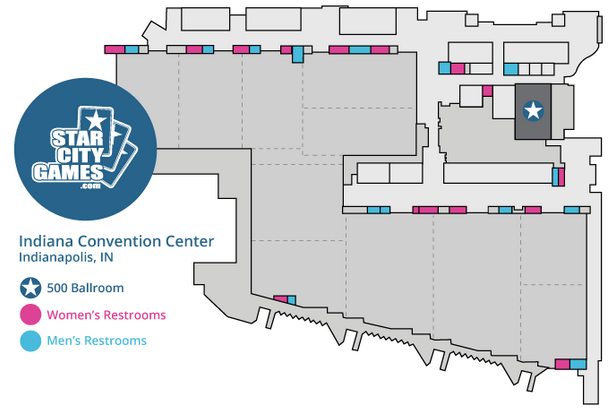 Magic events and Indianapolis go together like Survival of the Fittest and Recurring Nightmare. I'm hard pressed to think of anywhere better suited to run the Open Series. We have it all in the capital of Indiana: a nice tournament location, walking distance to lots of food and lodging options, plentiful parking, and lots of hotbeds of Magic nearby to draw from to get the best competition. It's a great place to start the 2014 road to the Player's Championship, and one you're surely not going to want to miss.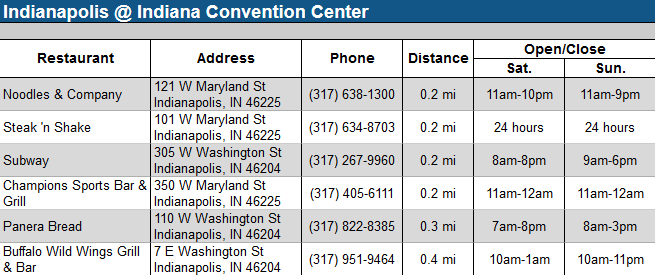 Ah, but from every cloud a little rain must fall. It's time for your regular preview article . . .
Travel alert!
When planning out the Open Series months in advance, it's tough to see where the year will take us. Variables beyond our control conspire against us to make travel difficult. One such variable was locked in last weekend after it became official that the Indianapolis Colts would play host to the Kansas City Chiefs this weekend at Lucas Oil Stadium on Saturday, January 4, 2014. This means an influx of professional football fans from across the Midwest for the Wild Card weekend extravaganza, and with the droves of fans will come more difficult driving conditions, decreased parking options, less vacancies at local hotels, busier restaurants, and more.
Be prepared! If you're planning on staying in one of the city's fine hotels, parking in a parking garage near the convention center, or even just going out for a bite to eat, remember that the stadium is 0.3 miles away from our tournament location!
The gridiron isn't the only place where professionals will be testing their skills . . . and neither will our Open Series competitors be the only experts in attendance! We are honored to be including the presence of Magic artist extraordinaire rk post at the big show in Indy!
rk has done some truly iconic pieces for Magic: The Gathering like Arbor Elf, Avatar of Woe (both regular and PT promo foil), Concentrate (Planechase 2012), Faerie Macabre, Ichorid, Morphling, Sakashima the Impostor, Simic Sky Swallower, Torchling, and more. You can view our interview with rk here.
Ah, but there's more art to be had! It's a brand-new year, and that means brand-new SCG tokens!

Let's talk about the newest exclusive tokens of our StarCityGames.com personalities. Ari Lax, Chris VanMeter, Brian Braun-Duin, William Jensen, and Evan Erwin all got the creative treatment from our in-house artist Kristen Plescow! Receive a set of all five StarCityGames.com Open Series exclusive tokens and a voucher good for one month of StarCityGames.com Premium each time you register to compete in a StarCityGames.com Standard Open!
But what of the Legacy Open? Well, for entering our Sunday tournament, you'll get the next in the popular Creature Collection series: Squirrelstorm!

You'll receive a pair of StarCityGames.com Creature Collection Squirrel Series exclusive tokens illustrated by Liz Nugent and a voucher good for one month of StarCityGames.com Premium each time you register to compete in a StarCityGames.com Legacy Open! How cool is that?
And as always, our Invitational winner token will be given out at both events. As our newest token for champion Max Brown isn't quite ready for the spotlight, the champion from the previous Invitational, Brad Nelson, is the token du jour. So come get your Goats at the Open Series!
Can't attend? That's a shame. Well, you should feel free to join us from home by watching live on Twitch.tv/SCGLive! This weekend we kick the New Year off right with our leading men in the booth, Cedric Phillips and Patrick Sullivan, with lil' ol' me, Reuben Bresler, in the Sideboard. Coverage starts at 10:30 AM on Saturday, so tune in for all of the top-quality Magic tournament action you've come to expect from SCGLive! The hashtag for this weekend's Open Series is #SCGINDY, and you can follow @SCGLive on Twitter to see all of the updates from the floor.
Good luck, have fun, and Happy New Year!
Reuben Bresler
Video and Coverage Content Associate and Social Media Quarterback for StarCityGames.com