Have you ever felt the urge to frustrate all of your opponent's plans? To slowly strip them of all their options, accumulating answers to anything they might do, creating a stranglehold that leaves the game in your hands to finish with the proverbial Mountain Goat? In short, have you ever felt like playing a true control deck? If so, this article is for you. If not, you can probably learn something anyway, knowing your enemy and all that (Sun Tzu was a pretty bright guy, trust me).
Being in control of the game is an exhilarating feeling; you can do whatever you want with your opponent incapable of stopping you (short of conceding, obviously). That's not really what playing control is about, though. The most exciting part of the game when playing control is the struggle – the struggle to get to that point of no return when your opponent's resources are exhausted, and they pray for the perfect topdeck while you already have a fistful of answers to anything they could hit.
Many people consider playing control decks as particularly challenging, often citing the fact that many professional players prefer running control decks if they get the choice as evidence. I don't really agree with this. While it's true that control decks ask you to make many decisions and are highly interactive, allowing you to outplay your opponent, the same is true for many aggro decks. Most good combo decks are, in my opinion, actually harder to play correctly than control decks.
Instead I think that the problems most people encounter when playing control stem from the very different mindset necessary to succeed. Control's game plan just isn't as intuitive as the typical aggro game plan we all get used to when starting to play this game. For newer players, the situation is even worse because true control has been absent from Standard for ages, which means there's a whole generation of players who have never had to deal with actual grind-out control, full of removal, countermagic and card drawing. U/B Control is bringing exactly this style of deck back into the top tier of Standard, and the deck type is alive and kicking in Legacy as well (even though Survival-Vengevine is trouble). Seems like the right time for an article that helps you develop the control mindset.
Sadly, teaching this kind of global approach through writing is hard to do and usually pretty dry even if it works. The one thing I've found that actually helps people "get" control are play scenarios. They're obviously more fun (I mean people read Magic puzzles), but more importantly they teach a global approach by example. This "hands-on" aspect makes the lesson easier to remember and therefore leads to more correct plays being made intuitively.
So what I'll be doing today is to present you with four in-game situations and ask you the seemingly simple question "Whatcha gonna do?" The important part of your answer isn't
what
you'd do but
why.
I'll be drawing two examples from Legacy (it's the format I'm most at home in after all), but the other two will be based on current Standard for the convenience of those that don't share my predilections. Let's go puzzling!
Scenario I (Legacy)
It's your third turn. You're playing a slow blue control deck full of countermagic, removal, and Academy Ruins to recur Engineered Explosives (EE for short) while your opponent has played a Noble Hierarch on turn 1 and a Counterbalance on turn 2, keeping Hierarch untapped (for those of you who don't know Legacy, he's probably playing something close to
this
). Here's the situation after you've drawn for your third turn:
Opponent:
Life: 20
Cards in hand: 5
In play: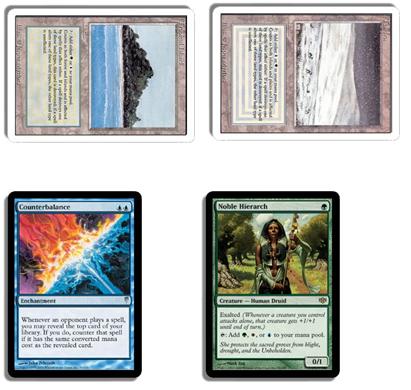 You:
In play:
In hand: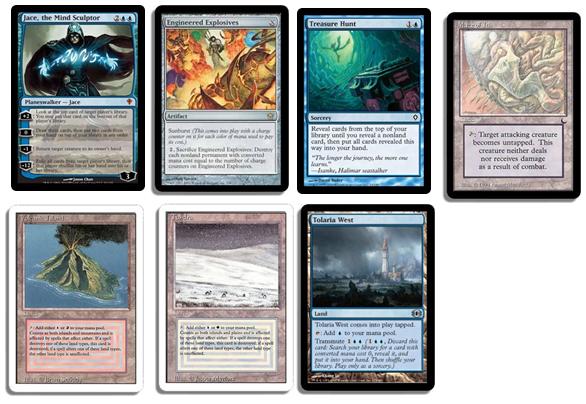 Life: 20
So, what do you do?
Scroll
Down
For
The
Play
The correct play here is Tundra/Volcanic Island, go. Learned much yet? No? Told you the reasoning behind the play was more important than the play itself. Let's go through it step by step.
With EE, Tolaria West to transmute for Academy Ruins and Maze of Ith to stymie his attacks even under Counterbalance, you're pretty much set up to dominate. The one thing you have to worry about is getting Natural Ordered out of the game. If he has it, the only way to make sure he can't play it next turn is trying to kill the Hierarch with EE. This is a bad plan for multiple reasons, though.
He didn't attack with his Hierarch, so he likely has something to play, in all probability a Brainstorm that he hopes to transform into a Dismiss with the help of Counterbalance (could also be Spell Snare or Stifle, though the latter usually doesn't make the cut in CB decks). This means you really don't want to play a spell this turn if you can avoid it, including the EE.
Not to mention that, if you win this game, it's going to be long, and he'll get to try for Natural Order at some point (if only through Fetch ->
Dryad Arbor). What you need him to do is to not play it before you have drawn countermagic. If you tap out here, especially for an EE at one, you're practically shouting that you don't have a counter,* making him far more likely to go for it ASAP. By keeping mana open, you're at least representing countermagic, which will hopefully lead him to cast other spells first to test the waters.
* You're ready to waste an EE on a Hierarch, no threat at all, when you could be holding it back to blow up both his Counterbalance and any number of two-drop creatures like Tarmogoyf later (paying a large X to get around CB using only two colors of mana still makes the EE get only two charge counters).
This is also why you don't want to transmute the Tolaria West for Academy Ruins. It both taps you out (meaning Force of Will becomes your only defense) and makes it clear that he won't win the long game, again pushing him towards rapidly deploying big daddy Progs.
Maze of Ith has the same problem; if you drop it right now, he'll see that killing you with regular creatures will take forever, so trying for Progenitus becomes more appealing.
Once you've figured all of this out, land, go becomes the clear play, doesn't it? There's one line of play he could have you'd probably lose to at the moment. Once you know what it is, you need to sculpt your game in such a way that that line looks the most risky, making it the one he's least likely to follow. If you have no direct answer, just representing that answer might be what buys you the time you need. Never underestimate the intimidation factor of blue decks; people just hate running their big spells into your countermagic.
What if he still goes for Natural Order? Well, you probably lose that one, but there's really nothing you can do about it that has better EV than bluffing countermagic. If Order happens, you'll have to play Jace (likely to resolve through CB) and Brainstorm, hopefully hitting some solution for the Alaran god. If he attacks Jace first to get rid of it, you might even have the time to EE away the Counterbalance first.
Scenario II (Legacy)
Playing Deedstill similar to
Jason Ford list from GP Colombus
against Zoo, you've used Pernicious Deed to clear his board during your opponent's last turn, which he answered with a lonely Kird Ape. A turn later the Ape is coming in.
Opponent:
Life: 18
Cards in hand: 2
In play: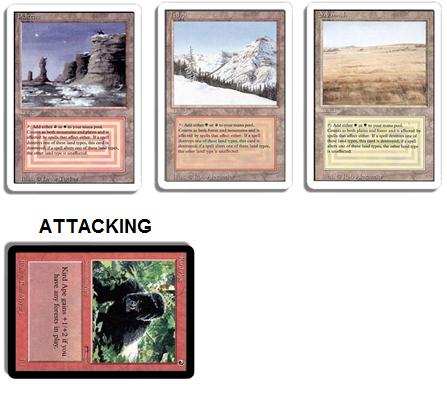 You:
In play: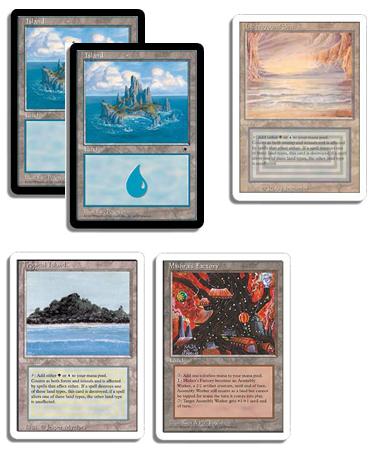 In hand: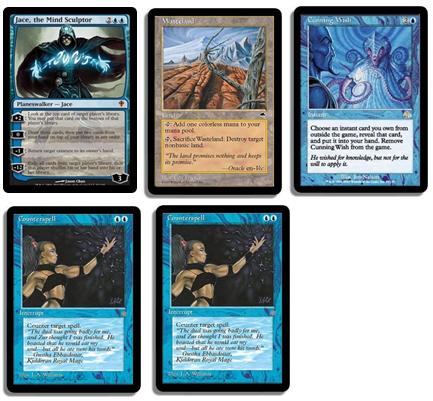 Life: 12
Possibly relevant Wish-targets in your sideboard:
Back to Nature
Diabolic Edict
Echoing Truth
Forbid
So, what now?
Scroll
Down
For
The
Play
What you should do: take the damage, Cunning Wish for Diabolic Edict at end of turn (EOT) and cast it. During your turn, play Wasteland and Jace, ramping it to five, targeting your opponent.
Many players will be tempted to activate Mishra and block here, tapping to pump. How could you resist the chump-attack, right? Assuming the opponent isn't stupid, he probably has removal in hand (burn or Path to Exile), especially as he only played a Kird Ape after your Deed – if he'd had more creatures in hand, he'd have played them.
You'd have to counter burn targeting your Mishra (you need that mana), but could let Path resolve and get a new land. If you counter, any new creature he plays* will resolve and put you back in the same position next turn, possibly with a creature that Mishra won't deal with. If you don't counter a Path, you take two, and he can play another creature, which you'll probably want to counter, leaving you again in the exact same position next turn.
*You need to assume he has a creature because if he doesn't, you probably win no matter what – base your play on what could actually beat you.
Once you take the damage, you get to clear the board and play Jace no matter what (while keeping Mishra around). Observe: If he doesn't play a creature, you Edict Kird Ape EOT and play Jace, leaving UU up. If he plays another creature, you counter it, Wish EOT, untap, play Jace, and Edict him. Either way, you now have Jace against an empty board. He obviously could resolve a creature the turn after, but at that point, Jace has enough counters to bounce and still be out of Bolt range.
This scenario is all about which resources matter to you. Preserving your ability to respond while creating an opening for your win conditions/card-advantage engines to come online is what really matters. Use your life total to do this, even if it means that your plays seem to waste value right now.
Scenario III (Standard)
It's your turn 4 main phase and you're playing U/B Control against R/U/G. He just tapped out for an Oracle of Mul-Daya, which you Mana Leaked. On your turn, you draw a Doom Blade:
Opponent:
Life: 20
Cards in hand: 4
In play: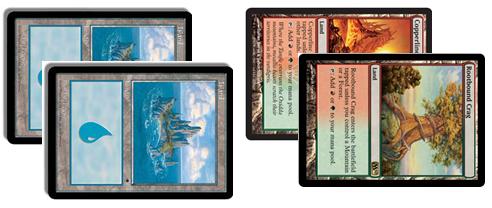 You:
In play: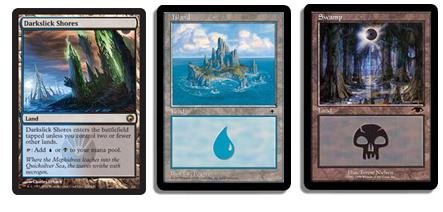 In hand: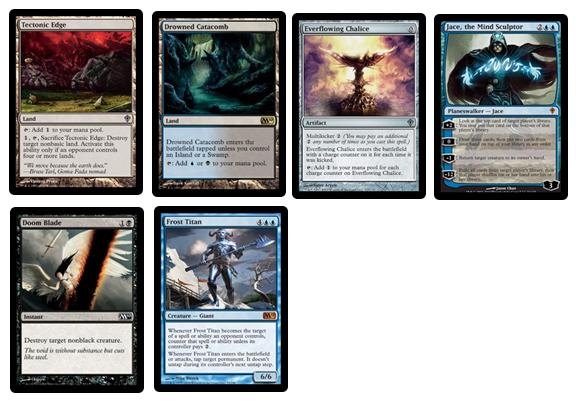 Life: 20
Scroll
Down
For
The
Play
This one I've seen even good players screw up, for some weird reason. The correct play, barring time constraints, is Catacombs, Jace, ramp it to five (probably targeting yourself to at least get a scry out of it if it dies, though you can make an argument for checking that his top card isn't a Jace).
You definitely play Catacombs over Edge to hide the fact you have one. Afterwards, you have three possible lines of play:
Do nothing. This is clearly not the play; you don't have countermagic, and he has just given you an opening; use it already.
Play Chalice at two, setting up to resolve Jace through Mana Leak or play Frosty next turn. This is a very aggressive line of play that has merit if the round is about to end or you lost a long game 1 and have to finish two more before time runs out.
Jace, which is what you'll want to do usually. Control on control generally comes down to Jace advantage, so a turn 4 Mind Sculptor that lives probably means GG. The question then becomes what to do with him once he's in play. To answer, we need to evaluate possible countermoves:
-        He could play all kinds of things that don't deal with Jace – perfect; you now untap with a Jace in play.
-        He could have his own Jace. He'll probably play it and kill both of them, meaning you only got a meager scry/fateseal 1 out of yours if you ramp, but you're up a card with Brainstorm.
-        He could have Lightning Bolt. If you ramp here, you probably get to untap with Jace in play, which is what you want. If you Brainstorm, he can Bolt Jace, but you're still one Brainstorm ahead.
-        He could have double Bolt, in which case Brainstorming leaves you up a card while he still has another Bolt in hand while scry/fateseal gets rid of both Bolts but leaves you with a comparatively weak hand. This is what he's least likely to have, though.
On first sight, the safest play seems to be to Brainstorm because you get a two-for-one either way. If you believe this, you delude yourself about the power of the Mind Sculptor.
Trading Jace for Jace is acceptable; your best card for his leaves you on even footing (it's what you'd do if theirs made it to the table, after all). On the other hand, if you Brainstorm and trade your Jace for his Bolt, it looks like you two-for-one'd the opponent, but in reality you just cycled your game breaker away. I mean, a card that was likely to rot in his hand without doing anything just eliminated your trump. Sure, you got a Brainstorm out of it, but that's hardly worth spending a Jace. Even worse, as long as he has another land, he can stick his own now and completely run away with the game.
If you're still doubtful, imagine he has two Bolts and a Jace in hand. Do you think he'll two for one himself by Bolting Jace twice or will he exchange his Mind Sculptor for yours, a sweet, even trade? Clearly he'll Bolt anyway if given the option, happy to find a use for those Bolts.
This example might seem simple, "ramp Jace against Bolt, duh!" but I've seen so many people misplay situations like this one that I wanted to include it anyway. Brainstorming just feels so much better than fatesealing; players constantly fall for it when they shouldn't.
There's also a lesson that isn't related to Jace himself: The way control works is by building up overwhelming card advantage, so two-for-one-ing the opponent seems good. In reality, though, the value of trading X for one diminishes with each passing draw step while an established draw engine will carry you for the whole game (a huge reason why control needs actual card draw to work). The maxim for playing control is "The
spice
cards must flow!"
Scenario IV (Standard)
You're playing the U/B Control mirror match; it's your turn 3 main phase.
Opponent:
Life: 20
Cards in hand: 7
In play:
You:
In play:
In hand: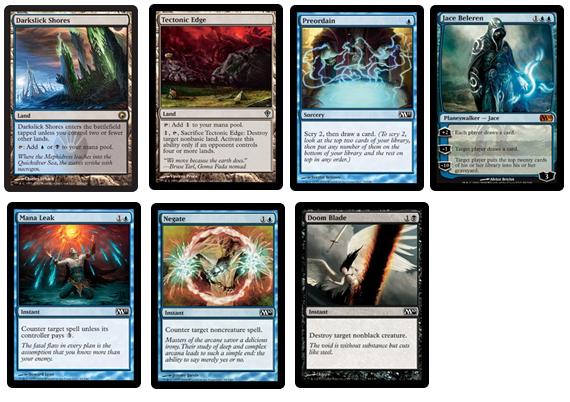 Life: 20
What's your plan?
Scroll
Down
For
The
Play
The correct play, and I think quite a few pundits will disagree with me here, is to play your Shores and say go. Yeah, I know, doing nothing again, how boring. There's a reason the most extreme version of this kind of deck was called Draw-Go!
The spells you could actually cast here are JaceB and Preordain. You definitely don't want to run Jace, even the small version, into opposing countermagic and tap out so that they can do whatever they want. So far, so good; this is commonly accepted practice. Most people will cast Preordain here, though.
What you should do instead is maximize it, similar to how you should

be using
Brainstorm in Legacy.
Is there anything this hand really needs? You have lands to play for this turn and the next, you have removal in case he has some kind of creature (unlikely) and countermagic for anything that matters. You even have a threat to capitalize if he taps out.
Control on control battles are a lot like a staring contest – whoever blinks first (a.k.a. taps a lot of mana main phase) is likely to lose. It's therefore extremely important to hit land drops to avoid discarding and build up mana for counter wars. Holding back Preordain here means that you get to play lands on turn 3 (now) and 4. If you draw a land by turn 5, you can still continue to calmly make land drops. If you don't, turn 5 is the ideal moment to run the Preordain. Seeing another three cards, you'll probably hit at least one land and be able to continue the stare-down.
If you're lucky and hit your lands naturally, Preordain gets even better. If you wait, you can more accurately judge what you need and what to ship with Preordain. Once your mana base is established, you also get to play Preordain and whatever you found in the same turn, delivering instant gas. Either way, the longer you hold the Preordain, the better it will be. So why not go for maximum value?
The main thing to take away here is that control is far less focused than other decks on using all of its mana every turn. Sure, you can run the Preordain here and maximize mana-use, something most decks crave. In a control deck, though, you're interested in playing a long game, which means getting the most out of your mana is often trumped by the additional value gained through waiting.
After the Game
So, how many of these scenarios did you solve correctly? All of them? None? Either way, that doesn't really matter. If this article has worked as I intended, you might have gotten all of them wrong and still succeeded while someone else could've answered correctly every time and failed.
What I'd really like to know is this: Do you feel better equipped to make the right choices when playing control now? Has your mindset changed throughout the article? Do you have a better understanding about what really matters with or against control?
Let me know in the forums! While you're at it, tell me which examples helped, what remained unclear, and which ones were just beating a dead horse. If you think I missed the correct play or my argumentation was lackluster, I'll be happy to address that, too. Either way, I hope the puzzling was fun and instructive, I'll see you next week. Until then, remember that doing nothing is its own form of doing something!