It takes a special kind of writer to write a daily series about a subject, then spend three days before he even mentions the subject. It takes an even more special kind of writer who would have that section of the series being the smallest of the five daily articles. The good news is that all the "serious" readers are tuned out by now. Enjoy your ham sandwich, sir.
Part 4. Making the Damn Cards Already
So far we've been on a tour of the tools you're going to use to create your cards; so what's left when the time comes to talking about the card itself? Well, three things to avoid. Clutter, redundancy, and elegance.
Clutter
Let's concept a Dragon. Dragons are cool. Well, what can dragons do that's interesting? How about maintain a hoard? Yeah, that's neat.
Smaugling Dragon
~ can't attack or block unless you control an artifact.
Hey, wait, why not make it so other stuff can steal that hoard? That'd be awesome.
Whenever a creature deals combat damage to you, that creature's controller gains control of target artifact you control.
Now, flying, obv.
Flying.
And firebreathing, also obv.
R: ~ gets +1/+0 until end of turn.
And some flavor text…
"Many a Dragon has been paralysed with horror, after a hearty meal of knights and cavalry, to come home to the sight of an empty cave."
Wow, that's neat. But hang on a second.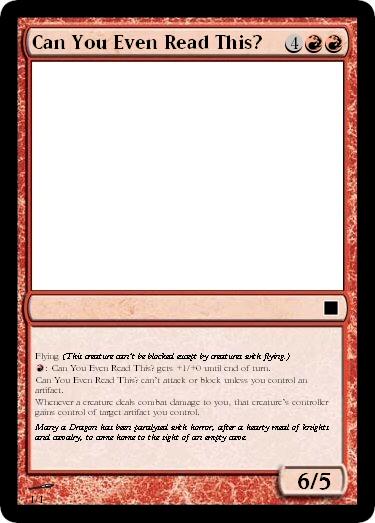 You see the problem?
You have a tiny window to work with. Saving space is important. Consider the following two, mechanically identical expressions:
Pride of the Clouds gets +1/+1 for each other creature in play with flying. (on a 1/1)
Pride of the Clouds' power and toughness are each equal to the number of creatures with flying in play. (on a */*)
Now, the two effects are the same and have basically no mechanical difference to one another. One, however, fits better on the card — having fewer words. Part of me wonders why you would use a */* when you could use the simpler +/+ wording on the card… but that's because some people honestly prefer it. Go figure.
Sometimes, briskness is not all that's required. But you do need to be able to guarantee the card text only occupies a certain amount of space on the cards. And that's why sometimes, you have to let flavor go for function. It sucks, I know, it has to happen at times.
Redundancy
Consider:
Pikeman Sergeant — 1W
Creature — Human Soldier
First Strike.
When ~ blocks a creature, all other creatures blocking that creature gain first strike until end of turn.
2/1
Why not remove the word "other" and the first instance of First Strike? Well, for a start, this means he has the First Strike even when he's attacking. Second, it avoids confusion.
How about this, though?
Pikeman Master — 2WW
First Strike.
Creatures you control have First Strike.
3/2
Why does he have first strike himself? There's no problem with him making it clear, but then you're using up undue space. Whenever you can conserve space by cutting out words the card already states, see if you can get away with.
Whether or not you can however, keys into our next card.
Elegance
This is a thorny one. Simply put, Elegance is balancing the most meaning with the fewest words. Sometimes some cards can be done with aplomb, carrying themselves elegantly. Other times, there are mechanics that, no matter how you try, will require a bit of hack work to work. Some wordings, when approached the first time, will be unfamiliar, which will make them feel hacked together.
The best advice I can get with this is to work at it. Much as with writing, the more you design the more you will see of new and different wordings. The more you try to design elegantly, the better chance you will have.
Elegance is nice and all, but why strive for it? Elegance sounds like froofy artistry that won't actually help in any way at all beyond making you feel fancy about using big terms. However, elegance is a way to fight clutter.
In theory, a card being Too Elegant could be a problem. Sometimes a little bit of clutter can help a card be understood better. And if it's understood, it'll be played correctly. Book Burning and Dead Ringers are examples of cards whose wording is technically correct, but which is done so in such a way that confuses the reader; the beauty of elegance as a term is that, because they're confusing, they're not elegant, even though they convey their meaning in a minimal number of words.
And now the moment you're all rushing to the forums to rattle at me about… yes, I did just say the same thing in three different ways. If you needed help designing an individual card, you'd not be here. But these three tenets — this one binding tenet — is far more relevant when you hold it together. What are the three components, summarized?
Keep it Simple, Stupid.
As a side note, avoid oversynergy. You ever wonder why Auratouched Mage hasn't got much of anything to go tutor up in Ravnica block? I mean, there's Pollenbright Wings, but that's nothing fancy. There's Flickerform, but you may have noticed how much mana that is to have up before you can drop your six-mana 3/3.
That's because they wanted to avoid making anything "too easy."
So, go through the process of creating cards — review old cards, consider new ways to use your mechanic, consider inverting what your mechanic originally intended, – and then… do it again. About four hundred times.
Then, when you've got about twice as many as you need for a set, you might be ready to cut it back and develop it.
Tomorrow, we draw this onanistic cart to a halt, and I have to stop pretending you're all listening to me about something where I have no official qualifications. I also get to tell you why I'm not talking about my actual cards, nor showing it on the interwebs anywhere. The emperor's new clothes come out… tomorrow.
Hugs and Kisses
Talen Lee
Talen at dodo dot com dot au