I had the fire for Grand Prix Phoenix.
I probably prepared more for that event than Pro Tour Rivals of Ixalan which is kind of a strange thing for me to admit
to myself. I decided to go with old faithful and the same deck I played at
the PT: Tron. At this point I can't say for certain that Tron is the best
deck in Modern and that playing a different deck would be a strategic
error, but what I can say is I believe Ancient Stirrings will be the next
card banned in Modern and

it's only a matter of time.

The reason they banned Preordain and Ponder is they simply made your deck
too consistent and provided too much value for one mana and one card's
worth of investment. The investment that Ancient Stirrings asks for is
largely in the deckbuilding cost but what people often forget is once
you're willing to pay that cost, you're usually a low curve, proactive,
broken deck. Ancient Stirrings is essential to strategies that make Modern
bad, like Lantern Control, Tron, some Eldrazi lists, Amulet Bloom (ever
heard of it?), and now Ironworks Combo. Frankly I'm shocked Lands in Legacy
doesn't play four, as it costs one mana and gives you five shots to find
Thespian's Stage, Dark Depths, or Wasteland. Rest assured that looking at
five cards instead of three makes it more than twice as good and you never
have to suffer the downside of a card like Ponder that commits you to
drawing undesirable cards should you not shuffle.
I also thought the inclusion of the third Ulamog, the Ceasless Hunger in
the main deck would noticeably improve my equity against the field. I'm
such a believer in Ulamog, and I think it's affordably priced at ten mana
which conveniently is just Tron with an extra Urza's Tower (which I search
for most often anyways so having two isn't as uncommon as it may appear at
first). When playing Tron, I think of myself as a combo deck. I want turn
three Karn Liberated against the interactive decks and turn four Ulamog
against the uninteractive decks.
Once I identified Ulamog as my primary kill condition, I would get into
spots in games where I needed to know the total number of cards in their
library, but I didn't want to ask and reveal my intentions, so instead at
the start of each match I would pile shuffle their deck (to learn their
starting deck size and take my 0.01% at a free game win for presenting an
illegal deck) and mid-game if I wanted to know how many cards they had left
I'd mentally count up all the cards in all the non-library zones and
subtract that number from whatever their starting deck size happened to be.
Often I want to know how many cards are in my opponent's library before I
even cast the Ulamog because I'm considering the implications of what might
happen two, three, or four turns down the road.
Creatures (8)
Planeswalkers (5)
Lands (19)
Spells (28) I didn't make Day Two at GP Phoenix, but I met some awesome people and
played interesting games. The finals was Humans versus Jund, which is two
favorable matchups for Tron. And after 117 Magic Online matches I was
winning 64.1% when historically my win rate on Constructed on Magic Online,
with a sample of 5,068 matches, is 62%. So I was winning more than I have
in the past historically, although not by much. You have to also factor in
that my first 5,000 matches aren't weighted equally as my last 5,000
because I improve over time. When I started playing Magic Online, I was a
horrible player and since then I've been inducted into the Hall of Fame so
at least 70% of the voters believe that I've improved my game at least a
little bit.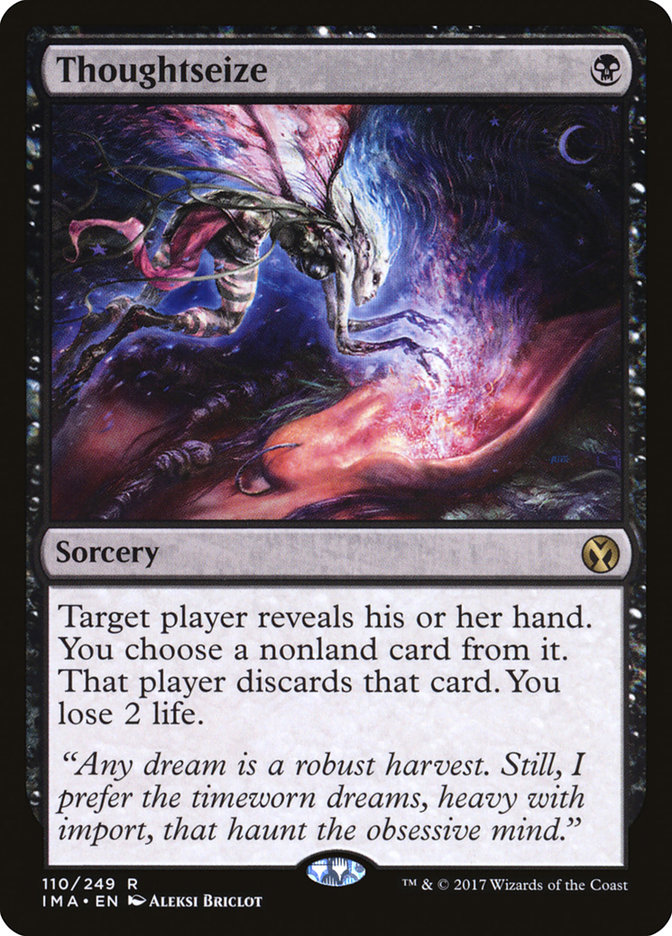 I did have a regrettable interaction on the weekend worth noting. Game 1,
my opponent played a Blackcleave Cliffs turn 1, tapped it for Thoughtseize,
and looked at me. I asked him who he was targeting and he clarified that he
was targeting me. I think this was a heads up thing for me to do, as
there's a very legitimate portion of the Modern metagame that uses
Thoughtseize on themselves to put Griselbrand or Obzedat, Ghost Council in
the graveyard so they can Goryo's Vengeance on turn 2. I think it was rude
of my opponent to cast a spell and not choose a target, as it's generally
poor form to make assumptions about what your opponent should or shouldn't
know about their deck or the format and he's making life hard for people
who don't clarify and flop their hand on the table only to be interrupted
by players targeting themselves who get the best outcome and a free look at
their hand. In fairness, it's a very subtle mistake to make and he was well
intentioned so it should have been no harm no foul. The issue was two more
times during the match I had to remind him to choose a target and once
we've played two games I should be able to use common sense and accept that
he's Jund and I'm Tron and there's not much of a strategic reason for him
to Thoughtseize himself. I think it was good form to point it out initially
but asking him for all Thoughtseizes for the whole match was too
competitive and a little too chintzy on my end.
The fans have been clamoring for a sideboard guide for every deck I post so
here's the most detailed one I can provide and the literal guide I used
during the tournament. I had someone at the event ask me "Do you really
think Tron is the best deck?" and I said "I'm here, spending my own money
to fly, hotel, register, I'm putting my money where my mouth is. I'm a
believer."
VS G/R Land Destruction
Out (On the Play):
In (On the Play):
Out (On the Draw):
In (On the Draw):
Crucible of Worlds is total sauce in this matchup, but I will note it's
important to only cast it when you're desperate or you haven't made a land
drop yet. Most people who play red and green have such poor sideboard
options against Tron that they sideboard in Ancient Grudge and jump at the
opportunity to trade it for a card. If you can get a unique Tron piece from
Crucible before it's destroyed, that's a positive advantage and well worth
a card.
VS Infect
Out:
In:
This is one of the worst possible matchups for Tron and the reason I
included one Spellskite in my sideboard. The best part about Tron is having
access to Ancient Stirrings, but one of Tron's biggest strengths is it
mulligans quite well, as I've won multiple games on a mulligan to four. A
combination of mulliganing to see now hands and a deck full of cantrips and
Ancient Stirrings means if a card is colorless you have a massively
increased exposure to it in a game. This deck casts Spellskite on turn 2
more often than other decks and it sees Spellskite in more games, so the
takeaway here is if there's a high impact card at a low casting cost in a
problematic matchup, the difference between zero and one on a decklist is
huge and the difference between one and two is not as huge.
A fun way to think about it is when you mulligan to five you've seen your
opening seven, six, five, scry, and all your cantrips and Ancient Stirrings
count too. You might see thirty cards in a game that only lasts up to turn
4.
VS U/R Gifts Storm

Out:
In:
VS Tron
Out:
In:
VS Burn
Out:
In:
Thought-Knot Seer is amazing in that matchup since often I see situational
cards like Deflecting Palm, Destructive Revelry, and Path to Exile. On top
of getting perfect information and weakening their sideboard play, I also
get a card that doesn't damage me from Eidolon of the Great Revel and
allows me to turn the corner and pressure their life total. Thought-Knot
Seer into Thragtusk is a buttery smooth mana curve.
VS Affinity
Out:
In:
VS Five-Color Humans

Out:
In:
VS B/R Hollow One
Out:
In:
VS Jund
Out:
In:
VS Blue Control

Out:
In:
VS G/W Hexproof

Out:
In:
Out:
In:
I like Thought-Knot Seer against cards like Stubborn Denial and Temur
Battle Rage, but if you think they're more on the Fulminator Mage plan, you
can move to Crucible of Worlds. I've had success with siding in all my
Thought-Knot Seers and Thragtusks against Death's Shadow, as a 4/4 for four
mana is really ridiculous when your opponent starts at ten life. This is
the matchup I'm the least confident in though, and it's possible you want
to keep the Walking Ballista.
VS Colorless Eldrazi
Out:
In:
The new hotness for the Eldrazi decks is to play Eternal Scourge and Serum
Powder. I'm no fool so there's no way I'll put myself in a situation where
I'm forced to cycle a Relic of Progenitus and provide value for my opponent
putting an Eternal Scourge from the graveyard, where it belongs, to the
exile zone where it can be recast. It's also a sweet way to help weaken
Chalice of the Void on one.
VS Dredge

Out:
In:
Last time I tested this matchup I was winning 80% of the time, so I stopped
trying to improve it.
VS Mardu Pyromancer

Out:
In:
It's possible I want some Nature's Claim here for Blood Moon, but the
Pyromancer decks seem to be improving and often have Blood Moon main deck
and Molten Rain sideboard so you can never peg them as too invested in a
certain strategy. This makes them difficult to sideboard against, but
fortunately the matchup is favorable almost no matter what they do. One
thing I try to do which can be ridiculously important is if I have a Relic
of Progenitus, I never tap out so it can't be destroyed by Kolaghan's
Command and I pick my spots with it very carefully. I try to use it to make
their Bedlam Revelers harder to cast, and I also make sure if a random Tron
land ends up in my graveyard, I always have the ability to respond to
Surgical Extraction by tapping my Relic on myself and exiling the Surgical
target, effectively counterfeiting their entire strategy. You can really
work people over with it too, as you can tap the Relic to target yourself
and they're forced to let it resolve since if they respond you can
sacrifice the Relic and exile the target indefinitely while drawing a card.
I think I'm strategically advantaged in a lot of these matchups and it's
little things like this exact interaction that I think add up in a big way
for Tron. There's a lot of people who use land destruction with Surgical
Extraction and they believe this interaction makes them a favorite against
Tron. I love getting paired against these people.