See, There's This Girl…
The thing is, a lot of people don't realize how good making your opponent discard two cards at random really is. I mean sure, you could hit land, but that means his grip has less action and you have more information. Besides, there are certainly cards that force your opponents to play out their lands. Just don't cast it on the second turn! (… unless you really want to.)
Hymn to Tourach was restricted, then banned. Play with Rise / Fall for a while and tell me that it is not a great replacement. Now, I am always one for a good hyperbole, but suffice it to say Rise / Fall is insane when it functions as a Hymn, not terrible when it is a Specter's Wail, and not worthless when you find out they have land. The real question is how many cards does it hit on average? I realize now that I am writing this how useful it would have been if I had been keeping track, but I think it may be around 1.75. That is 88% of a Hymn, plus added information and "the option."
Option? Oh yeah, the Rise side. Recently, I explored a deck that makes exceptional use of both sides, but today's deck makes only minor use, focusing on Fall. Still, it is an option and gives you flexibility.
Right, so Rise / Fall is good and you promise to try it, but what am I getting at? Aside from four Rise / Fall in a lot more decks, I am getting at Wildfire. Wildfire? Yes, Wildfire. Wildfire is one of the strongest cards in Standard, as Steam Vents players everywhere can attest.
I set out to build a B/R Wildfire deck, extra heavy on the disruption. Aside from Rise / Fall and Wildfire, I knew I wanted Cranial Extractions. Why is this card not played a whole hell of a lot more? Isn't it "Sorcery – Arcane, 3B: Win target Game" versus 35% of the field? More on that later.
Wrecking Ball and Pyroclasm are both favorites of mine for creature control, plus Wrecking Ball is amazing (Urza's Tower much?). I also added Kokusho, Distress, Befoul, and a Ryusei.
But… then I got to thinking. I want six Signets, five Karoos (see Karoos > Good), and four Ice Bridges. That is an easy way to sneak seven Blue mana into the deck in case I want to randomly Rise. Then I noticed Ryusei looking at me funny.
"Why am I not Keiga?" he said.
So I added a Keiga. That was the beginning of the end. Trust me, you can't just "add a Keiga." See, once I got a little taste of Blue Magic, I needed more.
Seriously, I tried to ignore it. I built my manabase like any normal Planeswalker. Then I noticed I had added Steam Vents to the deck. I had rationalized it by saying they were just Blue paraphernalia and that I wasn't a Blue Mage. It was just to support that one Keiga. Yeah, thirteen Blue sources for one Blue card. I'm not a Blue Mage, I swear. It won't happen to me.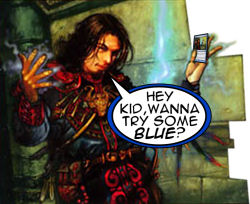 Oh, here's the thing. (And you have to swear you won't tell anybody!) I kept thinking Blue thoughts. Everywhere I looked I saw Blue. I looked up at the sky… Blue! I turned on the radio… Blues! I changed it… Bluegrass! It is freaking casual day and the guards are wearing Blue jeans! As you can see, I was suffering from much distress. Distress? Wait a minute, isn't Remand just infinitely better? And so I did it. I sold out for a Remand fix. Oh yeah! It felt so good.
After sneaking into a bathroom and doing some Remand, I realized it would never be enough. I immediately went to the spot and copped some Compulsive Research. Now we are talking! I forgot all about my Befoul-tech.
Even my pride and joy Kokusho suffered. First I traded one for some more Keiga. Then another. Finally Flores stepped in and made me quit while I still had a little tech left (don't tell him, but I snuck a Tidings in when he wasn't looking).
This is what I ended up with, though I admit, I was a little dazed from all the Blue, so my manabase is what the pros call "a little whack," (Izzet Signet? Nice.)
Creatures (5)
Lands (22)
Spells (33) I swear there was some logic to that manabase, but it involved some strong Blue cards. I think it's all pretty much a haze.
So, with the expectation of doing well versus Urzatron and Heartbeat, while losing to aggro, I sat down to play with myself. Umm. Magic. Melanie.dec played first in odd games and drew in even. The six opponents were:
Tron-Wildfire – As the control deck
Husk – Aggro, no burn
Heartbeat – The villain "Combo Deck"
Heezy – Aggro, some burn
Vore – Disruptive deck by day, cross-dressing theme deck by night
Zoo – Aggro, tons of burn
By the way, a quick comment on the "ten games versus each deck, no sideboards" method of testing… This is obviously not the whole picture, as you play 1.5 games with a sideboard and only one without. However with so many viable decks you have to start somewhere.
I am not suggesting these decks are finished products (thought they may be close). What I am suggesting is that they offer a place to start. Testing all game 1s will give me at least enough data to know if the deck is worth taking a good look at. Rarely is there a deck that is only good after sideboarding in general.
If I investigate a known deck, I will look at sideboarding more. For now, testing the maindeck innovations is paramount. If the deck interests you, try it and use any sideboard you like. I will include a sideboard in the final list at the end of this article, to which I have given much thought, if not testing. It is certainly a sideboard with which to start. Change to whatever is working for you.
I – Tron-Wildfire
Game 1
The funny thing about Wrecking Ball is that it is an instant. I LOL'd, then ROFLMAO'd, as Melanie tried to destroy Urza's Blue on end step, tapping him out for a Leak, keeping him open to Compulsive Research and Fall, meaning he is now down 17 cards or so. Some more Blue cards, and Melanie wins.
Game 2
Melanie taps out for a turn 2 Signet (which she had to do), allowing a turn 3 Keiga to hit. No Wrecking Ball spells game in four… Melanie loses.
Game 3
Both sides build resources, though Melanie is disrupting Urza. Carnariums are totally dominating in this matchup, as Urza's Tower keeps getting Wrecked or Wildfired. Melanie Rix Maadi locks Urza, then Cranials Keiga. Urza will never get twenty-one mana with all this disruption, and dies to Kokusho. Melanie wins.
Game 4
Melanie mulligans, but a turn 2 Signet, turn 3 Carnarium plus Remand, turn 4 Fall plus Remand, turn 5 Cranial obliterates Urza, who never comes close to Demonfire mana. Melanie wins.
Game 5
A lot of stuff that seemed to matter happened… until Melanie Extracted Urza. Melanie wins.
Game 6
Early fights over Falls and Balls leave Urza defenseless to getting a hole in the head (and he only wishes it was Amnesia). Just playing around Remands and Leaks is enough. Melanie wins.
Game 7
Urza mulligans, but Remands on turns 2, 3, and 4, then drops Keiga and Demonfires Melanie out. Melanie loses.
Game 8
Melanie was stuck on three land forever and had to discard twice. Still, Falls force through an eventual Cranial. Melanie wins.
Game 9
Urza mulligans. Melanie Cranials on turns 3, 4, and 5. Melanie wins.
Game 10
Yeah, yeah, you get the picture. Play mana, Melanie disrupts Urza, then there's a hole in his head. Melanie wins.
Conclusions:
Even though Melanie won 8-2, I think it is even more in favor of her. Granted, the Urza list she played against had four Keigas, a Demonfire, and a Blaze as its kill… Two Simic Sky Swallowers would help a little. They would have to be what you name first with Cranial. Still, dealing with Keiga isn't that hard.
Falls, Wrecking Balls, and Remands ensure that Urza will end up with a hole in his head. Attacking one component of the Tron is key. Without it, Urza has a bunch of terrible colorless lands and Melanie has wonderful Karoos and Legendary Lands. Urza can't realistically win this matchup, though be aware that while Giant Solifuge may be out of favor with Urza, it does exist.
II – Husk
Game 1
Bob is Wrecked, while the rest of the swarm knocks Melanie to 10. She peels a Pyroclasm, which combined with two Falls (how great is Fall plus Sweepers? They can't sandbag threats!) leave Husk with nothing but land. Keiga takes over. Melanie wins despite drawing two Cranial Extractions.
Game 2
An early Fall plus Pyroclasm buy time for a Kokusho, which is promptly Mortified… then replaced by another. Wildfire and gg. Melanie wins.
Game 3
Melanie has the turn 2 Signet, turn 3 Karoo plus Research combo that is the modern day turn 1 Ritual plus Necro (oh, that may be an overstatement, but it is how you want to start every game). Keiga stabilizes at five and Wildfire wins it. Melanie wins.
Game 4
Husk mulligans and is light on mana. Two Wrecking Balls and two Pyroclasms demolish him. Melanie wins.
Game 5
Pyroclasm, then Wrecking Ball the Orzhov Basilica, followed by Keiga win it. Melanie wins.
Game 6
Melanie mulligans a double Cranial hand. Despite a turn 4 Keiga with Wildfire in hand, Husk runs over Melanie (see Bob, Husk, Promise, Pontiff, and Castigate). Melanie loses.
Game 7
Melanie mulligans again, but a Karoo undoes the damage. Turn 2 Bob, turn 3 Promise, turn 4 Isamaru… but an end step Wrecking Ball, untap Pyroclasm plus Cranial for Ghost Council stabilizes. Husk plays Husk. Melanie plays Kokusho, Wildfire, and game. Red sweepers are absolutely devastating in this match, and Husk has little ability to play around them. Melanie wins.
Game 8
Turn 2 Bob draws a ton of cards. Two Promises prevent Melanie from Wildfiring and a Pontiff overrun wins, despite a Keiga. Melanie loses.
Game 9
Turn 1 Hound, turn 2 Dark Confidant knocks Melanie to 8, while she double Compulsive Researches. She finds Pyroclasm, but more men drop. Keiga hits, but is Mortified, allowing Husk to knock Melanie to 5 and drop a Ghost. Rise on a Rusalka, getting back Keiga, lets Melanie Wreck Ghost! Talk about an option. Two Wildfires later, Melanie scores a flawless victory (opponent has no cards in hand, no permanents, and is dead). Melanie wins.
Game 10
Husk decides it has to commit everything and pray for no Pyroclasm. Melanie dies turn 6 with Wildfire in hand. Going first or having a Signet would have won it. Melanie loses.
Conclusions:
Melanie posted a surprising 7-3 against Husk on the strength of Red sweepers, decent disruption (except Cranial), and mighty Dragons. I can't stress enough how much of an advantage the Karoos offer.
While Melanie's Cranials are dead weight, at least she has Compulsive Research, whereas Husk has little use for his Pithing Needles (naming a Legendary Land is lame… their best use is pitching to Fall).
Husk must play ultra-aggressively to win this matchup. I can only imagine what things would be like with more than six sweepers (hint: my final build will have more). One and two toughness creatures? Hmmm. Thank goodness they aren't Watchwolves.
By the way, a quick comment on Wrecking Ball. I played Fissure (yes Fissure) and Dormant Volcano in Standard. How could I not run Wrecking Ball and Rakdos Carnarium? These. Cards. Are. Good.
III – Heartbeat
Game 1
Melanie's Karoo into Compulsive Research is stronger than Heartbeat's Kodama's Reach. Two Wrecking Balls slow Heartbeat and a Kokusho hits. Heartbeat Weird Harvests for four to get going, but gets Extracted for Drifts next turn. Rix-Maadi locks him out. Melanie wins (by lock, I mean ruins combo pieces, counters, and tutors).
Game 2
Heartbeat double mulligans. Melanie has multiple dead cards, but "the combo" (Karoo plus Signet plus Compulsive Research) fixes everything. Land destruction slows Heartbeat until an eventual Cranial for Heartbeat (after Heartbeat had just Drifted to it) seals it for Melanie. Melanie wins.
Game 3
Heartbeat has triple Remand and double Muddle… Melanie's in trouble. Heartbeat counters all disruption and Tops into the combo. Melanie loses.
Game 4
A Fall, a Wrecking Ball, a Remand, and a Wildfire leave Heartbeat crippled. Melanie wins.
Game 5
Melanie mulligans. I can't even count how many mulligans Rakdos Carnarium has fixed. A turn 3 Wrecking Ball on the only Forest leaves Heartbeat with no play while Melanie develops. Eventually two Remands force through a Wildfire. Then another. Melanie wins.
Game 6
Melanie has the entire combo… times two! This incredible mana and card advantage easily out-races a Top. A Cranial for Early Harvest with Remand backup looks good. Rix Maadi does Disrupting Scepter duty during the standoff… Until a Heartbeat hits, followed by a nine card Stroke puts Heartbeat back in it. Melanie Wrecks Heartbeat's only untapped land. A Cranial for Heartbeat of Spring means the villain needs twelve lands to Invoke Melanie out. Note: Extracting Heartbeat ensures no BBB, which takes care of Maga. Even though Heartbeat has a six cards to one advantage, and thirteen lands after a Wildfire resolves, two turns later, Kokusho plus Miren threaten to put Melanie to 25, meaning Heartbeat must play to Stroke Melanie out. A Wrecking Ball on the Mountain ends it. Melanie wins.
Game 7
Melanie mulligans, while Heartbeat keeps a one-land hand with Top and Elder on the draw. A turn 3 Remand for the Elder, turn 4 Wrecking Ball stunts Heartbeat. Melanie sits on two Falls and a Cranial while Heartbeat discards. Note: Melanie doesn't want to shuffle Heartbeat's deck. The Elder finally drops, so Melanie Cranials Early Harvest and begins Mind Twisting. Another Cranial off the top takes Heartbeat, essentially forcing Heartbeat to double Invoke to win. Melanie is stuck with Minamo, Shizo, three Ice Bridges and a Dimir Signet for a while, keeping it interesting until a Red eventually allows a Fall, which hits Recollect. Keiga wins long before Stroke out is an option.
Game 8
Melanie mulligans again. Fortunately, five Karoos mean you have a 57% chance of having one by turn 3, after a mulligan, on the draw. Two Falls and a Wrecking Ball buy time for a turn 5 Kokusho, turn 6 Keiga, turn 7 Miren (the turn before Heartbeat could go off). Melanie wins.
Game 9
Turn 5 Cranial with Remand backup takes Invoke. Turn 6 Cranial with Remand takes Maga. Melanie wins.
Game 10
Melanie mulligans for the fourth time, making the turn 2 Boomerang less potent. Note to self: Self, add a land. Heartbeat transmutes to Heartbeat of Spring, but a Cranial for Drift ruins this plan. Rix Maadi heavily disrupts and Kokusho wins it. Melanie wins.
Conclusions:
Wow. This was ridiculous, a total slaughter. Heartbeat rarely had a prayer, despite Melanie's four mulligans. Twenty powerful disruptions cards plus card drawing is far too much for the Heartbeat to contend with.
Cranial Extraction is essentially game, despite there being eight good targets. Discard plus land destruction plus permission attack Heartbeat from every angle. Top is good, but it can't undo the disruption by itself. Compulsive Research and Karoos provide fine card advantage, and Signets fight Elders.
Transforming is Heartbeat's only hope, so be aware. Wrecking Ball, Wildfires, and Dragons will be key there, as well as Cranial.
IV – Heezy Street
Game 1
Two Falls and a Cranial for Solifuge leave Heezy all in. Wildfire at four life stabilizes, but the game is precarious. Another Cranial names Char, then the Kokusho plus Well plus Rise combination puts it away. Melanie wins.
Game 2
Heezy has no Green, but three little Apes put pressure on a slow draw by Melanie. A turn 3 Research leads to a turn 4 Pyroclasm, buying time for Kokusho plus Wildfire. Melanie wins.
Game 3
Melanie is stuck on three mana and dies to a double Cloaked Kird Ape with Wrecking Ball in hand. Melanie loses.
Game 4
Pyroclasm and Fall give Melanie card advantage, but two Solifuges hit, one after another. Fortunately the Kokusho plus Wildfire combo wins again.
Game 5
Heezy mulligans into the perfect curve. Turn 1 Ape, turn 2 Scab-Clan, turn 3 Cloak, turn 4 Solifuge, turn 5 Char, gg. Melanie loses.
Game 6
Melanie mulligans this time, but Ape, Scab-Clan, Cloak, and double Char end it in five. Melanie loses.
Game 7
Pyroclasm, Wrecking Ball, and two Remands help Melanie stabilize at 12. Keiga, then Wildfire end it. Melanie wins.
Game 8
Kird Ape beats allow Heezy to play without fear of Pyroclasm. A turn 6 Keiga hits, but Solifuge joins the attack and knocks Melanie to one. Wildfire resolves, but a Frenzied Goblin hits the next turn. Melanie loses.
Game 9
Heezy mulligans into a two land, two Ape draw, but a turn 3 Wrecking Ball on Stomping Ground, turn 4 Pyroclasm, turn 5 Keiga easily takes over. Melanie wins.
Game 10
Melanie stabilizes at one, facing a Cloaked Shaman. Kokusho chumps, then another. Wrecking Ball hits the Shaman after soaking up six, followed by a Cranial for Cloaks (mistake?). Melanie finally plays Keiga, but gets burned out. Melanie loses.
Conclusions:
Melanie will definitely take an even 5-5 split with Heezy Street. The solid removal suite and Legendary Dragons give her a good fight. Melanie's answers are typically stronger than the problems, but having the right ones at the right time is key.
Kird Ape and Scab-Clan Mauler are a bit tough, due to their relatively big butts. However, with only a small selection of burn, Melanie can afford to take a fair amount of early damage (~15).
Fall and Compulsive Research are so good here because they are cheap, potent, and card advantage. Fall often hits a guy they were protecting from Pyroclasm and a burn spell. Compulsive Research gives you an answer or two now, plus digs you much deeper towards a Red sweeper.
Heezy needs to play around Pyroclasm and Wildfire when able, of course. For instance, by only playing three land (unless they play a Solifuge).
Despite Heezy's sideboarded Blood Moon option, I would not be overly concerned. Signets will certainly help. Besides, you can still cast Wildfire! Cranial Extraction obviously needs to go.
Is this really a 50-50 matchup? I don't know. I do know it didn't feel that hard. One last comment: if you need something to side out versus Heezy (after Cranial and maybe Tidings), think of Remand. It shines on the play, but is weak on the draw.
V – Vore
Game 1
Two Signets and a Remand allow Melanie to establish a manabase. A Cranial for Magnivore essentially locks him out (Genju will not be enough and eventually proves not to be). Melanie wins.
Game 2
Vore mulligans. A Wrecking Ball, a Fall, and a Remand disrupt Vore enough for Melanie to drop Keiga. This is a soft lock. Melanie wins.
Game 3
Vore pours on the LD, then hits twice with a 10/10 Magnivore when Melanie isn't looking. Melanie loses.
Game 4
Turn 3 Melanie puts a hole in Vore's head. Vore tries to Ruin Melanie's manabase so Genju will eventually work. Falls, Signets, and Compulsive Researches stop this plan. Melanie wins.
Game 5
Yeah, yeah… Both sides play mana, draw cards, and disrupt the other side. An 11/11 Magnivore hits, but then so does Keiga. A Kokusho hits, followed by another Keiga stealing the Magnivore. Kokusho stays home "just in case," and Magnivore kills its owner in two. Melanie wins.
Game 6
The curve: Sleight, Eye, Stone Rain, Vore, Stone Rain, Stone Rain, Game. Melanie loses.
Game 7
Remand allows Melanie a chance to hit four and Cranial Magnivores. She develops her manabase with two-for-ones and Signets. Eventually a Cranial for Genju ends it. Melanie wins.
Game 8
Melanie's triple Karoo draw backfires. Melanie loses.
Game 9
Turn 3 Cranial. Period. Melanie wins.
Game 10
Vore mulligans a hand with two Pyroclasms despite a turn 2 Eye. A Signet eventually allows Melanie to develop and start drawing cards. This eventually leads to a hole in Vore's head. Melanie wins.
Conclusions:
Melanie's 7-3 record is convincing. Her disruption is cheaper and stronger than Vore's. Compare Fall to Stone Rain, Wrecking Ball to Demolish, and Remand to Mana Leak… But then add in Signets, Karoos, and most of all, Cranial Extraction.
Cranial Extraction is essentially a hard lock in this matchup. Keiga is a soft-lock. If Melanie can develop her mana, she has inevitability.
In all three of Vore's wins, Melanie never hit three mana, though this isn't crazy given Vore's choice of 60.
Vore gains little after boarding aside from a Meloku to protect versus Cranial and countermagic to replace Red sweepers. I will touch more on Melanie's plan when I list the updated build near the end of this article.
All in all, another matchup where Cranial Extraction is king.
VI – Zoo
Note: I have come to the conclusion that Tsuyoshi Fujita's 20-20-20 Zoo, which is the list I have been testing against (including this time around), is too inconsistent. It is lightning quick, but I feel it skews playtesting because 20% of the time it just fails. Regardless, here are my results:
Game 1
Zoo mulligans. A Pyroclasm and two Wrecking Balls stabilize at 13. Melanie drops both Dragons. Game. Melanie wins.
Game 2
Both sides mulligan. A Kird Ape and Isamaru hit early, and 13 to the dome ends it. Melanie loses.
Game 3
Turn 1 Ape, turn 2 Watchwolf is very, very hard for Melanie to beat. Especially with a combined 64 points of direct damage in Zoo's deck. Melanie loses.
Game 4
Zoo has two land and 16 points of burn in the opener. Did I mention Fall is good? Two is even better. Wildfire leaves Zoo with no things. Melanie wins.
Game 5
Zoo has no Red mana and Pyroclasm deals with White one-drops. Keiga and Wildfire put Zoo out of his misery. Melanie wins.
Game 6
Zoo kills turn 5. Watchwolf is very harsh. Melanie loses.
Game 7
Another Wolf, another loss. Melanie did mulligan, but Watchwolf is the real problem. Melanie loses.
Game 8
No Apes, no Wolves, no problems. Melanie wins.
Game 9
Multiple Apes hit hard and a ton of burn ends it. Melanie loses.
Game 10
No Pyroclasm and a nice mix of weenies and burn leads to a loss. Melanie loses.
Conclusions:
A surprisingly not terrible 4-6 record, though Burning-Tree Shaman, Bathe in Light, and Paladin en-Vec could make this messy. Still, if this is the bad matchup, I know what I'd play in Standard this week…
Sideboarding out Cranial Extraction will help. Remand needs to go too. Remanding Savannah Lions won't cut it. My new configuration will help versus aggro matchups like Zoo and Heezy, as you will see. However, before I get to that, let me look at the results.
Final – 40-20
Forty to twenty? That is incredible! Granted, these decks only make up half of the field, but that is the top half. If Melanie is anywhere near 50% versus the other half, then it should be seriously investigated.
The six decks I tested against also make up a good cross-section of strategies, employing a bit of everything. With arguably the best disruption in all of Standard, Melanie should theoretically have a sound plan versus any random control or combo deck you might face.
As far as Aggro decks go, you have solid card advantage, good answers, and six-mana "I wins." You could certainly stand to have more sweepers and fewer Cranials, but Cranial Extraction is your Ace versus so many people. What is the solution?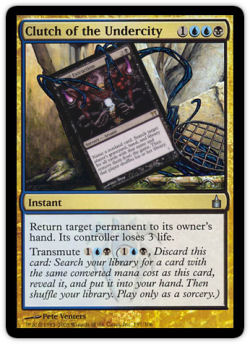 Resident Genius Michael J. Flores came to the rescue with the brilliant suggestion of Clutch of the Undercity. By replacing a Tidings, a Pyroclasm, and two Cranial Extractions with three Clutches and a Hideous Laughter, you effectively up your Cranial count to five, while increasing your sweepers to nine.
Against control and combo, you still have two actual Cranials to get the job done, but your chance of drawing the first is higher. Against aggro, you have fewer dead cards and more sweepers. Turn 3 transmute, turn 4 Hideous Laughter is an excellent way to slow an attack. A turn 2 Signet, turn 3 Karoo curves into this perfectly.
Clutch can also fetch a random Wrecking Ball, which is solid versus anyone. It opens up sideboard options for silver bullets. Finally, it is somewhat sexy by itself. It is so versatile, it gives you many more options such as turn 3 bounce a land, Clutch a Heartbeat so they can't go off; it is anti-Cloak, and works in conjunction with Fall or Cranial Extraction.
Hideous Laughter may be weaker than Pyroclasm, but killing Paladin en-Vec is nice. Instant speed is worthwhile, and being able to tutor for it is clutch. Unfortunately you are still vulnerable to Watchwolf, though you are less vulnerable now that you have three Tutors for Wrecking Ball (seven mana investment is a 1-1, though).
While changing the deck, I also took into consideration the eleven mulligans (though not all land related) in 60 games, and replaced with a Keiga with a 23d land, and fixed the manabase. Keep in mind, running five Karoos and six Signets while "cheating on land" will increase your mulligans, it also increases your deck's power. A Karoo all by itself undoes a Meloku.
Here is the updated Melanie.dec:
Creatures (4)
Lands (23)
Spells (33) Some quick comments on sideboarding. Your cards are mostly split up between anti-control/combo and anti-aggro, though there is some spill over, such as Meloku.
Versus aggro, typically the first six cards to go are two Cranials and four Remands. Although depending on their deck, you may want some Remands. Fall is also an option, but do you really want to sideboard out your Hymns?
Your anti aggro-suite is Night of Souls' Betrayal; Yukora, the Prisoner; Meloku, the Clouded Mirror; two Pyroclasms; and Wildfire… and possibly even Demolish if you are really worried about Jitte.
Versus control and combo you obviously look to cut Pyroclasms and Hideous Laughter, but you also want to consider cutting a Dragon and possibly some Wildfires. For instance, Wildfire is not good versus Vore, though it is versus UrzaTron (though cutting one is fine). Wildfire is great versus Heartbeat, however.
You look to side in Cranials, of course, as well as Jushi Apprentice if you think your opponent has few answers left. Boseiju is great versus permission but you can also up your land count versus Vore. Wildfire, Demolish, Meloku, and even possibly Night of Souls' Betrayal are to be considered, depending on the opponent's strategy and kill cards. Four Elders is not reason enough to run Night of Souls Betrayal, though if they are Heartbeat, a transformation is likely which may include Vinelasher Kudzu and Meloku.
That is where I am at now with Melanie. I highly suggest testing with her, or a version like her, though I will make no hyperbole "the sky is falling" comments.
Melanie is not broken, but she is quite good. Particularly so in a metagame of Urza, Husk, Heartbeat, and Vore. I have only tested the matches listed here, so Wafo-Tapa, Ghazi-Glare, and Dovescape are only theoretical right now. I would certainly be interested in hearing the results of others in other matchups, as well as suggested changes and sideboard cards.
Experiment with whatever inspires you, but remember… it is the obscene amount of disruption (including Fall) that makes this deck so strong.
Thank you for your time. I hope some useful tech will come of this. Take care.
Patrick Chapin
"The Innovator"