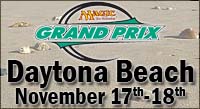 A few weeks ago I moved back to Pittsburgh, to start school up again at CMU. Of course, part of CMU is the Magic scene, and so I find myself at Mr Nice Guy Games relatively often. Last week I was involved in a 2v2 team draft, with my and one of my roommates against the store's ringers. A friend of mine, and a teammate from Pro Tour: Charleston, Steve Nagy, was watching my picks as I drafted. I started off with a White card, and eventually moved heavily into Green. The second pack brought up the question of whether I was going to stick with my White cards, or move in for more than just a splash with cards like Rough/Tumble and Dead/Gone. I opted to simply splash the Red cards, while Steve said that he would have hit the gas and moved all the way into Red.
So when I got the chance to watch Steve participate in a team draft, I decided I would follow it like a MTGO draft walkthrough. Especially interesting, at least to me, was that most of the packs were very weak early on, which can make things much more fluid. When pack after pack is filled with bomb after bomb, then your draft deck is rarely hurting for playables when you finish up. In this particular draft, almost every player was stretching to find their last two or three cards.
Teams are determined randomly, and Steve sits down to draft.
Pack 1, Pick 1
Twisted Abomination, Chronosavant, Mystical Teachings, Tolarian Sentinel, Flowstone Channeler, Trespasser il-Vec, Wipe Away, Undying Rage, Fortify
There isn't too much to think about in this pack; Twisted Abomination is the best card by far. Being a team draft, though, it's certainly worth taking a look at the rest of the pack and trying to decide how the rest of the table is going to pick from it. It's very unlikely that we'll see Flowstone Channeler, Trespasser, Fortify, or Chronosavant come back, but we might be able to get our hands on something like Undying Rage, and Teachings and Sentinel are both relatively likely to make the lap.
Pick 2
Weatherseed Totem, Flickering Spirit, Primal Forcemage, Goblin Skycutter, Cloudchaser Kestrel, Cancel
Based on the print runs, Steve tells me that he thinks the person feeding him first-picked Rift Bolt. We're also aware of the fact that the same person has a high preference for Blue/White decks, which means that we'd rather not take the Flickering Spirit or Kestrel. This leaves us with the choice of Weatherseed Totem or Primal Forcemage, and Steve takes the Totem because of its late-game power and mana-fixing ability.
Pick 3
Corpulent Corpse, Empty the Warrens, Errant Doomsayers, Desert, Bogardan Rager, D'Avenant Healer
Empty the Warrens might seem to signal that our feeder did not take Rift Bolt first, but you can never be sure that there wasn't simply a better uncommon or rare in the pack. With no real reason to move off of the Twisted Abomination, Steve takes the Corpulent Corpse.
Pick 4
Coral Trickster, Mana Skimmer, Flamecore Elemental, Greenseeker, Stupor, Basal Sliver
We're again going to stay on target with this pick; there's no reason to move off of Black. Basal Sliver is the worst of the three, so the pick is between Stupor and Mana Skimmer. I believe the power of a disruptive 2/2 flyer to be greater than the power of an upgraded Mind Rot, and Steve seems to agree.
Pick 5
Wipe Away, Trespasser il-Vec, Slipstream Serpent, Scarwood Treefolk
Trespasser is clearly the best card in the pack, and it also happens to be in our one color. Seeing Scarwood Treefolk this late might mean that we're okay to go into Green, but it could also mean that we'll be cut off in pack two.
Pick 6
Feebleness, Fortune Thief, Flamecore Elemental, Thallid Shell-Dweller
Here is, in my opinion, one of the most interesting packs in the draft. We have Feebleness to stick to our guns, the slightly better Thallid Shell-Dweller to start moving into Green, and two Red cards to think about. We initially put the person feeding us on Red, due to a read on the print runs, but at this point it's looking less and less like he's actually drafting Red; it's very unlikely that he would have passed the Fortune Thief this late. If I were the one drafting, I would probably take the Fortune Thief, and I might settle on the Shell-Dweller, but Steve continues to stick to his guns.
Pick 7
Mystical Teachings, Wipe Away, Flowstone Channeler, Fortify, D'Avenant Healer
Strangely enough, two cards that I did not expect to see come back managed to table: Flowstone Channeler and Fortify. Two people took picks we expected (Chronosavant and Trespasser), one person picked Undying Rage, and two others managed to grab cards that I didn't even bother to write down. At this point, even considering having picked Feebleness last pack, I would have snagged the Flowstone Channeler. Either Red will continue to flow, in which case we'll have a solid man for our deck, or we'll have taken a card off of an opponent. Steve thinks otherwise, and takes the Mystical Teachings. Teachings is a fine card when you've got good targets to find, but at this point we only have Feebleness, so we'll need to do some work to get it up to snuff.
Pick 8
Cancel, Drudge Reavers, Psychotic Episode
Both Cancel and Psychotic Episode are answers to a potential opposing Sprout Swarm, and the Episode happens to be the one we can cast easily.
Pick 9
Dreadship Reef, Desert
With Mystical Teachings in the pile, Steve selects the card that might help him splash it.
Pick 10
Greenseeker, Basal Sliver
Again showing a desire to stay the course, Steve selects Basal Sliver over a potential manafixer and madness outlet.
Pick 11
Cyclopean Giant
Pick 12
Aetherflame Wall
Pick 13
Sangrophage
Pick 14
Living End
Pick 15
Traitor's Clutch
Pack 2, Pick 1
Deadwood Treefolk, Magus of the Coffers, Skirk Shaman, Mire Boa, Utopia Vow, Veiling Oddity
This pack essentially forces the issue on Steve, though it's not necessarily as committing as it might look. Deadwood Treefolk is definitely the best card in the pack, but it's very splashable, especially considering the fact that we have Weatherseed Totem. Even though Magus of the Coffers looks like it will be a powerhouse in our deck, since we're nearly mono-Black at this point, Deadwood Treefolk still outshines the Magus.
Pick 2
Timbermare, Reckless Wurm, Dreamscape Artist, Cradle to the Grave, Kavu Predator, Dawn Charm, Uktabi Drake
Timbermare isn't as easy to abuse in Limited as it is in Constructed, but it's still a nearly-guaranteed five damage that's great at finishing games off. With our recent decision to start moving into Green, and with only Cradle to the Grave to try to dissuade us, Steve takes the fatty finisher. I think that it's relevant to note that there is no strong Blue card in the pack, and this combines with the fact that there's a common missing to lead me to believe that Shaper Parasite was selected first. This isn't going to affect how we draft, but it might affect how our team plays against Morphs in the draft.
Pick 3
Dawn Charm, Reflex Sliver, Synchronous Sliver, Brain Gorgers, Melancholy
After two packs that were looking great for us, we run headlong into a stinker. Melancholy isn't the greatest removal spell in the world, but it does what it does, and "killing" big men is always worthwhile.
Pick 4
Giant Dustwasp, Poultice Sliver, Fatal Frenzy, Brute Force, Dreamscape Artist, Blightspeaker, Evolution Charm, Hammerheim Deadeye
We don't have any rebels at all at this point, so Blightspeaker is not nearly as exciting as it might usually be, though there's always the chance that we'll pick up some Deepcavern Imps in the last pack. Giant Dustwasp, on the other hand, is a very strong card, and one that Steve is happy to select. We also hope that, given the strength of the pack, one of Evolution Charm and Blightspeaker will manage to find their way back to us.
Pick 5
Foil Melancholy, Melancholy, Hedge Troll, Pallid Mycoderm, Brain Gorgers
Almost immediately, Steve decides that he's going to hate-draft from this pack. Given the fact that there are two Melancholies, he's sure that at least one of them will table, whereas if he picked one now, he doesn't believe that the second would come back. The question, then, is whether to hate-draft Hedge Troll or Pallid Mycoderm. The Troll is clearly the more powerful of the two on his own merits, but he's also more awkward in that he demands that your deck is Green/White to be very effective. The Mycoderm, on the other hand, is just a solid guy that can hold the ground and build up a small army. The real threat, though, is that he'll combine with Sprout Swarm to end the game almost instantly, as an army of 4/4 or larger Saprolings storms across the table. With that in mind, Steve takes the Mycoderm.
Pick 6
Utopia Vow, Brute Force, Cradle to the Grave, Pongify, Aquamorph Entity
Pacifism with a drawback is still Pacifism, so Steve doesn't take too much time deciding on it over Cradle to the Grave.
Pick 7
Veiling Oddity, Brain Gorgers, Ridged Kusite, Mana Tithe
I didn't write them all down the first time around, but there were three Ridged Kusites in this set of packs. With only Trespasser as a madness outlet at this point, Steve wants to take another, but at the same time he's not looking to pack his deck full of Kusites. Instead of taking the marginal Brain Gorgers, he plays it safe and takes the marginal Kusite.
Pick 8
Keldon Marauders, Merfolk Thaumaturgist, Ridged Kusite, Dawn Charm
Unfortunately, here's another Kusite, making our last pick a poor one in retrospect. Now the question is whether we're going to take the second Kusite or hate-draft the Dawn Charm. A quick count of his playables later, and Steve isn't feeling good enough about his deck to pass a card in his colors.
Pick 9
Reflex Sliver, Synchronous Sliver, Ghost Tactician
The hasty sliver isn't exactly a great card, but it's the only card in the pack that we might potentially put in our deck.
Pick 10
Evolution Charm, Blightspeaker, Poultice Sliver
Either annoying or lucky, depending on how you look at it, both the cards we passed six packs ago managed to come back to us. Blightspeaker is still as weak now as he was back then, and Evolution Charm is extremely strong with Deadwood Treefolk.
Pick 11
Melancholy, Ridged Kusite
Steve was right; one of the two Melancholies tabled.
Pick 12
Synchronous Sliver
Pick 13
Vampiric Link
Pick 14
Fa'adiyah Seer
Pick 15
Tidewalker
Pack 3, Pick 1
Unblinking Bleb, Riddle of Lightning, Venser's Diffusion, Judge Unworthy, Mass of Ghouls, Lucent Liminid, Thornweald Archer, Flowstone Embrace, Even the Odds
This is a very deep pack, though it really only has one option for us. Mass of Ghouls is a fine guy, but we have plenty of high-end drops, and few ways of dealing with fliers. That makes the Archer an easy pick. The big thing about this pack is trying to remember all the spells in it; we'll want to be able to tell our teammates that we passed Riddle, Embrace, Judge, and Diffusion so that we can try to figure out what tricks/removal to play around during the matches.
Pick 2
Unblinking Bleb, Riddle of Lightning, Venser's Diffusion, Mass of Ghouls, Blade of the Sixth Pride, Sporoloth Ancient, Whip-Spine Drake, Grinning Ignus
Part of the print run is exactly the same as in the last pack, with Judge Unworthy missing. This makes it very likely that we need to play around that card in matches against the person feeding us. Beyond that, there is again really only one card we might consider taking out of this pack. This time curve considerations aren't what make the pick for us, it's simply the difference in power level.
Pick 3
Venser, Shaper Savant, Deepcavern Imp, Blade of the Sixth Pride, Flowstone Embrace, Nessian Courser, Marshalling Cry, Unblinking Bleb
At this point, cries of "this is Bleb-believable" are going up around the table, as it seems that most people have noticed that there's been an Unblinking Bleb in what we can presume to be every pack. Apparently Nick Eisel is to blame for starting that one. Ignoring the random shouting, our pick comes down to Deepcavern Imp or Nessian Courser. The Imp doesn't combo with anything in our deck, really; all we have is one Psychotic Episode and no rebel interactions. On the other hand, the Courser is a very strong man and one we're glad to add to our deck.
Pick 4
Boldwyr Intimidator, Aven Augur, Fatal Attraction, Kavu Primarch
Two Red cards we can't really consider hate-drafting are lurking at the front of the pack, but the last card is a Kavu Primarch that Steve quickly picks.
Pick 5
Even the Odds, Blade of the Sixth Pride, Skizzik Surger, Unblinking Bleb, Deepcavern Imp, Leaden Fists, Flowstone Embrace
This time there's no Nessian Courser in the pack, although the other cards make it very likely that there was at some point. Even without interactions, the Imp is still a hasty evasion man, and so we pick him up.
Pick 6
Emberwilde Augur, Whetwheel, Deepcavern Imp, Cutthroat il-Vec, Sliversmith
Steve takes a quick look through his deck and announces that he has "no win conditions," at which point he selects the Whetwheel. The Millstone can be fine if you're drafting a heavy control deck and just need some way to close a game out, but Steve's deck has Weatherseed Totem, assorted fatties, and two fliers that can end the game for us. Personally, I would have taken the Cutthroat; it's not the best creature out there, but when you Shadow him up, he hits very hard. In addition, we didn't see any Piracy or Midnight Charms, so he'll be more likely to survive in this specific draft.
Pick 7
Mass of Ghouls, Lucent Liminid, Venser's Diffusion, Saltskitter
The pack we opened was packed full of good cards, so it's no surprise that we tabled the Mass of Ghouls. The strange thing, though, is that Lucent Liminid is still in the pack, which means that someone took Even the Odds over it. We make a mental note to investigate this strange occurrence after the draft.
Pick 8
Unblinking Bleb, Venser's Diffusion, Reality Strobe, Saltskitter, Quiet Disrepair
The Bleb and the Diffusion can both be considered hate drafts, since a suspected Shaper Parasite and a handful of Blue cards we passed late mean that the person downstream from us is almost certainly in Blue. However, only the Bleb will actually make it into our deck, and since it's clear that Steve isn't happy with how his deck's shaping up, he selects the card he might run.
Pick 9
Stronghold Rats, Unblinking Bleb, Wrap in Vigor
Like with the Imp, we have no interactions with the Rats, so we just take another 2/2 for three that would probably go in our opponent's deck.
Pick 10
Quiet Disrepair, Frenzy Sliver, Sarcomite Myr
Disenchant effects are always a good thing to have around, in case someone opened a bomb like Akroma's Memorial.
Pick 11
Unblinking Bleb, Quiet Disrepair, Saltskitter
With our Disenchant needs taken care of, we take the third Bleb.
Pick 12
Sliversmith
Pick 13
Frenzy Sliver
Pick 14
Snake Cult Initiation
Pick 15
Lost Hours
When the other team left the table, Steve and his teammates started to talk about cards that they passed and what rarities people opened. We learned that the Even the Odds pick that confused us was an apparent hate-draft, though its effectiveness is clearly suspect, given that Judge Unworthy and Lucent Liminid were both in the pack. We also learned that the players on either side of Steve were both drafting Green, which explains why he was feeling as though his deck was underpowered.
Our Picks
Twisted Abomination
Weatherseed Totem
Corpulent Corpse
Mana Skimmer
Trespasser il-Vec
Feebleness
Mystical Teachings
Psychotic Episode
Dreadship Reef
Basal Sliver
Cyclopean Giant
Aetherflame Wall
Sangrophage
Living End
Traitor's Clutch
Deadwood Treefolk
Timbermare
Melancholy
Giant Dustwasp
Pallid Mycoderm
Utopia Vow
Ridged Kusite
Ridged Kusite
Reflex Sliver
Evolution Charm
Melancholy
Synchronous Sliver
Vampiric Link
Fa'adiyah Seer
Tidewalker
Thornweald Archer
Sporoloth Ancient
Nessian Courser
Kavu Primarch
Deepcavern Imp
Whetwheel
Mass of Ghouls
Unblinking Bleb
Unblinking Bleb
Quiet Disrepair
Unblinking Bleb
Sliversmith
Frenzy Sliver
Snake Cult Initiation
Lost Hours
Our Deck
From this stack of forty-five cards, we can easily pull out the first pass worth of playables. In almost every situation, the following cards will make the cut in our deck.
Corpulent Corpse
Giant Dustwasp
Thornweald Archer
Deepcavern Imp
Trespasser il-Vec
Nessian Courser
Mana Skimmer
Kavu Primarch
Sporoloth Ancient
Mass of Ghouls
Twisted Abomination
Deadwood Treefolk
Timbermare
Feebleness
Utopia Vow
Evolution Charm
Melancholy
Melancholy
Weatherseed Totem
At this point we need four more cards. I don't think that eighteen lands is an option worth too much consideration, since we have only two colors (at this point) and already have Evolution Charm, Weatherseed Totem, and Twisted Abomination to smooth out land-light draws. It's pretty clear to me that we're looking for early-game plays right now; our late-game creatures are all very strong, from Sporoloth Ancient to Twisted Abomination to Weatherseed Totem. On the other hand, we only have four creatures that affect the board before turn 4, so we'd like to shore that weakness up.
We have an ample supply of random Morphs we can run, so finding a 2/2 for three mana won't be a problem. Steve chose to add one Ridged Kusite, Basal Sliver, Whetwheel, and Cyclopean Giant to his deck. Ridged Kusite isn't the world's most impressive card, but given the high number of cards like Blade of the Sixth Pride that we passed, the ability to give our guys First Strike might be fairly valuable. Then there's the fact that you can always trade off your 1/1 for their 3/1. The Basal Sliver and Whetwheel are both early plays that have slight additional value tacked on, and the Cyclopean Giant is just a random creature that will probably trade for a slightly higher-quality opposing man. Another card that I wanted to put in the deck, in place of Ridged Kusite, is Quiet Disrepair. If you look back on the draft, we passed a decent number of enchantments that ended up in the opposing team's decks, including Lucent Liminid, Utopia Vow, and Melancholy. We also have a ton of spells of our own to enchant if we find ourselves in need of some Honden of Cleansing Fire action.
With Steve's deck built, he starts to help out his teammates. One of them has a Red/Black control deck, featuring the late Fortune Thief, the Magus of the Coffers we opened, Endrek Sahr, and a veritable stack of Red removal. His deck doesn't take long to build, since the first pass yields twenty-two good cards, but the third deck is a huge mess. After the first pass, Steve's team is looking at something like fifteen playable cards. Some of them are certainly more than just "playable," such as Imperiosaur and Akroma, Angel of Fury, but the last third of the deck is going to be decidedly sub-par. Eventually the team decides to run the usually-shunned Lavacore Elemental, in multiples. To make sure that the card always has some time counters on it, they load in some Brass Gnats and Emblem of the Warminds. No one on the team is happy about the fact that all of these cards are making the cut, but at the same time, you have to do what you have to do.
The Red/Black deck picks up two quick wins, one on the back of Fortune Thief against Green/White, and one on the back of Endrek Sahr against Red/White. The terrible Green/Red deck also picks up two wins, though they take more time. He bashes the opposing Red/White deck with Lavacore Elemental and Char-Rumbler, and flips the red Akroma (with help from Scryb Ranger) against a Blue/Green deck.
Steve's deck only needs to pull out one win, but it makes it suspenseful. First up is the Blue/Green deck we were passing to. In game 1 Steve gets stuck on only three lands after suspending Giant Dustwasp on turn 2. When the Wasp finally arrives, Venser bounces it back to his hand. Steve makes a slightly strange play that shows just how desperate he is for mana: he taps two to put Utopia Vow on his own Ridged Kusite, and then taps two to re-suspend the Wasp. His opponent bounces the Kusite with Venser's Diffusion and swings in to put Steve to 8. When Steve can only muster the Kusite on his own turn, it receives another Utopia Vow so that it can't stop a Leaden Fists-based lethal attack.
Next up is the Green/White deck that was passing to us. Steve comes out of the gates relatively slow, with a Trespasser being his first play, against Blade of the Sixth Pride and D'Avenant Healer. As the ground begins to gum up, Steve plays a Mana Skimmer while his opponent plays a Uktabi Drake. When Steve tries to kill the Drake with his Skimmer, he loses the battle to Gift of Granite. Eventually the Drake and friends go all the way. In game 2, D'Avenant Healer again shows up to make our life difficult, but this time the real problem is Baru, Fist of Krosa. With a crew of x/1s and D'Avenant Healer on the board, Steve has to go for a block that is a three-for-one at best, and he ends up losing most of his side to that same Gift of Granite. A few turns later, and Steve is dead.
His last match, against the Red/White deck across the table from him, was similarly painful to watch. In the first game, Epochrasite picked up Undying Rage and went coast to coast. Steve attempted to race the man, and even managed to stall it for a few turns with a three-power block, but his opponent kept killing his creatures until the Construct unsuspended. However, Steve managed to pick up his first game win when he started off strong and managed to kill Prodigal Pyromancer with Melancholy. When it looked like his opponent was going to stabilize on the back of Poultice Sliver and Flamecore Elemental, Steve had the Timbermare for the last five points. In an anticlimactic finish, game 3 played out almost exactly the same as game 2.
As it turned out, Steve and I had mostly the same idea about how the draft was going. I think that there's a decent chance that I would have moved into Red when I saw the Fortune Thief, but then again things are different when you're actually involved in the draft process as opposed to simply observing it. Even if Steve had moved into Red, it's not clear that his deck would have been any better; the third pack was pretty much the only place we could have picked up any depth in our red cards. Hopefully, though, this has given you a bit of insight into how I approach a team-draft as opposed to a regular eight-man draft pod.
Until next time,