With no StarCityGames.com Open Series this weekend, the Spring State Championships takes top billing for those chasing the Players' Championship at the end
of the year. And with the top of the Season Two #SCGPC leaderboard about as tight as it can get, players like Chris VanMeter and Joe Lossett have another
opportunity to grab some Open Series points while playing for bragging rights at the same time.
After Eric Rill gained some serious ground with a finals appearance in the Standard Open of #SCGCIN, VanMeter, Lossett, and Rill maintained parity
following an intense weekend in Knoxville. Rill tied VanMeter thanks to his second-place finish in Cincinnati and both players secured six points in
Knoxville this past weekend, keeping them knotted up behind Brian Braun-Duin, who doesn't affect Season Two after qualifying for the Players' Championship
in Season One. Lossett claimed five points in Knoxville to lose a bit of ground on the front runners, but is still one strong finish from overtaking
VanMeter and Rill.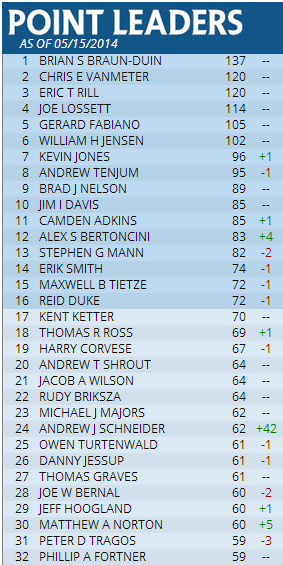 Rill fell just short of leaping VanMeter on Sunday, missing the Top 8 of the Legacy by mere percentage points and ending up in ninth place for four Open
Series points, the same amount VanMeter got for his 24th-place finish. An early draw combined with his Round 6 loss hurt his chances at reaching
the elimination rounds. Rill set aside his four-color Delver deck he used to win the Legacy Open of #SCGMLK for Esper Deathblade and finished with nineteen
match points, the same amount as Andrew Schneider, who snuck into the Top 8 and won the whole thing with U/R Delver.
Rill, who is arguably the hottest player on the Open Series at the moment, will pass up States and a chance at more Open Series point to play in his first
Pro Tour. The four-time Open Series champion wouldn't mind continuing his hot streak at Pro Tour Journey into Nyx in Atlanta, where a strong finish could
catapult his name to the biggest spotlight in the Magic world. However, with Rill in Atlanta, VanMeter has a window to earn some crucial points as he plans
on hitting two States events in hopes of reclaiming the lead for Season Two.
VanMeter has been the model of consistency on the Open Series the past two weekends with Top 32 and Top 64 finishes in both Standard and Legacy. He has
stuck with Jund Monsters as his deck of choice in Standard and maintains that there is no best deck in the format, but rather a handful of strong decks
that reward consistent play. His only variable is his Legacy deck choice. VanMeter played Shardless BUG in Cincinnati and UWR Delver in Knoxville in
attempts to find a deck that has a good matchup with Miracles, a deck that has been spiking in popularity. Unfortunately, his deck choices have opened him
up to Blood Moon, and he has taken losses to Painter decks in both events. VanMeter said on Sunday that he was unsure where he wanted to be in the Legacy
format and is considering shifting back to Reanimator as his go-to deck.
Luckily for VanMeter, States is Standard only, a format he has been at the pulse of for the better part of the year. While he hasn't decided on his state
of choice to compete in on Saturday, he has confirmed he will be playing in Virginia Sunday. The opportunity to play in two States events this weekend
gives him a slight edge in the race as Lossett doesn't have a viable option to play on Sunday.
While Lossett only has the chance to play in one States event, there is one thing in his favor this weekend. Lossett's State Championship is just a
30-minute drive from his home city of Redlands, CA. After flying across the country for the Opens in Dallas, Detroit, Cincinnati, and Knoxville, Lossett
will be playing in the closest event for him concerning the race for the Players' Championship this year. Though Lossett hasn't committed to playing in the
next three Opens in Somerset, Indianapolis, and Providence, a big finish on Saturday could lead him to making trips back out East to make a final push
before the Invitational in Columbus on June 13-15.
Other big moves:
Despite playing in Grand Prix Minneapolis this past weekend, Andrew Tenjum jumped up the leaderboard into the Top 10 last week after winning the Standard
Open in Cincinnati. He's now a strong finish from being in the discussion of the automatic berth to the #SCGPC. Tenjum is someone to keep an eye on as we
wrap up Season Two as he has a finals appearance in the Somerset Invitational from July of 2013.
Cam Adkins also climbed into 11th place after his Top 8 of the Standard Open in Knoxville with Esper Control. Adkins has played Esper Control and Shardless
BUG to strong finishes in almost every Open in the South to earn his spot on the leaderboard. Adkins is another name to watch come Columbus as a player
with a semifinals appearance in the Indianapolis Invitational from October of 2013.
Alex Bertoncini combined his Top 8 in the Standard Open and his Top 32 finish in the Legacy Open in Knoxville to reach 12th place of Season Two.
Bertonicni's name will be one to watch for Season Three, where he already sits in the Top 5 of the leaderboard.