The StarCityGames.com Open Series hit Baltimore, MD this past weekend and that meant Joe Lossett's lead on the Season Three leaderboard would be at risk.
Lossett's closest competitors, Alex Bertoncini and Gerard Fabiano, would be in attendance with just a strong performance separating all three. Lossett had
his sights set on two IQs in Southern California, but Bertoncini and Fabiano were both looking for double-digit point finishes in the first Open Series
event after the release of Magic 2015.
Lossett did his part by making the most out of his opportunities out west. He followed up his third-place finish in a Modern IQ at San Diego Games and
Comics on Saturday with a win in a Legacy IQ in the same building on Sunday. Between his games in the Top 8 on Sunday, Lossett monitored the coverage of
#SCGBALT on his phone as Bertoncini made a run in the Legacy Open. Bertoncini lost his Round 8 match to Andrew Boswell to fall out of contention for Top 8,
and that meant Lossett would not only hold on to his Season Three points lead, but extend it with his win with Miracles on Sunday.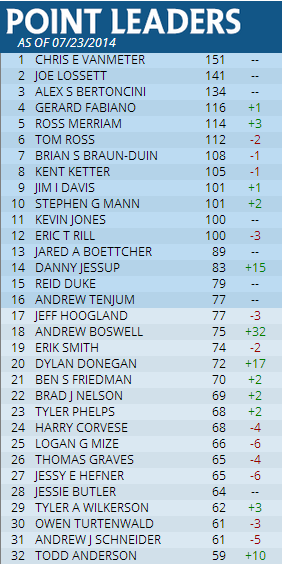 Bertoncini cobbled together six points in Baltimore with his Top-64 finish in Standard and his Top-32 finish in Legacy, but it didn't match the eight
points Lossett scored. Fabiano only got four points after rough starts in both the Standard and Legacy Open, but he was able to make the Top 32 of the
Modern IQ Sunday for two points after opting to play in it after getting a Round 1 loss in the Legacy Open.
While Bertoncini and Fabiano lost ground to Lossett, Ross Merriam jumped into the Season Three points race picture with another strong weekend. Though he
didn't match his win and second-place finish from the Providence Open in June, Merriam did score another Standard Open Top 8 with Mono-Blue Devotion in
Baltimore. He added four more points to his eight from the Standard Open with a Top-32 finish in the Legacy Open with Elves, the same deck he played in
Providence. Merriam moved up three spots and now trails Fabiano by just two points and Lossett by 27. After Merriam's near back-to-back in Providence last
month, 27 points is by no means unattainable with more than a month left before the Somerset Invitational and the end of Season Three.
Outside the top spots on the Season Three leaderboard, three players made huge jumps thanks to each of them making the Top 8 of the Standard and Legacy
Open in Baltimore. Boswell, who ended Bertoncini's run in the Legacy Open; Dylan Donegan, who now has four Open Top 8s this year; and Lloyd Kurth, the
Baltimore Legacy Open winner, shot up the leaderboard after their strong performances.
Boswell climbed 32 spots into 18th and is now within striking distance of the Top 16 and two byes at the Somerset Invitational. Boswell finished
second in the Standard Open with G/W Aggro and lost in the semifinals of the Legacy Open with Sneak and Show. Donegan vaulted into 20th place
after moving up just shy of the Top 32 a few weeks back with back-to-back Super IQ and IQ wins in the same weekend in North Carolina. Donegan used
Mono-Blue Devotion in Standard, the same deck he won both IQs with, and RUG Delver in Legacy. Kurth shot up the leaderboard with his Legacy win with
Shardless BUG and his Top 4 in Standard with B/W Midrange. Kurth converted his fifth Open Series Top 8 on Sunday into his first win.
Dan Jessup won the first Standard Open with M15 in the format, piloting Mono-Black Devotion past Boswell and his G/W Aggro deck. Jessup's deck contained
four cards from M15, two copies of Sign in Blood, one Urborg, Tomb of Yawgmoth, and one copy of Liliana Vess in the sideboard. His win landed him in the
Top 16 of the Season Three leaderboard.
The Open Series heads to Kansas City, MO this weekend. Will M15 have a bigger showing in the top decks or will the proven archetypes continue to dominate?
More importantly, will Lossett or Bertoncini make the trek to #SCGKC to get an edge in the Season Three points race and the coveted berth to the Players'
Championship that comes with it?
Other moves:
Stephen Mann's Baltimore Legacy Open Top 8 with BUG Delver pushed him into 10th place on the Season Three leaderboard. Mann now has a Legacy Top 8 with U/W/R, RUG, and BUG Delver – with a win in Atlanta this year with RUG.
Tyler Wilkerson won an IQ at the Battlegrounds Games and Movies in Dalton, GA this weekend to move into 29th place in Season Three. Wilkerson almost pulled off an Open Series back-to-back in January when he won the Orlando Standard Open and fell in the Top 4 of the Legacy Open.
Todd Anderson jumped 10 spots after his Top-64 in Standard and his Top-32 finish in Legacy in Baltimore with Mono-Green Devotion and Sneak and Show, respectively.
Shaheen Soorani climbed 17 spots into 47th place for Season Three thanks to his Top 32 in the Legacy Open in Baltimore. Soorani is second all-time in Invitational Top 8s with five, just one behind Gerry Thompson.