For West Coast Magic players looking to hit the Open Series, June offers up two chances to play and earn some slots for upcoming Invitationals. For Joe Lossett, this two-week period gives him his biggest opportunity to accumulate Open Series points without flying across the country.
Lossett converted his first chance by collecting twelve points with a Top 8 in the Standard Open and a Top 32 in the Legacy Open in Las Vegas this past weekend. His finished pushed him ahead of Alex Bertoncini in the Season Three standings for the lead, with another chance at securing points this weekend in Portland.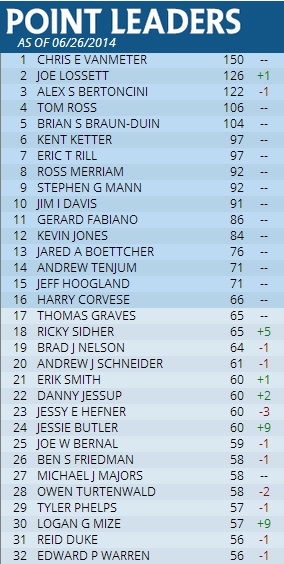 A strong showing in Portland would present Lossett the same predicament he was in a couple months back when he made a run at the Season Two points race. His results in the Season One Invitational and the first couple weeks of Season Two fueled the Southern California native to fly across the country to play the Opens in Knoxville and Cincinnati. While his run for the points lead came up short as Chris VanMeter went on a massive tear toward the end of Season Two, cementing his berth in the Players' Championship, Lossett will again be presented the option to chase the points lead, this time for Season Three.
While Lossett leads now, the race for the Season Three points lead looks to include Bertoncini, who is fresh off a Top 4 finish in the Season Two Invitational; Kent Ketter, who has finished ninth in both the Season One and Season Two Invitationals; Eric Rill, a four-time Open Series winner; and Ross Merriam, who was one game away from winning both the Standard and Legacy Opens in Providence, RI in early June. Whether Lossett commits to traveling across the country again for another season is up to him, but his consistent work on the Open Series means he will be a player to watch as the final eight at-large berths to the Players' Championship are determined following the Season Four Invitational in Seattle on December 12-14.
Lossett wasted no time taking over the points lead for this season as he went 8-0-2 in the Standard Open with the U/W Control deck he has been playing since converting to it from R/W Burn, his Standard deck of choice from the Season One Invitational. He completed his weekend in Las Vegas with a 25th-place finish in the Legacy Open with Miracles, with his losses coming to Cloudpost, a Miracles nightmare matchup, and Belcher, normally a great matchup for the deck packing four copies of Force of Will.
Lossett's high finishes in Vegas continued the run he started in Columbus where he took 24th in the Invitational and 26th in the Legacy Open, marking that he has not only earned valuable Open Series points but has cashed in four straight events. In fact, dating back to the Seattle Open in March, Lossett has cashed in fourteen out of the seventeen events he has played in, including three Top 8s. That consistency is exactly why he is in the lead for Season Three.
Other movers:
Los Angeles 2013 Legacy Open winner Ricky Sidher climbed five spots up to 18th thanks to his Top 32 finish in the Standard Open with Mono-Blue Devotion. Sidher joins Lossett as the only other West Coast player to reach the Top 32 of the leaderboard.
Jessie Butler jumped nine places up to 24th after winning a Super IQ at The Battlegrounds Games and Movies in Dalton, GA this past weekend. Butler recently reached the Top 4 of the Standard Open in Knoxville with R/W Burn. He also finished in the Top 64 in the Season Two Invitational in Columbus.
Season Two Invitational Top 8er Logan Mize took down an IQ at Cool Stuff Games in Winter Park, FL to jump nine spots and into 30th place for Season Three.
High Tide aficionado and Seattle 2012 Legacy Open winner Feline Longmore moved up to 44th place after her Top 64 finish in the Las Vegas Legacy Open, moving her closer to the Top 32 and a first-round bye for the Season Three Invitational.