At this point, Chris VanMeter can't remember when it all started.
What started out as simply growing a beard evolved into something much bigger than he could have imagined. Playing at an Open sometime in the summer of
2013, VanMeter made a quick joke about refusing to shave until he won a big tournament and suddenly was locked in. Cedric Phillips and the rest of the
SCGLive crew heard of his commitment and the race to shave his beard began.
"I honestly don't even know the exact date it started," VanMeter said. "I jokingly said something about not shaving until I won a tournament, because I was
being lazy and letting my beard grow out, and Cedric caught wind of it and talked about it on camera and it spread like wildfire from there and from then
on I bought into it."
While VanMeter hasn't had the chance to shave yet, falling just short with two semifinal finishes in Opens since the challenge, he has found himself in a
much more important race than one to the razor. He's the player to catch on the Season Two leaderboard in the race to the StarCityGames.com Players'
Championship. With Brian Braun-Duin already qualified for the 16-player end-of-the-year tournament, VanMeter leads the way with 131 points and can lock in
his berth to the Players' Championship with a strong finish down the stretch of Season Two with just three Opens before the Season Two Invitational in
Columbus.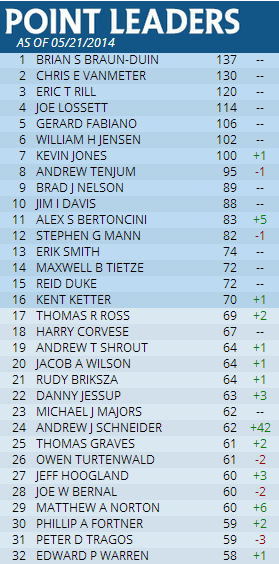 Qualifying for the Players' Championship would reward his dedication to the game, while setting him up to compete for a share of the $50,000 up for grabs
in December. And even though the qualification wouldn't lead to a shave, it would lead to a better feeling of accomplishment.
"Qualifying for the Players' Championship would give me a feeling of validation that I can set a goal for myself and achieve it," VanMeter said. "With
Magic I try not to set concrete goals because I feel you can always get better at Magic and I want to continue to learn and get better. Setting a goal like
qualifying for the Players' Championship and achieving it is validation that all the effort I put into Magic is paying off and it is possible to do this
after putting the effort and traveling in. Plus, it is a lot of money!"
VanMeter is no stranger to chasing the biggest accomplishments on the Open Series. He was one of just a handful of players to achieve Level 8 of the
Players' Club in 2011 as the tournament series took off. Back then he was flying to Opens from his home in Wichita and reaping the benefits of hitting the
highest points level, which included $250 appearance fees at Opens and two byes per event.
VanMeter says reaching Level 8 of the Players' Club is his highest achievement in Magic, just ahead of his Standard Open win in Somerset in May of 2013,
where he defeat Owen Turtenwald in the finals. That win marks the last time he hoisted a trophy and his second Open title. But what VanMeter might lack on
his mantle, he makes up for in consistent play. He is seventh all-time in Open Series Top 8s with twelve, including Top 4 finishes in St. Louis and
Charlotte this year. He also has finished in the Top 64 or better in five of his past six Opens.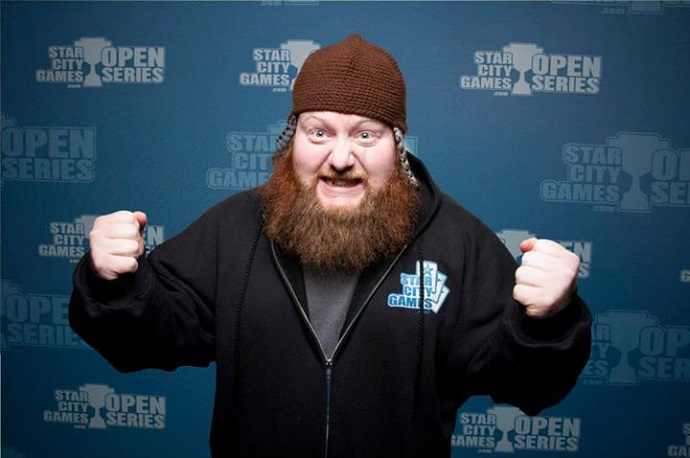 Chris VanMeter poses for his Top 8 photo in the Standard Open in Charlotte in March
The StarCityGames.com Versus video star and Select-side author has the steady flow of points to thank for his lead, but his closest competitors are no
stranger to Open Series Top 8s either. Eric Rill won the Milwaukee Legacy Open on April 6 and started May off with a second-place finish in the Cincinnati
Standard Open to launch him into a tight race with VanMeter. Joe Lossett notched a finals appearance in the Dallas Legacy Open and a handful of Top 32
finishes to position himself within range of taking the top spot on the leaderboard.
"I am in the position I am from consistently doing well, not having a few big finishes. I will always top 32 or 64, occasionally Top 8 or Top 4, but I
haven't won a tournament, hence the giant beard, since I won Somerset when Dragon's Maze was released," VanMeter said. "Joe has been making the finals,
Rill had two awesome weekends, and they catapulted themselves into a position where they are able to take a lead, but they will need to continue to spike,
whereas I continue to put up points every week and hope that will be enough to carry me to the qualification."
VanMeter demonstrated his determination to qualify for the Players' Championship this past weekend when he traveled 12 hours to drive to and from two
different States events. His trek out to West Virginia resulted in him taking the title and the 10 Open Series points with Jund Monsters. Sunday didn't go
quite as well for him, though, as his trip to the Virginia States event added just one point to his total after dropping with two losses in Round 5.
His win in West Virginia was enough to separate himself from Rill and Lossett, as Rill was playing in Pro Tour Journey into Nyx in Atlanta and Lossett only
managed two points from the Southern California States event. Now the focus turns to the last three Opens of the season in Somerset, Indianapolis, and
Providence before the Season Two Invitational. VanMeter has committed to go to all four events, leaving the onus on Rill and Lossett to keep up with him.
And after VanMeter's success with Jund Monsters this season, including his States win, he is happy to know Standard will not change drastically until well
after Season Two finishes. With Standard being his most successful format this year, VanMeter is looking to ride Jund Monsters to more points down the
stretch.
"I feel Jund Monsters is the best deck for me, because I don't think there is a No. 1 deck in Standard at the moment. The format rewards players who are
familiar with their deck and have good sideboard plans for the expected field," VanMeter said. "I feel Monsters is especially good right now, because it is
good against Thoughtseize, and the black devotion decks are perceived to be the best decks in the format, so when your deck is all mana sources and gas,
when they Thoughtseize you they can take a piece of gas, but the rest of your deck will be very good against them. Plus Xenagos is very well positioned
against half the field right now, and this is the best Xenagos deck."
While VanMeter is set on Standard, Legacy is a monster all of its own. VanMeter has switched up his deck choice for the Eternal format, failing to find a
deck that leaves him satisfied. He toyed with Miracles and Reanimator in Charlotte for the Season One Invitational and Legacy Open, then played Shardless
BUG in Cincinnati and UWR Delver in Knoxville. His uncertainty with the format has led him to work with Lossett on an updated Big Tezzeret list.
Both VanMeter and Lossett have a history playing Tezzeret decks in Legacy. VanMeter worked with Chris Andersen on the deck Andersen played to win the St.
Louis Legacy Open in 2013. Lossett, an avid Miracles player, has been streaming with Tezzeret for quite some time. VanMeter popped into Lossett's stream
last week when he was playing it and the two have been helping each other shore up the deck's bad matchups. Whether either player pulls the trigger on
their new artifact-based control deck will be determined this weekend, as VanMeter continues to look for a deck to stick with as the Invitational nears.
"I played U/B Tezzeret before when Chris and I put it in the spotlight, and Chris actually won an event with it. We're why Transmute Artifact went from
five to 50 dollars," VanMeter said. "I think the deck is fun to play and has potential to be well-positioned right now and I really like the big Tezzeret
Joe has in his deck. Tangle Wire and Trinisphere are very good against certain decks, and he lets you find those."
VanMeter is no stranger to working with others either. He and Braun-Duin actively help each other and test during the week, something that helped
Braun-Duin claim the points lead in Season One. Now VanMeter is hoping the same formula will result in him qualifying as well, proving the effectiveness of
teamwork.
"I think it'd be really cool if Brian and I both qualified in a row because it would go to show that open information is always better than closed
information, especially when you're dealing with a season race like this and not one big tournament," VanMeter said. "When you have a Pro Tour with an
unknown format, it makes sense to keep it hidden, but with something like this Open Series and the Players' Championship, any type of information you can
give and get is going to make you a better player and in the long run that is going to be more beneficial than keeping something secret for one
tournament."
If things turn out like VanMeter wants them to, he can qualify for the Players' Championship this season, which would allow him to commit more time going
forward to play on the Pro Tour. He played at Pro Tour Nagoya in 2012 but wants to play at the highest level again, much like his testing partner
Braun-Duin is doing. Braun-Duin just put up a Top 50 finish at Pro Tour Journey into Nyx and a Top 8 at Grand Prix Minneapolis.
"I want to qualify for the Players' Championship now so I can get it out of the way and can spend some time playing more GPs and trying to qualify for the
PT again," VanMeter said. "I definitely want to play in a Pro Tour again and that's my next goal if I can lock in a PC qualification."