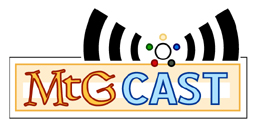 This text will be replaced by the flash music player.
MTGCast #126 – Grand Prix Jamboree and Voice Mail Marathon
"You read it somewhere else, but you heard it here first!"
This Week in Magic
We had two major tournaments this weekend, Grand Prix: Paris and Grand Prix: Kansas City. We give you a rundown of the winners and some general strategy for Shards of Alara sealed deck. Gavin talks a bit more about the rapidly approaching Pro Tour: Berlin and his preparation. We are exceptionally excited for the upcoming Jace vs Chandra Duel Decks with alternate art Counterspell, Fact or Fiction, Incinerate, Seal of Fire and of course, the two planeswalkers. It is available November 7th.
User Corner
We have a bunch of emails to Gavin and Tom this week.
MTGCast News
We have new episodes of Planeswalk with the Professors, The Magic Sock, The Magic School Bus, Deck Builders Video and Radio and Tribal Time with Tom. Tom is going to Worlds and wants to know if listeners want any sort of get together. All of the old episodes are back online, our apologies for the downtime.
Emails, Comments and COMMENT CONTEST!
The winner this week of 6 packs of Shards of Alara is … The Game! Send Tom (pitimp) a private message on the forum to claim your prize.
This is a new weekly contest where I announce a question on the podcast, you post a response (or story) on the MTGSalvation or Star City Games forum for replies to the episode and you can win a card hand-selected from Tom's large collection (and winner is announced on the next week's show).
This week's question is: Custom Conflux cards, Deflating Football league logo, and a new MTGCast logo!
Prize of the week: 3 packs of Shards of Alara!
[Magic Set Editor]
Leave a voice mail on our new phone line – 469-277-2278
So why wait? Call in with any questions, news items, hints, tricks, combos, or anything!
Subscribe to the MTGCast Monday Night Magic RSS feed!
RSS feed for Monday Night Magic
RSS feed for all shows on the MTGCast network
Contact Us!
Call us and leave a voice message at 469-277-2278, that's 469-277-CAST!
Join the MTGCast Facebook Group – Discussion, Photos, Videos and More!
Tom at [email protected]
Derek at [email protected]
Gavin at [email protected]
Tom & Derek & Gavin – Your Monday Night Magic news team!