The wildly dynamic Modern format continues to excite, and despite another excellent weekend for U/R Gifts Storm, the breakout deck of the weekend is such an overwhelming favorite against it, there's a…good chance the format is going to take another wild turn next weekend.
See, now that is a creature base!
Collins Mullen, host of MTGGrindcast, and his teammates cooked up a monster, taking the Five-Color Humans strategy and pushing it way beyond anything we've seen, thus far. With the addition of Ancient Ziggurat to go alongside Cavern of Souls and Unclaimed Territory, not to mention a playset of Aether Vials, this deck's mana is basically perfect despite playing five colors, including the most audacious mix of creatures in memory.
I mean, when was the last time you say Anafenza, the Foremost fighting alongside Izzet Staticaster?
Not only did Collins win the tournament, he was undefeated in the Swiss. Here's the list he used to absolutely thrash the tournament:
Creatures (36)
Lands (20)
Spells (4) Notice this list is literally 100% creatures and mana, meaning you don't have to worry about your lands not tapping for colored mana. That's not to say he's without interaction, however.
Headlined by Ixalan's Kitesail Freebooter, this list features seventeen creatures with built-in interactive spell-like abilities, not to mention ten more in the sideboard. Kitesail Freebooter's ability to suppress a sorcery or instant is exciting in its own right; however, it's also excellent info for knowing which creature to cast on which turn, not to mention what to name with Meddling Mage!
The strength of playing all Humans isn't just getting to play perfect mana, however.
That's a lot of extremely mana-efficient tribal payoffs. Mayor of Avabruck is a particularly exciting creature to Vial down on your opponent's end step, as that doesn't count as playing a spell, potentially letting it flip immediately!
This sideboard is also a thing of beauty.
Graveyard hate, creature removal, artifact destruction…it's got it all. Somehow, even Ethersworn Canonist is a Human!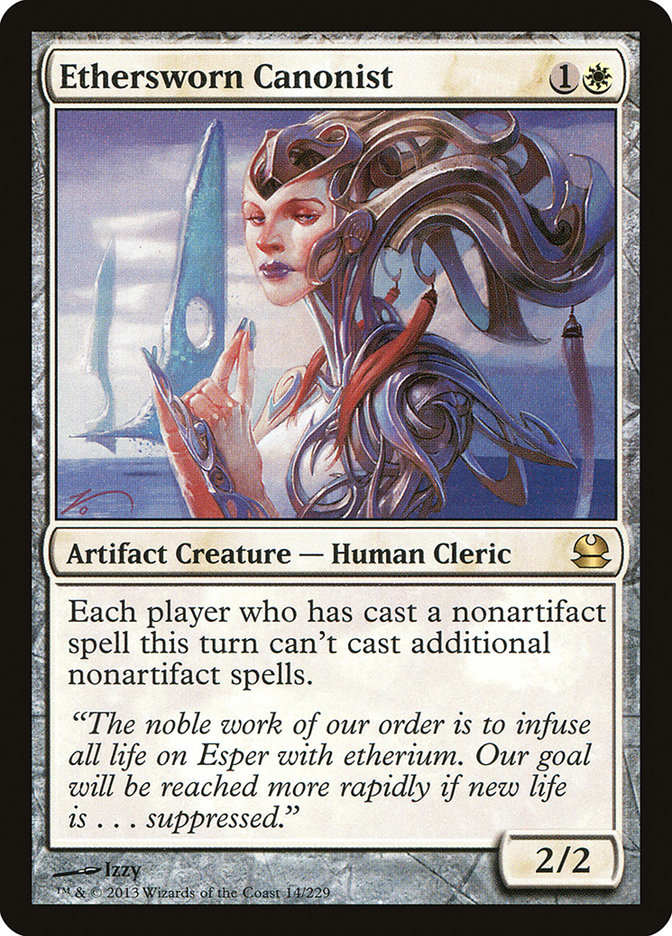 While it is fun just outright annihilating people, it's especially sweet when done with cards that require a read from most opponents.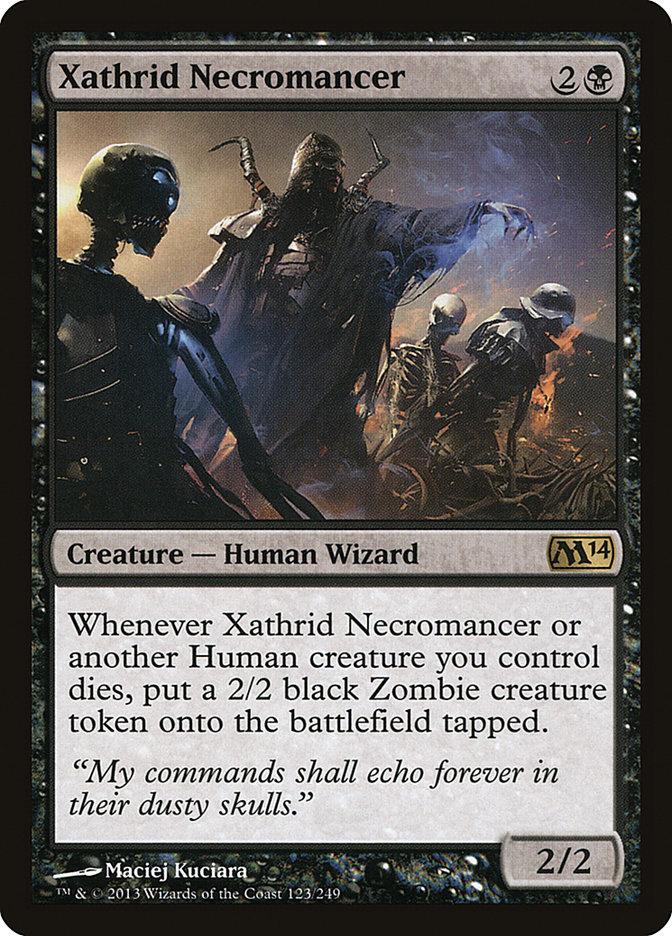 Xathrid Necromancer is a pretty exciting tribal lord optimized for combating sweepers like Supreme Verdict. It's also not exactly a creature most people are familiar with.
There's plenty one can do to try to update decks with knowledge of this new breed of Five-Color Humans, but I don't think this deck is just a flash in the pan. While most people are busy looking at stuff like…
There's a little kid inside me that instantly turned to…
Let's win that mirror match, baby!
Was this before or after you penciled another heart with "PC + OV" and an arrow through it?
Okay, let's take a look at the metagame as a whole. As always, the Top 32 metagame is weighted by finish, awarding six points for first, five points for second, four points for semifinalists, three points for quarterfinalists, two points for the Top 16, and one point for the Top 32.
| | | |
| --- | --- | --- |
| Archetype | Day 2 Metagame | Top 32 Metagame |
| Three-Color Company* | 16.42% | 20.63% |
| Death's Shadow | 14.93% | 9.52% |
| U/R Gifts Storm | 5.97% | 14.29% |
| Infect | 5.97% | 4.76% |
| Elves | 5.97% | 0.00% |
| Affinity | 4.48% | 7.94% |
| U/W/X Control | 4.48% | 6.35% |
| B/W Eldrazi Taxes | 4.48% | 4.76% |
| | 4.48% | 3.17% |
| Eldrazi Tron | 4.48% | 1.59% |
| Burn | 4.48% | 1.59% |
| Jund | 4.48% | 0.00% |
| G/X Tron | 4.48% | 0.00% |
| Abzan | 2.99% | 1.59% |
| Misc.** | 11.94% | 25.40% |
*Three-Color Company = Lots of different Abzan Company and Bant Company, plus one G/W Company.
**Misc. = Humans, U/G Merfolk, Death and Taxes, Ad Nauseam, G/R Land Destruction, 8-Rack, Living End, Grixis Delver
Oh, erm, I guess it's kind of a weird spot to merge all of the one-off rogue decks under "Misc." when they crushed so hard. While they are brought up by the one Five-Color Humans list, that was far from the full picture. Just take a look at the Misc. deck breakdown:
| | | |
| --- | --- | --- |
| Archetype | Day 2 Metagame | Top 32 Metagame |
| Humans | 1.49% | 9.52% |
| U/G Merfolk | 1.49% | 6.35% |
| Death and Taxes | 1.49% | 4.76% |
| | 1.49% | 3.17% |
| G/R Land Destruction | 1.49% | 1.59% |
| 8-Rack | 1.49% | 0.00% |
| | 1.49% | 0.00% |
| Grixis Delver | 1.49% | 0.00% |
That's pretty impressive. Talk about an excellent showing for the rogue decks and the fringe archetypes!
As for the more mainstream strategies, U/R Gifts Storm was far and away the biggest overperformer (like always). This week's top-performing villain was Scott Simmons, with a very standard build:
While there's not really much in the way of groundbreaking tech here, I think it's important to keep our sights on U/R Gifts Storm. The aforementioned Five-Color Humans deck may be the new hotness, but U/R Gifts Storm is still the deck to beat and the defining deck of the format.
Because of this, the format has experienced a massive surge in Thalia, Guardian of Thraben. Not only is she a pillar of the Humans deck, she's showing up everywhere from Death and Taxes to W/B Eldrazi.
Aether Vials, Aether Vials, as far as the eye can see.
Just wanted to point out another nice finish for Smuggler's Copter, which has been quietly racking up the wins in Modern now that it's finding its groove.
For the same reasons Kitesail Freebooter is good in the format, so too are Tidehollow Sculler and Thought-Knot Seer. It's important to be able to interact, and all of these types of creatures are particularly effective when coupled with Aether Vial.
I just love how many people are jamming everything from Blade Splicer to Mantis Rider, Mirran Crusader to Restoration Angel, Eldrazi Displacer to Reflector Mage. This Modern format is amazing!
God, it feels like there is just sweet new tech in every nook and cranny!
Tidehollow Sculler is also an important part of the recipe for why Abzan Company performed so well while Elves got slaughtered. Storm is just too strong and too fast to go in without interaction.
Now, there's a graveyard hate card with style. Why just sit around when you can also beatdown with an indestructible Phyrexian Negator?
Of course, while I sit here talking about needing interaction in order to compete, Mullen's teammate and roommate, Jeremy Bertarioni, updated U/G Merfolk by pulling back on the interaction in order to better take advantage of "colorless" lands like Mutavault, Cavern of Souls, and Unclaimed Territory.
With just ten lands that can make blue mana, this deck is not good at casting blue spells. Amusingly, Silvergill Adept and Merfolk Branchwalker are important ways to help smooth out your draw in order to be able to find a land that can actually cast Spreading Seas. It may eyebrow-raising, seeing Spreading Seas in a deck that will frequently not be able to cast it until Turn 4; however, it's still a great Turn 4 play, often making your creatures all unblockable.
And this isn't even counting Spell Pierce!
Ixalan has not been messing around in Modern, and it's doing it without just relying on a cost-reduction mechanic or a broken combo. From Opt to Search for Azcanta, from the Humans to the Merfolk, this is a far-from-standard amount of Modern playables for a new set.
I'm impressed.
Now, what's the next stage in the evolution?