"Mind Your Step"
"Mind Your Step"
Wonder how many times I've heard that. For those of you that don't know, that's the computerized voice of the moving walkway at Schiphol Airport in Amsterdam. It's amazing that you can get advice as profound as that from a moving walkway.
Yesterday Ted was on my case again, wanting another article:
"Your deadline is Sunday. There you go, now you have something to worry about."
Luckily for me I had a good alibi this time.
"I'm leaving for Lisbon tomorrow, I'll be gone the whole weekend."
So Ted generously changed my deadline to Tuesday. So here I sit, trying to get something written while waiting for my connecting flight to Lisbon. The first advice of this article is this; don't become a "professional Magic player" when you live in the middle of nowhere. I don't even want to think about the amount of time I have spent in airports and on flights. Total travel time to this event? Eleven hours. For a Grand Prix. At least I'm breaking even if I Top 8.
Before leaving I tried to find out who else was going to this thing. Of course, not many from Sweden are going. it's just me, Mikael Polgary (of GP: Singapore fame) and Johnny Wallin. Not sure if any of the Dutch are going, or if Kai is. Guess it's a win/win situation. If not many pros are going then it gets easier for me, and if they are then at least I get to see my friends.
I do feel like I have a good grip on the draft format, even though lately I can't seem to win on Modo. To be fair, a lot of the time I make stupid mistakes while playing on Modo, mistakes I like to think that I wouldn't make in a "real" match. Also, it's been a long time since winning on Modo was easy. All those people that Modo every day really are catching up to me (and all the other pros).
Okay, I'll be back tomorrow with my Sealed Deck and how I chose to build it. Except it won't be tomorrow for you guys, it'll be one paragraph, but you know what I mean.
When I had the idea that I would write this article as kind of a diary, I didn't think of the fact that these Grand Prix's take way too much time. Day 1 of the Grand Prix (which had 1100-something players) ended after 1 am. When Day 2 starts at 9 am, that doesn't leave a lot of time to get some writing done. So today is Tuesday and I'm pretty sure I won't finish this article until tomorrow.
Oh well, we get to the site on Saturday morning and proceed to wait forever while the head judge explains how the tournament will work to everyone. The fact that he explains in two languages makes this procedure even slower than usual. After an excruciatingly slow deck swap, we finally receive the decks we will play with. This is what I got:
White:

Blessed Breath

Kami of the Painted Road

Lantern Kami

Mothrider Samurai

Quiet Purity

Samurai of the Pale Curtain

Yosei, the Morning Star

Genju of the Fields

Mending hands

Silverstorm Samurai

Split-Tail Miko

Waxmane Baku
Blue:

Callous Deceiver

Consuming Vortex

Floating-Dream Zubera

Graceful Adept

Hisoka's Defiance

Hisoka's Guard

Lifted by Clouds

Petals of Insight

Soratami Mirror-Guard

Swirl the Mists

Wandering Ones

Callow Jushi

Mistblade Shinobi

Phantom Wings

Teardrop Kami

Toils of Night and Day
Black:

Cursed Ronin

Distress

Gutwrencher Oni

Oni Possession

Painwracker Oni

Ragged Veins

Rend Flesh

Soulless Revival

Wicked Akuba

Nezumi Shadow-Watcher

Skullmane Baku

Skullsnatcher

2 Stir the Grave
Red:

Crushing Pain

Ember-Fist Zubera

Glacial Ray

Ronin Houndmaster

Sokenzan Bruiser

Soul of Magma

Unearthly Blizzard

Ashen Monstrosity

Aura Barbs

Frostling

Frost Ogre

In the Web of War

Ire of Kaminari

Kumano's Blessing
Green:

Commune with Nature

Dripping-Tongue Zubera

Feast of Worms

Humble Bodoka

Kashi-Tribe Warriors

Moss Kami

Orbweaver Kumo

Wear Away

Genju of the Cedars

Gnarled Mass

Harbinger of Spring

Matsu-Tribe Sniper

Petalmane Baku

2 Roar of Jukai
Lands:

Eiganjo Castle

Waterveil Cavern



Not the most exciting cardpool is it? Our removal is a single Glacial Ray and a Rend Flesh. Black basically has nothing good at all, with the only real option being a small splash of Rend Flesh and maybe Soulless Revival. Red doesn't have enough quality cards to warrant anything more than a splash either.
Luckily, White is pretty deep (although mostly unexciting) and it even has our one broken card, Yosei. It doesn't take a genius to figure out that White will be one of our main colors. It is also pretty easy to see that unless we want some three-colored mess, we need Blue to be our other color. The Blue isn't especially great but we at least get some sort of pseudo-removal in Ghostly Wings and Consuming Vortex, as well as the chance of getting the Mistblade/Mirror-Guard combo. The only really hard decisions for this deck is what the last few cards should be. Putting in what I think are the obvious inclusions gets us:
Blessed Breath

Kami of the Painted Road

Lantern Kami

Mothrider Samurai

Samurai of the Pale Curtain

Yosei, the Morning Star

Genju of the Fields

Split-Tail Miko

Waxmane Baku

Callous Deceiver

Consuming Vortex

Floating-Dream Zubera

Hisoka's Defiance

Petals of Insight

Soratami Mirror-Guard

Callow Jushi

Mistblade Shinobi

Phantom Wings

Eiganjo Castle
Assuming 18 lands we will need another four cards to fill out this deck. Our options in White and Blue are:

Teardrop Kami

Toils of Night and Day

Silverstorm Samurai

Mending Hands

Neko-Te
If we want to add a splash to our deck then Red is the way to go. Green has nothing splashable, Black has only Rend Flesh and Glacial Ray from Red is just better. Other possible splash cards in Red are Ronin Houndmaster and Sokenzan Bruiser.
Now if we already had a good two-color deck with enough power to win against the better decks I wouldn't even think about splashing a third color. Sadly, in this case a two-color deck would be pretty weak with no real answers to bombs and not fast enough to run people over. So I ended up splashing Red for the solitary Glacial Ray in hopes of getting a random win or two from splicing it. I also added Teardrop Kami, Silverstorm Samurai and Neko-Te to make it 22 cards. Neko-Te is really unimpressive without any pingers but I figured it could let my weak creatures "trade" for the much better creatures I was sure I would face all day. In retrospect however I think I would have been better off playing Toils of Night and Day or even maindecking Sokenzan Bruiser. The final decklist looked like this:
Lantern Kami

Teardrop Kami

Floating-Dream Zubera

Samurai of the Pale Curtain

Split-Tail Miko

Callous Deceiver

Callow Jushi

Waxmane Baku

Mistblade Shinobi

Mothrider Samurai

Soratami Mirror-Guard

Kami of the Painted Road

Yosei, the Morning Star

Silverstorm Samurai
Genju of the Fields

Blessed Breath

Consuming Vortex

Hisoka's Defiance

Petals of Insight

Phantom Wings

Glacial Ray

Neko-Te
Eiganjo Castle

8 Plains

7 Islands

2 Mountains
I wasn't very happy with this deck but what can you do? At least it felt like I had a deck that could get lucky. You see, if you have a deck that's already really good then you just want to make it as stable as possible. But when your deck is lacking you have to sacrifice consistency for power. This is why I probably should have played cards like Toils of Night and Day or Sokenzan Bruiser over more "stable" cards. I did end up boarding those two cards in more often than not.
I'm not going to go through every round of Day 1, since I don't recall all the details of my matches and nothing really astonishing happened. Well, nothing astonishing except that I somehow started 8-0 before losing the last round of the day. Magic is pretty easy when you never really have any mana problems and always seem to draw the right card. My opponents however seemed to like to take mulligans and miss land drops. To be fair, some of them played less than optimally too, but that's to be expected at a Grand Prix.
As soon as we finish the last round of the day we grab a taxi back to the hotel. I manage to get about five hours of sleep, which seems to be standard for Grand Prix's these days. I really don't know why I keep going to GPs – it really is hard to enjoy them when the days are so long and you have to wait so much. Hopefully Wizards of the Coast will realize that they need to do something about this, or at least give out better prizes for the bigger Grand Prix's.
After a quick breakfast and another cab ride we get back to the site and more waiting, we are ready to draft. Both Mikael and myself are drafting on table one, with the rest of the table comprised of various local talent (meaning no one I recognize). This draft was covered here.
I start out by picking Blademaster over Kodama of the North Tree (wanting to avoid Green if possible). The second pack has Rend Spirit and Thief of Hope and I pick the Thief. After this I keep getting Black and White cards, which is what I want so I'm happy. The final deck turned out a bit weird with a very high curve and no real removal. I also didn't get any Waxmanes, Moths or Moonlit Striders. Still I felt like I could get atleast 2-1 out of it, since I should win any game where my opponent doesn't get a really fast start. Notice how I'm playing both Harsh Deceivers but not both Okiba-Gang Shinobis. Okiba-Gang is a much better card in general but I desperately needed creatures that could stall the board.
Round 10 vs. Miquel Company Bernal (Spain)

Game one I keep a two-land hand while he mulligans to five. I miss my third land drop a few turns but so does he. He finds it before me though and soon has a Devoted Retainer with Oathkeeper, Takeno's Daisho beating me down. I find some lands and somehow chumpblock his Samurai a bunch of times while soulshifting and finally getting Oyobi into play. His White/Red deck has no answer to Oyobi and he's not drawing much of anything anyway.
Game two I keep a somewhat land-heavy hand and proceed to draw a bunch more while dying to his army of puny Samurais. Game three is looking good for me with his creatures being small and not too fast (Battle-Mad Ronin and such). That is, until he drops Oathkeeper. I try to fight it off but this time I am not successful. It really felt like I should beat Miquel's deck most of the time, and if my draw was at least decent then he had to draw Oathkeeper to have a shot. Oh well, guess I have to win the rest of my matches.
8-2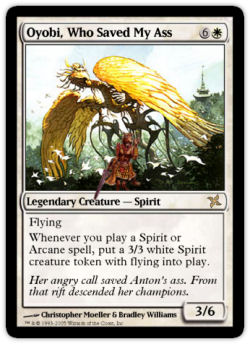 Round 11 vs. Joâo Abreu (Portugal)

Joâo was playing some sort of Green deck. There's nothing you want to play against more than Green when you are Black/White. He did have Jugand which almost threatened to make a game out of it. That is, if I hadn't drawn Oyobi. Let's call him "Oyobi, Who Saved My Ass", shall we? I win this one comfortably in two games.
9-2
Round 12 vs. Oscar Nieto (Spain)

Oscar is also playing Green cards with his other color being White. Green/White is by far the worst color combination in this format and also by far the easiest matchup for White/Black. His deck is pretty slow too, making this the perfect matchup for me. Game one he doesn't really do anything while I build a board of fliers and Thief of Hope. He finally gets Takeno equipped with Oathkeeper but he's just too far behind and I chump block it while attacking in the air and draining him with the Thief.
Game two is pretty funny (at least if you are me) with neither player having any plays before turn 4. He plays a creature and looks at me with puppy-eyes. At first I don't realize which creature it is and why he is looking at me like that. Oh, it's Iwamori. Now, because I am a pro I am obviously holding Oyobi.
10-2
Mikael went 2-1 as well and once again we are both drafting at table one. The Danish guy that beat me in round nine is also at the table as well as a bunch of repeats from the first draft. I first pick Nezumi Shortfang out of an otherwise uninteresting pack. Second pick I get passed Honden of Infinite Rage and nothing else really good so I quickly pick it. Third and fourth pick are Swallowing Plague and Rend Spirit, leaving me wondering if the guy to my right really doesn't like Black. The fifth pack is basically blank except for an Order of the Sacred Bell. Now as you already know I really dislike Green, but I still obviously pick the Order. Sixth pick has both Sakura-Tribe Elder and Orochi Sustainer as well as a Wicked Akuba. I am a bit worried that the guy on my left is drafting Green and I really want to cut off Black, so I pick the Akuba. The Green keeps coming though and I round out the pack with two Orochi Sustainers really late.
Apparently the guy on my left didn't go into Green and I get a ridiculous fourth-pick Sosuke to go with my third pick Hideous Laughter. It's not until Betrayers that my deck really becomes insane though, with my first five picks in order being: Toshiro Umezawa, Hokori's Whisper, Throat Slitter, Hokori's Whisper and Genju of the Cedars. In the end my card quality is ridiculous but the mana is a bit shaky:
2 Child of Thorns

3 Orochi Sustainer

Nezumi Shortfang

Throat Slitter

Toshiro Umezawa

Gnarled Mass

Kami of the Hunt

Gibbering Kami

Rootrunner

Order of the Sacred Bell

Sosuke, Son of Seshiro

Moss Kami
Genju of the Cedars

Kodama's Reach

2 Horobi's Whisper

Rend Flesh

Rend Spirit

Hideous Laughter

Swallowing Plague
Okina, Temple of the Grandfathers

7 Forests

9 Swamps
Relevant sideboard cards included Budoka Gardener, Wicked Akuba and Honden of Infinite Rage. The latter two I didn't play because the mana was bad enough anyway. I played the second Child of Thorns over Gardener since I figured they would be good together with Hideous Laughter. Raphael Levy tells me after deck construction that this was a mistake and that I should have played the Gardener, quoting it as being "insane". Those Frenchies sure are crazy.
Round 13 vs. Joâo Abreu (again)

It should be noted that at this point I thought I was in single elimination-mode. Most people I talked to thought no one would make it with 36 points. So of course I proceed to manaflood severely in game one while my opponent plays a Honden of the Seeing Winds and Myojin of Cleansing Fire. Still the rest of his cards are so bad that I would've had a shot at winning if I could just stop drawing lands. No such luck however.
Game two I try a different tactic, not ever drawing my second Swamp. It's going okay until he once again has the Myojin which I can't kill since Horobi's Whisper costs two Black mana. I would lie if I said I wasn't upset after losing this match. So I exercise the God given right of any Magic-player which is to whine endlessly until no one wants to listen anymore.
10-3
Round 14 vs. Manuel Martinez (Spain)

Manuel had an okay Black/White deck and his start in game one was pretty good, with Kitsune Diviner, Split-Tail Miko and some other dork. My start was a bit better though with Hideous Laughter. My Rootrunner interacts favorably with his Genju of the Fields and I soon overwhelm him. I remember Raphael's advice and board in the Budoka Gardener. The game stalls out pretty quickly since my creatures are bigger than his, but he has a bunch of tricks like Split-Tail Miko. He drops Kokusho but I have Rend Spirit and his Samurai of the Pale Curtain works in my favor. Of course I draw the Gardener and finally hit ten lands to flip him. He makes some sort of effort to delay the inevitable with Genju of the Fields, but once again the Samurai thwarts that plan, prompting Manuel to scoop.
11-3
Round 15 vs. David Jensen (Denmark)

David has 35 points and says he can probably make it with a draw. Of course, I can't draw since apparently that means I have a small shot of making Top 8 with a win. In game one his Blue/Red deck comes out a bit faster than mine and a timely Ghostly Wings makes the race look good for him. That is, if I hadn't been holding Swallowing Plague the whole time. In the end it's still close but my bigger creatures come out on top.
Game two is again very close. He quickly gets two Teller of Tales into play while I'm beating down with Sosuke and Genju of the Cedars. On one critical turn I draw Child of Thorns which enables my Kami of the Hunt to attack too, forcing him to chumpblock twice or trade away one Teller of Tales, meaning he can't kill me on the counterattack. This means that he has to draw one of his two Toils of Night and Day to get back in the game. He doesn't and I win a very tight match.
12-3
Mikael went 2-0-1 in the last draft and was a lock for Top 8 while I had to wait and hope that other matches would go my way. I thought I had an outside shot at 8th place so I was really surprised that I ended up 7th. I get some high-fives and me and Mikael wait around for the Top 8 to start. We actually get treated to a free dinner which wasn't some semi-cold burger from McDonalds. This is way above par for a Grand Prix in Europe. Mikael and I agree to a 50/50 split since we figure at least one of us should get a good enough draft to carry us through. The Top 8 draft started around 8 pm.
My first pack has Swallowing Plague, Rend Spirit and Glacial Ray so I pick the Ray even though I know that Mikael on my right will probably draft Blue (like he did in the previous drafts) leaving me either fighting for Black with the guy on my left or playing Red/White or Red/Green, both color combinations I don't really like. The second pack has Thief of Hope followed by another two packs where I pick Black cards. A late Frostwielder and I am locked into Black/Red, a color combination I used to love before Betrayers but which usually ends up pretty weak now.
I do end up with a nice collection of removal and while my creatures are somewhat weak, atleast my curve is good. This is what I ended up playing:
Frostling

Skullsnatcher

Wicked Akuba

Cruel Deceiver

Akki Raider

Hearth Kami

2 Shinka Gatekeeper

Nezumi Ronin

Thief of Hope

Frostwielder

Kami of Fire's Roar

Ogre Recluse

Initiate of Blood
First Volley

Glacial Ray

Soulless Revival

Rend Spirit

Horobi's Whisper

Eradicate

Blind with Anger

Lava Spike

No-Dachi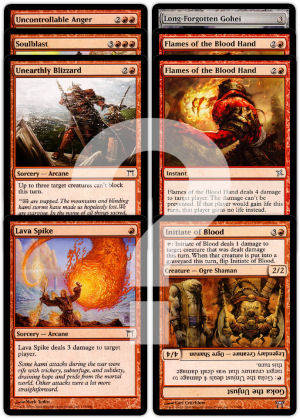 I debated for a long time on the last two cards in my deck (Lava Spike and Initiate of Blood). My options were Unearthly Blizzard, 2 Flames of the Blood Hand, Uncontrollable Anger, Soulblast and Long-Forgotten Gohei. The Gohei got cut since I don't really have enough Spirits for it, Soulblast and the Anger got cut since my mana was already pretty bad. But maybe I should have played either both Flames or some other combination of Blizzard/Spike/Flame. In retrospect the Initiate should most likely not have been played. How would you have built it?
My opponent for the quarterfinals was Márcio Carvalho (who ended up winning the whole thing). The match was covered here, so I won't go into detail. Basically his deck was a little better than mine and although I managed to get fast starts I was a few spells short of winning both games, drawing lands where spells would have let me deal the final points of damage. I boarded in one of the Flames for game two and had I drawn it I would have gotten to the third game. Márcio was most likely the best player I played against all weekend and he got through the swiss undefeated so I can't feel too bad about losing to him.
Mikael won his quarterfinals easily with the Blue/White monstrosity he drafted, so we stick around and wait for his semifinals. For some reason the last quarterfinals takes forever (probably close to two hours) so it's almost 11 pm before Mikael gets to play his semis. He wins the first game comfortably even though his draw is mediocre and I remember thinking that there's no way he can lose this match. Then he fails to mulligan a borderline hand and gets punished for it and tops it all off with a really stupid mistake in the deciding game. Stuff like that will happen though, especially after a long, grueling weekend like this one, without nearly enough sleep and ridiculously long days. Mikael is pissed at himself for screwing up, but what can you do? We head back to the hotel and catch a few hours of sleep before the long trip home.
It's kinda weird how things have changed. A couple of years ago I would have been really happy about getting even a Top 32 at a Grand Prix, but now I have a hard time being satisfied even with a Top 8, which is just ridiculous. I guess you really can get spoiled by having too much luck come your way.
I hope you enjoyed reading this report and maybe even learned a thing or two from it. Until next time, may all your first picks be broken rares.
Props:


Johnny Wallin for hooking me up with a cheap hotelroom to stay in.


Mikael Polgary for not killing me.


Ze French for being good times as usual (and Raph for telling me to play the Gardener).


The Dutchies for also being good times.


All members of Team Punisher (of course).
Slops: