Surgical Extraction was, other than basic Forest and Island, the most-played card in Mythic Championship London, with an astonishing 569 copies registered. For those keeping track, that's more than one per player in the tournament! But was it everywhere, as it seemed at times watching coverage, or was its use fairly conventional? Should you be picking up some copies and jamming them into your pet Modern deck? Let's take a closer look at which decks at Mythic Championship London used Surgical Extraction and how.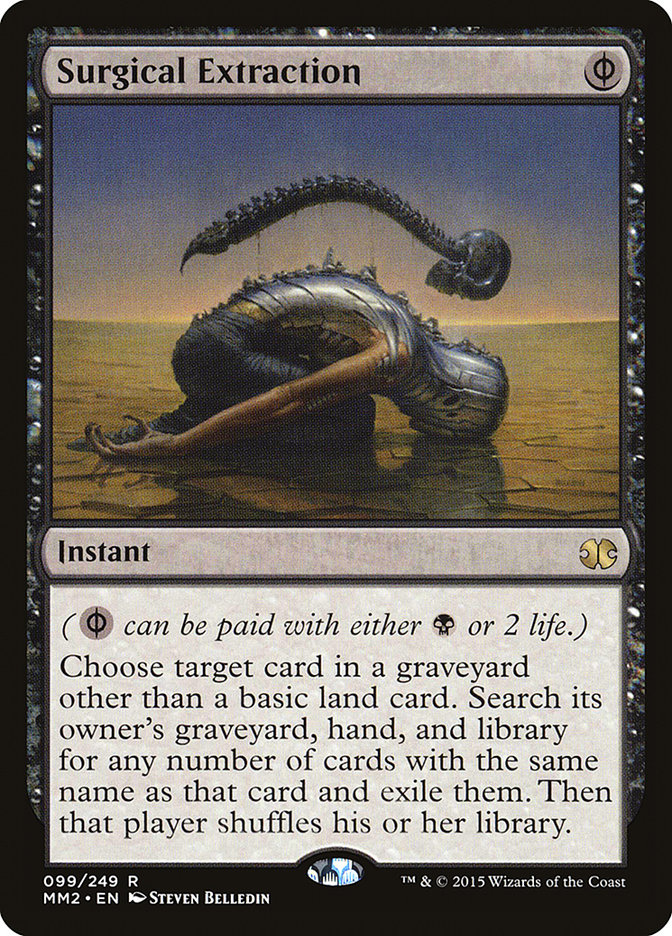 Fortunately for us, in addition to changing the mulligan rule for the event, Wizards of the Coast made all decklists public. For each player, we have the 60 cards they played in the maindeck, plus which cards they have in their sideboard (though not how many copies of each card). Therefore, we can see how many copies of Surgical Extraction each player played in their maindeck and whether they put it in their sideboard, allowing for a much deeper dive than we could get looking only at the top decks.
Overall Analysis
Surgical Extraction has traditionally seen fringe play in Modern sideboards. It's generally considered a trap card, overused by novice players who mistakenly sideboard it in against decks with diverse threats or even as a way to counter the effect of Snapcaster Mage. For players at the highest level, it was reserved as hate for Dredge and combo decks that use the graveyard, like Storm and the recently banned Ironworks. It also had some application against Tron and Valakut, the Molten Pinnacle decks alongside land destruction. The last time the Mythic Championship was Modern, at Pro Tour Rivals of Ixalan, Surgical Extraction was the 57th-most- played card other than basic lands, and was selling for under $20.
So how did Surgical Extraction become the most-registered card at Mythic Championship London and triple in price? The main cause was the release of Guilds of Ravnica and with it the printing of Creeping Chill and Arclight Phoenix. Creeping Chill almost immediately pushed Dredge, the deck Surgical Extraction shines against, into the top tier. Additionally, Izzet Phoenix, an archetype that didn't exist before Guilds of Ravnica, has been the most-played deck at most big Modern tournaments over the last couple of months. Surgical Extraction not only played a big role for Izzet Phoenix decks, as we'll see below, but is also a strong hate card against them.
Let's take a look at how Surgical Extraction was played at the Mythic Championship. Which decks not only registered it, but put it in the maindeck?
| | | | |
| --- | --- | --- | --- |
| Archetype | Number of Decks with Surgical Extraction | Percentage of Decks with Surgical Extraction | Total Number of Maindeck Copies |
| Izzet Phoenix | 55 | 88.7% | 116 |
| Azorius Control | 30 | 78.9% | 54 |
| Esper Control | 5 | 31.3% | 8 |
| Lantern Control | 2 | 100.0% | 6 |
| 8-Rack | 1 | 100.0% | 4 |
| Dimir Mill | 1 | 100.0% | 4 |
| | 2 | 6.5% | 3 |
| Dredge | 1 | 3.1% | 1 |
| Esper Death's Shadow | 1 | 100.0% | 1 |
| Orzhov Eldrazi | 1 | 100.0% | 1 |
| Golgari Midrange | 1 | 5.9% | 1 |
Archetypes with the number of decks registering at least one copy of Surgical Extraction in the maindeck, the percentage of decks of that archetype with at least one copy, and the total number of maindeck copies of Surgical Extraction for that archetype.
As you can see, Surgical Extraction's use in the maindeck was mostly traditional. Izzet Phoenix decks use Surgical Extraction not only as a hate card but as a "free" spell, making it easier to transform Thing in the Ice and trigger Arclight Phoenix entering the battlefield. Control decks are looking for ways to eliminate threats and, in the current metagame, those threats are often coming from the graveyard or being cast off Tron lands. Lantern Control and Dimir Mill give it easy access to key targets and rely on it to cut off value an opponent could get from their cards going into the graveyard. In 8-Rack it plays a similar insurance role, has plenty of targets through Thoughtseize or other discard effects, and, with a bit of setup, can take cards out of an opponent's hand.
These archetypes, which are built to get extra utility out of Surgical Extraction, account for 94 out of the 100 decks that registered it in the maindeck and 192 out of 199 of those copies, with Izzet Phoenix and Azorius Control getting the most widespread use out of it by far. The only decks where it was essentially a maindeck hate card were in two builds of Grixis Death's Shadow and one each of Dredge, Esper Death's Shadow, Orzhov Eldrazi, and Golgari Midrange.
Before diving deeper into how the Control and Izzet Phoenix mages built their decks around Surgical Extraction, let's take a quick look at overall usage, including in the sideboard. Below is a table showing the archetypes with at least five decks in the Mythic Championship that played Surgical Extraction. The values in the table are the percentage of decks in that archetype registering it anywhere in the 75, in both the maindeck and the sideboard, in the maindeck only, and in the sideboard only.
| | | | | |
| --- | --- | --- | --- | --- |
| Archetype | Registered Surgical Extraction Pct. | In Both Main and Sideboard Pct. | Maindeck Only Pct. | Sideboard Only Pct. |
| Golgari Midrange | 94.1% | 5.9% | 0.0% | 88.2% |
| Esper Control | 93.8% | 25.0% | 6.3% | 62.5% |
| Mono-Green Tron | 91.9% | 0.0% | 0.0% | 91.9% |
| Izzet Phoenix | 90.3% | 27.4% | 61.3% | 1.6% |
| Azorius Control | 86.8% | 50.0% | 28.9% | 7.9% |
| | 71.0% | 3.2% | 3.2% | 64.5% |
| Infect | 25.0% | 0.0% | 0.0% | 25.0% |
| Dredge | 18.8% | 3.1% | 0.0% | 15.6% |
| Eldrazi and Taxes | 18.2% | 0.0% | 0.0% | 18.2% |
| Eldrazi Stompy | 16.7% | 0.0% | 0.0% | 16.7% |
| Humans | 9.4% | 0.0% | 0.0% | 9.4% |
| | 4.0% | 0.0% | 0.0% | 4.0% |
Major archetypes with the percentage of decks registering Surgical Extraction, the percentage with it in both the maindeck and sideboard, the percentage with it only in the maindeck, and the percentage of decks registering it only in the sideboard.
Azorius Control
Going into Mythic Championship London, there was a lot of discussion of the change to the mulligan rule. Dredge was perceived to be one of the main archetypes benefitting from the change, and many players expected to see a lot of it at the tournament. That didn't quite pan out, but it still the fifth-most-played deck in the tournament, making up 6.2% of the metagame. Those expectations, combined with Izzet Phoenix consistently hitting more than 10% of the metagame and Azorius Control's difficulty against those decks in Game 1, make it clear why most control mages leaned on Surgical Extraction in the maindeck.
Azorius Control features two ways to get extra value out of Surgical Extraction: Ghost Quarter and Snapcaster Mage. Ghost Quarter gives the control player the opportunity to destroy a key land as early as Turn 1, allowing Surgical Extraction to lock the opponent out of Tron or triggers from Valakut, the Molten Pinnacle. Snapcaster Mage allowing a second casting of Surgical Extraction is often backbreaking against Dredge and Izzet Phoenix. To what extent did Azorius Control players build around these combinations?
While very strong in certain matchups, it appears that the Ghost Quarter / Surgical Extraction combo was a little too fragile for control players to build around, even with the London Mulligan and open decklists. The 38 Azorius Control players conveniently split right down the middle, with nineteen running a single copy of Ghost Quarter and nineteen not registering any. Registration of Surgical Extraction was essentially the same in the two groups, with fifteen out of the nineteen players in each group running it in the maindeck. In other words, we didn't see an increase in the use of Surgical Extraction in control lists running Ghost Quarter.
In contrast, Azorius Control players at Mythic Championship London heavily built their decks around the interaction with Snapcaster Mage. While most decks with two or fewer copies of Snapcaster Mage did not register a single Surgical in the maindeck, almost all decks with three or four copies of Snapcaster Mage ran Surgical, most often as a two-of. Here are those numbers in detail:
Azorius Control decks broken down by the number of copies of Snapcaster Mage in the maindeck, showing how many decks ran Surgical Extraction and in what numbers.
With their strong synergy, Snapcaster Mage and Surgical Extraction seem, in theory, like a formidable defense against the Zombie and Phoenix hordes. How did it work out in practice?
Uh, not particularly well…
Azorius Control went a rough 18 – 31 – 2 (36.6%) combined against those decks. The builds that came prepared for the matchup with three or four Snapcaster Mages and two copies of Surgical Extraction went 10 – 17 – 1 (36.9%). Based on these numbers, control players targeting the Dredge and Izzet Phoenix matchups did not see any improvement against those decks.
Izzet Phoenix
Izzet Phoenix has evolved, as it has become the most popular deck in the format. Early inclusions of Gut Shot made way for Surgical Extraction, which proved very strong in the mirror. As Phoenix decks took on an increasing share of the metagame, Pyromancer Ascension rose to prominence as a value engine and another mirror breaker. It is resilient against Surgical Extraction, which tends to leave instant and sorcery spells in the graveyard. We are now seeing Izzet Phoenix builds with Pyromancer Ascension as three-or four-of, using it more as a combo card than a value engine. While there's nothing inherently bad about running them together – paying two life to exile all of an opponent's copies of Arclight Phoenix and Thing in the Ice is a pretty good deal – Pyromancer Ascension and Surgical Extraction represent different approaches to fighting the mirror. This will lead to builds that are more Surgical-heavy being lighter on Ascension, and vice versa.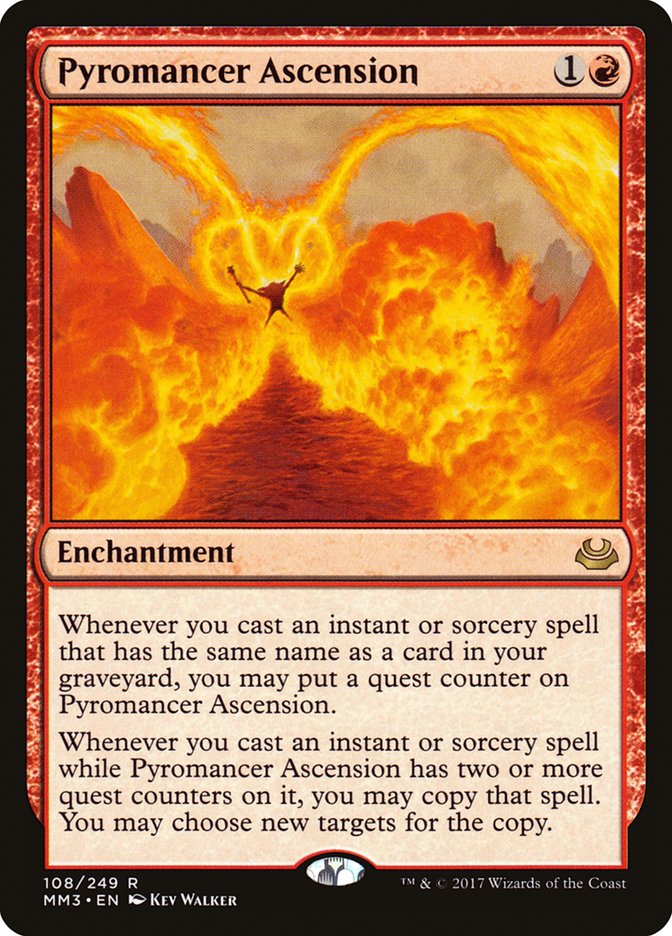 We can see this dynamic in the decklists at Mythic Championship London. At the extremes, the seven decks that registered either no copies of Ascension or just one all ran at least two copies of Surgical, while six out of eight decks with a full playset of Pyromancer Ascension didn't register a single Surgical Extraction in the maindeck. Most decks were in the middle, but there's a clear pattern showing a deckbuilding tradeoff between the two cards. Here's a breakdown of maindeck Surgical Extractions, based on how many copies of Pyromancer Ascension the player registered:
Izzet Phoenix decks broken down by number of copies of Pyromancer Ascension in the maindeck, showing how many decks registered Surgical Extraction and in what numbers. As the number of copies of Ascension goes up, the frequency and number of copies of Surgical Extraction goes down.
How did the results shake out? We are slicing the data thin, so these numbers should be taken with a grain of salt, but the decks built around Pyromancer Ascension performed better both overall and in the mirror. Here are the win rates based on the number of copies of Pyromancer Ascension in the maindeck:
| | | |
| --- | --- | --- |
| Copies of Pyromancer Ascension | Number of Matches | Match Win Percentage |
| 0-1 | 53 | 52.8% |
| 2 | 251 | 51.3% |
| 3 | 113 | 51.3% |
| 4 | 50 | 58.0% |
Izzet Phoenix decks broken down by number of copies of Pyromancer Ascension in the maindeck, showing the corresponding number of matches and win rates.
With the caveat that we're dealing with only a 50-match sample, the best-performing build, with a 58% win rate, ran a full playset of Pyromancer Ascension. Cutting the data razor-thin, decks with three or four copies of Ascension in the mirror went 6 – 2 against decks with two or fewer. While we can't reach scientific conclusions based on these sample sizes, the results from the Mythic Championship rewarded deck builders using the latest tech, both in general and in the mirror. Despite Javier Dominguez piloting the tradition split of two each to the Top 8, we expect an increase in the play of Pyromancer Ascension and for Surgical Extraction to drop off for players on Izzet Phoenix.
Conclusion and Thoughts on the Future
While Surgical Extraction was the talk of Mythic Championship London, a deeper look at the data shows that this was largely due to its maindeck presence in Izzet Phoenix and Azorius Control, as well as its frequent appearance in the sideboards of Tron, Golgari Midrange, and Grixis Death's Shadow decks. In Azorius Control, the decks built around it did not perform any better against Dredge and Izzet Phoenix than those looking for other answers. Moreover, a closer look at the builds and results of Izzet Phoenix decks showed that Pyromancer Ascension was the better card to lean on in the mirror. Overall, the results indicate that Surgical Extraction is not worth changing your gameplan to build your deck around and we expect it to see less play going forward.