What a fun time!
Somewhere in my busy weekend I managed to squeeze in a local Prerelease for Journey into Nyx. Since they've gained popularity in my area, I've been doing midnight Prereleases, and it's a fun change of pace. You know, the whole "work a day then play Magic for seven hours instead of sleeping" kind of fun. I have the good fortune of playing with a pretty cool group of players, each with a different skill level, experience, and passion for the game.
For me Sealed is its own little opportunity to brew; you're just given a smaller pool from which to create an effective deck. A Sealed format like this where there's a particularly large card pool is especially difficult. There's a lot more things to take into consideration. If you just consider the first set, you have to think "can I beat Abhorrent Overlord; Ashiok, Nightmare Walker; and Bow of Nylea?" With three sets you have three times more cards to worry about, and certain combinations of cards suddenly become vicious. Thankfully you have three times the depth too. Combating the randomness and creating an artful masterfully sewn deck is the real trick in becoming a pro at Sealed.
The first question on everyone's mind for this Prerelease involved their color choice. Just like the sets before it, we got to pick the color of our Prerelease pack, and a lot of people were debating the best one to choose. Some said it was white thanks to the heroic Seraph of Dawn, Dawnbringer Charioteers promo, and suite of solid removal and curve-friendly creatures. Others liked red, with its meaty Dragon on top of a stack of removal and fast creatures.
I took a walk on the wild side.
While everyone else was looking to get tricky and out-tempo opponents, the creature power, ramp, and ability to answer enchantments more easily than most colors got me feelin' green. I hadn't picked a green Prerelease pack since Gruul in Gatecrash, so I thought I'd give it a whirl for a change of pace. After looking over the high-quality cards that liked having a lot of green, my intent was to go G/W, using cheap combat tricks, tempo-based removal, and muscular green bodies to leverage good board states into wins.
Before long Friday night was here, and dozens of fellow Magic fanatics showed up at Through the Decades, my favorite shop in Louisville and the host of my last three Prereleases. Every event has seemed to be bigger than the last, and this one didn't disappoint.
As the clock ticked closer to Saturday morning, the crowd gathered around the piles of Prerelease packs, designating the primary color and promo hidden within them. I inquired around to see what color people were choosing, and the answer was most frequently white. It was no surprise that it was the first to go.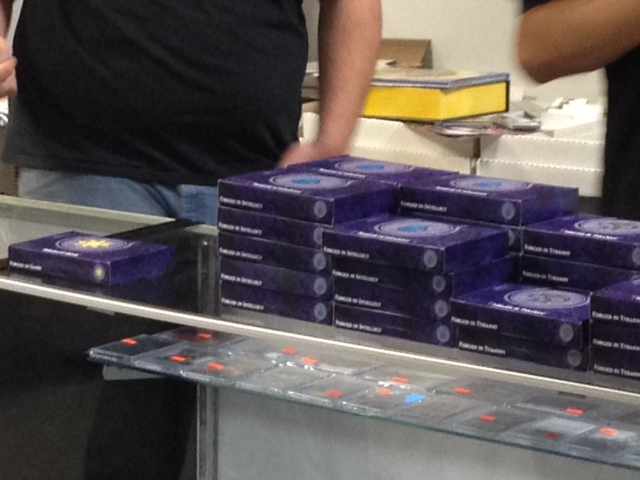 The event was nearly as full as last time, coming in just shy of a hundred people and promising seven rounds of Swiss before a Top 8 cut. What is this, a PTQ? Either way, we knew before we opened our packs that we were in for the long haul. With the buzz of fluorescent lights and energy drink-fueled Magic discussion, we cut the tape on our selected boxes and began the build. At table 12 I opened the following pool from my Forest-marked box.
White
1 Font of Vigor
1 Akroan Phalanx
1 Lagonna-Band Trailblazer
1 Great Hart
1 Dawn to Dusk
1 Lagonna-Band Elder
1 Gift of Immortality
1 Reprisal
1 Ray of Dissolution
2 Oppressive Rays
1 Mortal Obstinacy
1 Supply-Line Cranes
1 Observant Alseid
Blue
1 Omenspeaker
1 Deepwater Hypnotist
1 Daring Thief
2 Cloaked Siren
1 Whitewater Naiads
1 Pin to the Earth
1 Countermand
1 Sudden Storm
1 War-Wing Siren
1 Coastline Chimera
1 Hubris
1 Evanescent Intellect
1 Thassa's Rebuff
1 Lost in a Labyrinth
1 Stymied Hopes
1 Voyage's End
Black
1 Pharika's Chosen
1 Gnarled Scarhide
1 Bloodcrazed Hoplite
1 Brain Maggot
1 Returned Phalanx
1 Agent of the Fates
1 Herald of Torment
1 Servant of Tymaret
1 Disciple of Phenax
1 Keepsake Gorgon
1 Cast Into Darkness
1 Feast of Dreams
1 Tormented Thoughts
1 Lash of the Whip
1 Claim of Erebos
1 Scourgemark
1 Viper's Kiss
1 Rescue from the Underworld
Red
1 Epiphany Storm
1 Spite of Mogis
2 Gluttonous Cyclops
1 Akroan Crusader
1 Sigiled Skink
1 Arena Athlete
1 Mogis's Warhound
1 Bladetusk Boar
1 Fanatic of Mogis
1 Portent of Betrayal
1 Rage of Purphoros
1 Lightning Diadem
1 Dragon Mantle
Green
1 Renowned Weaver
1 Satyr Grovedancer
2 Golden Hind
1 Warriors' Lesson
1 Pheres-Band Warchief
3 Pheres-Band Thunderhoof
1 Heroes' Bane (promo)
1 Nessian Courser
1 Nessian Game Warden
1 Nyxborn Wolf
1 Satyr Wayfinder
1 Kruphix's Insight
1 Commune with the Gods
1 Market Festival
1 Aspect of Hydra
1 Satyr Hedonist
1 Desecration Plague
Artifact
Gold
My first task in most Sealed events is to find the rares and judge their quality. Although consistency is becoming more important as sets become more tuned, powerful bombs still have an extensive impact on the game.
For those who don't wish to dig through the whole pool for the rares, I opened:
I also had my given rare of Heroes' Bane. I sadly didn't pull any other foils.
From there I generally tend to eliminate the worst color; in my case, red was drastically underpowered, offering little more than a Bladetusk Boar, a Fanatic of Mogis (which is bad in just a splash), and a bunch of two-power two-drops. As much as I loved the Boar in Zendikar, I shoved that color to the side and tried to choose what to pair with my black, which I felt had the best rares and curve. While I considered green its companion at first, I eventually ended up in blue.
Creatures (16)
Lands (17)
Spells (7) Although Sage of Hours was cute and I tried him in one game, Deepwater Hypnotist is sadly just a better card most of the time.
This deck let me curve very well and provided enough removal to keep my opponent on the back foot.
I did build a second deck using my best G/W cards, which consisted mostly of Centaurs and enchantment destruction, but I used it only once in tournament play.
When it came time to do battle, the deck did just fine, though not without ups and downs.
Round 1: G/R
My first round involved a fine G/R build, but I was able to answer his Heroes' Bane and his Hydra Broodmaster well enough to take both games, the last one largely due to a topdecked Herald of Torment when I was at one life after a nasty combat.
1-0
Round 2: G/B
This match was a testament to the power of constellation. My opponent leveraged Eidolon of Blossoms and Doomwake Giant along with the synergetic Pharika's Mender and an X-for-one Silence the Believers to keep me out of each game. This is the round I switched into the G/W build, but he flattened my Centaur lord and another big creature with Silence the Believers. He shut me down hard, and it hurt bad.
1-1
Round 3: G/U
This was a very close match too. My opponent, a familiar face, used his pair of Hour of Need to make all his creatures Air Elementals in one game, though I was able to effectively counter and overpower him in the rest thanks to a fast start in game 3.
2-1
Round 4: G/B
The next match I was met with a tightly built and highly synergetic deck with another Eidolon of Blossoms in charge. A Dictate of Erebos was going to be a problem in game 2, but after he resolved it I untapped Daring Thief and switched control of my Cast into Darkness and his newly cast Dictate to keep me ahead on board. In the last game he was able to come out much more powerfully, and I was done with the match.
2-2
At this point at around 4:45 AM, I decided to pack it in with a busy Saturday ahead. I felt that the deck was sufficiently tested against every color (except white ironically) and had held up well. I definitely believe that the power level was lacking outside my rares, but there was enough muscle and interaction within it to make it interesting.
Overall, I'd say my key player was Herald of Torment. Even with the loss of life each turn, this was a fast and steady bruiser, and I was thankful to draw it most games. From the new set, Brain Maggot was also exceedingly awesome, as expected. Feast of Dreams also snagged a large number of creatures, and I was even able to punish players for enchanting their best critters. Finally, the pair of Cloaked Siren helped me get a couple free wins against decks lacking removal and flying. As a straight upgrade to Snapping Drake, look out for this creature when your opponent has three mana and an Island untapped.
Bloodcrazed Hoplite and Tormented Thoughts were very poor in practice. Tormented Thoughts, which I've been looking into for Standard, was pitiful on nearly every occasion, rarely being more than a Mind Rot. While Whitewater Naiads is large, it only rarely became unblockable. I almost always chose itself when constellation triggered again, as it was the biggest creature in my deck.
In the end I was happy with my choice, but hindsight is always 20/20. If I could do it over, I would choose black instead for the very powerful Doomwake Giant and hope to splash into white or green. Nevertheless, Prereleases are always fun, win or lose.
After an underwhelming transformation thanks to Born of the Gods, Standard will surely get a kick in the seat with Journey into Nyx, and this week's SCG Open Series in Cincinnati will be the first big event to try out the set's best cards. Although it's not far from me, I won't be able to attend, but I'll be back next week with an in-depth quartet of lists based on one of my favorite build-around cards in the new set.
If you get the chance this week, I'll be on the weekly Twitch cast "State of the Gathering." Check out a nice group of guys and my goofy mug on Thursday, May 1st at 9:00 EDT. Hope to see you there!
What did you open this past weekend? What box did you choose and why? Did you end up like me and not play the color you chose?