New sets mean more than just set reviews. They mean I have the opportunity to put awesome new cards into existing decks. When you have 28 of them, this becomes a major project. Fortunately, I have time now that the spring semester is over to do it (as long as I get it done before the summer semester starts on May 12). Since I didn't do one of these for Born of the Gods, I'll include those cards in this update as well.
In: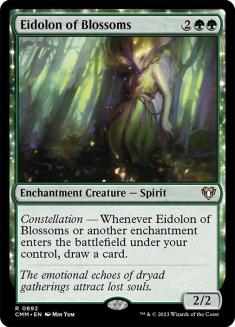 Out: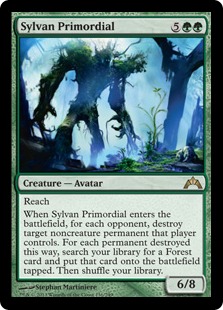 Adun is a deck recently revamped, so I didn't want to make too many changes. Obviously Sylvan Primordial had to go, and with ten enchantments Eidolon of Blossoms provides for a little extra card draw.
In: 
Out: 
One of the issues the Animar deck has always suffered from has been lack of evasion. Archetype of Imagination and Archetype of Aggression will help with some of that. Hopefully Archetype of Endurance will couple with Animar's other protections to keep him around longer. I've built the deck so that it can function without the commander, but I'd much prefer it to be there. Strionic Resonator was sometimes loads of fun, but I wanted to tighten this deck up a bit and free up the card to be used elsewhere like in Lavinia of the Tenth. Colossus of Akros was fun to cast for zero, but finding ten extra mana to make him monstrous was a different story.
In: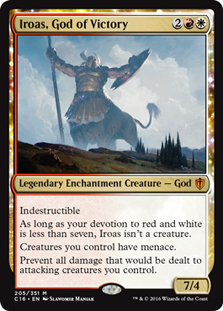 Out: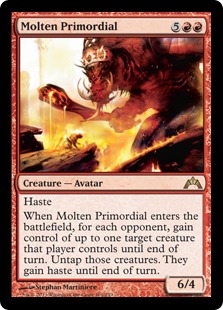 This is the Modern-legal version of Aurelia. Iroas fits right in on theme, while Molten Primordial was simply too expensive too often.
In: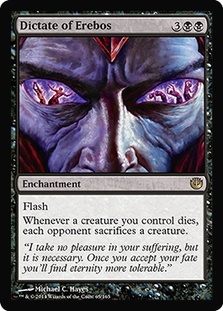 Out: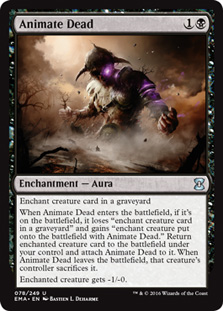 Another recent deck, meaning it warranted few changes. A God has to play his own Dictate, right? Animate Dead was there because dead was in the name, but it will be better served elsewhere.
In: 
Out: 
The deck creates creatures, so Dictate of Heliod makes sense. Flash gives me some strategic options like deciding if I want more creatures (via Heliod) or bigger creatures. It's an enchantments matter deck, so Dawn to Dusk and Silent Sentinel will both turn out to be valuable. Return to Dust gets played in a number of other decks; it was a one-for-one swap with Dawn to Dusk. Leyline of the Meek was giving other people's tokens bonuses, so with the Dictate coming in it could go. Angel's Grace was just a little protection, and I'd rather live on the edge.
In: 
Out: 
Must make mana to fuel the big crazy things in this, my strongest of decks. With Prophet of Kruphix and Seedborn Muse in here, I hope to once in a while see some crazy 100-point Bonfire of the Damned possible.
In: 
Out: 
The creatures in the deck are more utility based, so giving them a threatening ability like deathtouch elevates them to be able to hang with the bigger boys. Doomwake Giant will combo with the deck's eleven enchantments to keep some weenie hordes in check. Butcher of Malakir and Mitotic Slime are featured in other decks and have been slotted for removal from this one for a while.
In: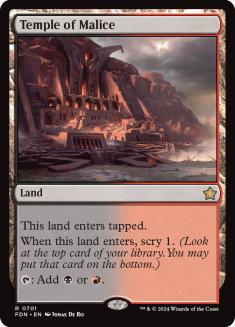 Out: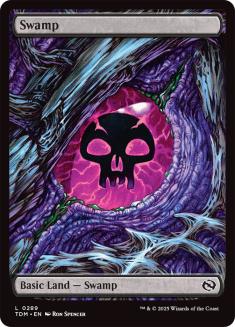 Just recently resurrected from the ashes of Oros, the Avenger, I want to get some more play with the deck under my belt before making changes.
In: 
Out: 
I had to resist a serious urge to pack all the great white, black, and green cards from these two sets into Karador. In the end I still made more changes with it than any other. Champion of Stray Souls is built for this very deck with its large number of enters the battlefield trigger creatures. That great number of creatures also plays into getting busy with Karametra. Athreos combos with many of the sacrifice effects, and the choice can be devilish for the player targeted with the triggered ability. The deck operates extremely well with creatures in the graveyard. Leaving them there is a bad idea. Putting them back in my hand provides some level of protection from graveyard hate.
I wanted Font of Fertility for another early turn play, and it can be regrown with Sun Titan. Jarad went out because he's the commander of another deck. Maw of the Obzedat has been far less good in this deck than I hoped, and I still have multiple other sacrifice effects. Deadbridge Chant was a tough one, but since something had to go and it overcommitted my graveyard, I thought it was a good cut. I thought that Mulch was going to be a superstar in the deck, but I found it whiffing too often for my taste.
No changes.
Two Dragons, Forgestoker Dragon and Spawn of Thraxes, are in the sets. But the former is already in Purphoros, and the latter isn't that good in my Karrthus deck because it doesn't have that many Mountains.
In:
Out:
Fell Shepherd was just a placeholder until something cooler showed up, and there is very little cooler than Xenagos. Molten Primordial came over when I took it out of Ruhan. I've seen this deck get slowed down by a particularly good creature (like Angelic Arbiter), so being able to steal it (and then sacrifice it) is all upside.
In: 
Out: 
Strionic Resonator coming out of Animar meant that it needed a home, and this deck has enough triggered abilities to make it a superstar. The deck is a little weak on card draw, and Ephara fit the colors. Especially with Deadeye Navigator tomfoolery, that could mean quite a bit of upside.
In: 
Out:
Phenax was either coming in here or going into The Mimeoplasm. I decided that The Mimeoplasm is already enough of a mill deck that I could add the additional dimension to this one. This is also a copy deck, so Fated Infatuation was natural. Quicksilver Gargantuan was okay but expensive, and Sepulchral Primordial is simply in too many other decks.
In: 
Out: 
I will probably end up with Agent of Erebos in many other decks. For no, it could only go into one, and since it's a Zombie it had to go in the Zombie deck. Goblin Bombardment was the cut because it's not a Zombie card. I may eventually put in Deadapult, but since it costs mana I'm a little less likely to give it a try. Spiteful Returned is just an upgrade over Blood Scrivener, whose ability is terribly narrow.
In: 
Out: 
As soon as I saw it, I knew that I wanted to cast Sudden Storm off the top of the library. It's a "keep me alive" card that gives me the time to get deeper into the deck. The extra card draw off of Keranos will keep the top of the library heavy with stuff for Melek to cast. Temple of Epiphany may be one of the few enters the battlefield tapped lands I'd play in this deck because scry allows me to set up the top of the library or at least give myself a better chance of getting business cards. Frantic Search and Shocker both underperformed, so out they went.
In: 
Out: 
I know right now you're saying "take out Restoration Angel—what kind of idiot are you?" The truth is that there aren't too many enters the battlefield creatures in the deck. I may eventually take out Deadeye Navigator for the same reason. Deicide will be quite valuable in the post-Gods world.
In: 
Out: 
Fate Unraveler is simply a card I want to play, making huge card draw painful. I put it into this deck because of Jace Beleren. If I'm going to give you a card, I want it to hurt. Unravel the Aether has the flexibility to take care of something that's bugging me or save one of my own things from getting exiled. Pharika is there to eat creatures that have gotten into opponents' yards that I might not want to copy with The Mimeoplasm but don't want them to have access to. I found that I frequently ignored Genesis' ability in favor of making other plays, so it was an easy cut. Riftsweeper was there in case I had to bring back something of my own. The deck has enough weapons that I didn't need it. Twincast was frequently interesting, but something had to go.
In: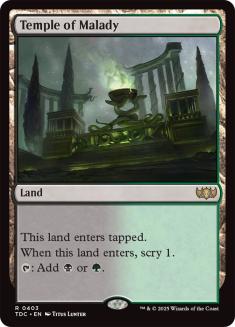 Out: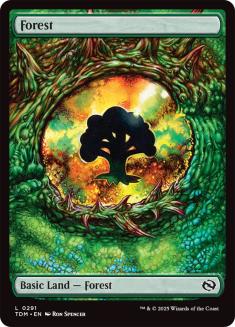 No real changes to this deck, which is a budget deck where nothing costs more than five.
In: 
Out: 
I want to wipe the board of creatures on other people's turns. Fated Retribution and Bile Blight both do that. Millikin and Zombify were holdovers from when this was a graveyard recursion deck. They were pretty easy to cut.
In: 
Out: 
Possibly my favorite card from Journey into Nyx, Battlefield Thaumaturge simply begs to be played. Having it help Glimpse the Sun God tap down an opponent's team for just one mana is saucy. It makes me want to run out and find a copy of Distorting Wake too. Polymorphous Rush will just be crazy on its own; the Thaumaturge will help it be crazier. The three cuts were cards that I was rarely happy to see when I drew them. Maro started the Maro-Sorcerer trend, and hand size still matters to this deck. But the other Maros have good abilities, while the original doesn't.
In: 
Out: 
Sage of Hours will get counters on it in this deck. It won't take extra turns too often, but when it does it will be sweet. Hydra Broodmaster is a little bit of a risk since the deck doesn't create huge piles of mana; it almost went into Rith. But it's not a Soldier, and this deck has other Hydras. Hail Hydra! Solidarity of Heroes will just be dumb. Experiment One rarely did anything cool. Terastodon was a little expensive, and Roaring Primadox was frequently a liability because I'd spend time buffing up creatures and wouldn't want to put them back in my hand.
In: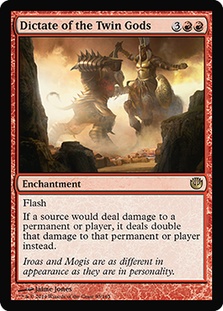 Out: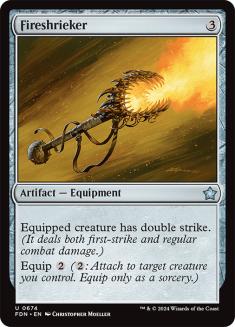 Fireshrieker was just there for the name. Purphoros wanted fire to burn even hotter, so in came the Dictate.
In: 
Out: 
The God of Slaughter has to go in the slaughter deck. It's time to also consider bringing in Avatar of Slaughter. I figure that I'll be battling with everything most of the time, and King Macar is something that you'll have to let through in order to not get savaged by other stuff. I'm not sure why Arcbound Fiend was in the deck in the first place, and Rune-Scarred Demon is a casualty to my play fewer tutors philosophy.
In: 
Out: 
Brimaz makes Soldiers that will help Launch the Fleet. That's synergy. Both +1 abilities of Ajani are worthwhile in the deck. Getting the ultimate at some point will also be loads of fun, although I really don't expect it to happen that often. Godsend leaves defending players with no good choice when it's equipped to Rith. Karmic Guide comes out because it's getting played elsewhere. Shield of the Oversoul only ever went on Rith, and there are other ways to make him better. Rhox Pikemaster is out because first strike is a pretty lame ability in the format.
In: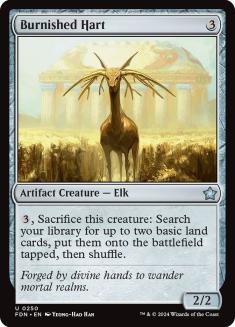 Out: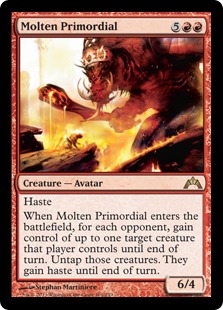 This obviously isn't a change with the new sets, but I've added it for completeness. Burnished Hart is the card that the nongreen decks need. Molten Primordial went over to Kresh.
Ruric Thar and His Beastly Werewolf Fight Club
In: 
Out: 
I noticed that Ruric Thar wasn't in the deck database, so I've added it at the bottom of the article to get it in. I want to play around some with the tribute mechanic, and with the Nessians being Beasts they fit rather well here. Gorgon's Head is a good swap in for Quietus Spike because the Spike makes people really nervous. The number of Werewolves in the deck is going down because I find that they're very difficult to transform from the day to night sides and very easy for other folks to turn back into the weaker form. I love the name of the deck, but it may eventually lose all of them.
In: 
Out: 
I like the choice Dakra Mystic gives me, and Scourge of Fleets simply fits the theme. Voidstalker and Sword of Fire and Ice don't fit the theme, so they were easy to cut.
In: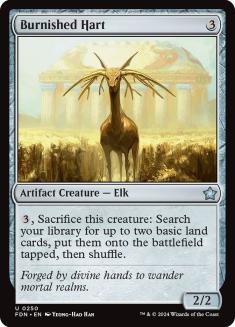 Out: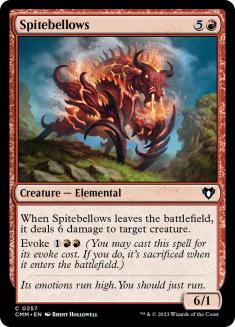 Also a non-BNG/JOU change. There were no cards that jumped out to me in either set to go along with Thraximundar's sacrifice theme save for Champion of Stray Souls and Mogis, God of Slaughter, which both went into other decks.
In: 
Out: 
I suppose the +1/+1 may occasionally matter, but the operative in Ajani's Presence is indestructible. I generally don't have a fleet of Angels out, so it won't cost too much to save a good number of them should someone Wrath of God.
While the density of cards from the last two sets that are going into decks is a little lower than before, I'm still pretty happy with the sets. They provided cards that were thematically appropriate, interesting, and fun. I didn't do updates to recently suggested decks (like the fair Rafiq of the Many deck) since I didn't actually build them. I still have a Roon of the Hidden Realm deck on the slow brew as well.
I'll leave you as promised with the updated version of Ruric Thar. Enjoy.
Creatures (40)
Planeswalkers (2)
Lands (39)