Texas Magic lost one of its very best last July when Hunter Burton passed away at the very young age of 26. Every tournament player in Texas knew Hunter; he had many friends, and I'm proud to say that I'm one of them. When I first met him, he was a big-mouthed teenaged Magic player (what I mean by that is he didn't really stick out from the crowd).
That didn't last long.
Hunter qualified for and played in the team Pro Tour in Charleston in 2006 and then qualified for and played in Pro Tour Kobe a few months later. He promptly reached day 2 at Kobe. But the first time I knew he was really going places was at Grand Prix Dallas in 2007. It wasn't that Hunter finished 63rd and made a little money; it was the way that he was starting to win friends and influence people. Somehow Hunter made fast friends with Tomoharu Saitou of Japan. Saitou's command of the English language wasn't the best, but then again neither was Hunter's. Hunter would just talk to Saitou as if the Japanese Magic legend could understand him. I guess it worked, as Saitou would nod his head and call Hunter "Texas" even though it sounded more like "Taxus."
Either way, I was starting to recognize the charm and strange gravitas that inhabited Hunter Burton. His next step up was reaching the Top 8 at GP Denver in 2008. He finished tenth at GP Seattle just a few months later. How far could this small-town boy from Burleson (south of Fort Worth) go? Pretty far. At Pro Tour Austin in 2009, Hunter reached the semifinals with a Zoo deck. He lost to eventual champion Brian Kibler. Hunter called Kibler "the prettiest man in Magic," but I gather they got along okay. Hunter competed at every Pro Tour stop in 2010 but only really scored at Pro Tour Amsterdam, where he finished 34th. After that life got a little more complicated for Hunter.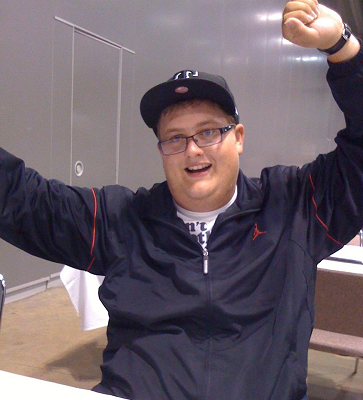 Hunter Burton at Pro Tour Austin 2009 learning he is in the top eight
Hunter and I became good friends when he started playing cards at the weekly game at my house in November 2005. He made an immediate impression, mostly good, with the rest of the guys. A year later Hunter was on the team, the 27th member of the Texas Guildmages. Not only was Hunter a good player, but he was also a good judge of talent. At first I took for granted that whoever Hunter was dragging around to tournaments in his car was just there to be his buddy. But one by one these guys each turned into accomplished players.
Jon Toone, Brian Heine, Ian Jasheway. Each went on to play at the Pro Tour multiple times, at least in part because of Hunter's tutelage. Along the way there were also a lot of hijinks, a lot of late night partying, a lot of all-nighters, and a lot of crazy Magic trips. These adventures ended in 2012 when Hunter started having problems with the law. In July 2013, the prospect of future adventures ended altogether when Hunter Burton took his own life.
Even then, in the saddest and most tragic of times, our friend managed to make something interesting happen. A hundred Magic players that loved Hunter showed up, many in suits and ties no less, to a beautiful memorial service in Fort Worth. Immediately after the service, as we were all standing around outside talking about our lost friend, Hunter's mom and dad, Dona and Greg, approached me with the idea of putting on a memorial Magic tournament for Hunter. Needless to say, I jumped at the opportunity.
Hunter generally kept his family—his mom, his dad, and especially his younger sister Casey—off limits from his Magic pals. Sitting down with Hunter's mom and dad, I immediately got a better picture of who Hunter really was. Hunter was a lot like his dad. Those were apparently fighting words to Hunter, a young man rightfully trying to escape the shadow of his dad's success in search of some success of his own. Still, it was obvious as soon as I sat down with Greg and Dona Burton. They were looking for ideas, but they definitely had some of their own.
Cash money for prizes. No splits allowed. Those were the first priorities.
They wanted to know how soon we could have a tournament. I've run about a hundred Pro Tour Qualifiers over the years as head judge and as either tournament manager or tournament organizer. I've done this a lot. I told them we could hurry and have a small tournament in just a couple of months. I said that once we got into October and November of 2013 that we might as well wait until after the holidays and plan for 2014. Then they brought up Hunter's birthday month, which was March. They were satisfied to wait until March if we could deliver something truly special.
The Hunter Burton Memorial Magic Open was created. The Burtons don't mess around. They put a sizable bit of money in my hands to take care of some early expenses while they set up a company, Hunter Burton Memorial, Inc. Greg Burton is a serial entrepreneur with a string of successful businesses under his belt. They never wanted a small tournament.
They asked me how much money it would cost to put on something big. I threw around a few lowball figures, and then they went over the top with some highball figures. We'll guarantee the event for three years in advance they said. They asked if we could get something good for fifteen thousand dollars. I said sure—if we had fifteen thousand to work with for three years, I was we could put something worthwhile together. The Burtons said no, not fifteen for three years. They meant fifteen thousand dollars for the first event.
My heart was actually racing at that point.
In all the years of putting on PTQs and Prerelease events, I've experienced how hard it is to put a good event together with good prizes that can still show a profit. It's a real challenge. Suddenly I met Hunter's parents, and they were telling me to spend the money and make the tournament awesome without regard for profitability. I was like a kid in a candy store.
Starting last fall a bunch of Hunter's friends and I started a grassroots campaign to drum up support for the Hunter Burton Memorial. We did what anyone would do—we printed up score pads and started handing them out. We made a Facebook page. Hunter's mom had poker chips made up, casino-quality stuff, with Hunter's picture on one side and the Facebook page info on the other side along with the most specific date information we had at the time:
"March 2014."
It doesn't pay to commit to a particular date for a Magic tournament six or nine months ahead of time. You just can't know that far in advance when the Pro Tour events will be held, on which weekends the Grand Prix will fall, where the nearest StarCityGames.com Open Series will be on your desired weekend. You have to play it by ear and wait until you have as much schedule information as you can get. It was late January before we knew that the first annual Hunter Burton Memorial Magic Open would be on Saturday, March 22. We did however know a lot of other things about the tournament, and we wasted no time getting the word out about these details as quickly as possible.
Big-Time Prizes
Five thousand dollars awarded only to the Top 8 players. Standard Constructed for the Swiss rounds, with a Modern Masters Booster Draft to decide the Top 8. We would award at the least three booster packs per enrolled player. Since all the cash would go to the Top 8, we decided all the booster packs would go to players finishing outside the Top 8, with a box of boosters guaranteed to players finishing between ninth and sixteenth.
Interested yet?
Then there was the trophy: a mammoth silver cup sitting on top of a wooden base. Big. Heavy. Because Hunter loved quality wristwatches, the Burtons empowered Hunter's fashion-forward sister Casey to procure a watch for the champion, a watch that Hunter might have picked out for himself. She selected and purchased a two thousand dollar Tissot with visible movement. The watch was an additional prize for first place. The cost of entry to this unique tournament? Only 25 dollars, of which half would go to Easter Seals, the Burtons' charity of choice.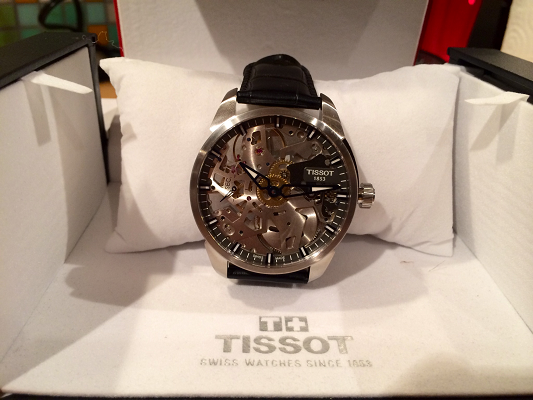 As soon as the wheels started moving for the event, I teamed up with Erin Giddings, owner of Area 51 Gaming and Collectibles in Grapevine, Texas. His store was the home base for Hunter during his most successful period in Magic, and Erin was a good friend of Hunter's. The first plan was to put the event itself in Erin's store in Grapevine. But then people started blowing up the Facebook page. The big cash payout and the desire to be a part of something special was attracting a lot of players to the upcoming event. We were finally able to pick the date when we found a space at the Fort Worth Convention Center on a Saturday that missed every Texas Pro Tour Qualifier, every Grand Prix and Pro Tour, and every nearby SCG Open Series.
Hunter's favorite Magic card was Eternal Witness. As the tournament approached, Eternal Witness started popping up in unusual places. I made some buttons and started handing them out. Grand Prix Richmond selected the Eternal Witness artwork for their limited edition playmat, and it happened to be just one week before the Hunter Burton Memorial. Eternal Witness also ended up on one of sister Casey Burton's legs in ink. It was by no means her first tattoo honoring her brother, and it might not be the last.
How many people would come to something like this? In all my years of putting on Magic tournaments, I know that the number one rule of predicting attendance is that you can never predict attendance. You can dodge all the other major events on the calendar but run into wedding season, graduation season, a religious holiday, or a NASCAR race. It's impossible to ensure an event's success. All you can do is try. From the start I pictured a 200-person event. I was thinking about the prizes we were paying out and the number of people we were reaching online and at tournaments statewide, but it was just a guess. It's hard to figure what will happen with a tournament that doesn't qualify its winner for anything further, not for the Pro Tour or anything. A true standalone event.
Equally of interest to me was what Hunter's parents would think of the event. What would their expectations be? Neither of them had ever experienced a Magic tournament. Would they find the event impressive? A positive reminder of their son?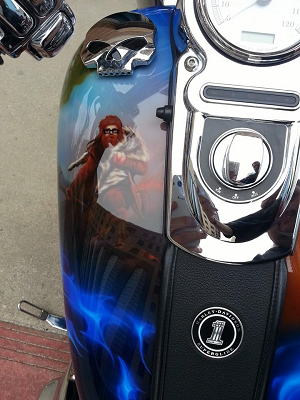 The Big Day Arrives
Register at 9 AM, play at 10 AM.
This has been the pattern for Magic tournaments in Texas for many years. As players started signing up, Hunter's parents had already arrived. The next thing I knew Hunter's dad was wheeling in a customized Harley-Davidson freshly embellished with Magic artwork on every conceivable location. Another Eternal Witness sighting. The motorcycle immediately put everyone in the mindset that something unique was going on that day.
I told Hunter's mom completely free of cynicism that the only thing that ever really matters with a Magic tournament is getting it started on time. Helping to get things started well and ending well was a great team of judges. Level 3 judge David Hibbs presided over a seven-man team of judges, all of whom were very experienced. My wife took the entry fees and sold the t-shirts. She also did a great job of keeping Hunter's mom from getting bored.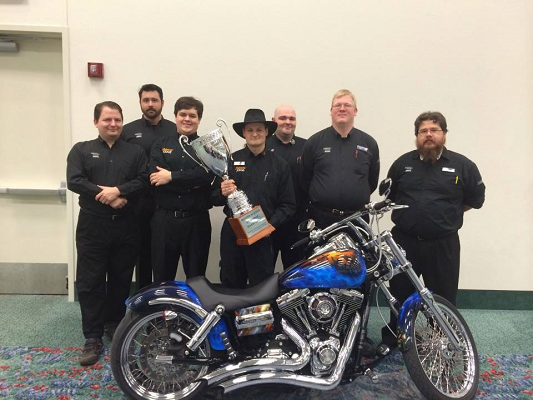 Then just as registration was about over, there was another Eternal Witness sighting. David Ashcroft, a local player who gets around to the big events, walked up and donated eight of the Eternal Witness playmats from the previous weekend's GP. These playmats were at a premium in Richmond. Ashcroft had paid 50 bucks each for them. They were then approaching a hundred dollars each on eBay. That's a bunch of Hunter Burton love for you right there. Just like that the prizes for the Top 8 finishers got a little bit beefier.
Sandwiched right between the end of the Standard PTQ season for Pro Tour Journey into Nyx and the Sealed Deck PTQ season for Pro Tour Portland, the first annual Hunter Burton Memorial Magic Open attracted 169 players. Players came from as far away as three hours north in Oklahoma City, three hours east in Louisiana, and four hours south in Houston.
After eight rounds of Swiss, the judge staff prepared the draft table for the Top 8. We put the trophy in the middle of the table, laid out the Top 8 playmats along with some Hunter Burton Memorial poker chips and extremely limited edition Hunter Burton Memorial dice. Then we decided what the heck—let's lay out the cash on the table for a nice photo opportunity. 500 crispy hundred dollar bills.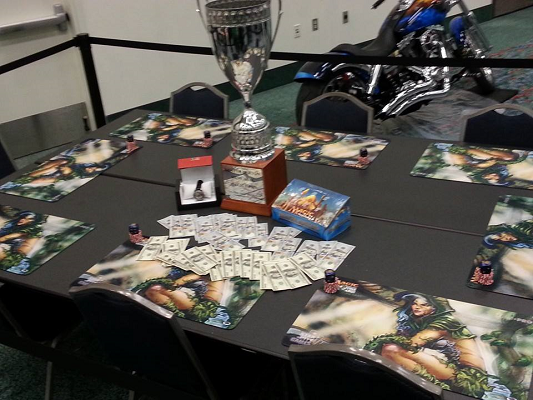 Top 8 Finishers After The Swiss
7-1 Hal Brady playing G/B Dredge
7-1 Brock Mosley playing B/W Midrange
7-1 Robert Berni playing Mono-Black Devotion
6-0-2 Tuan Doan playing Mono-Black Devotion
6-0-2 Linh Nguyen playing G/W Aggro
6-0-2 David Palmer playing U/W Control
6-1-1 Phillip Marschall playing Mono-Blue Devotion
6-1-1 John Schemmel playing Mono-White Aggro
The eight players were randomly seated for the Top 8 draft. We put barriers around the drafters to protect them from tampering, accidental or otherwise, from onlookers. The Top 8 bracket was then drawn up, with each player playing the person four seats away from them.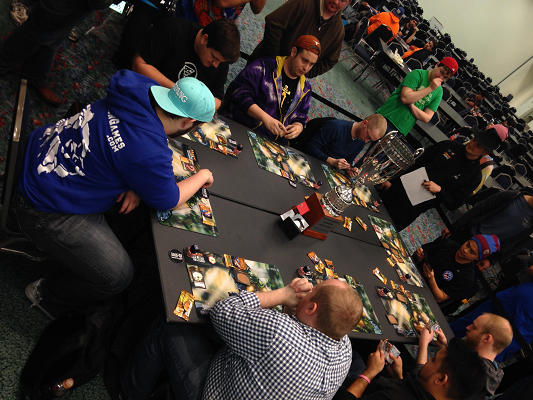 The player in the dark blue hoodie with the light blue backward cap is Hal Brady. Continuing clockwise, Brock Mosley, Robert Berni, John Schemmel, Head Judge David Hibbs (standing), Tuan Doan, Phillip Marschall, Linh Nguyen, David Palmer.
Quarterfinals
David Palmer's U/R Storm won 2-1 over John Schemmel's U/B Faeries.
Phillip Marschall's G/W Domain won 2-1 over Brock Mosley's U/R Fliers.
Robert Berni's G/W won 2-0 over Linh Nguyen's G/R Monsters.
Hal Brady's U/W Affinity won 2-0 over Tuan Doan's U/W Fliers.
Semifinals
Phillip Marschall's G/W Domain won 2-0 over David Palmer's U/R Storm.
Robert Berni's G/W won 2-0 over Hal Brady's U/W Affinity.
Finals
As much as we wanted the event to have no splitting up of the prizes in the Top 8, we were unable to convince our two finalists to play a match. Phillip Marschall conceded to Robert Berni, and they chopped up the first and second prize money. All of the Top 8 players' names will be put on the trophy in order of finish. However, the trophy doesn't stay with the winner. It will spend much of the next twelve months at Area 51 in Grapevine in recognition of the support for this inaugural event. Robert Berni did however convince me to let him take the cup home with him to Austin for a few weeks.
I could hardly have hoped for a better champion of this event. Berni and I roomed with Hunter at Grand Prix Philadelphia in 2008. We all crammed into some guy's tiny car and drove to Atlantic City one night. Hunter and I went to Pat's in downtown Philly for cheesesteaks the day before the GP started, and we each ate two. Then we promptly went back for more sandwiches a few days later. We fully meant to visit the other historic cheesesteak emporium, Geno's, located just across the four-way intersection, but we didn't. We just loaded up on more sandwiches from Pat's because we already knew they were fantastic. Whiz for the win.
Robert Berni's name may look familiar to you now. He took the same Mono-Black Devotion deck that he played to the Top 8 at the Hunter Burton Memorial to GP Phoenix and won the whole thing.
Remembering Our Friend
After our tournament was over, Hunter's dad thanked me for putting it together. Hunter's mom and dad couldn't have been more supportive, and they made it easy to put together a great event with fantastic prizes. All Hunter's dad asked me to do next year is to make it even bigger and better, and I'm excited about the challenge.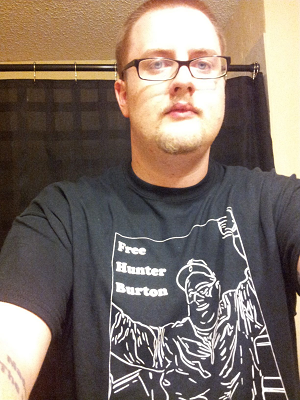 Hunter Burton in 2013
The bottom line is that we lost a good man last summer. A bunch of us, none more than his parents and sister, have missed him every day since. Thanks to his parents' generosity and the Magic community of Texas, we have an excellent way to remember our friend each year in a special way.
Just a couple of years ago, I asked Hunter straight up why he didn't settle down and find something safe and secure to do with his time. He knew I was really asking him to straighten out his life and fly right. He didn't blow me off or tell me to go to hell. He told me quite seriously that he would probably settle into some kind of business opportunity, maybe with his dad, once he turned 30. All of us wonder what 30-year-old Hunter Burton would have been like. In his absence, his friends and family continue to do whatever we can to keep his memory alive. That's what you do for the special people in your life.