All right, enough of this hype stuff, time to get down to what you really need to know when you are headed to Grand Prix Miami! My name is Jared Sylva. As the Organized Play Department Manager here at
StarCityGames.com, I am responsible for making sure that your on-site experience at our events is second to none, and that starts with the venue!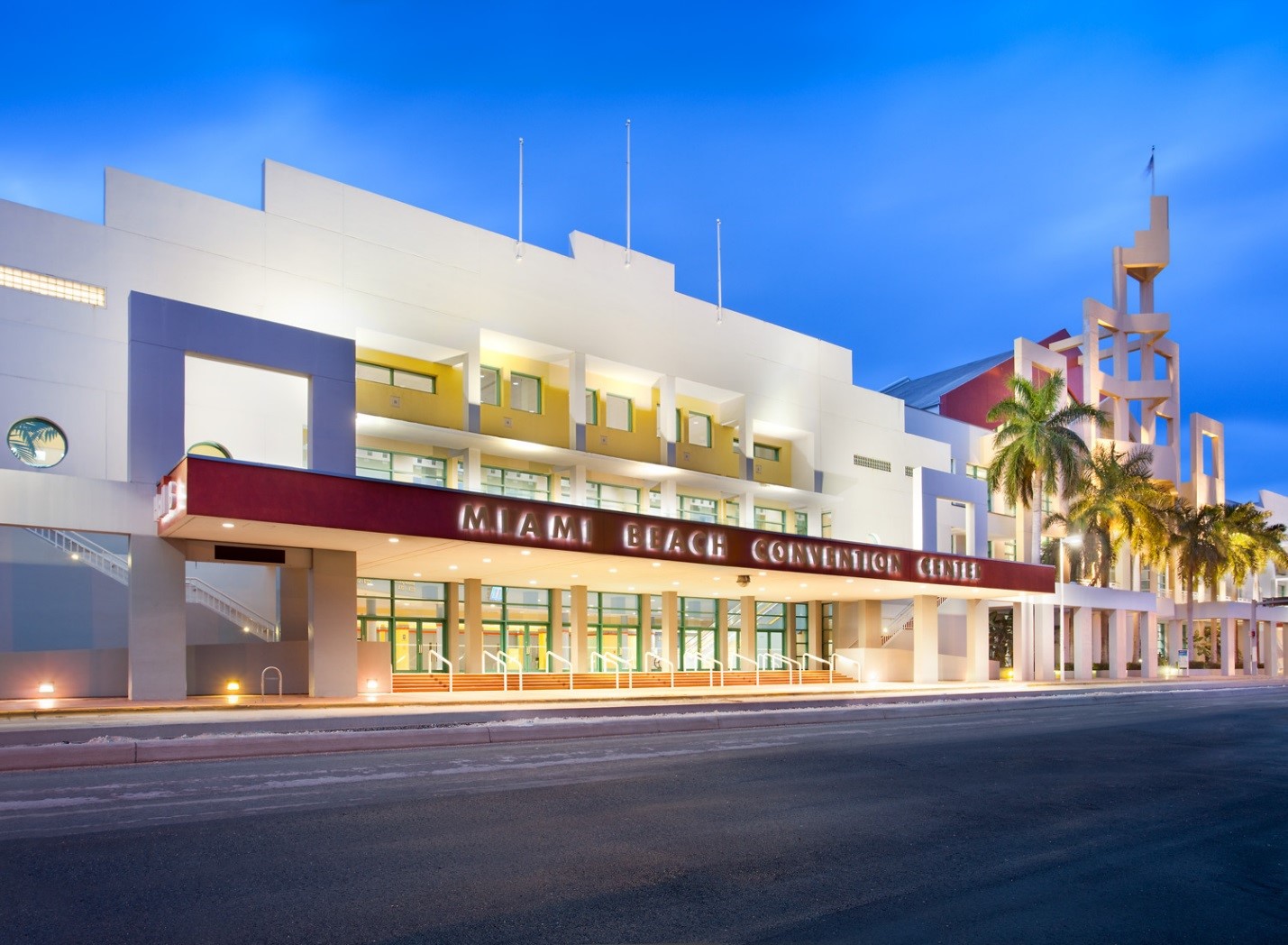 The Miami Beach Convention Center is located a stone's throw from the beach, and the forecast for this weekend is in the low 80s (Fahrenheit) and sunny,
otherwise known as better weather than what you, me, or pretty much anyone else in the US is experiencing right now. For those who are wondering, that's sand in the picture, not snow. I know I'm excited to get on my flight tomorrow, and I'm packing shorts. Not only is the weather going to be great,
but the area around the Convention Center has some great restaurants and nightlife that is always in full swing.
Grand Prix Miami will be located in Hall D, on the corner of the building facing Dade Boulevard, Miami Beach Botanical Gardens, and the parking lot. When
you enter the convention center, bear left to find Hall D's 100,000 square feet, which we have set up to give everyone the best possible tournament
experience.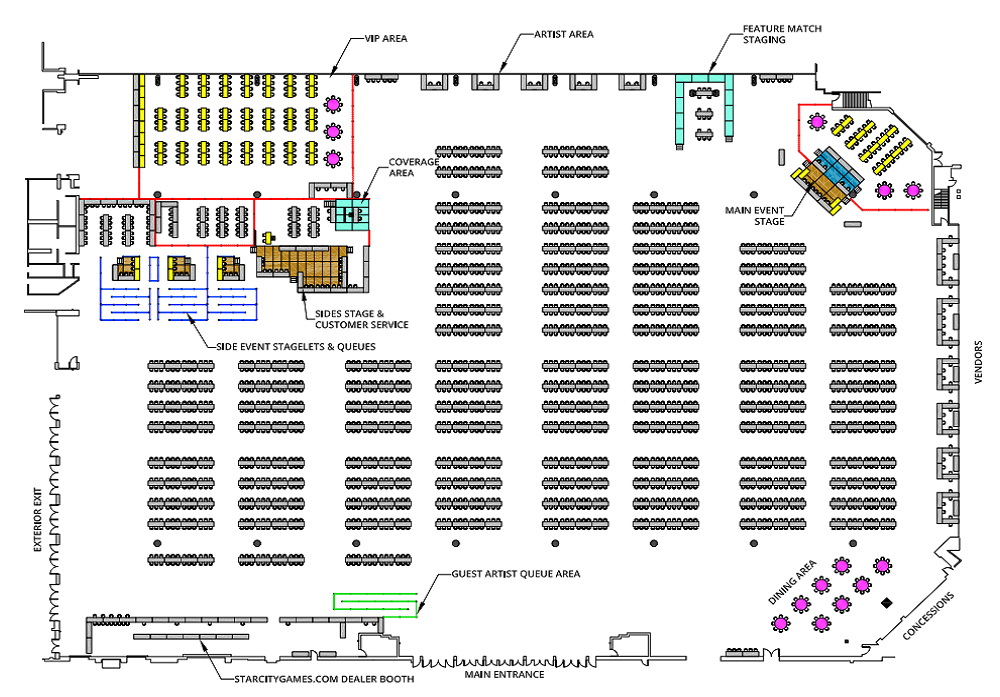 As you can see, we have made sure that there is lots of space for players to easily move around and spread out. The main entrance is at the bottom of this
floor plan with the Side Events Stage at the back left and with the VIP area tucked in behind it. The Grand Prix stage is at the back right. The
StarCityGames.com dealer booth is to the left as you enter with the other dealers along the right-hand side of the hall near the concessions stand. Last
but not least, we have a great roster of artists who will be located between the VIP area and the Feature Matches along the back of the hall with special
guest Aleksi Briclot front and center right by the entrance of the hall.
With another big hall, we are bringing back one of the most popular innovations from GP New Jersey: the table number street signs. They are better than
ever as we have doubled the number in order to have them every 60 tables. It's a big room, but the signs will help to make it easy to find your seat.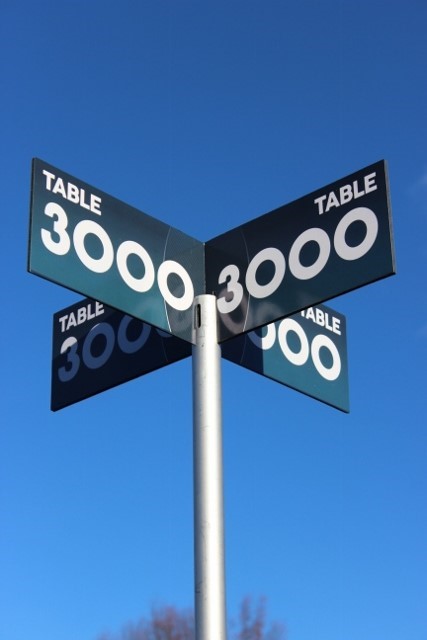 Let's talk a little bit about the information we'll be providing to help make your event easier. If you preregistered online by the end of Thursday, look
for an e-mail on Friday to confirm your registration for the event, as well as your DCI number and byes in the main event. Another e-mail will go out to
all online preregistrations once registration closes on Friday night at 10:00 pm. If you have any issues, simply reply to the e-mail, or come see us at
Customer Service.
In the hall on Friday, we will be posting updated lists of preregistered players near the Grand Prix stage throughout the day. This list will have all of
your information, including byes, so be sure to verify that it is correct when you arrive so that we can help you handle any problems as soon as possible.
On Saturday morning, seatings for the player meeting will be posted when you enter the room. Just like traditional pairings, the boards will be spilt by
last name, so look for the first letter of your last name and check that board for your seat. Players who did not purchase a Sleep-In-Special will have a
table number to report to at 8:55 am for the player meeting, while players with a Sleep-In-Special will have an estimated report time to be onsite to be
ready to start playing.
Speaking of the Sleep-In-Special, if you have purchased this option or have it as part of your VIP package, make sure to submit your decklist by 9:00 am on Saturday to avoid
tardiness penalties. Sleep-In-Special players can also pick up their rewards at any time from the Customer Service Station. In fact, if you ever have any
questions, just head over to the Customer Service station at the Side Events Stage. Customer Service is a one-stop shop for answers to all of your GP Miami
questions, and we always have friendly, knowledgeable staff there available to help.
Well, that about covers it. Time for me to get on a plane for Miami, so I'll see you there!