I've heard people say that in Guilds of Ravnica Draft, you should find your guild and stick to it. I strongly disagree with this logic. With the abundance of gold cards, the power-level of your deck drastically increases if you can finesse yourself into the open color combination. Remember the draft I covered last week? We started off with four amazing blue cards but ended up with a very solid Boros deck by reading the table. Let's see if we can figure out what's open in this draft!
Pack 1, Pick 1
The Pack:
The Pick:
Piston-Fist Cyclops would be a higher pick if Dimir decks were not clogged on three-mana creatures. But this, combined with the spells-matters clause, drastically changes the evaluation of the card based on the mana cost. For example, Whisper Agent is a common you should take highly because it's quite good in Izzet, Dimir, and Golgari. Hybrid creatures are usually flexible, and hence should be prioritized prior to archetype selection. Piston-Fist Cyclops doesn't have this upside. While it's one of the best threats for any variant of Izzet, I would rather solidify into Izzet before prioritizing the card.
Between Luminous Bonds and Citywatch Sphinx, I believe the pick is the Sphinx. I don't often take six-mana threats early on in Draft, but Citywatch Sphinx is one of the best finishers for any blue control deck. It's comparably splashable to Luminous Bonds but it's less replaceable. I often hear players say "just take the removal," and while this logic has merit, Guilds of Ravnica is not a Limited format that rewards this kind of thinking.
There are eight fantastic removal spells at common, which is more than we almost ever get. I rarely struggle to get a sufficient amount of removal, and hence only prioritize removal spells that are either hyper-efficient (e.g. Dead Weight, Lava Coil) or provide additional value (e.g. Hypothesizzle, Price of Fame). Luminous Bonds doesn't fit in either camp. It's a card I'm not unhappy to first-pick, but I would rather start off my draft with a premier threat such as Citywatch Sphinx.
One additional note that I'm using as a tiebreaker here, as I think the pick is somewhat close, is that I believe blue is a noticeably better color than white in this format. The delta between these two colors isn't so large that it can justify a pick with a power-level gap, but on close picks like this one, it's a reasonable tiebreaker to use.
Pack 1, Pick 2
The Picks So Far: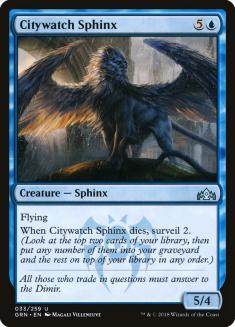 The Pack:
The Pick:
This pick demonstrates how I believe many players are drafting this format incorrectly. Azorius is not a supported archetype in this format, and while that doesn't mean you can't draft it, it does mean that it's not likely that both Light of the Legion and Citywatch Sphinx will end up in the final product of this draft. This doesn't mean that you should pass Light of the Legion.
Looking at the pack, you'll notice that a common (or foil) was taken. The only common you could argue taking over Light of the Legion is Dead Weight. While this doesn't mean my opponent took Dead Weight, it's important to note that it's the most probabilistic pick. Since Orzhov is not a supported archetype and the person next to me chose to pass Light of the Legion, this does increase the probability that white will be an open color.
If you take Artful Takedown here, I think you're missing out on too much potential. Light of the Legion is both a better card and there's reason to believe that the color white will be open. I don't care that Artful Takedown pairs better with my first pick; I want to take the most powerful cards and be in the best position to draft an open archetype.
Pack 1, Pick 5
The Picks So Far:
The Pack:
The Pick:
Which is a better Izzet card – Beamsplitter Mage or Izzet Guildgate? Well, it depends. Beamsplitter Mage is a very potent threat in specific versions of the Izzet Aggro archetype. But that variant of the archetype isn't particularly interested in Citywatch Sphinx. Furthermore, the aggressive Izzet decks often have heavy mana requirements as they're trying to cast cards like Sonic Assault and Direct Current twice in one turn, especially when paired with Goblin Electromancer. Because of this, it's not crazy to play three, or even four, Izzet Guildgates in any Izzet deck.
The decision is between Rosemane Centaur and Izzet Guildgate, and I think the pick is the Centaur by a reasonable margin. While Selesnya isn't my favorite archetype, it isn't as bad as many players make it out to be. When Selesnya is open, it can be extremely fast and resilient. And Rosemane Centaur is the card that I most want at the top of my curve in the archetype. While Izzet Guildgate is a card that will make my deck should I go down that route and also leaves me open to draft Dimir and splash Hypothesizzle, I think that there's a much higher reward in taking Rosemane Centaur, especially because, as previously mentioned, white is the color with the highest probability of being open based on what we know so far.
Curious how the whole draft went? My friend Alex streamed it this past weekend. Check out the video!