In Indianapolis, 667 players attended the first Independent event to out draw a Grand Prix event on the same weekend. Granted, GP Kuala Lumpur is a bit harder to get to than Indianapolis, but it is still an indication of how far the StarCityGames.com Open Series has come and how it is regarded in the Magic Community.
The first thing I want to do is thank the players for coming out and supporting the StarCityGames.com Open Series. We set these events up, but without all of you, we're just some guys sitting alone in a large empty room. The players provide the drive, determination, and innovation that make the StarCityGames.com Open Series a resounding success and a fertile ground for innovation in the Standard and Legacy formats.
With the success of the StarCityGames.com Open Series has come a set of challenges that have, at times, delayed the start of the event and slowed round turn around. Over at the dealer booth, long lines to buy and sell cards have also prompted player feedback. We are aware of these issues, and I wanted to share some of the actions that we are taking to address them starting at our event in Orlando on March 27th and 28th.
Problem: Registering players is taking longer than the 8:00 am — 10:00 am window and delaying the start of the event.
Why it Matters: This is a major concern for many reasons. Delaying the tournament starts the day on the wrong foot, frustrates players and is simply not in keeping with the quality of event that StarCityGames.com expects to run. Also, every minute of delay at the beginning of the day directly affects how late the tournament concludes.
Solutions:
Friday night preregistration: StarCityGames.com will be taking preregistration at a local Friday Night Magic the night before the StarCityGames.com Open Weekend. In Orlando, we will be at Phoenix Games from 6:00 pm -11:00 pm on Friday, March 26th. Phoenix Games will be running both Standard events and Drafts, so come in and join us for some last minute tune up and beat the morning rush.
Phoenix Games
873 Goodhomes Rd
Orlando, FL 32818-6607
If you preregister Friday evening, you will not need to check in the next day, you will simply be on the seating list for the player meeting that we will be posting at 10:00 am.
Four Registration Computers: We had two people taking sign ups in Richmond, and three in Indianapolis. In Orlando and beyond, we will be using four computers to take sign ups.
Problem: Lines for buyers can make the wait time to sell your cards unacceptably long.
Why it Matters: The opportunity to sell cards at a large event is one of the draws for many people, but it is not something to which you want to have to dedicate a large part of your day . You would rather be playing Magic, and we'd rather free you up to play.
Solutions:
More Buyers: Starting in Orlando, we will have at least three buyers available all day long.
"Express Lane": We will have one buyer who is dedicated to smaller buys. Like the "20 Items or Less" line at the supermarket, this line will move more quickly and allow players selling smaller amounts of cards to see a buyer without having to wait for players selling entire collections.
Buyer(s) present during preregistration: In addition to taking preregistration at the local FNM, StarCityGames.com will have one or more buyers available to purchase cards. Take care of selling your cards Friday night and have the weekend free to play.
Not Really a Problem, But…: Increased attendances.
Why it Matters: Larger turnouts equal many rounds and a long arduous road to the Top 16 and SCG Open Series Points.
Solutions:
More Judges: We try to have one Floor Judge for every 25 expected players. With the huge attendances, we have increased our anticipated numbers and added judge slots to our staff for Orlando, Atlanta and going forward.
More Seating: We try to have three matches per 8 foot table, but recent attendances have pushed us to 4 per table at many of our events. I am personally working on floor plans to accommodate our revised attendance numbers without having to make this concession.
Additional StarCityGames.com Open Points if Attendance is 500+: If the attendance of a StarCityGames.com Open Event exceeds 500 players, we will have the following increased StarCityGames.com Open Point Payout: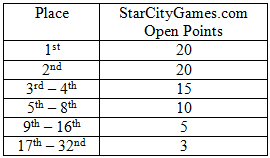 In other words, if 500+ players show up StarCityGames.com Open Points will go down to 32nd Place and the Top 8 will directly qualify for December's StarCityGames.com Invitational in Richmond. These points change will be retroactive, so the Standard Open events from Richmond and Indianapolis will be updated in the StarCityGames.com Open Points standings.
There is one other thing that I wanted to touch on in this article: Timed Top 8 matches. At the Legacy Open in Indianapolis, one of the Top 8 matches took the full 60 minutes and 7 additional turns (+2 turns from a Slow Play Infraction) and was decided by single elimination tiebreakers. There was an outcry in the GGsLive feed and we have received some negative feedback regarding our decision to time the Top 8 matches that I want to address.
All of the previous Top 8 matches at StarCityGames.com Open events have been timed and we have even had a match in Dallas come down to the single elimination tiebreakers, but not on camera. Timed Top 8 matches are supported by DCI Policy; The Magic: the Gathering Tournament Rules recommends time limits for Quarterfinals and Semifinals but leaves the final decision to the Head Judge. StarCityGames.com values consistency between our events, so we ask our Head Judges to maintain some of the same rules at each event including the time limits for the Top 8. The time limits and the single elimination tiebreaking procedures were explained to the Top 8 players and a clock displaying the remaining time was visible to all players throughout the Top 8.
The time limits for the Top 8 were 60 minutes for the quarterfinals, 90 minutes for the semifinals and 120 minutes for the finals. This means that even the quarterfinals that went to time got 10 more minutes than in the Swiss rounds. Is it not reasonable to expect players to be able to complete a match within this time period? Additionally, judges are watching the Top 8 matches and players are encouraged to play faster if they are not maintaining a reasonable pace to conclude the match within the time limit as evidenced by the Slow Play infraction handed out in the match in question.
We also time the Top 8 for logistical reasons. Recent StarCityGames.com Open events have had 9 — 10 rounds and have finished after midnight. Timing the Top 8 is one of the ways that we try to meet venue restrictions on how late we can stay in the building and also an attempt to keep the length of the events reasonable.
Sorry to end on a down note, especially as I am really excited about recent StarCityGames.com Open Series events and I can't wait to see what's happening down the road. See you in Orlando!