Fair warning: this deck ends up a little sketchy. For the past several days, I've been setting aside my first draft of the day as my "Drafting With" in order to foster the naturalistic approach as opposed to only submitting drafts where everything went perfectly and I ended up looking like a genius. This one ended up so sketchy that I planned to scrap it… then after I made the finals, I went back and looked at the draft itself, and while it was a train wreck, most of my decisions made sense. Thus, I deem it suitable for publication, and it may even be a conversation starter. (E.g. "Why is THIS nobody doing draft walkthroughs? Can't we get Shaheen Soorani?" "This guy is terrible. I didn't pay to read this." "He has no idea how to draft, or even groom himself.") Tomorrow, though, I will draft until I can provide a strong decklist born from canny decision-making.
Elite Inquisitor is the clear pick. We're still on the rails. Currently, I believe Inquisitor to be slightly better than Bonds of Faith, but worse than Brimstone Volley.
Bonds of Faith is the safe pick, and possibly the flat-out "correct" pick, but Unburial Rites is incredibly strong if you can cast both halves. Given that my first pick was white, I was in a reasonable position to just force the issue on white/black and ideally even pick up another Unburial Rites. It certainly sucks that the next three best cards in the pack are white or black. I could have sat back and let other people battle it out for the black, but I decided I wanted to gamble on power.
Corpse Lunge is sort of a "last resort" removal spell. Chapel Geist is better in a vacuum, and if things go according to plan, I'll want my high-power creatures to stay in the graveyard until I can Unbury them.
My preferred play style involves playing cards with a little more finesse than Cloistered Youth. I'd be happy with it in blue/white or red/white aggro, but I'd still take Rebuke over it.
So blue went nothing, nothing, nothing, 7th-pick Stitched Drake, eh? Since I've been getting reasonable white and not much else, I figured it was possible the Unburial Rites (or maybe a few cards in a different color) would end up as a splash. The fourth pick Orchard Spirit and fifth pick Lumberknot seemed to indicate that green was as open as anything, but Grizzled Outcasts don't seem worth changing course over, and if I did end some combination of green, white, and black, I'd probably want the Grotto more than an arbitrary five-drop beater. The same sort of logic applies to the blue cards, except I have less of an indication that it's even "open."
It works well with morbid and white's various death triggers. While my only current bonus comes from Elder Cathar, it's not like I'm taking it over much. I could have taken the Fensnake, but it's early enough in the draft where I can speculate on a card that's powerful and enables synergy under the proper circumstances.
If I can find a way to load my graveyard, this could get interesting.
Had I realized what other people had taken out of this pack, I probably would have taken the Skaab here. Naturalize, Nightbird's Clutches, and Vampiric Fury are all absent, but the one blue card is still here? I wasn't really expecting to go nuts with that previous-pick lark Spawning, plus I'd rather keep my options open till the start of next pack instead of speculating on something mediocre in a color whose prospects are dubious.
Perfect. The ideal complement to Unburial Rites… assuming you're willing and/or forced to play three colors, that is.
With my last pick, I really want to settle into W/b/r. I die a little inside every time I pass Grasp of Phantoms, but that ship has sailed.
I think Unburial Rites is still better than Fiend Hunter in straight black/white, but I'm not positive. Fortunately, the Heretic's Punishment makes my decision easier.
I could just as easily be white/red splashing black as white/black splashing red. Harvest Pyre is way better than the restrictive Smite the Monstrous, and while I do need creatures, Doomed Traveler doesn't meet the deck's prospective needs.
Yep, even though I'm woefully short on creatures. Geistflame really is that good.
Finally an interesting Rites target.
I'm hoping black will be my splash, and I'm hoping by the time the draft is done I won't regret being unable to splash the worst 5-drop of all time. It's a functional reprint of Shinen of Fear's Chill, and I'm not about to degrade myself like that.
This was a pretty close pick, but curve concerns won out over a more powerful Unburial Rites target. If I didn't have those Pitchburn Devils, I likely would have taken Revelers.
I can't say this was the pack I was hoping to open. Since I'm not in green, it's not like I was really giving up much here; I need the mana-fixing more than another situational removal spell or a glorified Scathe Zombies. Innistrad is a cruel world, and sometimes you just have to leave your pride at the door and slam a first-pick marginal.
These packs are nice, right?
I debated hating a green card, but whatever selection I made would have felt arbitrary. I'm not keen on splashing a Disciple, but it does combo with my Devils and Cathars.
This should have been our mediocre friend, the Feral Ridgewolf. Sure, I had a handful of humans, but this was plain greedy considering how short I was on creatures.
Alright, you got me. This was a rare-draft. I should have hated the Grave Bramble.
This draft converter created by Benjamin Peebles-Mundy.
Visit the draft converter today!
DECKLIST
Elite Inquisitor
Silverchase Fox
Disciple of Griselbrand
2 Elder Cathar
Chapel Geist
Voiceless Spirit
Tormented Pariah
Abattoir Ghoul
2 Pitchburn Devils
Night Revelers
Traveler's Amulet
2 Geistflame
Blazing Torch
Harvest Pyre
Altar's Reap
Rebuke
Butcher's Cleaver
2 Unburial Rites
Heretic's Punishment
6 Plains
6 Mountain
4 Swamp
Shimmering Grotto
To be honest, the mana isn't really that bad, thanks to my courageous first pick in pack 3. I suppose it wouldn't have hurt to take out a Swamp for a Plains, but other than that, I wouldn't change it. Regardless, I can't say I condone three-color nonsense manabases, but it is what it is.
ROUND ONE vs. WHITE/BLUE
Game 1: On the draw, I kept Geistflame, Pyre, Rebuke, Voiceless Spirit, Unburial Rites, Swamp, Plains. There wasn't much of a mana-sweat, as I drew Traveler's Amulet on turn 1. I Geistflamed a Cloistered Youth, and then the board got cluttered with various mediocre small dudes. I played Unburial Rites on Pitchburn Devils, but he countered the flashback with Lost in the Mist, bouncing the Devils back to my hand. I replayed the Devils, and the board looked like: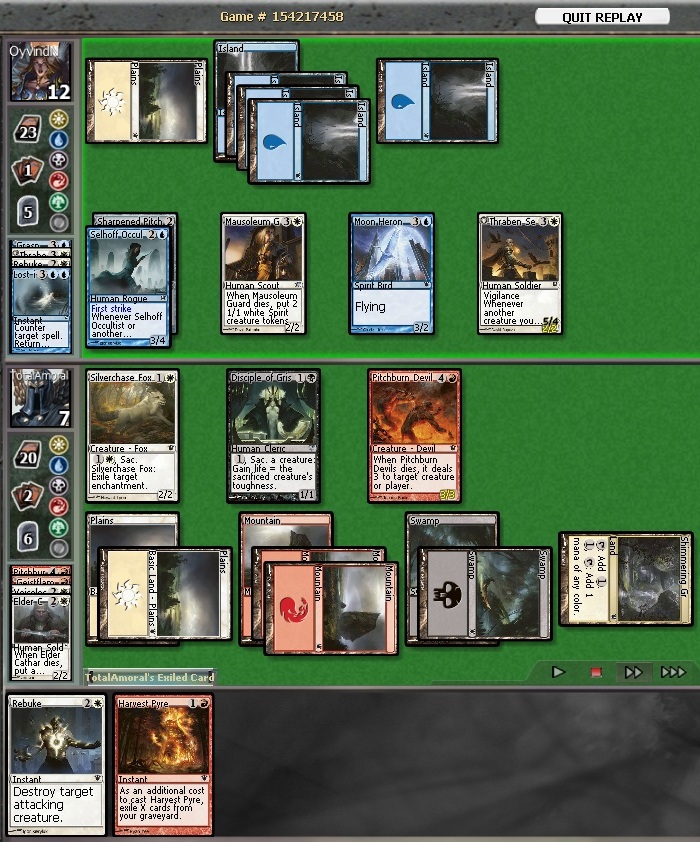 He attacked with Occultist and Heron, so I Harvest Pyred his Thraben Sentry before blocking the Occultist with Devils, which I sacrificed to shoot the Heron. I drew Heretic's Punishment and successfully Punished the Occultist. Over the next few turns, I took three hits from his 3/3 to go down to 1 while flashing back Geistflames on a Lantern Spirit and attacking back. The game ended with a 5-point blast from the enchantment.
Game 2: I kept Inquisitor, Geistflame, a boarded-in Scarecrow, Abattoir Ghoul, Punishment, Mountain, and Grotto, then promptly drew Plains. I Geistflamed another Cloistered Youth and Rebuked a Moon Heron, but a 4/4 Mikaeus, the Lunarch was problematic for my small ground dudes. I resolved Heretic's Punishment, but my opponent had a Geist of Saint Traft supplemented by Feeling of Dread and Grasp of Phantoms. I actually managed to stabilize when my opponent made the mistake of attacking Geist of Saint Traft into my Abattoir Ghoul when I was at 3 life, thinking the Angel would kill me because he forgot about the Ghoul's life gain. I filled my graveyard with Punishment and Pyred the now-6/6 Mikaeus, and I had two blockers and plenty of gas in hand to keep me stable facing his solitary creature and one card in hand. He untapped, drew, and put Bonds of Faith and Claustrophobia on my guys so he could attack for the win.
Game 3: I kept two Plains, Fox, Chapel Geist, Blazing Torch, Harvest Pyre, and Abattoir Ghoul. I played out Fox, Geist, and an Elder Cathar; my opponent answered with Cloistered Youth, Selhoff Occultist, and a Grasp on my Cathar. We'd been racing, so after I chump-blocked his Unholy Fiend with the replayed Cathar, the life totals were 10-10. He put Bonds on my 3/4 Chapel Geist and went to 9. Over the next few turns, I double-blocked his Unholy Fiend with Scarecrow and Fox, then Unburied the Fox to kill the Bonds. He flashed back his Grasp of Phantoms on my Geist, but I just replayed it and attacked in the air for a few more turns.
ROUND TWO vs. RED/GREEN
Game 1: On the draw, I kept Inquisitor, Geistflame, Pitchburn, Pyre, Amulet, Mountain, and Swamp. On the third turn, I cast Elite Inquisitor with Geistflame mana up. On his fifth turn, he attacked with Festerhide Boar while his 3/2 Vampire watched on. I blocked with Inquisitor, Geistflamed, and Rebuked in response to his Spidery Grasp. Some of our midrange dudes traded while the Inquisitor continued to peck away unimpeded, and an Unburied Pitchburn Devils handled his Galvanic Juggernaut. My removal was enough to keep the path clear for Inquisitor.
Game 2: I mulliganed Swamp, Plains, Fox, Cleaver, Pyre, Punishment, Pitchburn Devils. The hands I'd been keeping all needed a little help, but this hand wouldn't do much even under optimal circumstances. Playing a turn-two 2/2 and spending the next two turns transforming it into a non-evasive 5/2 didn't seem like a winning proposition. My six-card hand of Inquisitor, Elder Cathar, Cleaver, two Plains, and a Mountain was much better. My opponent used Brimstone Volley on my Inquisitor, and I answered back with Rebuke on his Darkthicket Wolf. He didn't play anything on turn 5, but I had Heretic's Punishment. He didn't play anything on his sixth turn either—not even a land—so I decided not to tap out to play and equip Cleaver in case he had the Ambush Viper he showed me game 1. I attacked him for 2, and when he continued not to play anything, I grilled him with the Punishment. He didn't have an answer when I played and equipped the Cleaver the next turn with Geistflame backup, and the Punishment took it from there.
My finals opponent offered the split, so I graciously accepted.