This is the first of what will hopefully be many reviews of my draft articles. I guess I wasn't clear in my short introduction to this series, but it is my hope that this series of Drafting With Rich will continue to be posted daily long after we have moved past Ravnica block. I believe that it is possible to learn far more from this series than just how I draft in this format, and I even find myself learning by looking back on the drafts and looking at the commentary in the forums. I have been forced to reconsider how I'm drafting, both on a larger scale – which color combinations have been successful, and which haven't – and on a smaller scale – which cards do I over or undervalue, compared to which cards the general public over and undervalues. This series will continue as long as people keep responding in the forums, and hopefully people don't lose interest in the month in between the prerelease and the newest set being released on Magic Online.
There are a few issues that have been repeatedly brought up in the forums that I'm going to address here. I'll also take a look at my record with each color combination I've drafted, and figure what each archetype's success (or lack thereof) could mean. First, I'm going to make an attempt to wrap my head around everyone's fascination with Infiltrator's Magemark, then I'll try to explain my thinking on the topic of when to take bouncelands, and finally I'll give you my (by no means definitive) Ravnica pick order.
My thinking on Enchant Creatures is this: to be consistently playable, an Enchant Creature needs to do one of four things.
1) It should effectively be a removal spell, in the vein of Galvanic Arc or Pacifism.
2) It should provide a powerful, repeated effect like Ocular Halo or Hermetic Study.
3) It should make the enchanted creature either very big and/or hard to remove, like Mythic Proportions or Ghostly Wings.
4) Ideally, it should have the text "When this comes into play draw a card".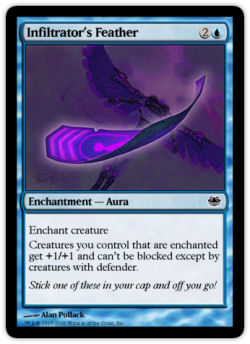 Infiltrator's Magemark doesn't really do any of these things. It does give you a form of evasion, which is obviously very important, but the major problem is that it requires you to already have a decent sized creature for it to be good. Putting it on a 2/2 and hoping they don't have one of the many Walls (I just can't bring myself to say "Defenders") in this format is not a prospect that excites me. Unfortunately, your big man will already be your opponent's first target for a removal or bounce spell, and by playing this it's often like you're placing a feather in their hat. That being said, there are most definitely times that I do play this. When I have some big creatures, preferably Bramble Elemental or Streetbreaker Wurm, and I'm afraid that my opponent will be able to outrace me with flyers while they block on the ground with dorky non-Wall creatures, for example. The thing is that I just don't see this situation arising that often, and I like to avoid giving my opponent easy two-for-ones whenever possible.
How highly I value on and off color bouncelands has been a topic of much discussion, which has prompted me to do some thinking on the subject. First, let me say that at the Ravnica prerelease I thought these were pretty bad. I mean, giving up an early turn for a long-term gain? This format looked fast, and with the guildbase in triple Ravnica it looked like one would only want to be playing two colors, so these didn't even help fix your manabase. How far I've come… It only took about a week for the discussion in #wisedraft to go from "should we play these?" to "can I get away with playing five of these?" Just before I went to Hawaii for a month of drafting, I won Grand Prix: Richmond. Over the course of the Grand Prix I drafted three decks, with four, three, and zero bouncelands as the tables got harder. But it was in Hawaii that I really sunk my teeth into the format, along with my Swedish team-mates and Dutch and American friends. Although we didn't keep track of matches, it seemed like Johan Sadeghpour (Lord of Secrets) was winning more drafts than anyone else. He also seemed to put a high priority on having three bouncelands per deck.
That was my longwinded way of saying that although it wasn't quite obvious, the bouncelands are really good.
The first two questions that most people have are the easiest to answer.
"How many should I play?"
The most I've ever played was five, and I was happy with it. Although you do sometimes have to mulligan two-land hands because they're both bouncelands, having five lands that produce two mana makes your post-mulligan hands much better. That being said, I think that four is optimal for most decks, just don't be afraid to play more should the situation warrant it. Not that you should ever have that option anymore, of course.
The second easy question is…
"Should I play half on-color bouncelands?"
The answer to this question is simply yes. In most cases a bounceland is just better than a basic land, and you can almost always afford the loss of one mana on a turn of your choosing.
Now comes the more difficult part… describing when to take bouncelands.
The first step in determining this is to size up the rest of your table. At a table with a lot of unknown elements, you can basically spend Ravnica figuring out how high you need to take lands for the next two packs. If you don't see a land after, say, sixth pick, you know that your table knows what it's doing, so for the next two packs, assuming you don't have a deck with a low curve and a manabase that's not in need of much fixing, you should be taking lands over just about everything short of bombs and removal spells. If you know that your table likes lands as much as they should, you need to take them high in Ravnica as well, to make sure you're not left out in the cold at the end. I also like to take lands high in Ravnica because I can be fairly certain that they'll end up in my deck, no matter what colors I end up, while the same can't be said for a midrange playable such as Greater Mossdog or Clinging Darkness.
Now I will list the order that I think the best Ravnica commons are placed. This is based on my color preferences and the discussions I've had with other pros. It is fitted to my playstyle, and isn't necessarily the best for anyone else and shouldn't be strictly adhered to. Other considerations can make a certain card a better pick (like the known preferences of a neighbor, or the presence of a number of other good cards in a color in the pack, or one previously passed).
Compulsive Research
Civic Wayfinder
Galvanic Arc
Last Gasp
Vedalken Dismisser
Faith's Fetters
Disembowel
Viashino Fangtail
Peel From Reality
Golgari Rotwurm
For good measure, here are the uncommons.
Ribbons of Night
Moldervine Cloak
Dimir Guildmage
Keening Banshee
Lightning Helix
Putrefy
Selesnya Guildmage
Trophy Hunter
Mark of Eviction
Halcyon Glaze
Combining the two lists, we get:
Ribbons of Night
Moldervine Cloak
Compulsive Research
Dimir Guildmage
Keening Banshee
Civic Wayfinder
Galvanic Arc
Last Gasp
Vedalken Dismisser
Lightning Helix
Putrefy
Selesnya Guildmage
Faith's Fetters
Disembowel
Viashino Fangtail
Trophy Hunter
Peel From Reality
Mark of Eviction
Halcyon Glaze
Golgari Rotwurm
The commons are mostly removal spells, whereas the uncommons are often cards that can win the game on their own when left unchecked. Be aware that these lists aren't just looking at which card is more powerful – it also takes into consideration their colors, mana costs, and likeliness that your deck will be able to handle that mana cost. For example, Compulsive Research and Dimir Guildmage are nowhere near as powerful as Keening Banshee, but they both have much easier mana costs, and are both in a better color. Having an early game card costing double-Black is often a hard thing to handle in this format, since my decks are rarely base-Black.
The last thing I want to talk about is my success with each color combination. Here is my record with each. I haven't distinguished between things like "Blue White splash Red" or "Red White splash Blue," even though they can be very different decks with very different issues.
Guwb: 5-2
GURwb: 0-1
UGR: 2-0
UWB: 0-2
RUw: 0-4
GBw: 0-1
UBR: 5-0
GBR: 1-1
Looking at this, a few conclusions can be drawn. My RUW decks have been underperforming, and I should be trying to draft UBR more to see if it really is that good or it's just random chance that it's undefeated considering my small sample size. I have a feeling it's a combination of both. There is some more evidence pointing to UBR being a very good archetype, like the fact that it was by far the best color combination in RRG draft, and that Kenji (the master) Tsumura has won the Top 8 drafts of the last two RGD Grand Prix tournaments with it. In the future I will make an effort to draft it more to see if it's really all that.
While we're on the topic of my wins and losses, I would like to address the people who seem to pop up in the forums every few days to say that there is no point to this series since I'm consistently losing in the first round. First of all, I really don't lose in the first round all that much. As of writing this, my ratings on the two Magic Online accounts I play on regularly are 1928, and 1902. Second, you can take away just as much from a loss as you can from a win. You can see what went wrong, and even though my matchup descriptions are short, you can see what I lost to, and see a potential hole in the archetype.
I do appreciate criticism as long as it's constructive, so when you feel the need to create a forum account just to make an exceptionally arrogant post, don't make it sound like you're better than me… because, as we all know, with few exceptions, you're not.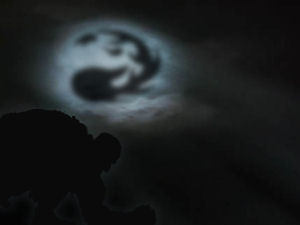 This is what I think was the best deck I've drafted so far in this series, and I'd like to take a closer look at what went right in this draft. I was able to quickly determine that Red was underdrafted, since there was a 4th pick Hammerfist Giant. This was convenient, because my first pick was heavy Red, and that allowed me to simply dive right in. There weren't many complicated picks in this draft, and I got pretty lucky getting late Wrecking Balls and Rakdos Guildmages in the third pack.
Here is what I believe to be the worst deck. The problem with this draft is that I decided to play five colors for no real reason. I got a late Farseek, but was lacking the good manafixers like Civic Wayfinder and Silhana Starfletcher. The problem is that I never really chose a direction, and just decided to try to play everything without enough fixers.
I'm glad this series has proven as popular as I had hoped, and I'd like to continue the daily drafts, and reviews every couple of weeks.
Enjoy today's draft!
Rich