Happy holidays, to those of us who celebrate a religious or cultural holiday during this month! I have the incredible luck to have both my birthday and Christmas within this week, so imagine how psyched I feel about it! So psyched.
That having been said, there are some things I like about this orgy of commercialism, and one of them is giving gifts to other people. I've mentioned this before in this column, but basically I try to follow the lead of my favorite Christmas carol: Good King Wenceslaus.
The basic message of the carol, for those of you who don't feel like listening to the dulcet tones of a possible child abuser, is that you should do good for others during the season, particularly for the poor, and you should do charity for the sake of doing good, not for public acclaim. I think it's a pretty good message in a time in which rich folk create charitable foundations emblazoned with their own name, so that all might know just how beneficent they may be.
It's all very gauche, and it cuts against the good work that they might otherwise do.
This week's submitter seems to be on a similar wavelength, and he submitted a Karlov of the Ghost Council list too (which we have yet to examine). As such, I was excited to choose this submission… and his generosity might inspire similar in others this surprisingly sunny holiday season:
Dear Azami,
I am a long time player… Since college in 1993. My collection is huge. I do not need the credit. I have an idea that I would like to run by you. It is Christmas (based on my faith) but regardless of faith this time is year is the season of giving. As such, if you select my deck I would like you to give the credit to the next submission (so they would get double).
My goal with submitting my deck is equally divergent. This is (I think) a pretty pimped out idea for a Karlov deck. Normally you get folks asking you to help with a deck (I would also not mind any recommendations you may have for my build), but maybe this time show a strong deck and rebuild it to stay on theme, functionally the same, and still powerful, but within a new player's financial reality. It is a bit different of an exercise (you ought to be challenged in new and exciting ways too), but in the end, you might provide a really cool attainable Karlov deck for the masses.
Also, my family gets together over the holidays and my nephew and I (plus many others, but he and I are the main drivers) play a lot of Magic. This holiday, we have a Commander Tournament that will involve 16 decks and 5 4-player rounds (4 prelims and 1 finals match). I have been trying to get my nephew to submit a deck (my decks tend to dominate) and my hope was that by submitting my deck and it getting featured, he might also send you a deck (he has some very creative brews btw). Anyway, I hope you like my idea and my deck. Happy holidays to you and your family as well.
David
8x Swamp
9x Plains
Did you catch that? David wants us to pay forward the store credit in the spirit of giving this holiday, so there's never been a better time to submit your decklists. If you've got some free time this week, say on a national holiday, consider writing in!
I also liked the thrust of what David was asking. Dear Azami is generally about building decks up, but that's not always how you want to fix a deck. Sometimes you need to cut down on the bottom line. For example, it is not unheard of for things to go walkabout at my workplace, so I am always reticent to bring some of my fancier decks with me for after-work fun. David wants to balance the deck better to play with his younger family members, who are relatively new to the game. Maybe you just have a limited number of the most powerful cards, and want to shift them to another deck. No matter your reasoning, taking the money out of a powerhouse deck without causing it to collapse is an interesting challenge.
Challenge accepted!
The First Step
If you're trying to cut the money out of a deck, you need to know how much each card costs. As such, my first step was to check every one of the cards against the extensive StarCityGames storefront, using my typical pattern of pricing.
Have I ever actually explained how I price cards for the column? I generally try to look for the cheapest non-foil printing of a card at Near Mint condition. As such, people can often shave some money off the suggested bottom line if you don't mind the weathered look. Personally, I think it adds character to the cards.
Here's what I came up with:
| | |
| --- | --- |
| | 72.09 |
| | 37.85 |
| | 30.29 |
| | 29.99 |
| | 28.49 |
| | 24.89 |
| | 22.99 |
| | 22.55 |
| | 19.99 |
| | 19.99 |
| | 19.35 |
| | 15.39 |
| | 15.39 |
| | 15.15 |
| | 14.99 |
| | 13.65 |
| | 12.45 |
| | 11.99 |
| | 11.49 |
| | 10.99 |
| | 9.99 |
| | 8.69 |
| | 7.99 |
| | 7.79 |
| | 7.45 |
| | 6.95 |
| | 5.99 |
| | 5.59 |
| | 4.95 |
| | 4.75 |
| | 4.55 |
| | 4.39 |
| | 4.39 |
| | 4.39 |
| | 3.99 |
| | 3.99 |
| | 3.09 |
| | 2.85 |
| | 2.49 |
| | 2.45 |
| | 1.99 |
| | 1.99 |
| | 1.99 |
| | 1.89 |
| | 1.79 |
| | 1.55 |
| | 1.49 |
| | 1.49 |
| | 1.49 |
| | 1.49 |
| | 1.49 |
| | 1.35 |
| | 1.09 |
| | 0.99 |
| | 0.79 |
| | 0.75 |
| | 0.75 |
| | 0.75 |
| | 0.75 |
| | 0.69 |
| | 0.49 |
| | 0.49 |
| | 0.49 |
| | 0.49 |
| | 0.49 |
| | 0.49 |
| | 0.49 |
| | 0.49 |
| | 0.49 |
| | 0.45 |
| | 0.39 |
| | 0.39 |
| | 0.25 |
| | 0.25 |
| | 0.15 |
| | 0.15 |
| | 0.15 |
| | 0.15 |
| | 0.15 |
| | 0.15 |
| | 0.15 |
| | 0.15 |
| 8x Swamp | 0 |
| 9x Plains | 0 |
As you can see, there are some cards in here well beyond the average new player's budget. In fact, when I tallied up all of my cuts, the total dollar value of the 34 removed cards was over $500. That's a lot! Few new players are going to want to spend that much on this hobby, and if they do, they should be able to get more than a single Commander deck for it. That having been said, I totally get it; if you already have the cards, it's better to play with them than to let them ride a shelf somewhere.
Still, I liked the core: a Karlov deck that relied heavily on Pestilence effects, with the lifegain offsetting what might otherwise be a symmetrical race. In addition, given said lifegain, there were several cards that used life as a resource: cards like Bitterblossom and Phyrexian Arena. Some of these would clearly have to go.
The Cuts
Here's what the breakdown ended up looking like.
Lands
Out (6):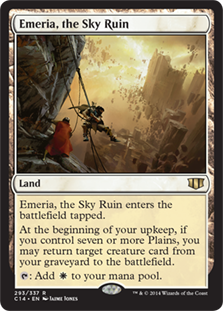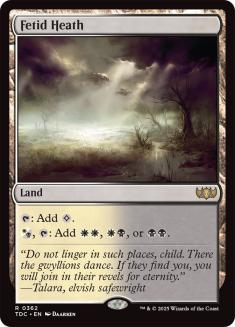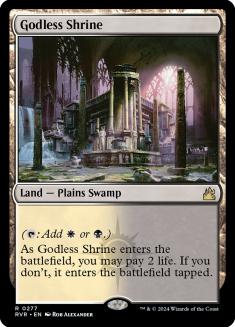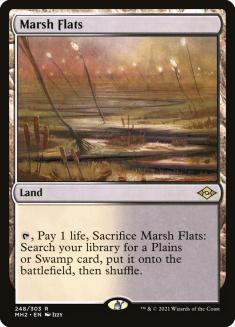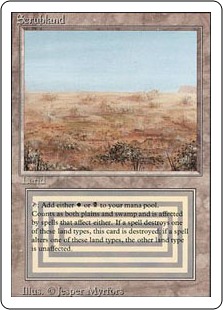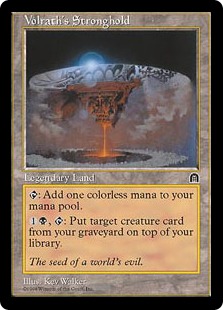 In (6):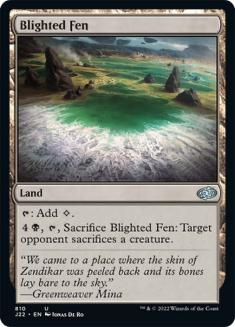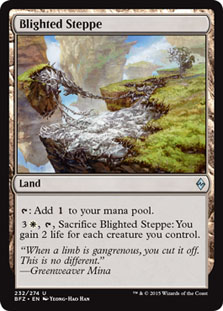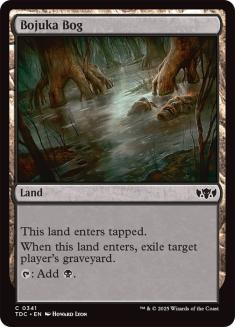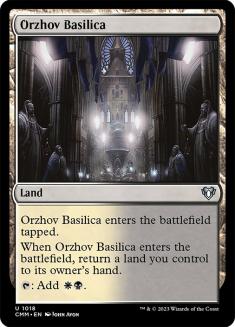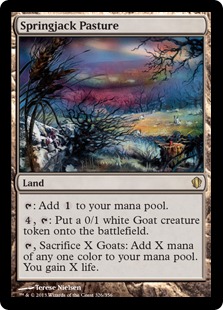 I liked the land count for a deck with a bunch of mana rocks and a two-drop commander, so it was a straightforward one for one switch. The only card in this section cut for reasons other than mere price tag was Emeria, the Sky Ruin. I can see running Emeria with eleven Plains, though it's still a bit tight, but with only nine? If you're running nine Plains and you get Emeria, the Sky Ruin online, you're almost always going to be in a morass from whence Emeria will be unable to rescue you. Instead, let's play an "enters the battlefield tapped" white source that helps you whenever you play it: New Benalia. The success of the Temples really bumped up my evaluation of that deceptively mild card.
I also brought in Blighted Fen and Blighted Steppe. The Steppe is on theme with the rest of the deck, and promises to gain you a fair bit of life when you pop it. The Fen is a removal spell that doesn't take up a spell slot. They're both strong cards. I wonder if we'll see a similarly powerful set of uncommon spell-lands show up in Oath of the Gatewatch.
Bojuka Bog came in because I really think all black decks should run it, barring some legitimate and pressing concern. I can't think of an example of said concern, but I'm sure someone else can. Orzhov Basilica is also a good pickup, because it lets you reset Bojuka Bog, New Benalia, or Temple of Silence, and taps for two to boot. The Ravnica cycle of bouncelands is great, and I'm glad they got reprinted in Modern Masters, even if they were bumped up to uncommon for the purposes of Draft balancing.
Finally, there's Springjack Pasture. This land does two things that should help the deck. First, it makes tokens at instant speed, allowing you to get lifegain triggers off the Auriok Champion analogues which will be coming in later. So that's good. It also gives you a direct means of gaining life, by sacrificing those goats for mana. Since lifegain is the name of Karlov's game, it seems like a good addition… and cheap, too!
Ramp
Out (4):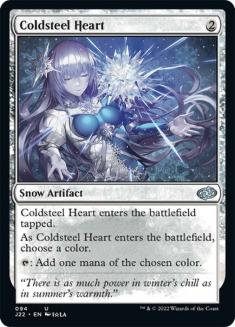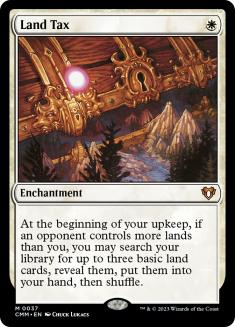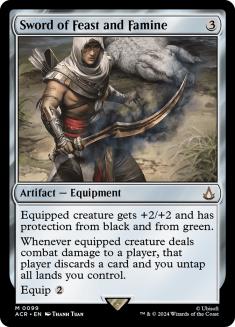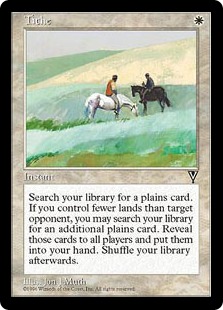 In (4):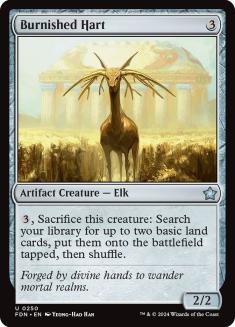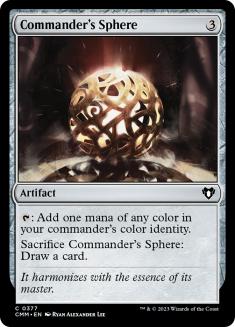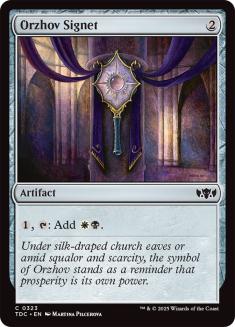 I'm not a huge Coldsteel Heart fan. It makes snow mana, which is cool, but it also only makes one color and it comes into play tapped. If you really want a two-drop mana rock, the cycle of signets is a lot better of a fit… and Orzhov Signet got cool new art in the latest Commander decks. Signet, at least, can be used the turn you play it, albeit generally not if that turn is turn 2.
Swords are expensive.
Land Tax is both expensive and hard to come by, which in many ways makes it an even faster cut than Sword of Feast and Famine. Tithe suffers from the exclusion of the typed dual lands, since that leaves you with only basic Plains, and nothing like Mistveil Plains to make it worth the effect. I considered Oreskos Explorer, since it's a Tithe on a body that can be useful for your other sources of lifegain, but again, this deck would be restricted to getting basic Plains. Instead, I brought in Burnished Hart. Sure, it's not nearly as powerful as the other two cards, but it's far cheaper, and it still gets you ahead on lands.
I brought in Commander's Sphere because it makes your colors and can be cashed out in response to mass removal or similar removal effects. I like it, and I think the card is a little underrated. I also brought in Pristine Talisman, but that was primarily because of the life interaction. No one is going to run Fountain of Youth in their deck (absent some strange combo), but a Fountain of Youth that ramps you is probably good enough for some solid Karlov shenanigans.
Draw
Out (1):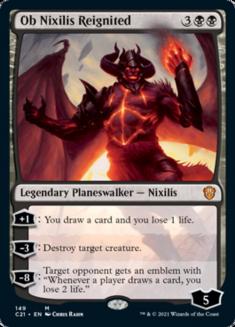 In (4):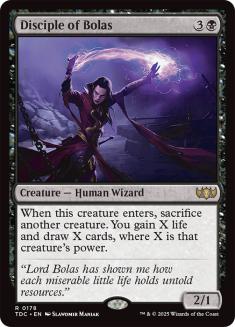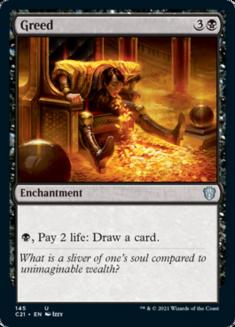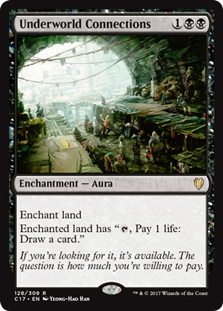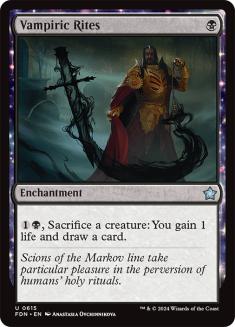 To begin this section, I have to mention what I didn't take out: Phyrexian Arena. There are a couple of reasons. For one, I love that stupid card. It really turbocharges your experience, and I like things that do that. It also converts life to cards at a static rate, which makes it less worrying than something like Necropotence, which is usually a "kill on sight" sort of card. Often, the Phyrexian Arena dies to the first mass removal spell that hits enchantments, and not the targeted stuff that gets directed towards those must-kill threats. Finally, it's in the Daxos the Returned Commander precon with Karlov of the Ghost Council. If you've gotten Karlov through a non-singles situation, you probably have Phyrexian Arena anyway.
And if you don't, it's the type of card you can play in any black deck. So that's a good type of card to put money towards.
I took out Ob Nixilis Reignited because it's still over $5, and I'm still trying to figure that card out. It seems good, but it's a planeswalker, which means it's hard to remove and threatening, and that emblem just skirts the edge of socially reasonable, though I am unsure which side of the line it ends up on.
There are cheaper options, in all ways.
Greed, for example, is super cheap these days. Inclusion in the monoblack Commander 2014 deck has knocked it down to a $0.50 rare, and since it was only a year ago that they were printed, copies are still fairly plentiful at this time. What I like the best about Greed is that you can use the ability at instant speed, allowing you to hold up Karlov's removal without totally losing out on the opportunity to take advantage of that mana.
Underworld Connections is another $0.50 rare. This one is worse than Phyrexian Arena, since occasionally you need the mana more than the card, and with Arena you get both. But it too makes for a good combination with Karlov, allowing you to keep up that removal without totally losing out.
For Vampiric Rites, just reread the last sentence of the previous two paragraphs. It does that. But it also gains you life, which can help Karlov get truly threatening, and it allows you to clear your board before you use Merciless Eviction, or fall victim to Final Judgment. Plus, it's a sweet uncommon draw engine, which means it's super powerful for the amount of money it costs.
Finally, there's Disciple of Bolas. It gains you life and draws you cards, and it can be recurred by any creature resurrection. It's a fun little creature, and it works well with the theme.
Life
Out (8):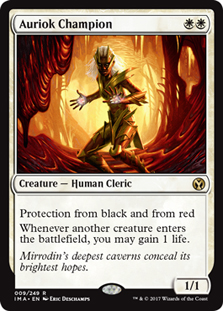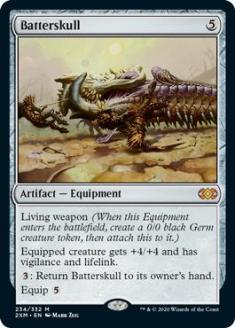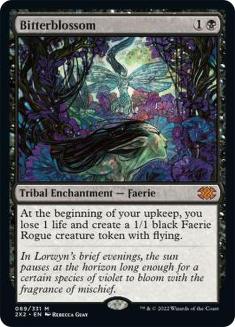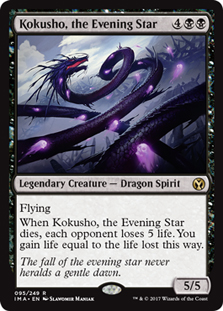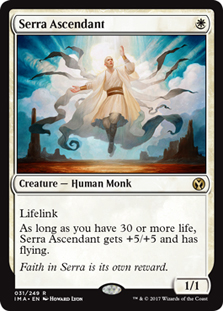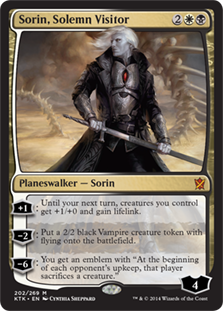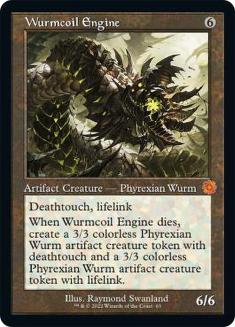 In (14):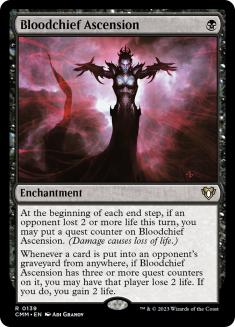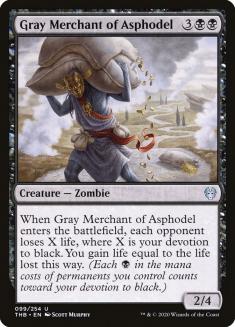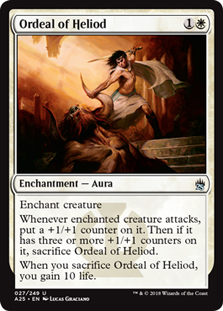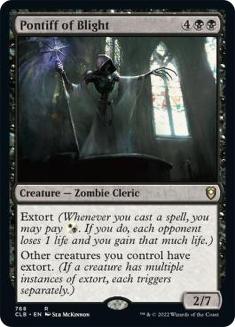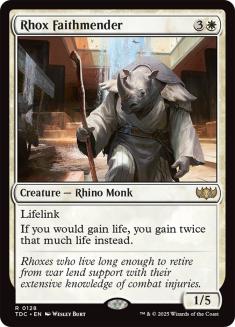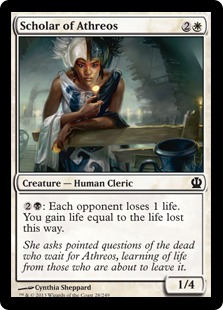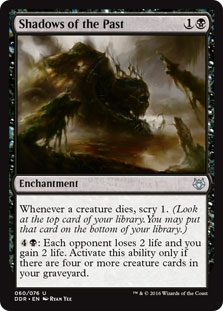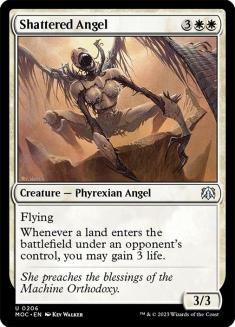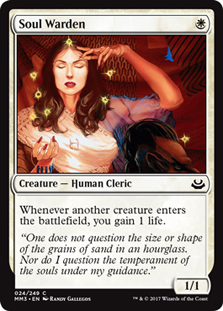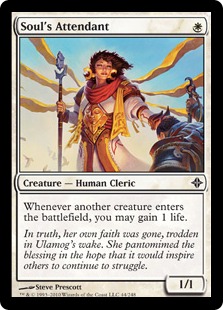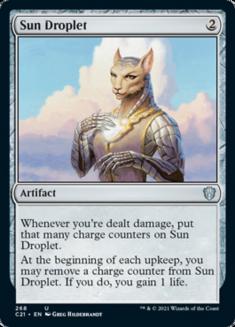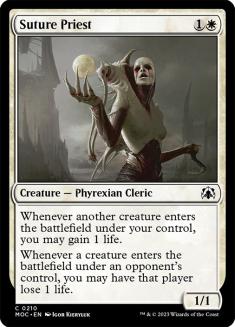 This is the section with the most churn. For starters, these cuts are all weirdly expensive. It's a true shame they didn't reprint Auriok Champion in this very deck, because that card does not need to be $30. It's played in two fringe Modern decks. It would have been on theme, and it has a nice interaction with Pestilence effects.
Instead, let's start by bringing in some pieces of the Soul Sisters archetype. While I would love to include Ranger of Eos, Proclamation of Rebirth, and Martyr of Sands to hit that sweet spot between Martyr decks and Soul Sister decks, Ranger is a bit too pricey… a consideration for the submitter, perhaps, but not his young student. Still, bringing in Soul Warden and Soul's Attendant, as well as the slightly more versatile Suture Priest, means that you should be getting a bunch of discrete lifegain triggers. Each individual one isn't for a ton of life (as it's, at best, two life apiece if Rhox Faithmender is in play), but the numeracy of the triggers is ideal.
Sometimes I love to pair those pieces with Darien, King of Kjeldor. He's a little above budget for this deck, but the combo makes you vaguely immortal. Which can be nice.
Bloodchief Ascension should rack up counters quickly, though it is a high-threat card. It's just too good with the rest of the theme to pass up. When racked, it means you get Karlov counters every time an opponent has a card go to the graveyard. Shattered Angel gives Karlov counters every time an opponent plays a land. Patron of the Kitsune gives Karlov counters whenever anyone attacks. Sun Droplet gives Karlov counters on every player's upkeep, and Ghost Council of Orzhova gives Karlov counters off sacrificing creatures.
Then there are the "pay for triggers" cards. Scholar of Athreos gives those triggers whenever you have three open mana, Pontiff of Blight basically lets you pay X to get X triggers every time you cast a spell (where X is no greater than your creature count, and can only be paid in colored mana, offer void where prohibited by other cards). Then there's a new fave: Shadows of the Past. Being able to scry one every time a creature dies is a powerful ability, and that you can dump mana into it when you need some life or triggers makes it sweet in a pinch.
Finally, there's a weird pet card of mine for this archetype: Ordeal of Heliod. When put on Karlov, it pops quickly and further feeds his counters. Plus, even in Commander, ten life for two mana is a pretty good rate. You might also consider the Ordeal of Erebos, but I tend to be far more in favor of gaining life than stripping resources from an opponent.
That could just be me, though.
Removal
Out (4):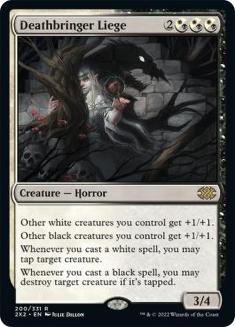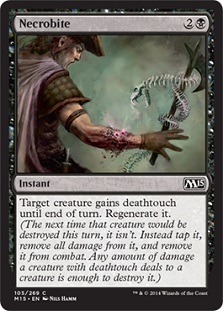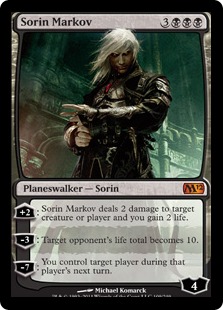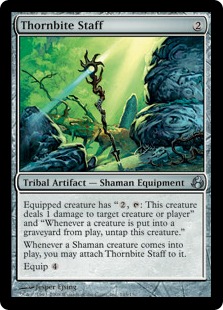 In (4):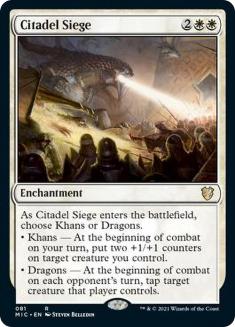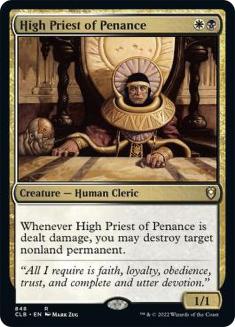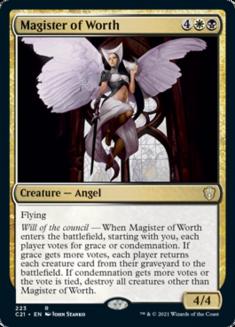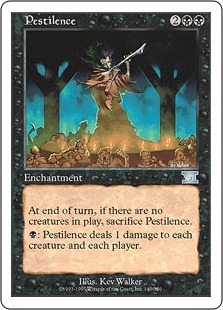 Deathbringer Liege is another puzzling exclusion from this last flight of Commander decks. It's a casual-only card, yet it's somehow $12. It would have been a good fit, but alas. Still, if that's removal, which by my classification system it is, then in a deck like this so too is Citadel Siege. Since the counters can be burned off by Karlov, Citadel Siege's Khans mode works as a type of removal while pumping some of your utility creatures past the point at which they'd die to Pestilence. Since its Dragons mode works by locking down each opponent's best creature, it's decent removal in that sense as well.
I mean, Blightsteel Colossus can beat a lot of things on its lonesome, but it needs some help to get through a draconic Citadel Siege.
Pestilence came in because I loved that subtheme and wanted to add more. I particularly like the interaction between Pestilence and High Priest of Penance, especially with something (say, a Citadel Siege) letting it survive beyond the first trigger.
Thornbite Staff and Necrobite are both neat little cards that I cut despite them not being particularly pricey. Necrobite is cute, since you don't have to target your own creature, but it's not wholly on theme, and I tend to cut cards like that. Thornbite Staff is similarly powerful, and it's a machine gun when paired with Basilisk Collar (which stayed in), but it's a lot less powerful when missing the Basilisk Collar (which is far stronger on its own). Perhaps if there were more Royal Assassin-type cards in the deck, it would be a good fit, but they'd be off theme here, and die quickly to the plague.
Sorin Markov is expensive, and I tend to dislike "you're at ten life" cards in Commander. All two of them.
Finally, Magister of Worth is a neat card from Conspiracy. It has a political edge, and if it mass resurrects the field you'll get a ton of lifegain triggers. Since Karlov exiles things, you will have already thinned the herd a bit by the time it goes off, letting you get asymmetrical value from it no matter which mode is chosen.
Recursion
Out (3):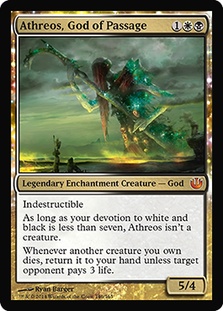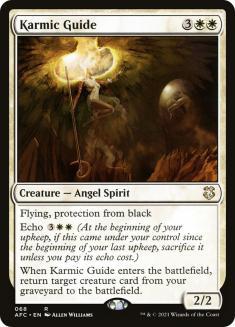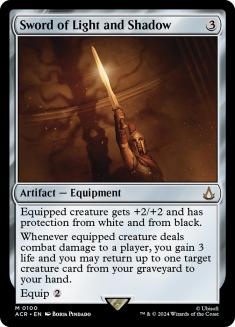 In (2):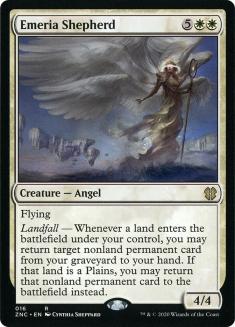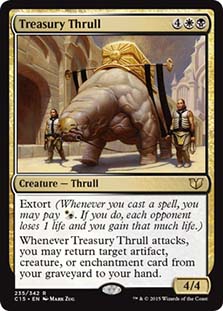 I do like the protection from black element that's in this section and the next. Once, my magician ladyfriend and I were picking through her childhood collection and we decided to make casual decks through the Revised and Homelands-era chaff. My deck was White Knight and Pestilence, and I devastated her. Pestilence pairs quite nicely with protection from black.
So I appreciate what you've done with the theme. However, I do think it's worth cutting some of the cards whose inclusion is primarily due to that interaction. Sword of Light and Shadow, beyond its pricetag, can draw disproportionate aggro from the table (because it's a Sword), while Karmic Guide tends to make folk fear its usual companion: Reveillark. The protection from black doesn't take away those factors, even if one of those cards is not grotesquely expensive for a new player.
(Would you be surprised to hear the cheap one is the one recently reprinted in a Commander precon? It's almost like printing hard-to-acquire rares in those things makes them easier for casual players to access!)
Instead, I brought in two cards that can help recur your dead Pestilence effects, no matter what the permanent type you're currently using. Emeria Shepherd has made a positive impression on me, as it's fundamentally similar to Meren of Clan Nel Toth. Both cards offer a good mode and a "bad" mode, where the lesser mode is still incredibly powerful. Landfall Regrowth is still a great card, especially when it has a body to match.
I am less impressed with Treasury Thrull, as I have been spoiled by the Titan cycle and feel that attack triggers are risky without getting an enters-the-battlefield bite at the apple… but it has extort, letting you get Karlov triggers, and that overcame my reticence. Also, it's a cheap card! And there as some sweet promotional copies lying around from back when they did large-batch Prerelease promos that had alternate art on them.
I miss those days.
Finishers
Out (6):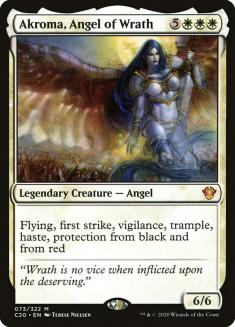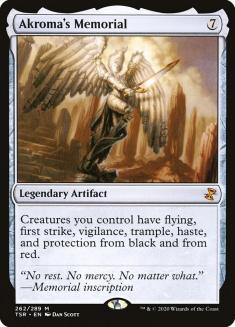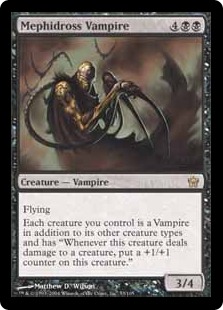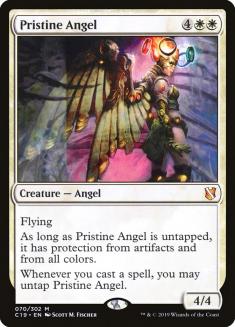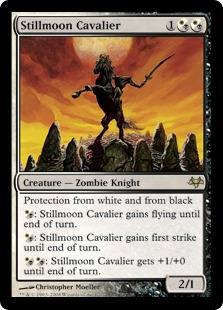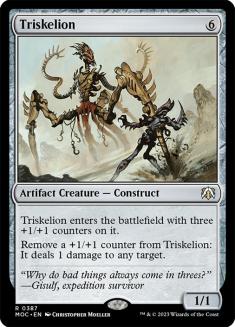 In (0):
As mentioned above, I am quite fond of Pestilence's interaction with protection from black, but I still think these are reasonable cuts. Akroma's Memorial is out for price alone, while Akroma herself is a little more borderline on that front. She is just a beater, though. She has no lifegain, which would supplement the main strategy of the deck, and she joins the party later than the point in Star Wars: The Force Awakens in which XXX XXXX XX XXXXXX XX XXX XXX.
Hrm, the internet spoiler ban seems to still be in affect, amusing! She comes late.
Mephidross Vampire and Triskeleon is a cute combination, but not entirely on point with what the rest of the deck is doing. Since you already have access to the combo of Exquisite Blood and Vizkopa Guildmage, this seems extraneous. If Karlov of the Ghost Council was doing damage to creatures, it might be a worthy inclusion, but he doesn't (unless you're using him as an aggressive beater, in which case a single counter when he's chump-blocked is still a bit slow).
Pristine Angel and Stillmoon Cavalier are both Pestilence enablers with little other synergy with the rest of the deck, so they too had to go. Still, it took a little longer than it could have to make that decision; Pristine Angel is pretty cheap, and looks super cool.
Tutors
Out (2):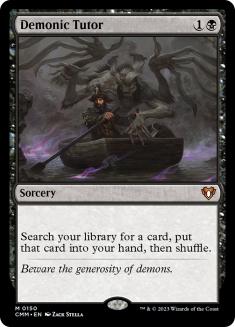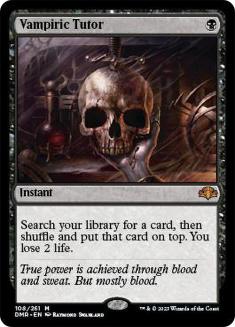 In (0):
I'm not a huge fan of tutors, and these are costly tutors at that, at least financially. If you're set on including one of these effects, Increasing Ambition is fairly cheap and reasonably powerful… but I don't know if it's a good idea for a new player. I think tutors have the effect of smoothing out variance, which can be good for when a player is getting their feet underneath them, but in the hand of someone even a little unfamiliar with their deck, having an entire library of cards to choose from can be overwhelming. Chances are that player will get rushed by their opponents, who (fairly) want to have a turn to do their neat things, and that can lead to bad feelings all around.
The List
Creatures (38)
Lands (36) The Price
First, let me show you the breakdown of my cuts, for comparison:
| | |
| --- | --- |
| | 72.09 |
| | 37.85 |
| | 30.29 |
| | 29.99 |
| | 28.49 |
| | 24.89 |
| | 22.99 |
| | 22.55 |
| | 19.99 |
| | 19.99 |
| | 19.35 |
| | 15.39 |
| | 15.39 |
| | 15.15 |
| | 14.99 |
| | 13.65 |
| | 12.45 |
| | 11.99 |
| | 11.49 |
| | 10.99 |
| Atheos, God of Passage | 8.69 |
| | 7.99 |
| | 6.95 |
| | 5.59 |
| | 4.95 |
| | 4.75 |
| | 4.55 |
| | 3.99 |
| | 3.09 |
| | 2.49 |
| | 1.49 |
| | 0.79 |
| | 0.49 |
| | 0.15 |
Total? $505.92. That's not "new to Magic" money, at least not typically. There are a few Legacy and Modern staples in there, but they tend to be things like Scrubland, where generally you want more than one. Getting a singleton won't turbocharge your deck and won't necessarily translate well into other decks.
These cards are a little more reasonable for the casual wizard:
| | |
| --- | --- |
| Card | Price |
| | 0.15 |
| | 0.15 |
| | 0.25 |
| | 0.25 |
| | 0.25 |
| | 0.25 |
| | 0.25 |
| | 0.25 |
| | 0.25 |
| | 0.25 |
| | 0.29 |
| | 0.29 |
| Orzhov's Signet | 0.29 |
| | 0.35 |
| | 0.39 |
| | 0.49 |
| | 0.49 |
| | 0.49 |
| | 0.49 |
| | 0.49 |
| | 0.49 |
| | 0.49 |
| | 0.49 |
| | 0.49 |
| | 0.49 |
| | 0.49 |
| | 0.49 |
| | 0.55 |
| | 0.69 |
| | 0.75 |
| | 0.95 |
| | 1.29 |
| | 3.79 |
| | 4.69 |
| Total | 22.50 |
$22.50 seems like a decent target for an exercise like this one. I didn't have a specific dollar amount in mind when putting together this list, but I'm pretty happy with where it ended up. It contains no mythic rares, and a bunch of commons and uncommons, and yet I think this will replicate the spirit of the original list… but on a budget.
Hopefully David agrees! This was a fun exercise, and I am still impressed by his generosity in paying forward the $20 credit to StarCityGames.com he would otherwise get for having his submission chosen for Dear Azami.
So if you want to submit to Dear Azami, this might be a good week to finally send a decklist in. Remember, send us a 99-card decklist, plus commander, with a descriptive paragraph giving us all some context. Since next week is Levi's turn, perhaps pitch to his build style. It could not hurt.
And, as I hope you can see, we're quite open to interesting variations on the form, here at Dear Azami. If you have a fresh idea, like David did, let us know. We're always looking for neat content.
Oh, and Merry Christmas, for those of you who celebrate it! I'll see you all again in the new year.
Want to submit a deck for consideration to Dear Azami? We're always accepting deck submissions to consider for use in a future article. Only one deck submission will be chosen per article, but being selected for the next edition of Dear Azami includes not just deck advice but also a $20 coupon to StarCityGames.com!
Email us a deck submission using this link here!
Like what you've seen? Feel free to explore more of Dear Azami here, in the Article Archives! And feel free to check Jess's own Command of Etiquette column on Hipsters of the Coast, for more Commander and casual content. Now on Thursdays!