Welcome to the second part in a series of countdown blogs for Grand Prix London! Today I'm going over all the awesome stuff you get just for registering! Our tiered registration system debuted at Grand Prix Charlotte and we're running it back, letting you decide on your GP experience and the rewards you receive!
Bronze Tier Registration
Just for playing in Grand Prix London, you get plenty of bang for your buck! With Bronze registration you get the awesome Chandra playmat, an exclusive Griselbrand foil promotional card, a set of the special edition VS Series tokens, and a voucher for one free month of StarCityGames.com Premium.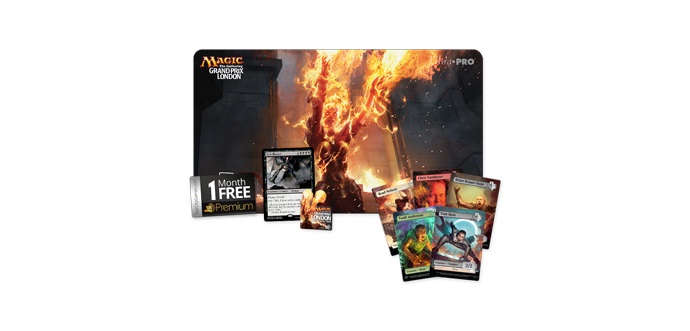 Silver Tier Registration
On top of the Bronze Tier rewards, Silver Tier registrants also get an 80-count pack of Chandra sleeves, a free eight-player side event voucher, and the StarCityGames.com Premium voucher is now worth three free months of access!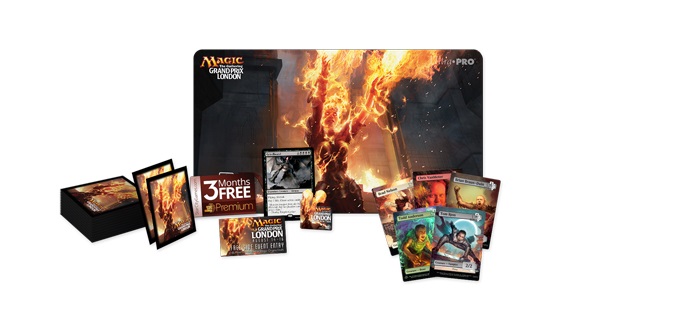 Gold Tier Registration
What's better than Silver? Gold of course! Our Gold Tier registration improves upon the Silver package by doubling the amount of sleeves and adds a FOIL set of VS Series tokens along with the exclusive Chandra collectable pin! A Sleep-In Special is included, but remember you must haves byes for Grand Prix London to utilize this reward! You also gain access to you registration awards at any time during the weekend. Lastly, the StarCityGames.com Premium voucher is upgraded to six free months!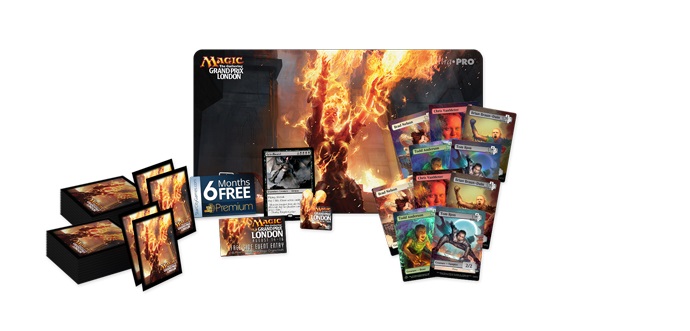 Platinum Tier Registration
Looking for the best experience you can have at Grand Prix London? This is it! Platinum Tier registration rewards include: a Chandra playmat, three packs of Chandra sleeves, an exclusive collectable pin, two eight-player side event vouchers, two sets of VS Series nonfoil tokens, two sets of FOIL VS Series tokens, a foil Griselbrand promo card, a Sleep-In Special, access to your rewards at any time during the weekend, an SCG Premium voucher fully charged to provide a whopping year of access, and access to the VIP lounge!
The Platinum Tier benefits don't stop there. It also comes with many benefits including a VIP badge, lanyard, and an SCG water bottle. Access to the VIP lounge equipped with phone/electric charging stations and water stations with unlimited refills. Platinum Tier registrants also get access to our VIP concierge, private pairing boards, and exclusive side event registration area.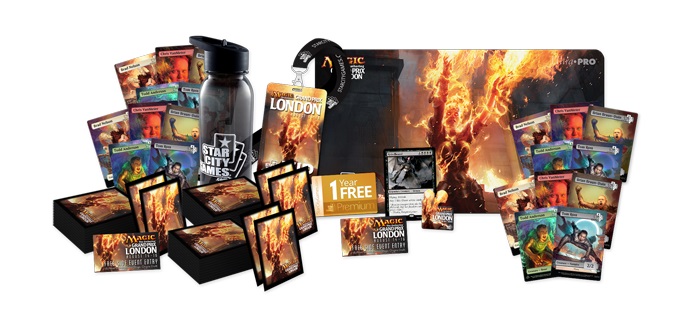 There are a limited number of Platinum Tier packages available, so if you haven't preregistered for yours, do so now!
I'm tagging out of the blog series, but join John Dale Beety tomorrow as he tells you about the attractions and sightseeing options available in London!