I've been to a lot of Prereleases. You'd think I'd be sick of 'em by now.
But I ain't.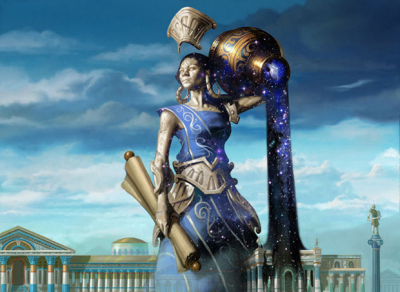 I'm hoping you've gotten your first taste of Born of the Gods as well. This past weekend's Prerelease was another great event. It challenged a lot of my concepts about Theros Limited, color viability, and Sealed deck construction.
Now, first off, I know I stated last week that red was my color of choice for the Prerelease. I still think that the rare is the best one by a pretty solid margin and that the red creatures and removal are compelling, but I audibled on Friday before I went to the Prerelease.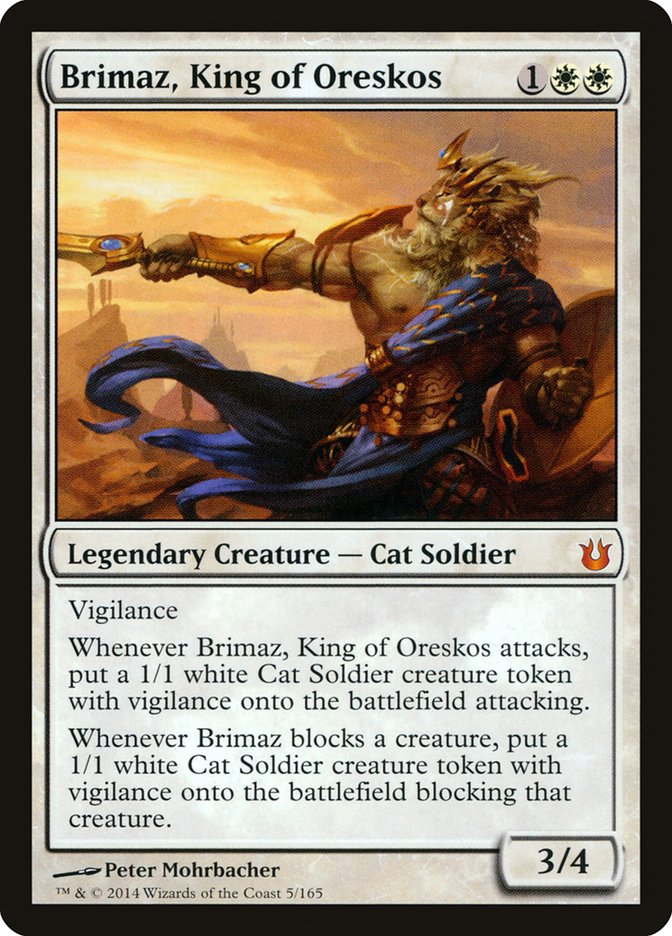 The chance at one in my colored pack was too tempting.
I decided to pick white, hoping that the combination of heroic effects, combat tricks, and conditionally powerful removal (in cards such as Divine Verdict and Excoriate) could overwhelm my opponents' slow and bomb-heavy decks. My hope going in was to pair it with blue, whose solid flyers and card draw could keep me relevant after the ground got muddy.
That was the plan; I wrote everything above this sentence before attending the Prerelease, so from this point on we're looking at things in hindsight. Here's the story of my Prerelease.
After arriving at my local shop half an hour before midnight, I jostled through hordes of eager Magic players to sit with some pals who were just shuffling up some Commander decks. Just as I was getting comfortable, the tournament organizer announced roll call; at least at my store, players chose their Prerelease pack color in the order they registered. As a late entry, I slid in about 70th out of the 100 players present that night. I grabbed a box from the middle of the "Destined to Lead" stack and found a spot to build, gingerly fiddling with the top that kept my box shot before the green light was given to dive in.
I opened my pool and piled it out by color, surprised to find that the seeded pack contained only a white rare; it otherwise had average color weight and structure and was not particularly heavy on white rares.
When I evaluate a Sealed pool, I generally identify the rares I opened as well as the general size of the building pool before I decide which direction to build. My rares were Spirit of the Labyrinth, Silent Sentinel (a pack rare and my Prerelease rare), Fated Retribution (my seeded pack rare) Fleecemane Lion, Shipbreaker Kraken, and Psychic Intrusion. Nothing spectacular, but some goodies for sure.
A quick analysis of each color found black to be the weakest, sporting no curve, one piece of color-intensive removal (Asphyxiate), and no pressure creatures. This is usually my next step in Sealed building, and then I decide the first and second most powerful colors.
Choosing white made me feel like playing aggressive, and red's complementary removal spells provided solid back up. A plethora of cheap creatures and burn helped me slot up deck #1 with quite a bit of extra time.
Creatures (16)
Lands (16)
Spells (8) Sixteen lands, one four-drop, and a bunch of burn sounded like a fun plan. With just a single rare in the maindeck, I hopped into round 1.
Round 1: Thomas (Five-Color)
It kinda worked.
Thomas was in all five colors, leveraging his best creatures to play on my weak removal and low power level. Although I outran him in game 1, he flattened me in game 2. After siding in some of my clunky removal, including an extra Plains and Fated Retribution, I took the final game.
1-0
The deck didn't make me too happy, with too few creatures making a significant impact on the game by themselves. With the help of a friendly face, I piled out the blue and switched out the red for round 2. I was able to add a lot of great creatures in its place, including Chorus of the Tides, Meletis Astronomer with eight targets, and my bulky 6/6 Kraken. A pair of Nullifys seemed dandy in a creature-centric format.
Round 2: Cody (Naya)
Turned out it was just what the doctor ordered. The deck shifted to being controlling, with a top end featuring both copies of Silent Sentinel and three six-drops besides that. The white removal I omitted in the first suite came in, and those spells plus a brutal pair of Nullifys kept Cody without Polukranos, World Eater.
2-0
Seems like the U/W shell might have been best after all! I didn't have time to pile out other potential colors when building originally, and the red removal suite that complemented the red creature base seemed ideal. Theros Limited has proven to be slow, though, so maybe there's no place for aggressive decks.
Round 3: Gordon (Simic)
Okay, I lied.
Gordon, a very genial and gracious opponent, never lost the smile from his face even when I attempted to squash his group of fliers and pumped ground pounders. Despite my best efforts and a combination of powerful flyers, solid bestow casts, and continual quality pressure, I folded both games to him. He just flat beat me.
2-1
Well, still not too bad. In the five-round event, a 4-1 could still get you a dozen packs of Born of the Gods, so I had to keep trying. It was 4:00 AM, but I was already up anyway.
Round 4: Donald (Golgari)
Donald, also a very kind player despite the hour, provided another engaging and entertaining match. We had a decent amount of conversation during it, so I don't remember the details that well except that we each missed Spirit of the Labyrinth restrictions in each game and that despite his very nifty and synergetic deck construction I overpowered him with my six- and seven-drops each game.
3-1
We relaxed with a bit of Standard for a while, and he was a charming opponent. With one more win to clinch a top spot, I found my table for the last round.
Round 5: Thomas #2 (Mono-Black)
Yep. Mono-Black. Thomas, a regular in the Louisville Magic scene, had opened a dominating pool of highly effective black spells. During the Theros Prerelease, he unleashed an impressive B/W Heroic deck and blasted me out of contention.
In game 1, I fumbled on two or three mana while he resolved a pair of Gray Merchant of Asphodels and smashed me to death with Agent of the Fates. Game two was a bit closer, and after I bestowed my Meletis Astronomer with Thassa's Emissary and Hopeful Eidolon, he scooped it up. Game 3 was a tight one that ended in three Gray Merchant of Asphodel triggers (he cast Fated Return to return one of them). After playing out his hand, he hit me for lethal the turn before I drew my third Plains to cast Fated Retribution.
3-2
A record barely in the green was good enough for 20th place but not for prizes, so I drove home as the overcast sky began to glow with morning's light. After getting home and napping for a few hours, I built a third version of the white deck, this time using green, and it seemed much more synergetic and well curved. Maybe I had it wrong the whole night, but it was a good exercise nonetheless. For anyone trying to get better at Sealed, I recommend taking your deck apart later and building your pool a couple more times. After playing it once, you'll have a good idea of what worked and what didn't, and it's nice to build with this new insight. It was a good Prerelease, and even without any money or packs to show for it, I learned several good lessons.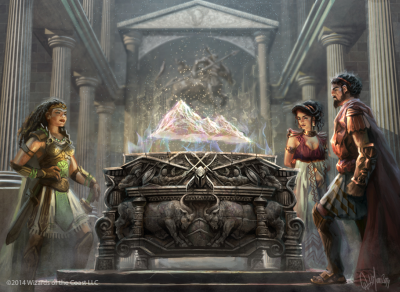 By the time I attended the Prerelease, I had drafted a total of 58 decks using Born of the Gods upgrades, some of which are updates based on the availability of new cards and others that are brand-new concepts never before conceived (well, that's the hope anyway). Every new set gives brewers like you and me the chance to dig into some fresh meat, getting our hands dirty learning what cards look good on paper and which ones fall flat.
I have more than enough Standard decks to share with you, but because I gave you a bit of a Limited day, I figured I'd keep things mixed up with something else. One of the cards that jumped out at me looked interesting, even interesting enough to try to mess with it in Standard.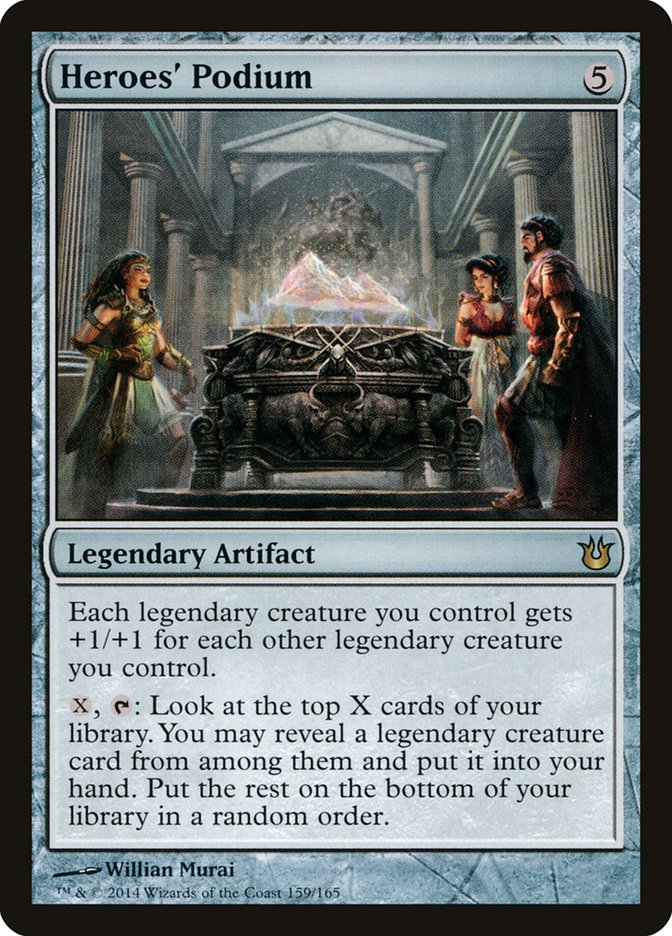 I know, I know. New set fever makes me lose my mind up in here, up in here. But I tried to make a Ravnica legendary/God deck happen, and the results were horrendous. There's nowhere near the support that a wild deck like that would need. Naturally, my second idea shifted to Commander. Captain Sisay decks aren't unusual, but I want to get greedy; gimme all the good legends. A five-color commander and all the legendary spells I could cast quickly followed, and I put together a very silly Commander deck where every single creature bears the legendary tag. Walk in the annals of heroes with my "Wait For It" deck!
Creatures (36)
Planeswalkers (4)
Lands (34) No doubt this deck goes way deep in the multicolored field. Progenitus seemed the most monstrous of the legendary creatures, so it's fitting that the Soul of the World lead the charge. The breadth of this deck is frightening, and the technical and situational awareness required to successfully pilot this list is immense. All the same, the game is meant to be fun no matter how you look at it, so why not dream a little?
Each of the 36 creatures in the deck is a potential general itself. I did my best to avoid cycles, choosing the splashiest and highest-impact generals to fill out the list. Each is a role player that when played at the right time could create a significant and unique impact on the board. Gaddock Teeg, an awesome commander himself, can cripple spell-based decks, preventing sweeper effects, hefty counterspells and planeswalkers, and massive draw spells from ever mucking up the board. Nin, the Pain Artist is an excellent political commander. Give your pal a fresh grip of cards in exchange for their threat or aim her Taser at your own creature to get value out of an obsolete commander. Kira, Great Glass-Spinner acts as a blanket to protect your team from targeted shenanigans, giving you mana-free Avoid Fates each turn.
Captain Sisay comes belaying in (I always pictured her belaying around the Weatherlight) to help you search your deck for any legendary card you choose, and Momir Vig, Simic Visionary lets you do the same thing; because of the multicolored nature of many of this deck's members, any commander you cast is frequently a Worldly Tutor with Momir Vig. Wrexial, the Risen Deep has long been a favorite commander of mine, and I can't wait to get this Kraken crackin' my opponent's skull. Yomiji, Who Bars the Way does just that; he keeps your team from rotting in the graveyard. The ability to save your whole team (except Yomiji) from a sweeping effect is vital to the deck's durability.
Speaking of durability, you can't leave out Avacyn, Angel of Hope, who will save your time from the aforementioned sweeper with aplomb. Maelstrom Wanderer, another favorite general, will feed you gas every time you cast it, and the haste-granting ability is awesome if you get to play multiple generals in one turn.
As is the case with a five-color deck, many of the spell slots that could be otherwise filled with awesome things have to hold mana rampers and fixers instead. Thanks to a diverse mana base, however, this is a bit mitigated, and the fixers I do use are powerful. Chromatic Lantern and Prismatic Omen do effectively the same thing, rainbow-a-fying all of your lands. Fist of Suns also reduces and simplifies the mana cost of nearly every creature in the deck. Just make one of each and you can cast whatever you want! There are plenty of sweeper effects to keep the board clean pre- or post-Avacyn, and the rest of the cards protect and support the team.
Several planeswalkers ride in too. Ral Zarek can make one land do double duty, and if you pop his ultimate, get ready to smash some face! Nicol Bolas, Planeswalker is the perfect over-the-top answer for any deck ever. Take a critter or smash anything else the moment you resolve him. Honor-Worn Shaku is a nice one; he lets you use every legendary permanent as a colorless mana producer, letting you pay your commander tax or powering out two or three generals in a turn.
Sword of Feast and Famine seemed like the most relevant Equipment. Letting you attack the open opponent so that you cast as much as you can seemed excellent, and Rafiq lets you untap twice! Rise of the Dark Realms and Grimoire of the Dead let you bide your time and then after an impressive sweeper resurrect everyone's team. If your Maelstrom Wanderer comes back too, pick an opponent and decimate them!
The lands chosen are extravagant, but that's why these articles exist; we can all live and play like the foolish wealthy. The land base is a bit greedy, but when you need the color, you need it. Remember that Chromatic Lantern and Prismatic Omen give all lands the option to tap for any mana (in addition to whatever the native ability of that land is.) As I'm looking at it, I think that Karakas is probably banned in Commander; if it is, replace it with a Vesuva!
In my opinion, this deck celebrates everything that's fun, wild, and unpredictable about Commander. There will always be a dizzying amount of lines of play as you drive this list, but I imagine it would be deeply rewarding. Heroes' Podium can fetch you a lot, so get this legendary artifact to work! I won't say that it's unusable in Standard, but it'll be a tough one.
I hope that your own Prerelease was fast-paced, exciting, and rewarding too!  After a score of Prereleases, the honeymoon period still hasn't worn off for me. Born of the Gods goes Standard live on Friday, and I can't wait! I'll see you on the other side, and don't forget to untap some inspiration!