I've been at this card evaluation game for a long time now. While I believe my hit-rate on accurate assessments is well above average, I still have my share of dramatic and fantastic missteps. I love looking back on these mistakes for a couple of reasons. The fact that Magic is still able to baffle me after 25 years of experience speaks to just how incredible and deep the game is. Quite frankly, if I wasn't routinely getting things wrong, I would have lost my interest ages ago.
Even more importantly, each mistake I make gives me a chance to review where my assessments broke down. After looking back on past calls, I've realized that there are two types of cards that I always struggle to understand before I play games. The first problem card pool is comprised of every planeswalker ever. Estimating how good these cards will be without placing them on to the battlefield is near-impossible. Thinking through a planeswalker's survivability and overall value add is fine, but until I understand how they alter entire play patterns, I'm going to have a hard time understanding their role in a new metagame. This is one of the reasons why the aftermath of War of the Spark's release was so incredibly turbulent. We needed time to unpack and learn how to maximize so many of the 30-plus new planeswalkers added to the card pool.
The second class of problematic cards is comprised of midrange green creatures.
This list ranges from absolute format-definer to borderline unplayable. Sometimes both things are true of the same card depending on the moment in time! Each one offered a different angle of attack for midrange decks, and initial evaluation of these cards was somewhat meaningless because they were all destined to have their moment in the sun.
If looking at a green midrange creatures objective power level is unlikely to bring us clarity, is there another method of evaluation that makes more sense? I would argue that there are four prongs of influence that tell the tale of what a green midrange creature is capable of:
Engine: This prong speaks to how well the creature allows you to advance your overall gameplan. Cards like Jadelight Ranger and Growth-Chamber Guardian score high marks for their ability to ensure you consistently execute your gameplan and tax your opponent's resources.
Answers: This prong contemplates the problems that the creature solves. Thrashing Brontodon and Deathgorge Scavenger are the all-stars in this category, as they are clear and specific answers to a class of cards and a zone of interaction, respectively.
Survivability: What does the creature die to? Obviously, our hexproof friends are the all-stars here, but important sizing breakpoints (e.g. five toughness) can garner similarly high scores.
Threat: How quickly the creature gets an opponent dead. This rating should contemplate evasiveness and is in some ways referential to survivability.
With these criteria laid out, its time to start considering the newest midrange masterpiece.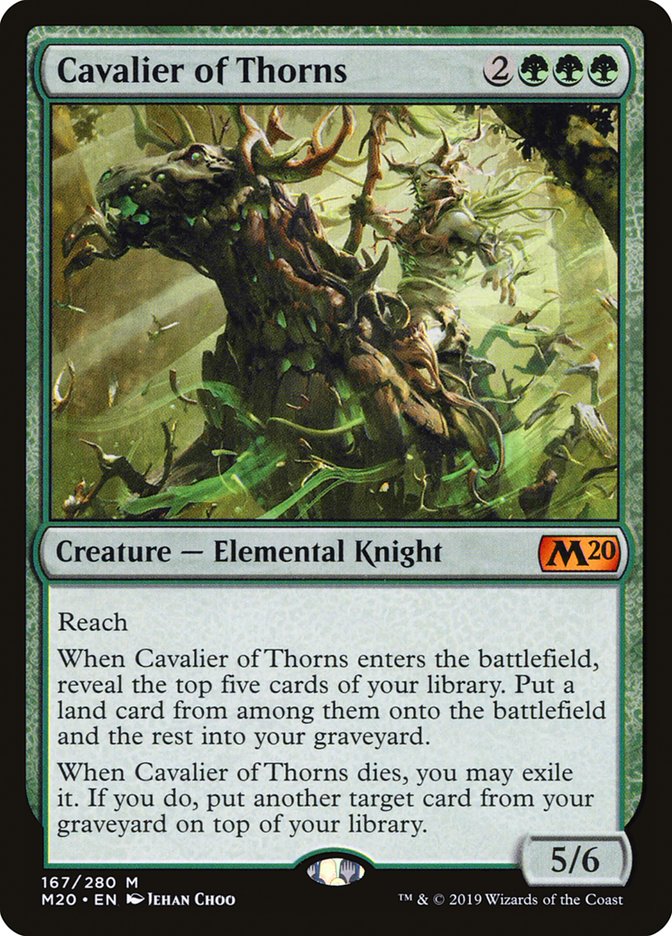 It seems like I'm the only person on the planet high on Cavalier of Thorns presently, and that's giving me some pause. I want to run through the four prongs of influence established above and think a bit about how Cavalier of Thorns scores on each of them.
Engine: 9
As you might expect from a card with a combination of enters-the-battlefield and dies triggers, Cavalier of Thorns is going to make its living enabling specific end-games. One of the interesting characteristics of the current crop of green midrange decks is how reliant they are on their specific haymakers. Whether Hydroid Krasis, Mass Manipulation, or Command the Dreadhorde, midrange green has used the presence of Teferi, Time Raveler to go really big.
Cavalier of Thorns is absolutely tailor-made for a world where this is the default strategy. Not only is it increasing the amount of mana available to leverage these expensive sorceries and creatures, it is enabling you to cast additional copies of these effects with its dies trigger. As Tamiyo, Collector of Tales has proven, you might find a way to beat the first copy of Command the Dreadhorde or Mass Manipulation, but the second copy will almost certainly do you in. Add in the fact that Cavalier is simultaneously juicing your graveyard in a significant way, and it wouldn't shock me to see all the midrange decks pick this card up as their default enabler. Oh, and we've got Temple of Malady and Temple of Mystery back, meaning that a Cavalier trigger can even help you set up your next draw step.
The real question is whether this engine is just powerful enough on its face and can continue to exist post-rotation in Standard. While I'll concede that it seems like conditions are absolutely perfect for Cavalier of Thorns right now, I think the interconnectedness of the two triggers is enough to ensure that Cavalier of Thorns finds slots to shine throughout its time in Standard. Maybe a huge amount of exile-based removal throws a wrench in the works at some point, but chosen removal will always ebb and flow.
Answers: 5
While Cavalier doesn't directly assail a class of permanents, there are very few blocks it can't make. Accounting for every threat has to get it some points in the answers category. It also gains some value by functioning as a kind of glacial card selection engine. Not only can Cavalier find key parts of your manabase, but the self-milling effect will offer a solid selection of options on your next turn should your Cavalier make an untimely exit.
Survivability: 7
Consider the widely played removal options in Standard.
Of the nine most-played removal spells in Standard, two kill Cavalier of Thorns, one bounces it (giving you another enters-the-battlefield trigger), and six miss it entirely. Those are decent odds, but on a five-drop, I think the bar for a respectable survivability rating is raised significantly. Regardless, there will be many times when Cavalier of Thorns dying is actually the preferable outcome. The worst-case scenario is Cavalier of Thorns finding its way to exile, but there is actually a surprising absence of exile-based removal being played presently. If Vraska's Contempt and Ixalan's Binding start to reclaim metagame share, Cavalier's cracks will begin to show.
Clock: 4
Perhaps the Cavalier's Achilles' heel lies in its inability to efficiently close games. While it is apt to stick on the battlefield due to its ponderous bulk, it can be blocked in perpetuity by the smallest of creatures. Hero of Precinct One will remain a top-tier card in this latest version of Standard, and in all games where that card spends time on the battlefield, Cavalier of Thorns is unlikely to provide meaningful offense.
Cavalier of Thorns will always be an engine first and a threat second, and this is problematic. Green's recent success in Standard has been predicated on cards that can truly play both ways, such as Hydroid Krasis. Decks leveraging Cavalier of Thorns will have to keep this glaring weakness in mind and be sure they are built around their engines first. It's for this reason I see Cavalier of Thorns happily hopping into Mass Manipulation and Command the Dreadhorde decks. Those decks aren't looking for particularly flashy offense. After their namesake spells are resolved, any creature will do.
Of course, the ratings on Cavalier of Thorns aren't worth much in a vacuum, so I thought I'd share my evaluations of the other midrange green cards worth considering in Standard. These scores are obviously far more informed, as we've had time to put all these cards through their paces at this point.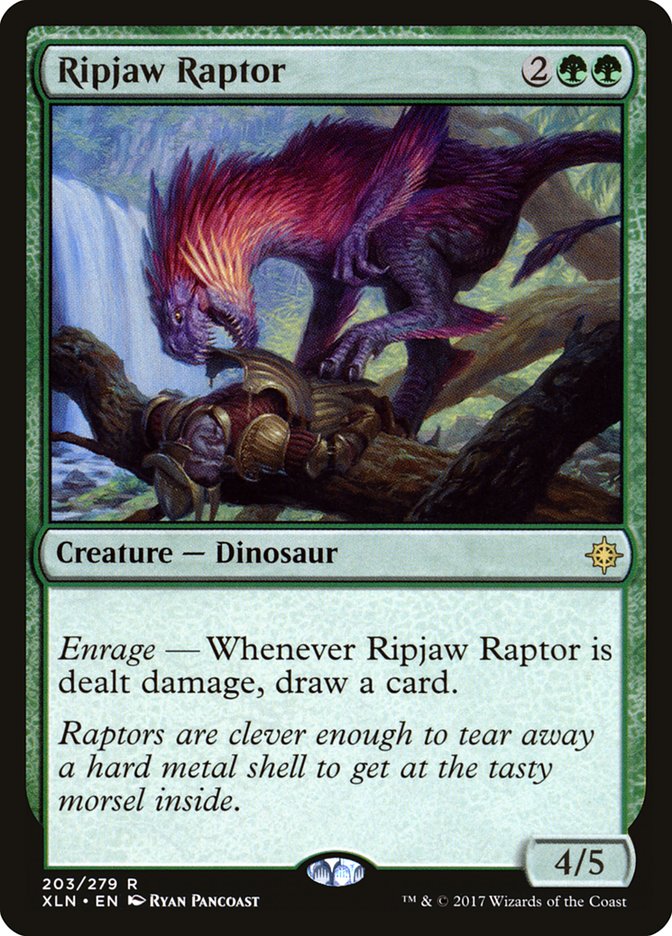 Engine: 3
Answers: 4
Survivability: 6
Clock: 5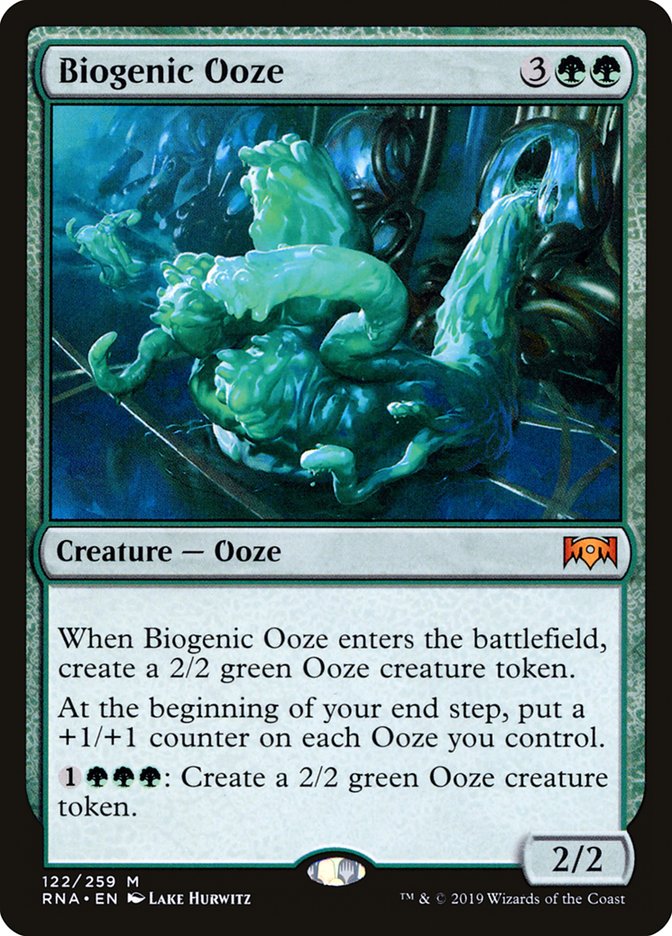 Engine: 6
Answers: 1
Survivability: 2
Clock: 8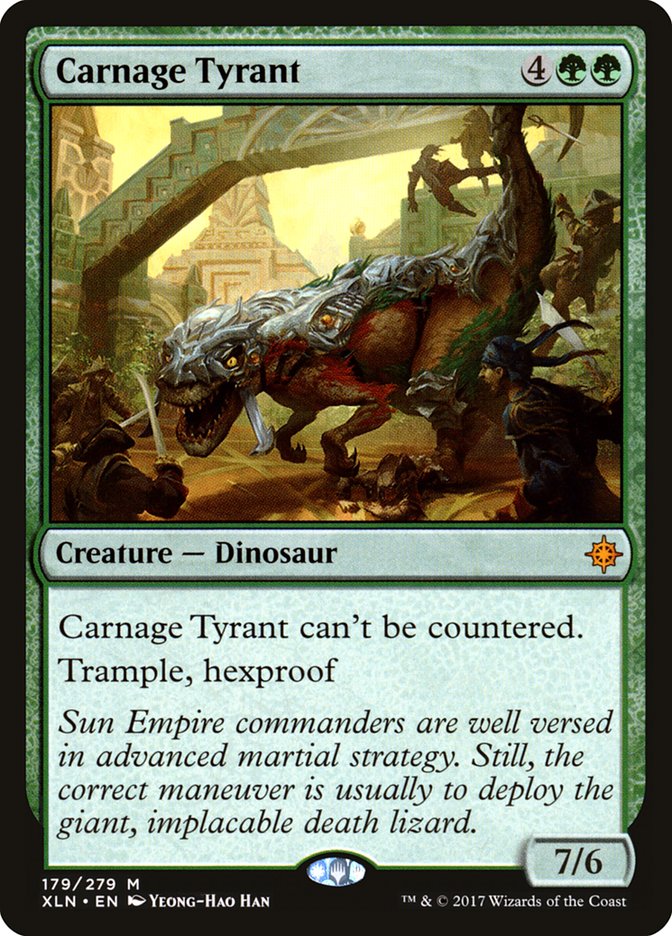 Engine: 0
Answers: 4
Survivability: 10
Clock: 9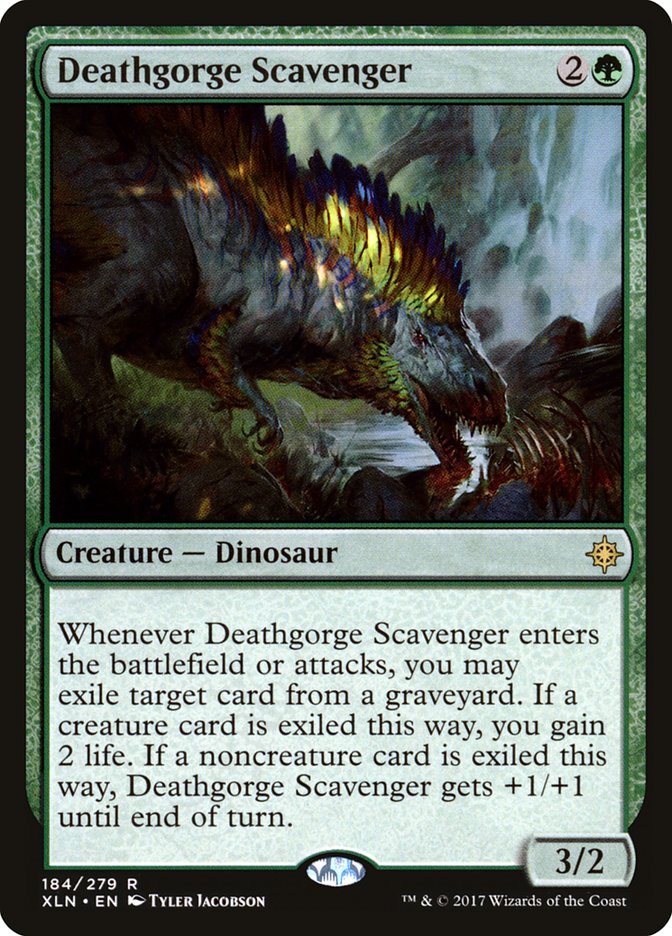 Engine: 0
Answers: 8
Survivability: 1
Clock: 6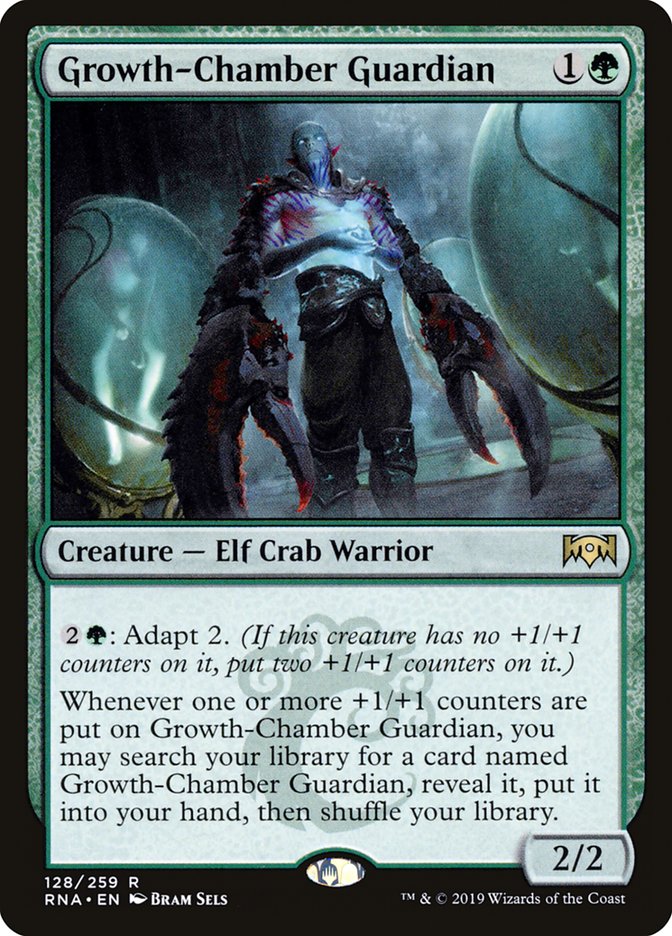 Engine: 7
Answers: 3
Survivability: 6
Clock: 6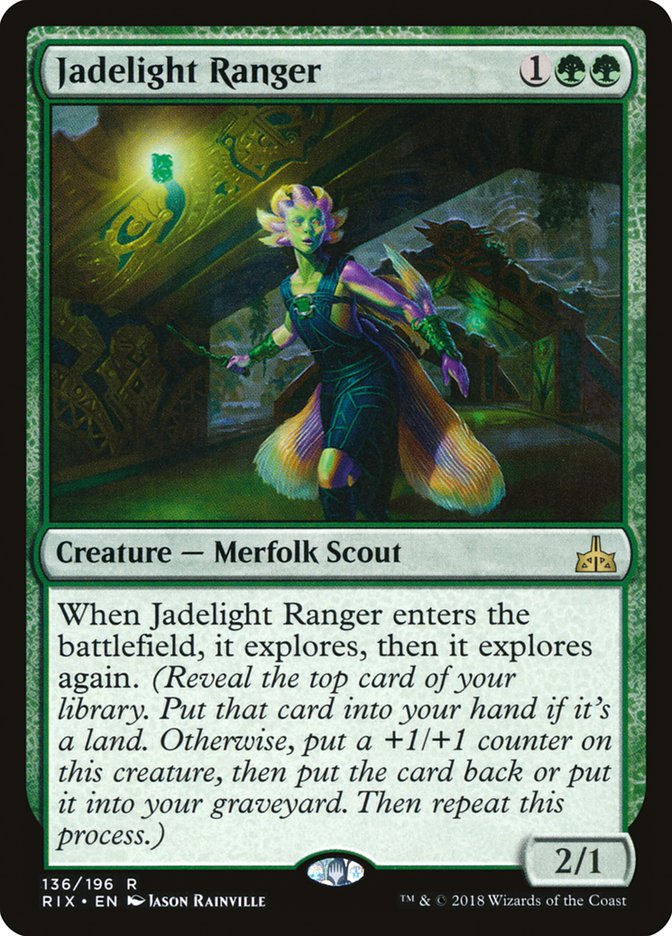 Engine: 10
Answers: 2
Survivability: 3
Clock: 7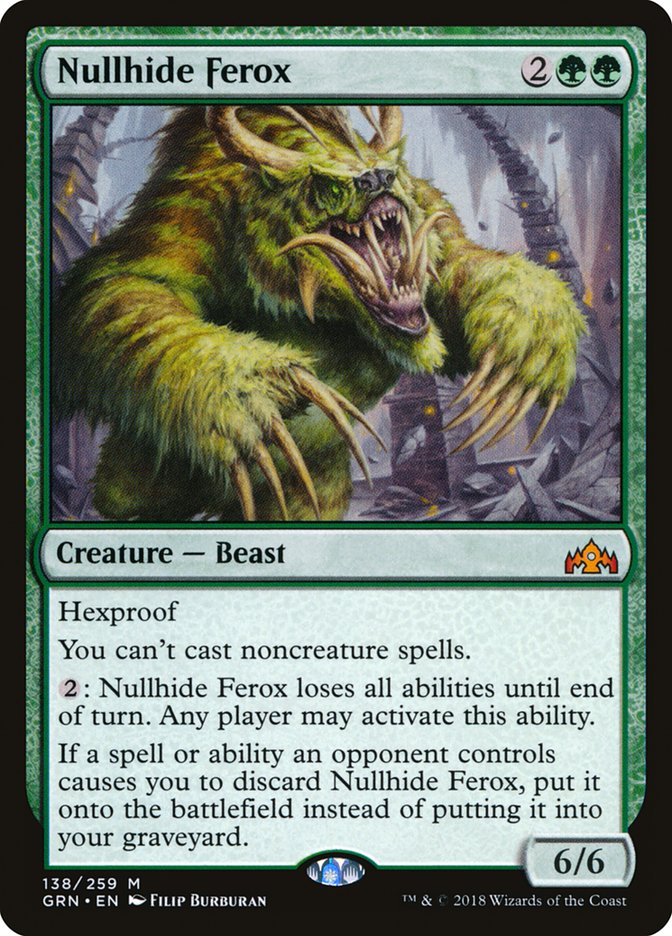 Engine: 0
Answers: 4
Survivability: 9
Clock: 8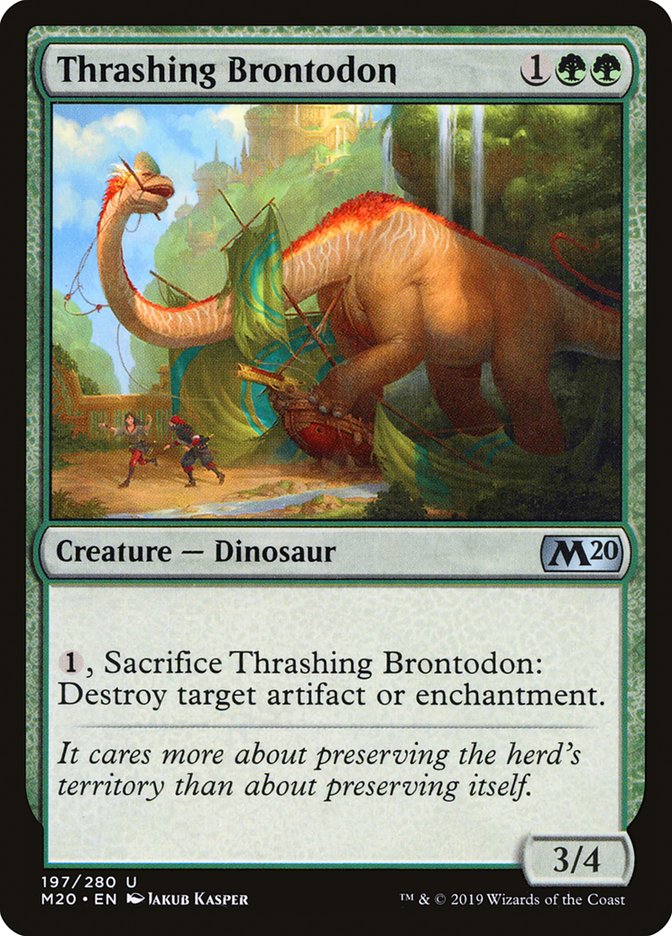 Engine: 1
Answers: 9
Survivability: 4
Clock: 3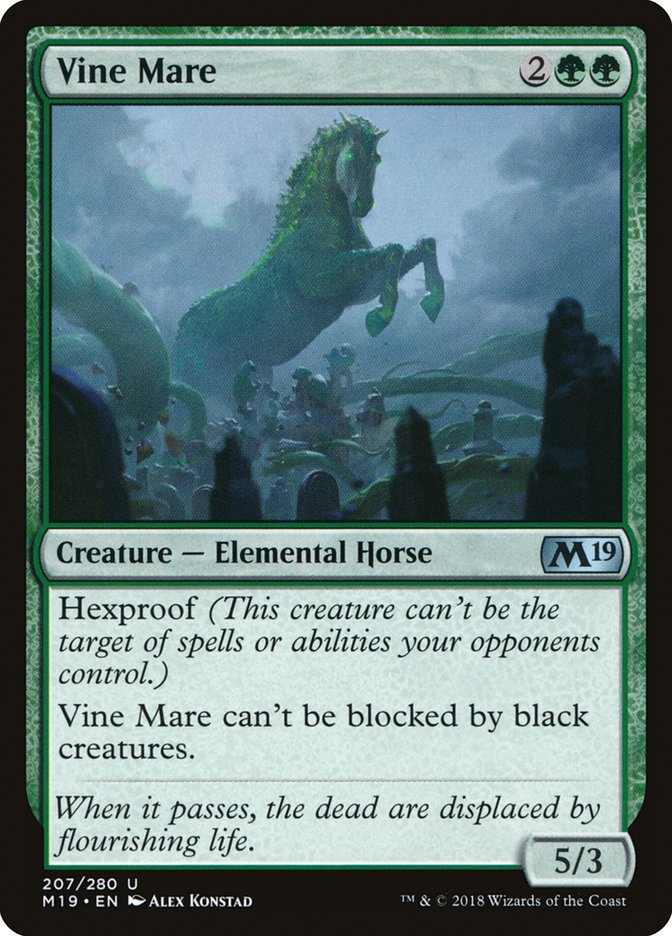 Engine: 0
Answers: 3
Survivability: 9
Clock: 8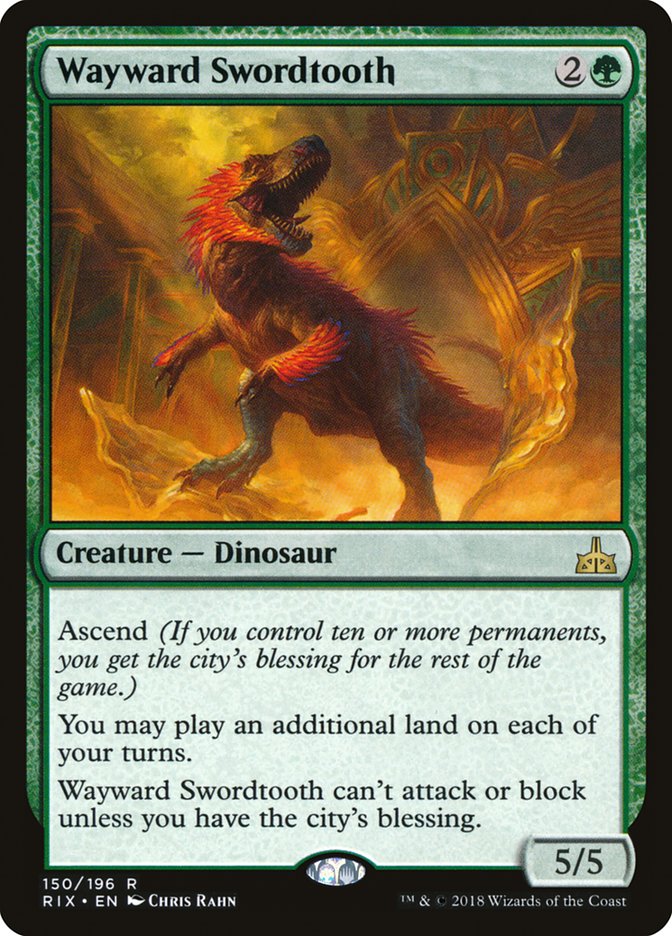 Engine: 8
Answers: 3
Survivability: 4
Clock: 4
There are no hard metrics in Magic, but Cavalier's scores look comparable to this bunch of cards with proven pedigree. Like the rest of the green midrange creatures, there will be a limited time and place for Cavalier of Thorns, but I do believe it has a role to play. The clearest and most immediate home will be in a retooled version of Sultai Dreadhorde, and my first pass at a list looks something like this:
Creatures (22)
Planeswalkers (7)
Lands (24)
Spells (7) Last time I did a bunch of yelling about a mythic rare no one else believed in, we ended up with a format-defining card. I will admit I am less confident about Cavalier of Thorns than I was about Nexus of Fate, but there's a lot of room for a card to be worse than Nexus of Fate and still see play in Standard. Let's see if Cavalier of Thorns ultimately delivers on its potential.