With Pro Tour Atlanta just a week prior, Grand Prix Atlanta was filled with an even larger number of pros than normal. What this meant was an above-average level of competition and a way-above-average level of degeneracy and fun. I for one had the pleasure of rooming with a bunch of my teammates from Team TCGPlayer, including eventual Top Eight competitor Chris Fennell. More on the debauchery later, let's start things off with the Magic.
Mortal's Ardor
Chorus of Tides
Sphinx's Disciple
Messenger's Speed
Titan's Strength
Mortal's Resolve
Nylea's Disciple
Traveler's Amulet
Witches' Eye
Deserter's Quarters
If there is one thing that I can tell you for sure about this pool, it's that it was incredibly frustrating. You might be thinking to yourself "Why? Every color seems great!" You would be right too, but that's unfortunately the problem with this pool. Every color does have its fair share of great cards, but none of them are deep enough to effectively field a 40-card deck. In the ideal sealed pool, you want all of your good cards to be focused neatly in two colors, with everything else being shallow and unplayable.
This pool left me with two options. Either I had to play a two-color deck jammed with a bunch of filler, or play a three or more color deck that sacrificed its mana base in exchange for card quality. Between the actual deck construction time and the wait time during my three byes, I tried pretty much every build under the sun.
Deck #1
Renowned Weaver
Glimpse the Sun God
Magma Spray
Traveler's Amulet
Bassara Tower Archer
Satyr Wayfinder
AkroanSkyguard
Spirit of the Labyrinth
Stonewise Fortifier
Savage Surge
Fall of the Hammer
Oakheart Dryads
Eagle of the Watch
Eidolon of Countless Battles
Opaline Unicorn
Ray of Dissolution
Pheres-Band Tromper
Nylea's Disciple
Bladetusk Boar
Divine Verdict
Centaur Battlemaster
Pheres-Band Thunderhoof
Ornitharch
Forest x 7
Plains x 7
Mountain x 2
Temple of Abandon
The above Naya monstrosity is the first deck that I came close to submitting during deck construction. As you can see, the deck doesn't contain any filler cards and the manabase isn't that terrible. It also had the upside of getting to play Ornitharch, Glimpse the Sun God, and Eidolon of Countless Battles, the three most powerful cards in the pool. In the end, I decided against this build because I felt like I just wasn't getting enough bang for my buck out of green. If you look at the deck, what was green really bringing to the table? A few hard to trigger heroic creatures and a bunch of double-green casting costs to make the mana awkward.
Deck #2
Renowned Weaver
Traveler's Amulet
Bassara Tower Archer
Baleful Eidolon
Savage Surge
Feast of Dreams
Fall of the Hammer
Deserter's Quarters
Oakheart Dryads
Felhide Petrifier
Servant of Tymaret
Opaline Unicorn
Asphyxiate
Nylea's Disciple
Pheres-Band Tromper
Weight of the Underworld
Nessian Demolok
Pheres-Band Centaurs
Pheres-Band Thunderhoof
Keepsake Gorgon
Lash of the Whip
Nimbus Naiad
Forest x 7
Swamp x 7
Mountain
Island
Temple of Abandon
This spicy number is brought to you by Seth Manfield. During the bye rounds, Seth and I were enjoying some of Atlanta's finest Chick-Fil-A in the food court across the street from the convention center and he went into the tank on my pool. Seth thought that black had too much solid removal to pass up on, and with a little finagling, this four-color machine could get the job done. While I have to agree with Seth that the pool's black removal is solid, I just couldn't get behind this deck as a whole. It's not even a matter of the manabase, which was sketchy at best.
In this format, I like to play a deck that has a clear proactive strategy with defined ways to win the game and want to build my deck that way as often possible. This deck may have had the task of killing creatures on lock, but it wasn't where I wanted it to be in terms of win conditions. What's the point of killing everything your opponent plays if you're just going to give them time to draw another threat before you can close out the game?
Deck #3
Magma Spray
Titan's Strength
Glimpse the Sun God
Mortal Obstinacy
Deathbellow Raider
Eidolon of the Great Revel
Everflame Eidolon
Akroan Skyguard
Setessan Battle Priest
Spirit of the Labyrinth
Stonewise Fortifier
Fall of the Hammer
Desperate Stand
Rageblood Shaman
Eagle of the Watch
Eidolon of Countless Battles
Fearsome Temper
Fearsome Temper
Ray of Dissolution
Mountain x 8
Plains x 8
Temple of Abandon
Last but not least, we have the deck that I actually went into battle with. After deciding the Naya deck wasn't going to make the cut, I knew that I wanted to at least have access to my powerful white cards, which meant pairing them with the color that supported them the best and involved playing the smallest amount of filler cards. In this case, that color was red.
Now don't get me wrong, this deck still had its problems. First off, Setessan Battle Priest, Deathbellow Raider, and Gluttonous Cyclops weren't cards I was thrilled with playing in the maindeck. Not to mention it looked like a lot of my games were going to come to down to whether or not my opponent could deal with a two-drop into Fearsome Temper, and with so much removal and bounce available in full Theros Block Limited, I didn't love my chances. Probably worst of all, the manabase for this deck is deceptively awful. Between Eidolon of the Great Revel, Everflame Eidolon, Rageblood Shaman, Eidolon of Countless Battles, and Ornitharch, there's a big pull between white and red mana. A lot of my keeps came down to hands with a single Mountain or Plains and hoping the top of my deck was kind.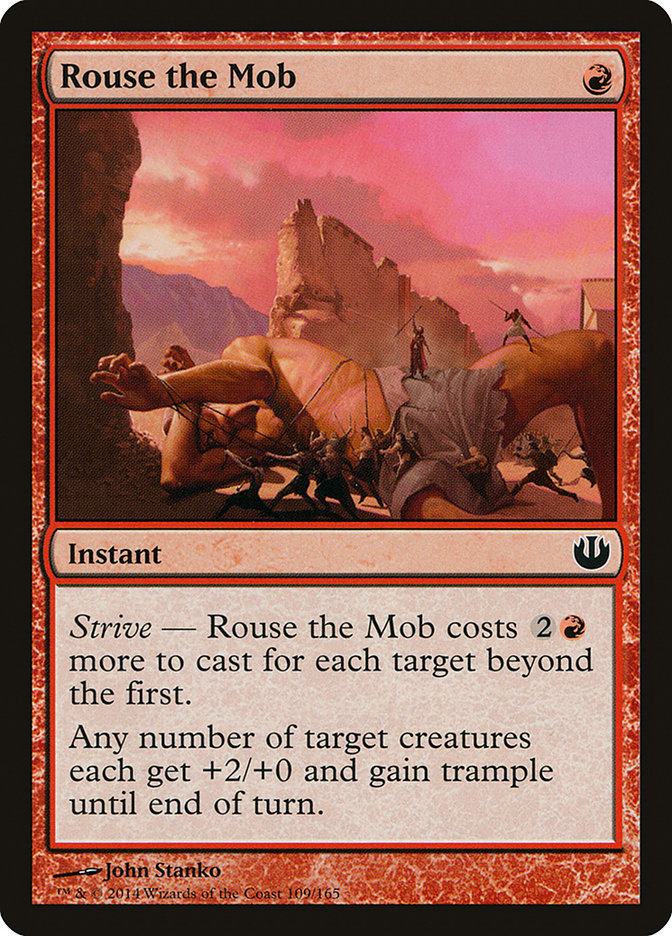 VS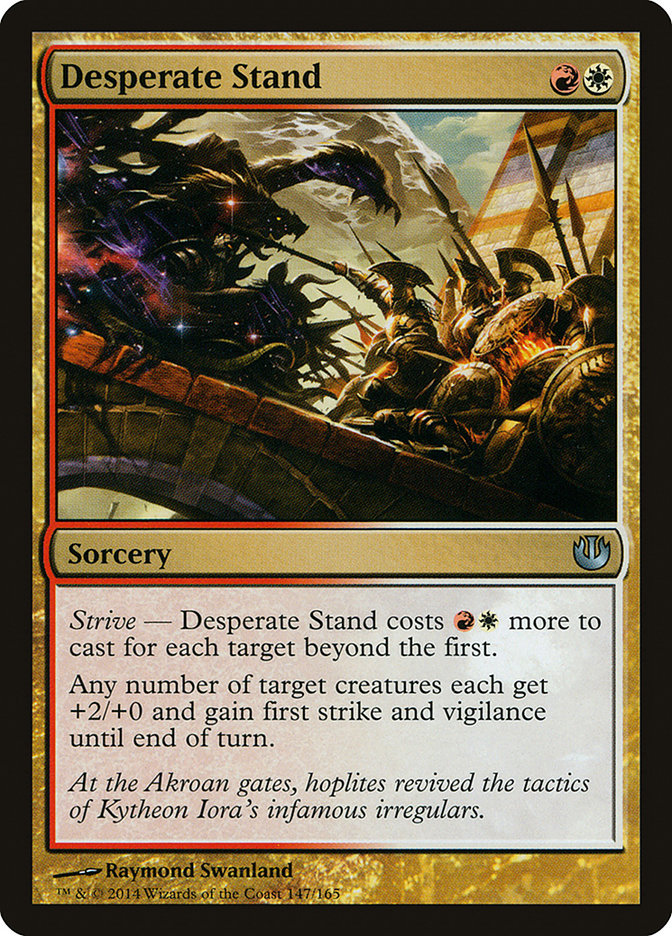 The only regret I have with this build was playing Desperate Stand over Rouse the Mob. It's weird to think that the mono-colored common is better than the multicolored uncommon, but sometimes that is just how it is. The instant speed and trample that Rouse the Mob grants is just too valuable to pass up.
You might notice that this deck was playing a whopping five out of six of my rares, although it certainly didn't feel like it. Other than Eidolon of Countless Battles (which is amazing), my rares amounted to little more than tough-to-cast Grizzly Bears, Oreskos Swiftclaw, and Riot Devils.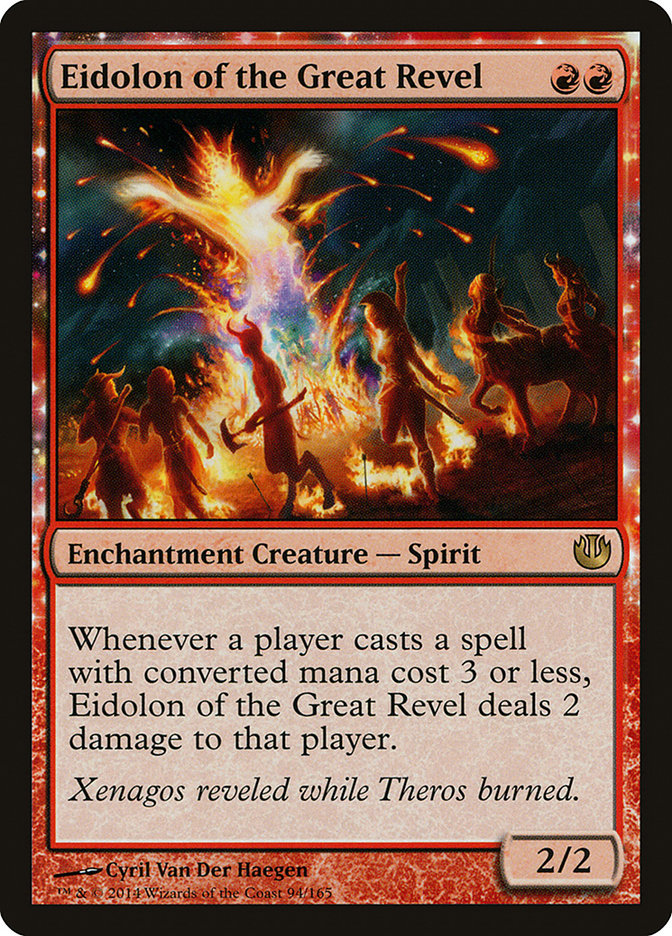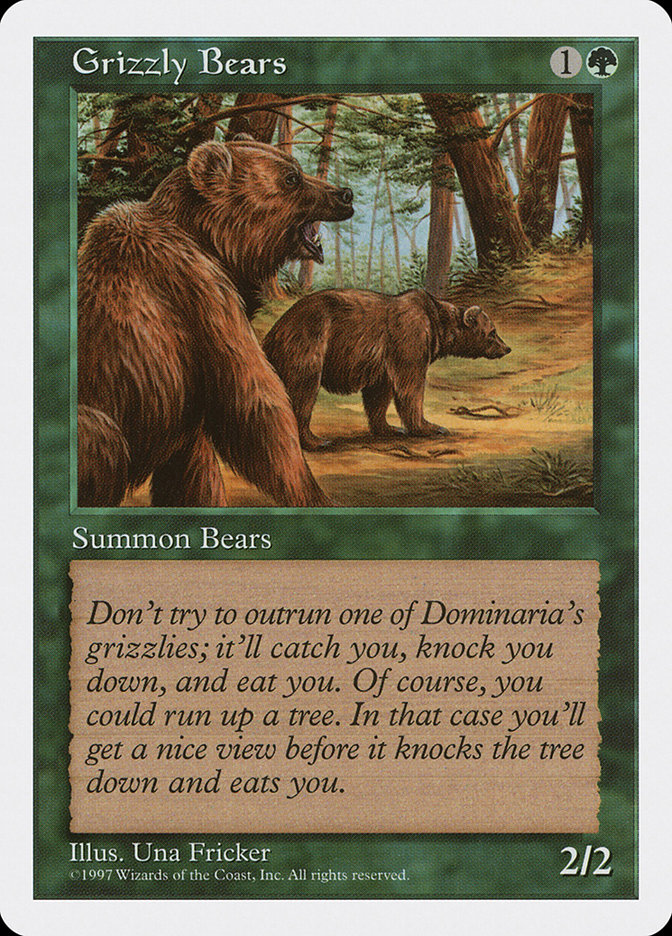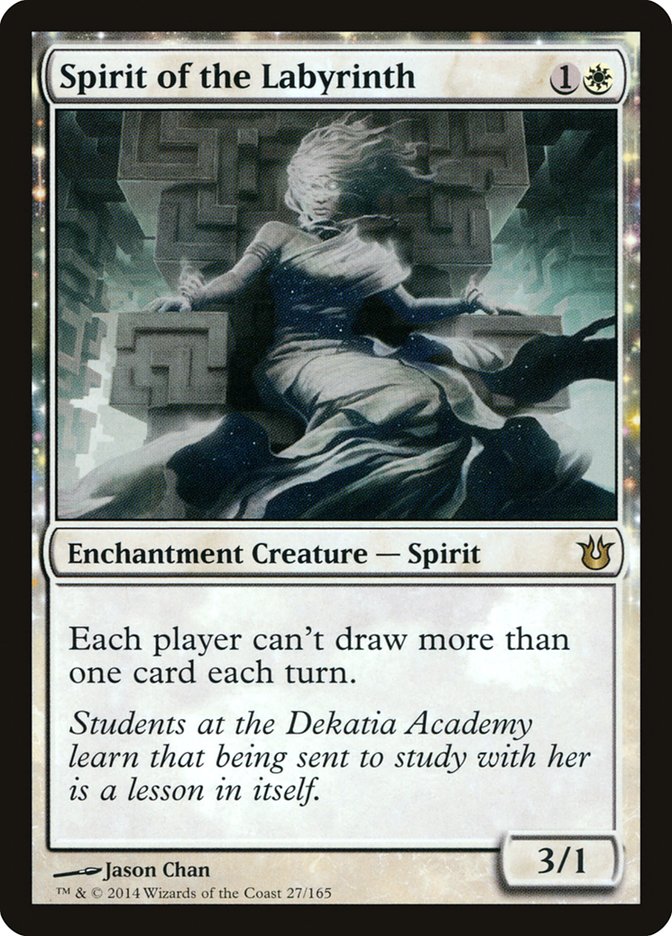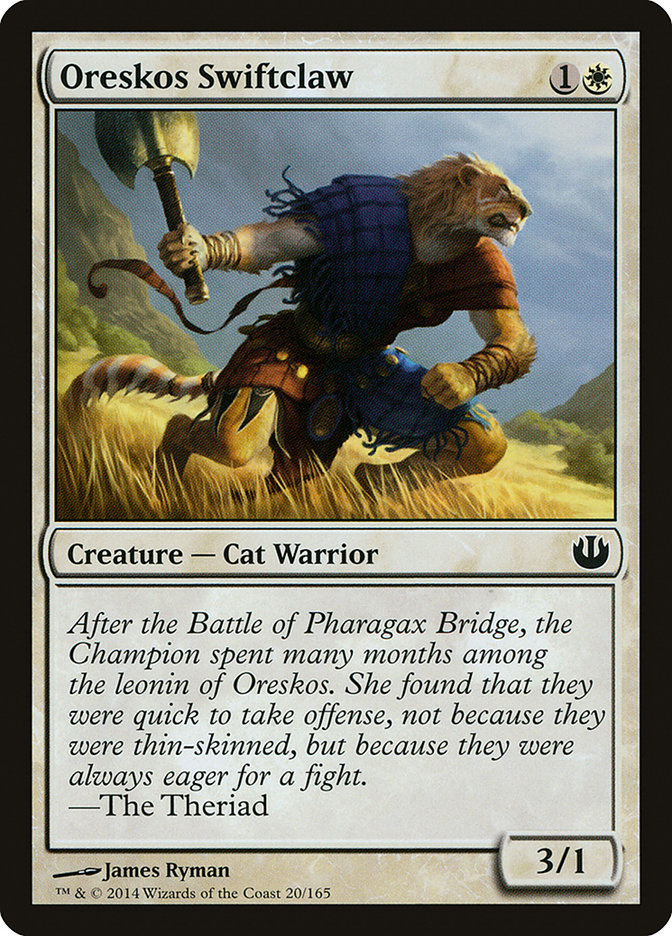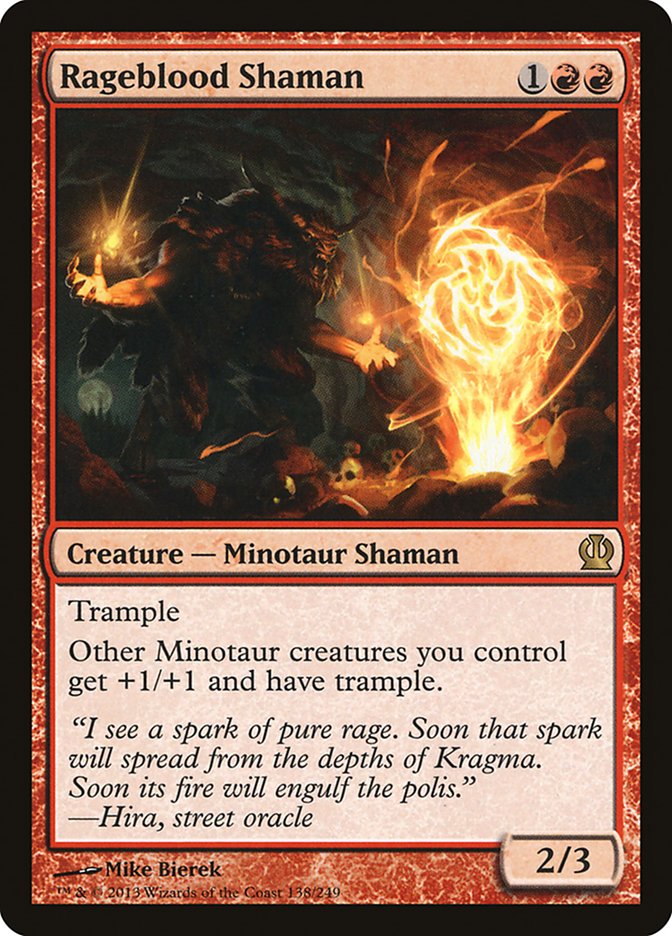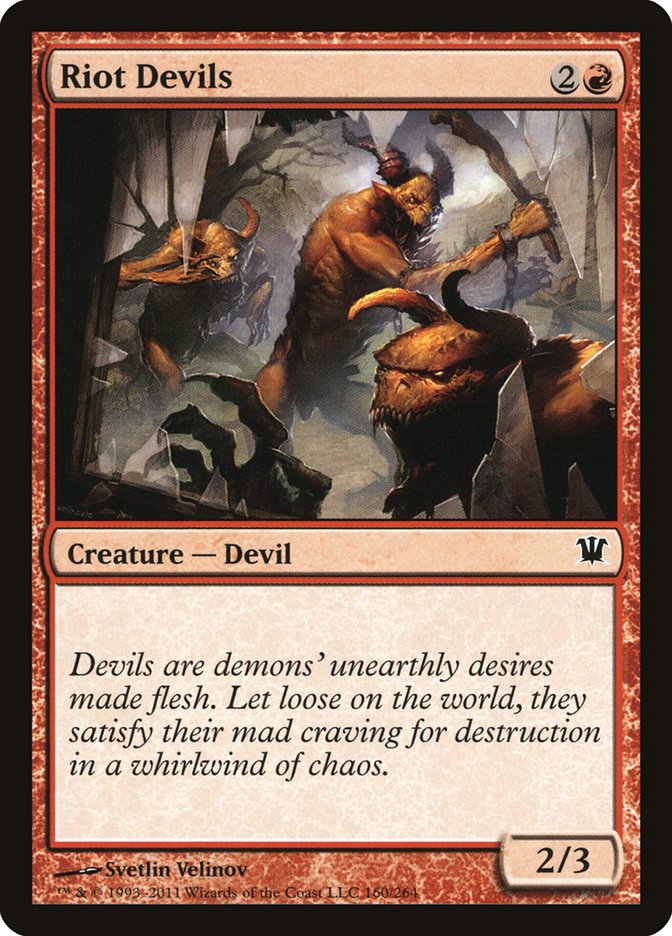 My first match of the day was an off camera feature against Pro Tour Atlanta runner up Nam Sung Wook. He had built a powerful R/W/U deck featuring some fliers, removal, and the always-daunting Hundred-Handed One. During the first game, I was able to get some early damage in before he was able to disrupt my "combo" of Akroan Skyguard and Fearsome Temper with a Voyage's End. Things started to look bleak when Wook was able to monstrous Hundred-Handed One and throw a few auras on it, effectively halting my offense and giving him a giant creature to attack with each turn.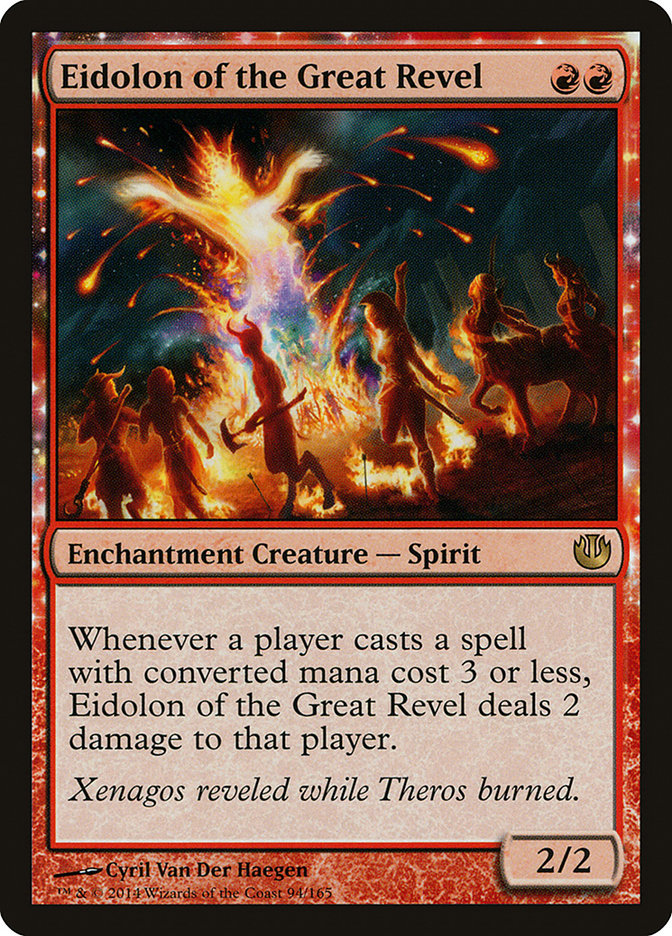 As it turns out, my rare Grizzly Bears stepped up to the plate to close out the game. The turn before I was going to need to start chump-blocking the Hundred-Handed One, I drew Glimpse the Sun God but was two points short of killing my opponent. My only hope was that Wook would play a spell pre-combat that would cause him to take two damage and let me tap down his team for a lethal swing back. As luck would have it, he drew a Nimbus Naiad which he tried to bestow and use to win the game. Even though the bestow cost on Nimbus Naiad is five, the converted mana cost is still three, meaning Eidolon of the Great Revel was able to drop Wook from eleven to nine and allowed me to swing for the win after tapping down his team.
Although Wook smashed me pretty handily game two, the Akroan Skyguard/Fearsome Temper duo went uninterrupted to win game three. The rest of my early Day One rounds weren't particularly exciting. A lot of my wins came down to game threes where I was fortunate enough to not have my opponent answer Fearsome Temper. Add in some tight play and maximization of every point of damage and I found myself with a 6-0 start.
Unfortunately for me, that meant I got the honor of playing against my good friend Alex Majlaton (Al-Maj) in the feature match area for the right to remain undefeated. The only reason I use the word "unfortunately" is because Al-Maj and I had shown each other our decks throughout the day, and I knew his was absolutely insane. He was playing a G/W beatdown deck featuring Brimaz, King of Oreskos, Bow of Nylea, and Hundred-Handed One. The only advantage I had was that he had very few ways to interact with my nut draw of Akroan Skyguard into Fearsome Temper.
Although I was able to steal game two with exactly that draw, the sheer power of his deck was too much for me to overcome in the other two games. After my match with Al-Maj, I lost a close one to an opponent with a strictly better R/W aggro deck. Thankfully my deck decided to give me perfect draws in the last match of the day (on top of some mulligans from my opponent) to let me sneak into Day Two with a 7-2 record.
Following the final round of the day, I met up with Al-Maj, Jon Stern, Alexander Hayne, Joe Demestrio and a few other awesome people to go out to dinner and celebrate Al-Maj's and Jon Stern's 9-0 record on Day One. After passing up on a few more casual options due to long wait times, we found ourselves at the fancy Cuts Steakhouse. Between our backpacks, jeans, and raucous games of Werewolf and Resistance, I'd say we fit right in.
Going into Day Two, I knew that I was going to need to 6-0 the drafts to make Top Eight. While going undefeated across two draft pods is no easy task, I felt pretty good about my chances. My first draft of the day included such ringers as Denniz Rachid, Jeremy Dezani, Aaron Lewis and Ben "Forty Card" Friedman. Ben is a good friend of mine, and as per usual I knew there was no way I would be able to 3-0 the draft without having to go through him directly.
The draft itself began simply enough. Although my opening pack was mediocre overall, it did feature one of the best limited rares in the entire format: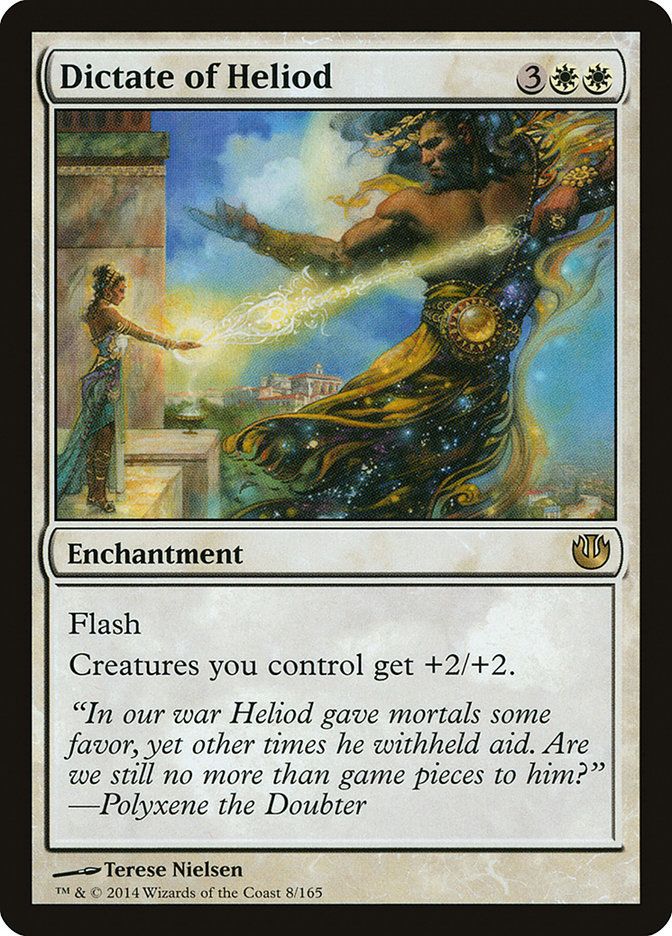 A five-mana double Glorious Anthem would already be good in Limited, but the fact that it has flash just pushes it over the edge into ridiculousness. The pack that was passed to me offered a much tougher decision.
VS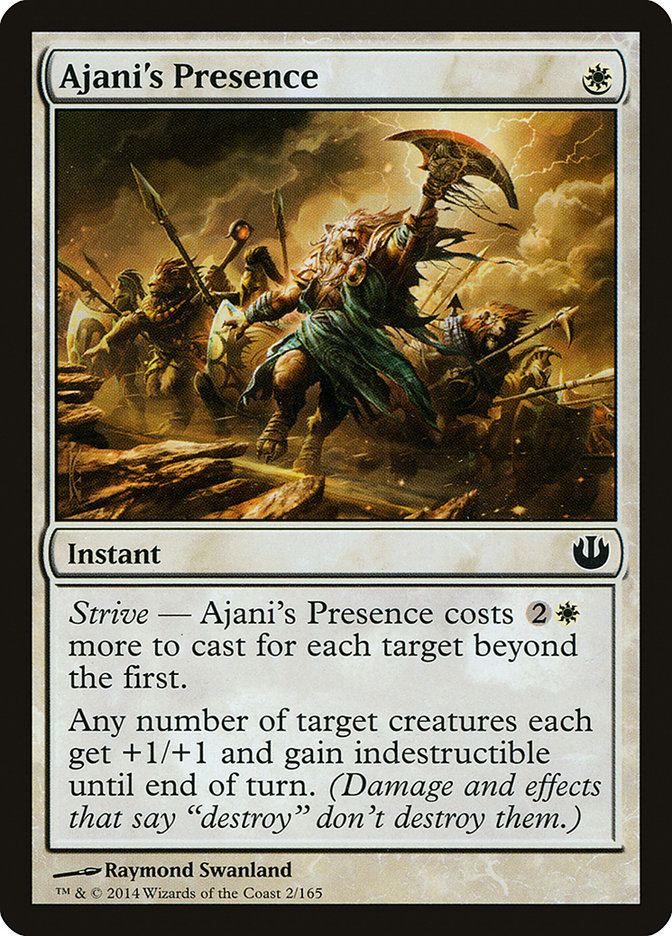 Normally this pick would be an easy Ajani's Presence. I spoke last week about how insane the card is, and Oreskos Swiftclaw is easily replaced by cards like Traveling Philosopher, Oreskos Sun Guide and Stonewise Fortifier. However with Dictate already in the bag, I wanted to make sure I had the cheap creatures to make it as effective as possible. After speaking with various other pros, I can say the vote is split on this one. Some agree with my logic about wanting to maximize creature count, while others think Ajani's Presence is just too unique or powerful to pass up. One way or the other, at the time I went with my gut and took the creature.
The following two packs both contained Mogis's Warhounds which I was more than happy to pick up. As Warhound is one of the best red cards in Journey into Nyx, I was very confident that red was open to my right. Then for my fifth pick I was again met with the decision of Ajani's Presence and Oreskos Swiftclaw. With two Mogis's Warhounds factored into the equation, this time I knew I wanted the creature to give me the highest chance possible to bestow on turn three.
At this point in the draft I thought my deck was going to end up being bonkers. It seemed like white and red were flowing from my right, and even if I had to fight for white pack two due to passing two Ajani's Presences, I thought I would be OK. Little did know, around pick seven, the drafter immediately to my right made a late move into white, and the drafter two to my right made a late move into red. Looking back, I'm not too sure what I could have done to avoid this. Sometimes that's just how the draft happens.
That's not to say that my deck ended up terribly. Although I didn't get many picks out of the Theros pack and had to play a few fillers, my deck still had a strong base to work with.
Draft #1
Lagonna-Band Trailblazer
Lagonna-Band Trailblazer
Loyal Pegasus
Dragon Mantle
Coordinated Assault
Oreskos Swiftclaw
Oreskos Swiftclaw
Akroan Skyguard
Mogis's Warhound
Mogis's Warhound
Bronze Sable
Fleetfeather Sandals
Elite Skirmisher
Ghostblade Eidolon
Harvestguard Alseids
Anax and Cymede
Ray of Dissolution
Fearsome Temper
Cyclops of One-Eyed Pass
Divine Verdict
Griffin Dreamfinder
Dictate of Heliod
Rage of Purphoros
Mountain x 8
Plains x 8
Temple of Triumph
SB
Mortal's Ardor
Armament of Nyx
Dawn to Dusk
Silent Sentinel
Lightning Volley
The first match of the draft can be summed up easily: I played Dictate of Heliod games one and two and won.
The second match was a R/W aggro mirror against Aaron Lewis. Game one he stomped me with a turn four Flame-Wreathed Phoenix backed by Ajani's Presence to blow out my Divine Verdict. The second game was very close and involved me using Ray of Dissolution on my own Mogis's Warhound to survive a lethal Font of Ire. Unfortunately Aaron missed land drops for game three and didn't get to put up a fight against my Anax and Cymede/Dictate of Heliod draw.
Going into the third round of the draft, I of course had to play against Ben Friedman for the 3-0. As fate would have it, it was another R/W aggro mirror match, except this time both of us had Dictate of Heliod. After chopping the first two games, I kept a hand all-in on a turn three Anax and Cymede, knowing I would win no contest if it survived and lose spectacularly if it died. Sometimes that's just what this format comes down to.
As it turns out, Ben had a Magma Spray I had yet to see in the match and was able to kill Anax and Cymede, completely halting my offense and giving him time to play an Ornitharch. From there he was able to easily win. Although that meant the end of my top eight dreams, if you're going to lose to anyone it might as well be a friend.
Even though Top Eight was no longer an option, I was still in decent position to win some money and pro points. Going into GP Atlanta I had 14 Pro Points and two open GP slots. With three more pro points minimum coming with Pro Tour Portland, that meant silver status was only three points away.
My second draft pod was nothing to scoff at, with Todd Anderson and David Ochoa to my right, as well as a second showing of Denniz Rachid. Things started off in a similar fashion to the first, with me first picking a Mogis's Warhound. The pack that Todd passed me offered up a tough decision: the rare was missing, but it had both a second Mogis's Warhound and a Banishing Light.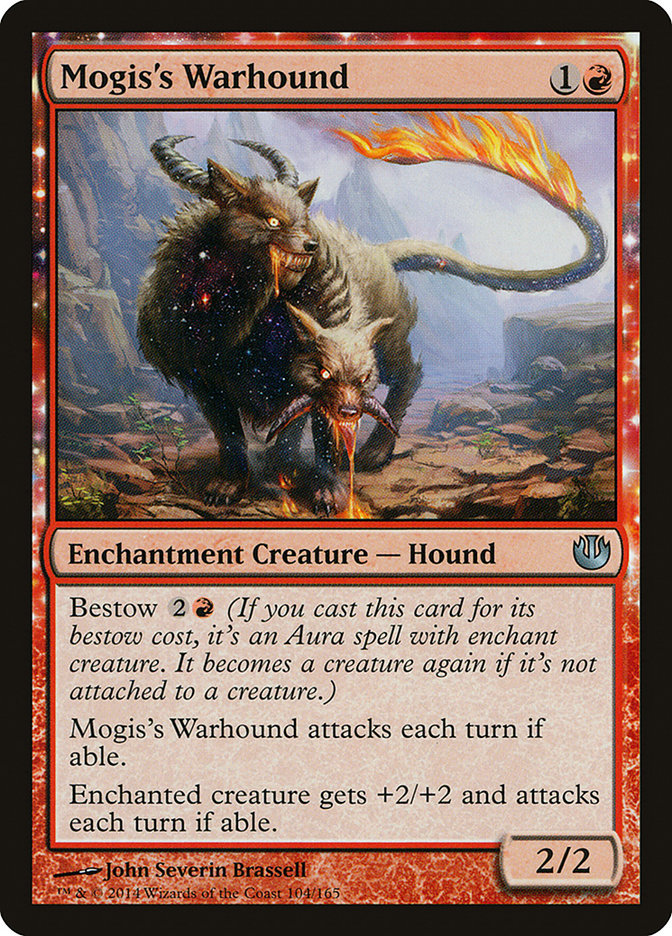 VS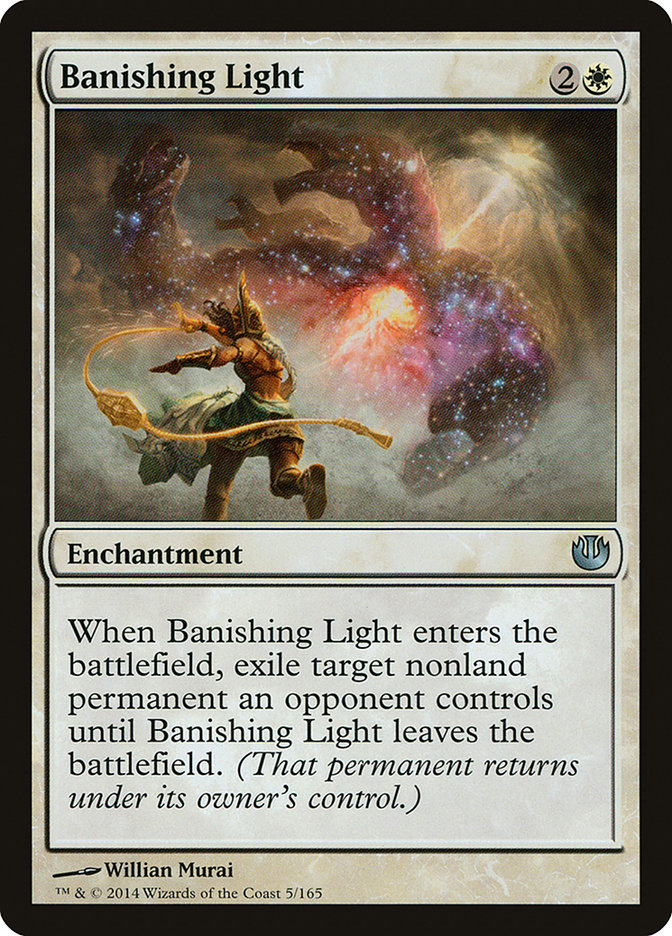 While it was tempting to just take the second Warhound and stay in red, I know Todd is a good drafter and meant the Banishing Light as a signal. I was quickly rewarded for trusting in Todd's draft strategy by receiving another Banishing Light in the following pack. At this point I felt even better than I did at the start of the first draft. Not only did I have three great picks to start things off, but they came from Todd and Ochoa meaning I didn't have to worry about them suddenly jumping into White after passing great White cards. The draft went pretty straightforward from there, with my toughest pick coming during the Born of the Gods booster.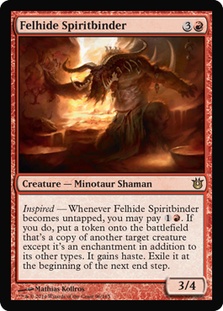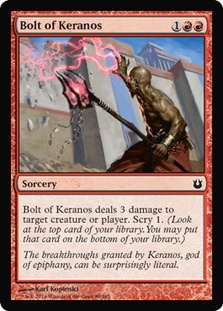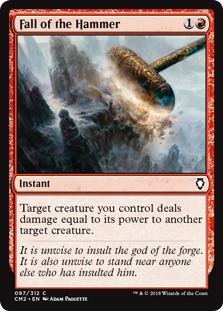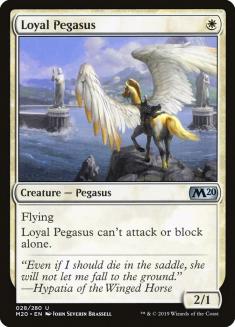 Talk about some sick red and white cards! In the end I decided to go for raw power and took Felhide Spiritbinder. With two Banishing Lights already giving me great removal, it didn't seem necessary to pass up on the rare for another kill spell. If I had no removal and more creatures at this point, Fall of the Hammer would have been a lot more tempting.
When all I was said and done, I was left with my third (and best) R/W aggro deck of the tournament:
Draft #2
Lagonna-Band Trailblazer
Loyal Pegasus
Rouse the Mob
Rouse the Mob
Akroan Skyguard
Leonin Snarecaster
Stonewise Fortifier
Everflame Eidolon
Mogis's Warhound
Reckless Reveler
Sigiled Skink
Lightning Strike
Rise to the Challenge
Eagle of the Watch
Lagonna-Band Elder
Flamespeaker Adept
Minotaur Skullcleaver
Nyxborn Shieldmate
Banishing Light
Banishing Light
Fearsome Temper
Felhide Spiritbinder
Ill-Tempered Cyclops
Hopeful Eidolon
SB:
Oppressive Rays
Excoriate
Priest of Iroas
Priest of Iroas
Nyxborn Rollicker
Scouring Sands
Pensive Minotaur
Borderland Minotaur
Portent of Betrayal
Rage of Purphoros
For the first round of the draft I was paired up against David Ochoa. He had drafted a very powerful B/R deck chock-full of removal and defensive creatures that matched up very well against my deck. I would have won the first game if not for an awkward error on my part. Towards the end of the game I played a Minotaur Skullcleaver, announced the trigger, and made a big attack. After Ochoa had made his blocks, I had a 2/1 and the minotaur getting through for damage. I announced "You take four and go to eight", and after about a five second pause realized I forgot the extra two damage from Minotaur Skullcleaver.
We called over a judge and explained the situation, and he ruled that even though I announced the trigger when I played the Skullcleaver, I didn't get the extra two points of damage because I had forgotten about it. The following turn I was able to attack Ochoa down to two life before he stabilized and went on to win the game. While I regret not appealing the ruling, I did briefly forget about the trigger during damage so I'm not sure how the head judge would have ultimately ruled.
The second game went similarly to the first, with me getting Ochoa low before he managed to stabilize on a low life total. This time around things came down to a topdeck war, and I wasn't able to draw enough aggression to close out the game.
The remaining two matches went much more according to plan. I played against a pair of clunky green decks that just couldn't keep up with my aggressive draws. Even though it would have been great to 3-0 the pod and my deck was certainly capable of it, a 2-1 was good enough to land me in 44th place. With another pro point locked up I only need to wrangle two more before the end of the season to re-secure silver status.
To finish out the tournament, I got to watch a Top Eight chock-full of friends and awesome Magic players. Even with Al-Maj and Chris Fennell falling in the quarterfinals, I got to see Jon Stern go all the way and win another Grand Prix. Congratulations to all three of them as well as the remainder of the Top Eight!
After the trophy pictures were taken, we all headed back to the Weston Hotel for a long night of Werewolf. Most of us had flights early the following morning and committed to staying up all night to get some last laughs in before heading home.
To be fair, I did say we were degenerates.