Andrew Boswell knows the grind all too well.
Preparing all week, working late, and perfecting his craft one day at a time. All culminating in a long road trip bookended by days of traveling in an
attempt to turn all his efforts into a successful weekend.
And this was before he started playing Magic tournaments.
Boswell has made a name for himself on the StarCityGames.com Open Series this year and finds himself barely on the outside looking in at a possible berth
to the Players' Championship. But before the back-to-back Open Top 8 weekend in Baltimore in July and his continued rise up the StarCityGames.com
leaderboard, Boswell has been on a different grind, dealing ceramics rather than cards.
The ceramic artist, following in his father's footsteps as a potter, crafted his own career following his education at the Rochester Institute of
Technology in New York. His transition to a notable player on the Open Series and a player to watch on the pro circuit has been years in the making. It all
started in the small arts and crafts village of Sugarloaf, NY, home of one of the best players in the game, Reid Duke.
Boswell started playing Magic in grade school, back when a Revised dual land cost ten bucks. All he wanted to do at the time was put Scaled Wurm into play
ahead of schedule thanks to Orcish Lumberjack and Tinder Wall. His childhood friend would simply kill it at the end of the turn with a Swords to
Plowshares, untap and do something broken. That friend was Ian Duke, now a member of R&D for Wizards of the Coast, and older brother to Reid Duke, the
platinum level pro and one of the most recognized names in the game. Boswell grew up playing with the two brothers and their mutual friend Faron Peckham.
While Boswell would drift away from the game during high school for sports and other hobbies, like many, he would return to the game.
After graduating college and starting his career in Sugarloaf, Boswell and Ian visited Peckham in Africa, where their friend was starting a business.
Peckham busted out a box of Shards of Alara and a few drafts later, Boswell was back in. Boswell's career took off back home with his studio, but many of
his hometown friends had left for other jobs, including Ian. That led to Boswell strengthening his relationship with Reid as they started hanging out more
and more. It would also lead to taking Magic more seriously.
"I was looking for an activity for the weekends that would require a lot of thinking and test my decision making and Magic was perfect," Boswell said.
"It's hard not to get into competitive Magic when you see Reid running around winning everything. He's such a wealth of information and is great to hang
out with and talk with. He gets me legitimately inspired to do well."
After diving into competitive Magic, Boswell started upping the amount of tournaments he played. His first big finish came in 2010 at Grand Prix
Washington, DC, where he finished in 38th place out of 1,931 players. Boswell played a Standard Jund list perfected by Reid and notched wins against a slew
of top players including Luis Scott-Vargas, Raphael Levy, Gabriel Nassif, and Tom Martell. This taste of success led to him playing more and working at his
game, eventually winning a PTQ for Pro Tour Theros. Boswell tested for the Pro Tour with New York-based players like Chris Pikula and Jamie Parke, and the
event opened his eyes to highest level of play.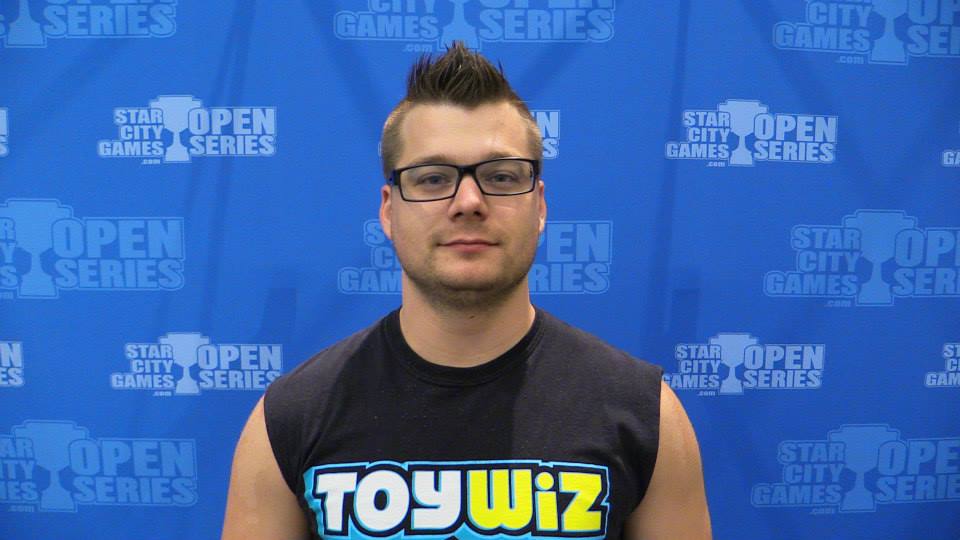 Boswell poses for his Top 8 photo at #SCGWOR.
Magic began taking up all of Boswell's free time, edging out other hobbies as he split his time between work and the game. He cut down on the number of
craft fairs and shows he'd travel to, opting to sell more of his work online to open up travel time on the weekends for tournaments. The convenience of the
Open Series drew him in and allowed him to play Magic almost every weekend. He started chaining together good finishes on the Open Series and won
StarCityGames.com States in Pennsylvania with G/W Aggro in May. A week after Boswell made the Top 8 of the Baltimore Standard and Legacy Open on July
19-20, he finished second at Grand Prix Boston-Worcester, earning him his second invite to the Pro Tour, this time Pro Tour Khans of Tarkir in Honolulu,
HI.
"Andy's best trait as a player is his love of learning. He takes notes on every single game he plays, and is constantly analyzing, discussing, and
questioning what leads to winning and losing in Magic," Reid Duke said. "Because of this, it's no surprise that he's been on a consistent (and frankly
quite steep) upward climb towards tournament success. Today, Andy is much better than he was six months ago, and if he continues on the same track, six
months from now he'll be better still."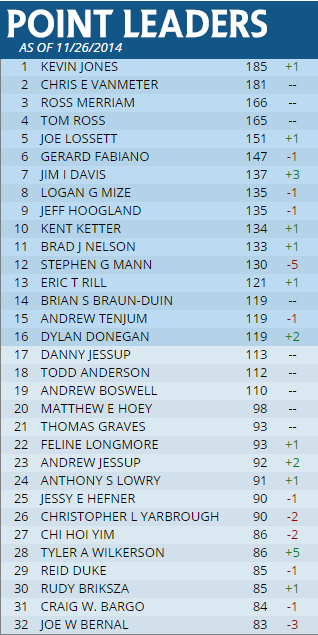 Boswell kept working on his game and was routinely finishing in the Top 32 of almost every Open he'd play and was soon flirting with an invite to the
Players' Championship. He finished 12-4 at the Season Three Invitational in New Jersey to make Top 16, sharing the same record Reid Duke had, though Reid
reached the Top 8 on tie-breakers and would fall to Tom Ross in the finals, locking up his spot in the Players' Championship. His next big finish came in
Worcester, MA, where Boswell made the Top 4 of the Standard Open and took 17th in the Legacy Open. The 14 Open Series points for the weekend pushed Boswell
to right outside the Top 16 on the leaderboard and amounted to a great weekend.
However, the news that followed the week after the Open in Worcester would shake the Magic community. Trevor Humphries, the winner of the Standard Open and
Modern Premier IQ that weekend, was quickly suspended by the DCI after videos surfaced of him manipulating the deck of his opponent in the finals. The clip
showing Humphries' sleight of hand shot up to thousands of views and raised the question: how many times did Humphries manipulate his opponent's deck
during the tournament? Boswell, who lost to Humphries of the Standard semifinals, looked to be a direct victim, but handled the situation with class.
"Bad things happen. It is part of life and it's rough when the bad thing sort of singles you out, but getting upset isn't going to do anything. The banning
and investigation was prompt and this case was handled well, all things considered," Boswell said. "It all goes back to my life experiences. When I do
outside craft fairs, sometimes it rains a ton and no one shows up, you're in a situation where you drove really far, set up a booth, got three months of
work with you to try to sell, have a big booth fee to pay, and you're down so much money. You just try to keep a smile on your face, pack up and drive home
to get ready to do the next one. What lightened the blow was that I did Top 4 and had never thought of myself as a Top 16 contender for the Players'
Championship, but that weekend I had a strong finish and all of sudden, it was a real possibility. Even though I got cheated, there was enough going on in
Magic to make me feel good."
Boswell's ability to look past the negative that came from Worcester highlights his character. He didn't harp on his misfortune and turned his focus back
to his work and his play. His peers speak highly of him at every chance they can, echoing his stance on life. It came as no surprise that he was back on
his game and resumed traveling to the Opens in Columbus and Richmond in search of more Open points.
"I met Andy because he joined our group to test for Pro Tour Theros and I immediately loved the guy. The way he handled the Humphries situation is not
surprising at all. He just has a positive outlook on life, and just tries to work really hard and do his best," Pikula said. "I hate to always compare him
to Reid, but every nice thing you have ever heard people say about Reid seems to apply to Andy as well. You can tell they come from the same place and
approach life the same way. Being around Andy is just a real breath of fresh air. No bad beat stories, no complaining. Just a guy out there trying to do
his best and have a great time, all the time."
While Boswell is unsure of his chances on reaching the Players' Championship as this point, knowing he will lose ground as he stays home for Thanksgiving
weekend to spend time with family and friends, he still hasn't made up his mind on flying out west for the Seattle Invitational and possibly the Portland
Open the week before. In fact, he is already looking forward to next year and making a run for it, maintaining his drive to play as many tournaments as
possible.
Though the idea of playing Magic full-time has crossed his mind, Boswell says he has no plans of quitting his day job to pursue the game professionally.
Right now he enjoys the balance of his ceramics work with his Magic weekends and has no plans of slowing down with either.
"I once asked Andy what it takes to be successful in art. He told me, 'You can always make up for a lack of natural talent through hard work, but you can
never make up for a lack of hard work through natural talent,'" Reid Duke said. "He takes this mentality to Magic as well, and since watching him approach
the game, so do I. Andy has both talent and work ethic, which means being world-class in his field of art, and being a deadly opponent in a game of Magic.
He expects the best from himself and does everything he can to bring that to the table."