Wondering where the SCG Tour will be visiting in 2020? Wonder no more! Below are the dates, locations, and January Open/Classic formats for Season One of the 2020 SCG Tour!
Date
Event
Main Event Format
Classic Formats
Jan 4-5
SCG Columbus
Team Modern (Non-Unified)
Standard/Modern/Legacy
Jan 11-12
SCG Knoxville
Modern
Modern/Legacy
Feb 1-2
SCG Richmond
TBA
TBA
Feb 8-9
SCG Philadelphia
TBA
TBA
Feb 22-23
SCG Indianapolis
TBA
TBA
Mar 7
Regional Championships
Modern
N/A
Mar 14-15
SCG Baltimore
TBA
TBA
Mar 21-22
SCG Syracuse
TBA
TBA
Apr 4-5
SCG Atlanta
TBA
TBA
Apr 25-26
SCG Worcester
TBA
TBA
May 2-3
SCG Cincinnati
TBA
TBA
May 23-24
SCG Louisville
TBA
TBA
May 30-31
SCG Philadelphia
TBA
TBA
Jun 11-14
SCG CON Summer
featuring the
2020 Season One Invitational (Roanoke, VA)
TBA
N/A
Exclusive Items
Throughout the rest of Season Two of the 2019 SCG Tour, everyone who participates in an Open or Classic will receive an SCG Tour commemorative playmat with entry into each of those events. Starting next year, we will cease offering SCG Tour commemorative playmats in that manner, as doing so accomplishes two very significant things.
1. It eliminates the need for a morning Player Meeting, which reduces the length of each competitor's day by an estimated 20-30 minutes.
2. It allows us to avoid having to raise the entry fees of those events in order to offset their increased operating costs.
Starting in January, each season's SCG Tour commemorative playmat will be offered at our on-site SCG sales booth and SCG Tour Prize Wall, and we're excited to announce that Season One's will feature artwork by fan-favorite Magic: The Gathering artist Seb McKinnon!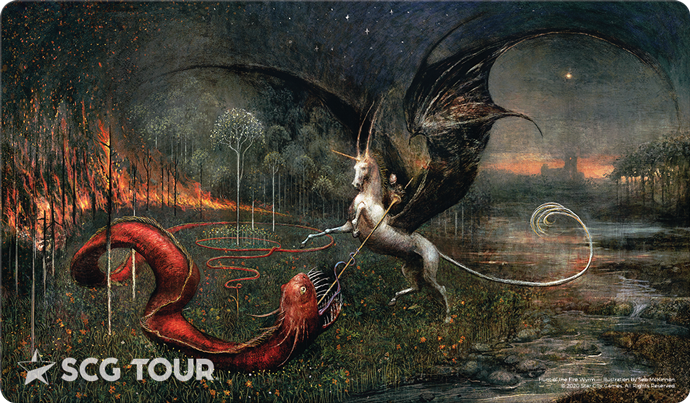 Players Tour Invitations
In Wizards of the Coast's recent Organized Play announcement, they said:
"We are partnering with a number of prominent tournament organizers on tournament series that will be integrated into the Players Tour and will offer invites to the Championship level. These include, for example, events like the SCG Tour by Star City Games and the newly created Latam Magic Series from Bazar de Bagda."
Shortly afterwards, we informed SCG Tour fans that all remaining 2019 SCG Opens would award invitations to first regional Players Tour of 2020 as follows:
Oct 5-6 #SCGPHILLY Team Constructed (all three members of the winning team, plus FOIL Arcbound Ravager promotional cards to each member of the T12 finishing teams!)
Oct 12-13 #SCGINDY Modern (both finalists plus FOIL Arcbound Ravager promotional cards to each of the T32 finishers!)
Oct 26-27 #SCGATL Modern (both finalists plus FOIL Arcbound Ravager promotional cards to each of the T32 finishers!)
Today, I am excited to announce that all Star City Games Opens in 2020 will award multiple invitations to the next regional Players Tour the same way:
Individual Opens (both finalists, plus FOIL Cryptic Command promotional cards to each of the T32 finishers!)
Team Opens (all three members of the winning team, plus FOIL Cryptic Command promotional cards to each member of the T12 finishing teams!)
Command Zone
Over the last couple of SCG CON Magic: The Gathering conventions, our Command Zone has become one of the event's most popular features, and starting in 2020, we'll be bringing the Command Zone to every SCG Open Weekend! Details are still being finalized, but Wizards of the Coast has confirmed that we'll be able to offer a non-foil Sol Ring promotional card with our one-day Command Zone packages!
Invitational Qualifiers (IQs)
Between now and the end of the year, dozens of local game store owners throughout the world will host Invitational Qualifiers (IQs) that offer their local communities a chance to directly qualify for the next Star City Games Invitational.
If qualifying for the next Star City Games Invitational isn't motivation enough, the Top 8 competitors at each 2020 Season One IQ will also receive this sweet Riders of the Apocalypse Series: Rotten to the Core playmat featuring artwork by Robson Michel, while all participants will receive a Food token featuring art from the same playmat!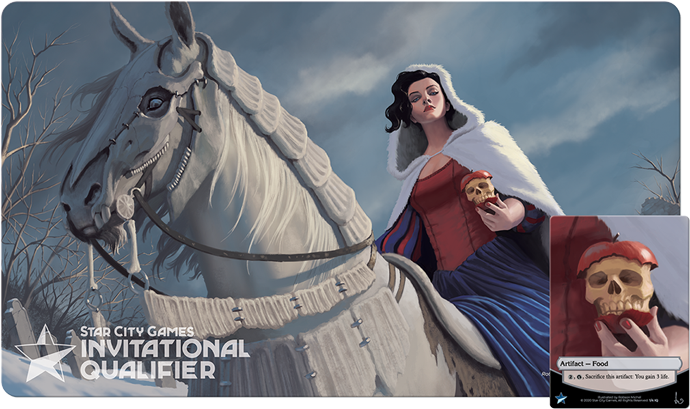 Want to see more IQs in your area? Ask your local game store owner to e-mail us, and we will try and work with them to make it happen!
Open Trials Return!
In order to bring all of our Star City Games Organized Play offerings under the same SCG Tour umbrella, we will be sunsetting our Game Night and Prerelease Playmat programs at the end of this year. Taking their place in our Organized Play hierarchy will be the return of our Open Trial program, which will offer fans a variety of sweet prize items, including a voucher that can be redeemed for free entry into an upcoming SCG Open or Classic!
In addition, we're excited to announce that Star City Games In-Store Programs organizers can once again combine both Invitational Qualifiers and Open Trials with other third-party Wizards of the Coast Organized Play offerings such as Players Tour Qualifiers in order to offer fans bigger and better Magic: The Gathering event experiences.
Want to see Open Trials in your area? Ask your local game store owner to e-mail us for more details!
Thank You!
As always, we welcome all constructive feedback, and will respond as much as possible on Twitter.
Thank you for your continued support of both Star City Games and the SCG Tour, and we look forward to seeing everyone this weekend in Philadelphia!
FAQ
Why isn't the SCG Tour coming to (insert city here)?
We take a lot of factors into account when scheduling SCG Tour events, including but not limited to venue availability, the potential for severe weather, other major events happening in a city at the time, the dates and locations of other major Magic: The Gathering events, and more. When combined, all of these factors can limit our options and prevent us from visiting certain cities within a particular season.
When is the SCG Tour coming back to the West Coast?
Unfortunately, significantly increased costs and logistical complexities currently make it infeasible for us to offer SCG Tour events in the western half of the United States. However, as new opportunities present themselves, we will revisit the possibility.
Why aren't there more (insert format here) Opens? Why are you running so many (insert format here) Opens?
Because the SCG Tour is entirely self-funded, we must strategically select Open and Classic formats that we believe will appeal to the largest number of players at the time and maximize the chances of each event being successful.
Why are some Open and Classic formats listed as TBA? When are they going to be announced?
We usually try to avoid confirming Open or Classic formats until the main event formats for MagicFests happening around that time have been officially announced. If an Open or Classic format is currently advertised as "TBA," that is most likely the reason why.
Please note that some SCG Tour and Star City Games In-Store Programs web pages and policy documents may have not yet been updated to reflect the changes contained within this announcement.