With a metagame that's growing increasingly hostile toward Izzet decks based around Alrund's Epiphany, a window could be opening for other decks to be successful. Naturally, you'll still have to go through numerous different green decks if you want to have a chance. The single card with the most individual chance for success is Blood on the Snow.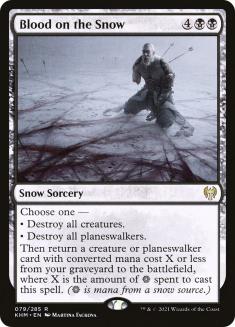 There will be a time when black midrange is well-positioned in Standard and Blood on the Snow will be the reason. Green decks aren't particularly equipped to handle maindeck sweepers, especially when they also put something like Lolth, Spider Queen onto the battlefield. So, what do we do with Blood on the Snow? Most decks start with the Treasure synergies and build from there.
You use the combination of these cards to accelerate your mana while also stemming early aggression. Overall, it's a tidy package that gives you things to do with your mana leading well into the late-game. Plus, the velocity means you'll typically be able to find whatever you need for any given situation.
The Treasures accelerate to your sweeper a turn early, which is commonly needed against aggressive decks. Six mana tends to be slightly too expensive otherwise, especially when you're on the draw.