After fourteen rounds of Swiss, the Top 8 of the Players Tour Finals has been determined. 145 players battled it out this past weekend to see who would go on to to play in the Top 8 this coming weekend and who would qualify for the Players Tour Grand Finals.
A mix of longtime pro players and fresh faces made the Top 8, where only four of the eight players are playing Wilderness Reclamation decks.
Ben Weitz, Four-Color Reclamation
Allen Wu, Temur Reclamation
Patrick Fernandes, Temur Reclamation
Riku Kumagai, Mono-Black Aggro
Michael Jacob, Mardu Winota
Kristof Prinz, Four-Color Reclamation
Raphael Levy, Azorius Control
Christoffer Larsen, Jund Sacrifice
To no surprise, Temur Reclamation and Four-Color Reclamation were the most played decks in the field, combining for just under 55% of the field on Day 1 and a staggering 60% of the field on Day 2. When you factor in Bant Ramp and Sultai Ramp, more than 74% of the Day 2 field consisted of Growth Spiral decks.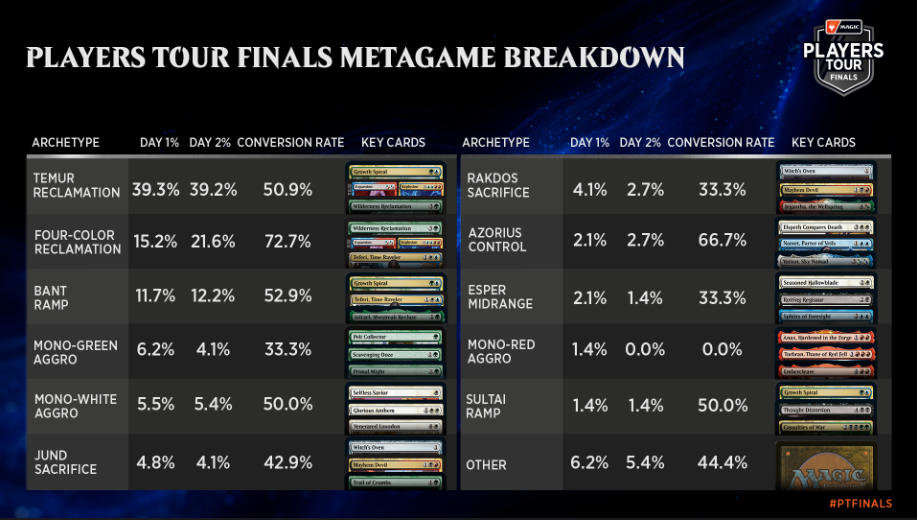 Despite the four Wilderness Reclamation decks in the Top 8, four other archetypes reached the elimination rounds: Mono-Black Aggro, Mardu Winota, Azorius Control (Yorion), and Jund Sacrifice.
Creatures (3)
Planeswalkers (4)
Lands (30)
Spells (23) Creatures (5)
Lands (29)
Spells (26) Creatures (28)
Lands (25)
Spells (7) Creatures (31)
Lands (25)
Spells (4) Creatures (4)
Planeswalkers (8)
Lands (35)
Spells (33) Creatures (24)
Lands (24)
Spells (12) The Top 8 will play out Saturday with a randomized double-elimination bracket with best-of-three matches. The Top 16 finishers from the Swiss also qualified for the Players Tour Grand Finals later this year. Joining the Top 8 are:
Piotr Glogowski
Autumn Burchett
Sam Sherman
Seth Manfield
Alvaro Fernandez Torres
Austin Bursavich
Ivan Floch
Eetu Perttula
View the Top 16 decklists.