Some in-store Prerelease events for Commander Legends may be cancelled, but you can still enjoy the excitement of one with Star City Games' Commander Legends Prerelease Party!
Next Tuesday, November 10, watch LIVE as a variety of fan-favorite Magic: The Gathering content creators gather (digitally of course!) to crack packs and discuss the most exciting cards!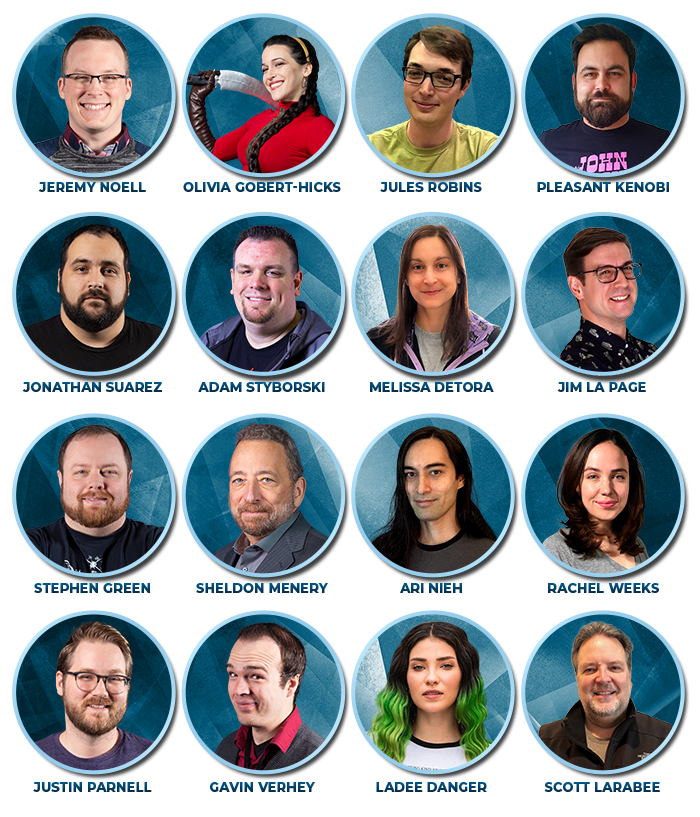 Jeremy Noell
When he's not ramping up his mana on Commander VS, Jeremy Noell is a guiding mind for all Star City Games video content.
Justin Parnell
Justin Parnell of Commander VS is the maestro of Mono-Black. When not playing 100-card decks, he is the Acquisitions Department Manager for Star City Games.
Stephen Green
On the set of Commander VS, Stephen Green is an agent of chaos. Outside the studio, he is a familiar face behind the Star City Games sales booth at major Magic: The Gathering events.
Jonathan Suarez
On Commander VS, Jonathan Suarez is "All Gold Everything." Beyond Commander, he has four Star City Games Open Top 8s, including a win with his beloved Legacy Painter deck.
Sheldon Menery
Sheldon Menery is the creator of the Elder Dragon Highlander (EDH) format, co-founder of the Commander Rules Committee and host of The Command Chair and Commander Community video series.
Scott Larabee
Scott Larabee works for Wizards of the Coast (WotC) as Esports Tabletop Operations Manager. Away from the top levels of competition, he was on the development team for Commander 2020 among other sets and is also a member of the Commander Rules Committee.
Olivia Gobert-Hicks
Olivia Gobert-Hicks began cosplaying in 2016, focusing exclusively on Magic: The Gathering characters such as Breya, Teysa, Liliana, and Drana. A member of the Commander Advisory Group, she is also a jeweler and metalsmith whose Magic-themed pieces transform fandom into wearable art.
Adam Styborski
Adam "Stybs" Styborski is an Esports Content Specialist for WotC. A longtime presence in Magic: The Gathering coverage, he also created the Pauper Cube and currently serves as a member of the Commander Advisory Group.
Gavin Verhey
Gavin Verhey is a Senior Game and Product Designer for WotC. A former Pro Player and content creator, in 2010 he innovated the "Overextended" format, a precursor to Modern, and was hired by WotC the next year.
Jules Robins
Jules Robins is a Senior Game Designer for WotC. Before joining the company, he spent several years as a columnist for Magic: The Gathering third-party sites, writing about Commander and game design.
Melissa DeTora
Melissa DeTora is a Game Designer for WotC. Prior to joining the company, she was among the most notable Magic: The Gathering pros of the early 2010s, including a Grand Prix finals appearance and a Top 8 at Pro Tour Gatecrash in 2013.
Ari Nieh
Ari Nieh is a Game Designer for WotC. Winner of The Great Designer Search 3 in 2018, he designed the Secret Lair Drop Series: Extra Life set and contributed to the development of Core Set 2021 among other projects.
PleasantKenobi
Vincent "PleasantKenobi" Chandler is a British streamer and video content creator. Best known for his humorous content, he is notable to Commander fans for his Commander Clash appearances.
Jim La Page
Jim La Page is a member of The Spike Feeders, a Canadian Commander collective noted for its YouTube gameplay videos, podcasts, and deck techs. A cEDH fan, Jim is also a Level 1 judge.
Rachel Weeks
Rachel Weeks co-hosts The Command Sphere, a weekly comedy podcast about Commander. Away from the table, she is a stand-up comedian and a graphic designer with a flair for stained-glass motifs.
Ladee Danger
Ladee Danger is a Magic: The Gathering streamer, cosplayer, and Twitch Partner. Her Commander skills have led to multiple appearances on many popular MTG channels and programs such as Game Knights.
Watch this exciting event LIVE at twitch.tv/starcitygames on Tuesday, November 10 at Noon ET (9 AM PT), and get ready for Commander Legends!