Courtesy of Wizards of the Coast (WotC) and Andrea Mengucci, check out the return of one of Magic's most popular mana creatures, this time with new art and a Showcase frame — Noble Hierarch!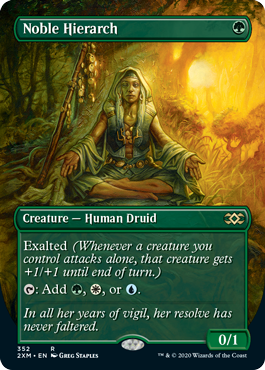 Originally printed in Conflux, with reprints in Modern Masters 2015, Ultimate Masters, Ultimate Box Toppers, and as a Regional PTQ Promo Foil, Noble Hierarch hit the ground running in Conflux Standard and has been a format staple in every format it has been legal in since, most notably in Five-Color Humans in Modern and Simic Infect in Legacy.
Despite several reprintings, Double Masters will be the first time Noble Hierarch has received Magic's new Showcase frame alongside new art illustrated by longtime Magic artist Greg Staples.