Gavin Verhey kicks off the new year with a story of the most meaningful card he has designed on today's episode of Good Morning Magic.
Verhey most meaningful card design started more than 25 years ago, unbeknownst to even him, when he pitched the idea of a bear snake Halloween costume to his mom when he was five. She helped make the costume he wore that year and later shared on social media, leading to fans of his making gear with an image of the bear snake on a shirt, plushie, clay figurine, and art of many kinds.
When Mystery Booster playtest cards became a thing, Verhey decided to honor his mom by making a creature that boasted the bear snake type line. He even drew the art by hand. Check out Experiment Five: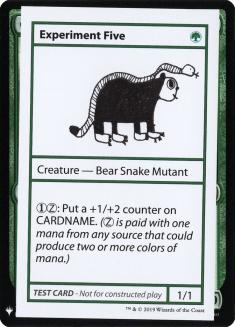 Verhey went on to give his mom a display with the card, original art, and the photo of him in the bear snake costume.