With Commander Legends previews in full swing, Gavin Verhey used today's episode of Good Morning Magic to talk about how monarch returned in the latest set and showed off a fancy reprint.
Verhey highlighted how monarch does two great things for multiplayer games and why it made the cut for Commander Legends. Monarch makes sure the game keeps moving by influencing players to attack and then keep attacking to continue gaining card advantage. It also helps that monarch was widely well received after its introduction from Conspiracy: Take the Crown.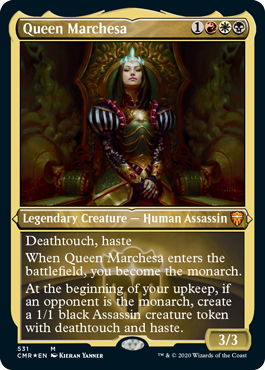 Speaking of Conspiracy: Take the Crown, check out the return of Queen Marchesa in the special foil etched version. Queen Marchesa, one of the beloved original monarch cards, is back in booster packs and the special treatment variant can be found in draft boosters and collector boosters.