Five of some of the most rare Magic: the Gathering cards ever made will be up for grabs soon according to a post from Mike Linnemann, known as Vorthos Mike on Twitter and in the Magic community, on the Facebook group MTG Rarities: Major Misprints, Test Prints, Oddities.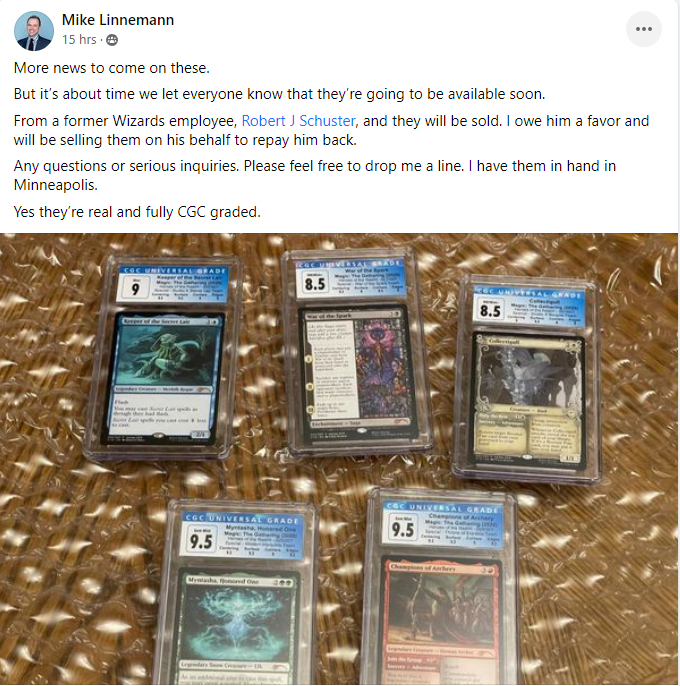 The cards that are up for sale are five of the 2021 Heroes of the Realm custom black-bordered cards created specifically for Wizards of the Coast (WotC) employees. Cards given to an employee are custom printed with the employee's name on them. The cards have special backs with the Heroes of the Realm logo. Gavin Verhey made an episode of Good Morning Magic in April talking about Heroes of the Realm cards and shows off his five versions of the cards that happen to match those shown above.
The cards posted above are the only copies of the cards in existence with Robert Schuster's name on them. The five cards are:
Collectigull
Keeper of the Secret Lair
War of the Spark
Champions of Archery
Myntasha, Honored One
The Heroes of the Realm cards have black borders but aren't tournament legal and are designed to be read, not played. The recipients of the cards work on certain projects at WotC and are chosen by the WotC executive team. The winners can help design the unique cards. Schuster, a former WotC employee, now works at Bungie on Destiny 2. Schuster is having Linnemann handle the selling of the cards and Schuster will use the profits to help upgrade his family's house to be wheelchair accessible for his daughter.
The news of the cards going up for sale traveled to Twitter as well, where both Linnemann and Schuster confirmed the authenticity of the cards. In fact, the cards are graded by CGC Universal Grade with two graded at 9.5, one a 9, and two at 8.5.
Schuster also commented in the Facebook thread, stating that he believes they are the only graded set that exists.

It's unclear how the selling of the cards will be carried out, whether they go up for auction or will be sold as a group or individually. The Facebook thread suggests that Linnemann is hearing offers on particular cards in private so far and no cards have been sold yet. The potential prices for the cards are tough to predict, but a member of the group mentioned that a copy of Nira, Hellkite Duelist, a Heroes of the Realm card from 2017, was sold for $35,000.