Courtesy of Wizards of the Coast (WotC), take a look at two popular sideboard cards returning with timeshifted frames in Time Spiral Remastered — Dovin's Veto and Rakdos Charm!
Dovin's Veto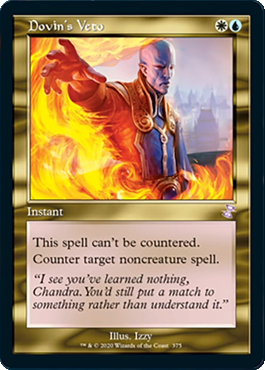 Previewed by Card Kingdom, Dovin's Veto was originally printed in War of the Spark and established itself as a strong sideboard card, especially for control mirrors. Dovin's Veto has been printed twice, with the third coming in Time Spiral Remastered.
Rakdos Charm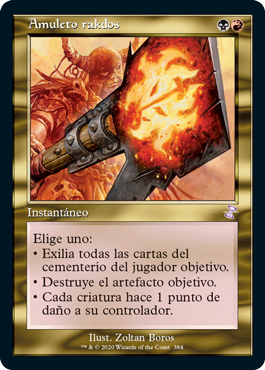 Previewed by Makorito, Rakdos Charm is considered by many to be one of the best charms printed in the Return to Ravnica Charm cycle. While it didn't see much play during it's time in Standard, Rakdos Charm shines on in the sideboards of Eternal formats and beyond. Rakdos Charm has been printed three times with the fourth coming in Time Spiral Remastered.
Time Spiral Remastered is currently scheduled to release on March 19, 2021. You can check out our official Time Spiral Remastered preview gallery here.