Courtesy of Wizards of the Coast (WotC) and Best Marmotte, check out two cards getting their first showcase frames in Double Masters — Crop Rotation and Council's Judgment!
Crop Rotation, a common from Urza's Legacy, went more than sixteen years without a reprint until Duel Decks: Nissa vs. Ob Nixilis was released in 2016. The Legacy staple in decks like Lands and Infect has also been a longtime Commander all-star.
Lands (34)
Spells (26) Creatures (13)
Lands (20)
Spells (27) While it has had foil versions available, Double Masters is giving its first showcase treatment in the form of a borderless box topper.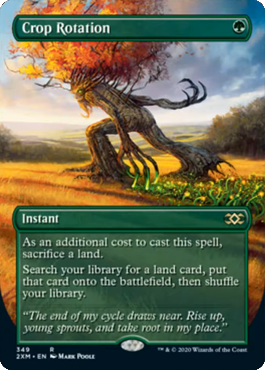 Council's Judgment, originally from Conspiracy: 2014 Edition, is getting its first reprint in Double Masters. It grew in popularity thanks to it being an answer to True-Name Nemesis in Legacy, popping up in Miracles and Death and Taxes. With its wording, Council's Judgment allows players to answer hexproof and other hard-to-interact-with cards in Commander.
Planeswalkers (4)
Lands (24)
Spells (32) Creatures (26)
Lands (23)
Spells (11) Much Like Crop Rotation, Council's Judgment is also getting its first showcase frame as a box topper.