Last month, WotC revealed their plans for the return of the Pro Tour and their new tabletop Premier Play structure. Today, they've detailed the paths to the Pro Tour and World Championship through MTG Arena And Magic Online.
MTG Arena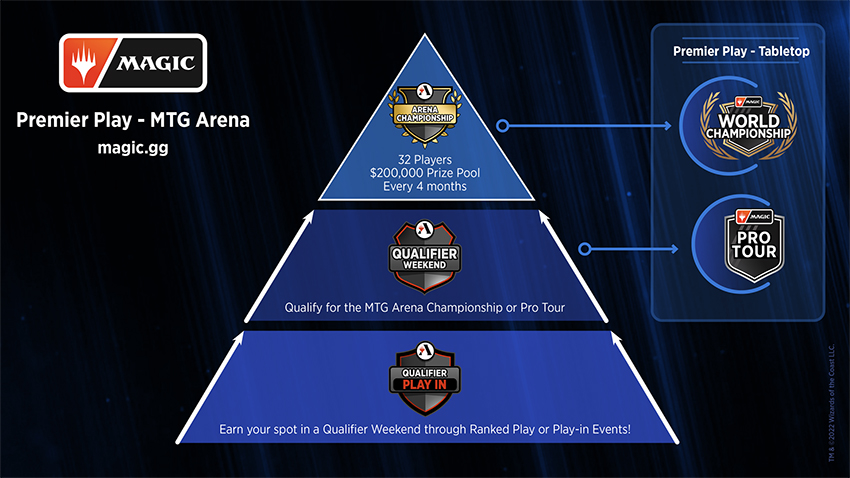 Under the new structure, ladder play for the purpose of qualification will be "de-emphasized", so that players who "play daily or only once in a while" can have equal chances to compete. The three steps in this process are as follows:
Ladders and Qualifier Play-In events
Qualifier Weekend events
Arena Championships
Qualifier Play-In events
Qualifier Play-In events allow players to "earn their seat through a single session of focused play, rather than a month-long ladder climb." There will be two opportunities each month to qualify:
"A single-day, Best-of-One Qualifier Play-In takes place one week before the Qualifier Weekend. Players will need to reach six wins before taking two losses to advance.
A single-day, Best-of-Three Qualifier Play-In takes place one day before the Qualifier Weekend. Players will need to reach four wins before taking one loss to advance."
Ladder Finish
Players who finish Top 250 Mythic in either Constructed or Limited will earn "automatic entry into the next month's Qualifier Weekend" while those who finish outside the Top 250 but with in the Top 1200 will receive "enough Play-In Points for one entry to a Qualifier Play-In event…".
Qualifier Weekends
There will be four Qualifier Weekend events feeding into each MTG Arena Championship. Mimicking the previous system, these events will consist of "two days of Best-of-Three matches in a shared format…" where players will compete to reach "…seven match wins before taking two match losses on each day." You can view the reward structure below.
"Players can win up to 20,000 gems in prizes on Day 1, with those who reach seven wins also earning the ability to continue into Day 2.
Players who win seven matches during Day 2 qualify for an Arena Championship. This is in effect starting with the very next Qualifier Weekend event taking place on May 28–29.
After all Qualifier Weekends that feed an Arena Championship are complete, additional players will be invited to bring the event to 32 competitors. These remaining invitations will go to players with the most total match wins in those contributing Qualifier Weekend Day 2 events.
Beginning in September, in addition to feeding Arena Championship events, Qualifier Weekends will also lead to tabletop play. Players who reach seven wins during Day 2 will qualify for both an upcoming Arena Championship on MTG Arena and a designated upcoming Pro Tour!"
Arena Championship
The Arena Championship is the new pinnacle of competitive play on MTG Arena. It will feature "32 top players, determined by four months' worth of competitive ladder and event play, competing for a $200,000 prize pool." The "three winners and three runners-up" of the Arena Championships will secure a spot in the tabletop World Championship.
Magic Online
The structure of high-level events on Magic Online will remain the same, however events will now feed into the World Championship, Pro Tour, and Regional Championships.
Beginning with the current 2022 Magic Online Champions Showcase Season 2, players who "qualify for the final eight-player Showcase event will also earn invitations to the Pro Tour." Additionally, both the winner and the runner up will receive invites to the World Championship in 2023.
Qualifiers and Super Qualifiers will also now provide "invitations to the next Regional Championship event."
Read the original article from Wizards of the Coast.