The official preview season debut of Wilds of Eldraine kicked off Tuesday, and wow! Wizards of the Coast (WotC) showed us so many cool cards to whet our appetite for the upcoming new set. I'm still planning on doing one of my usual Commander "deep dives" on Monday, but today I thought it would be fun to share my initial thoughts on what we saw Tuesday. Let's jump in!
The Witches
In the story, our heroes Kellan and Rose are tasked with a quest—to defeat the three witches that brought the Wicked Slumber. It's awesome to see each of the three witches depicted on Magic cards as legends we can potentially build Commander decks around. It's cool that the witches are different colors and are each so different, with only one having what we'd consider the "evil" color of black.
I'm most excited about Agatha of the Vile Cauldron, which is no surprise given how much of a Gruul kick I've been on these past few years, but all of the witches are really cool build-around cards.
Agatha is sending you on a deck-building quest in two steps: boost Agatha's power (I'm immediately thinking Rancor here), and then discount creatures with really cool activated abilities. Cards like Walking Ballista, Steel Hellkite, Brash Taunter, and Soulbright Flamekin spring to mind, but digging deep for obscure creatures will be fun.
Eriette of the Charmed Apple wants you to build around Auras to enchant other players' creatures. The Impetus cards like Parasitic Impetus seem like a great way to start, since they'll still keep you safe even if an opponent kills Eriette. I also love Dead Man's Chest, and this seems like a great deck for it.
Hylda of the Icy Crown nicely evokes one of Magic's iconic "tap a creature" cards, Icy Manipulator, and wants to "ice" opposing creatures. Opposition will be a slam dunk here, but it'll be a challenge to build a fun Hylda deck that isn't super-frustrating to play against. Might Hylda be a better cEDH-style deck?
Adventures from the Command Zone
These potential commanders have an Adventure side to them, which is really cool. If you're wondering exactly how that works, I'm here to help.
First, you can indeed cast the Adventure from the command zone, which will then give you a choice: you can either exile the creature to cast later for its mana value, or put it back into the command zone if you'd like to cast the Adventure again. Casting the creature side from exile due to the Adventure ability does not demand any commander tax, so Beluna and Kellan will always just cost three mana when cast from exile from Adventure. Commander tax will apply no matter which side of the card you cast from the command zone. Basically, it works as you think it should without thinking too deeply about it!
We've had a couple of options for Adventures-matter commanders with Gorion, Wise Mentor and Lozhan, Dragon's Legacy, but it's nice to get a Temur option with Beluna Grandsquall. I'm curious to see if we have enough good Adventures to fill out a deck where the Seek Thrills Adventure will nab two cards often enough; I imagine the play pattern will be to cast Seek Thrills first from the command zone, and then once Beluna ends up back in the command zone, you're already at the five mana you'd need to just cast Beluna Grandsquall.
Kellan is an interesting design. We've no end to good commanders for a Boros Equipment deck, so I imagine Kellan will slot into the 99. But several other legendary creatures in Boros mention both Equipment and Auras, so a deck that cares about both types of cards may prove interesting. We'll want to watch for good cards that add Roles to creatures, since Roles are Aura tokens.
The Twins
I really like the design of the twins, mirror images of each other and reflecting the different paths they take in the story, with Rowan walking to the dark side. Rowan is a 4/2 with menace, while Will is a 2/4 with vigilance. Their activated abilities are quite potent if you build a deck around them to help enable them.  For Rowan, a Rakdos deck where you pay life for an effect can get that payoff easily; Exsanguinate springs to mind!  And for Will, there are plenty of ways for an Azorius deck to gain a bunch of life, letting you cast something like Sphinx's Revelation for a big discount.  I'm really looking forward to seeing what people brew up for each of these cards!
Bargain
The bargain mechanic is a really cool way to trade an extra resource for a more powerful effect. Between Roles and Food, there should be plenty of extra artifacts or Auras running around if you're sticking your build to a mostly Eldraine theme, but the Commander card pool offers a lot more options with Treasures and other tokens. Bargain feels a lot like casualty, but bargain won't let you sacrifice a creature that's just a creature, and I like that it pushes your deck design in a different direction.
Of the bargain cards revealed so far, Realm-Scorcher Hellkite catches my eye for Commander. A 4/6 Dragon with flying and haste is decent enough for six mana, but it's awesome that its bargain ability gives you back four mana, in any color combination that you want. You can use that mana to feed Realm-Scorcher's activated ability or for anything else you want.
Okay, now I'm going to move into individual cards that caught my eye.
Lich-Knights' Conquest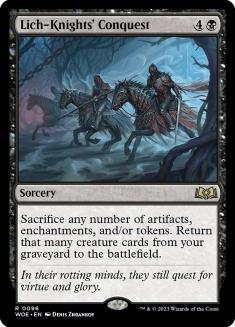 This reanimation spell is a sort of "super-bargain" card that won't actually do anything if you don't have artifacts, enchantments, or tokens to sacrifice. Why, yes, I'd love to sacrifice my Solemn Simulacrum to Lich-Knights' Conquest! Any artifact creature deck with access to black seems like it would love this card. It occurs to me that Liquimetal Torque and Liquimetal Coating are excellent ways to help ensure you have artifacts to use with bargain and this card.
Stroke of Midnight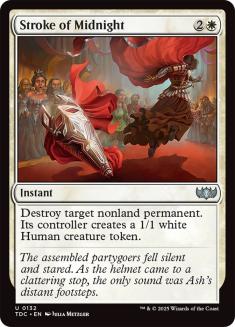 When I first saw Stroke of Midnight, I shockingly thought, "Whoa, they made a strictly better Generous Gift!" But careful comparison between the two shows the difference: Generous Gift can target a land, while Stroke of Midnight cannot. This makes sense; Stroke of Midnight is a Standard card, while Generous Gift never was printed in a Standard set, and nobody wants a three-mana instant Stone Rain in Standard!  In Commander, though, I can see Stroke of Midnight getting played right alongside Generous Gift, since that level of flexibility is incredible. 
Restless Cottage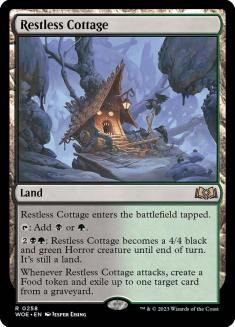 I've long been a big fan of creature-lands, and this one is incredible both for what it does and for how it looks, especially the borderless version with art by Sergey Glushakov!  Becoming a 4/4 creature that generates a Food and exiles (if you choose) a card from a graveyard when it attacks—sign me up! 
Virtue of Knowledge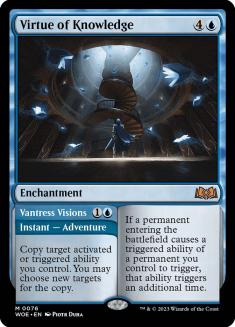 It looks like there's going to be a cycle of Virtues, but the first one we see is Virtue of Knowledge.  This is another spin on the Adventure mechanic, but attached to a noncreature permanent, in this case an enchantment. I have to say, having yet another Panharmonicon-style effect definitely makes it feel a lot less special. I mean, in just 2023 alone we've had Elesh Norn, Mother of Machines and Gandalf the White.
Greta, Sweettooth Scourge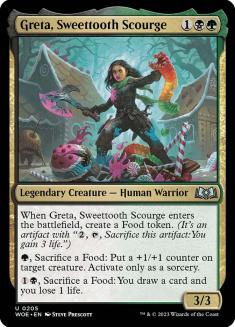 The Lord of the Rings: Tales of Middle-earth and Middle-earth Commander decks brought a bunch of new Food cards to Commander. Wilds of Eldraine looks to continue that, with Greta, Sweettooth Scourge turning Food into other resources. I'm not sure that she's going to make the best Golgari Food commander – that honor probably rests with Gyome, Master Chef – but I definitely think she should find a place in the 99 of a Gyome deck.
Elvish Archivist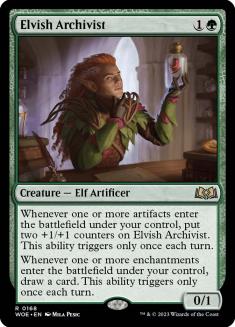 What an odd little card. It grows from artifacts entering your battlefield and will draw you a card from enchantments entering your battlefield, but both abilities are gated to trigger just once per turn. It obviously works alongside Food and the Role Auras, and Elvish Archivist needs to have both going on, or some other artifact and Aura action, to really be worth a slot.
Decadent Dragon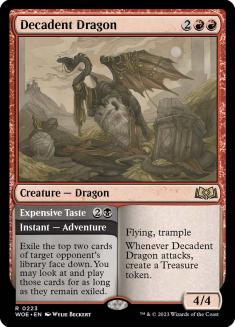 Here's another spin on the Adventure cards, where the Adventure is a different color from the base spell.  Notably for Commander play, the Expensive Taste Adventure is tough to use with remote play like Spelltable, since you're exiling two cards from an opponent's library face down. It's fun how the Decadent Dragon side of the card creates a Treasure token when it attacks, which will help you cast spells exiled with Expensive Taste of a color that you might otherwise not be able to cast.
Faunsbane Troll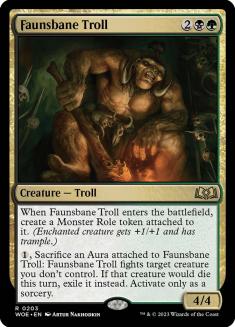 This feels a tad underpowered as a rare for Commander play, but it might surprise me. It is a sacrifice outlet for Auras in Golgari if you're in the market for it, and there are Auras in black and green you don't mind sacrificing: Rancor again comes to mind, but also Glistening Oil, Aspect of Mongoose, Fallen Ideal, and even Audacity.  You could use Demonic Embrace, sacrifice it, and cast it again from the graveyard.
Syr Ginger, the Meal Ender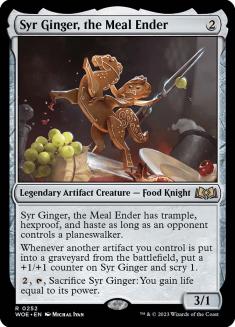 Syr Ginger, the Meal Ender is on a mission of revenge against the planeswalker who ate her love.  The flavor is fantastic here (pun intended), but I'm not entirely sure that she'll be awesome in Commander unless your meta is chock-full of planeswalkers.  Oathbreaker, on the other hand…
I will be putting this in my Gyome, Master Chef Food deck, where being both a creature and a Food is enough to warrant a slot. And if your deck sacrifices a bunch of artifacts for profit, Syr Ginger will grow in size and give you a scry 1 trigger each time.
The Goose Mother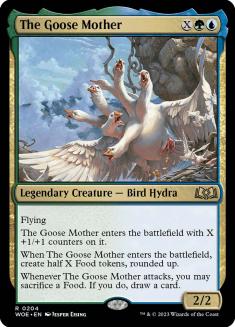 We'd seen the "Goose Hydra" art from Jesper Ejsing for a while, and I'm glad we got to see the actual card on Day 1!  Are you interested in splashing Food-matters cards into your Simic Hydra deck?  The Goose Mother might be the commander you've been looking for!  Otherwise, you definitely want to toss this in the 99 of your Zaxara, the Exemplary Hydra deck.
What cards from Wilds of Eldraine have caught your eye so far?