Weekly MTG Previews Cards From Warhammer Crossover, Double Masters 2022, And Showcase Big Teases For Future Sets
Blake Rasmussen and Harless Snyder teamed up to preview new cards, sets, and local game store promos from multiple upcoming Magic: The Gathering sets and products on a jam-packed episode of Weekly MTG.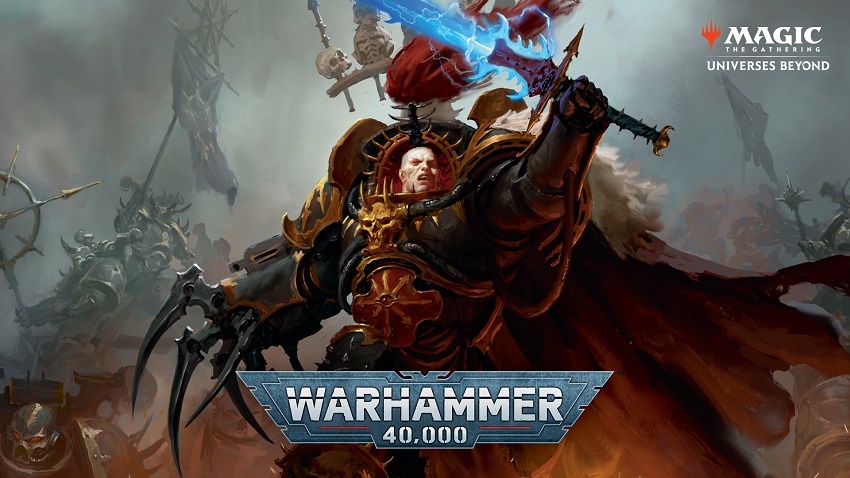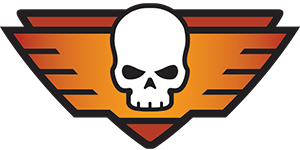 The duo kicked things off with the reveal of the four Commander Decks that are coming from the Magic: The Gathering's Universes Beyond Warhammer 40,000 collaboration. For the first time ever, the Commander Decks will also have Collector's Edition versions. There will be a special never-before-seen foil treatment, called surge foils, which was not previewed today. The Warhammer 40,000 crossover will also feature three Secret Lair drops that were only teased.
Check out the names and packaging of the four Commander Decks below.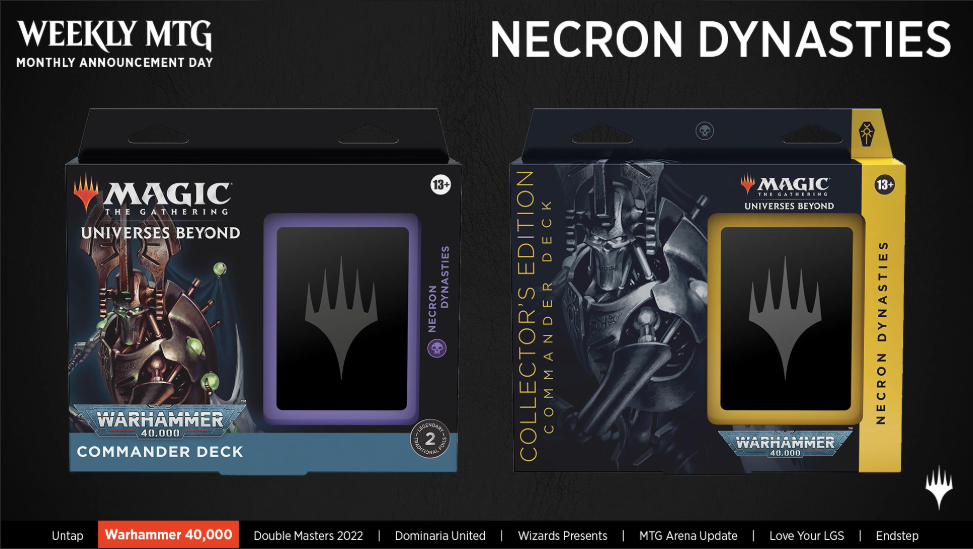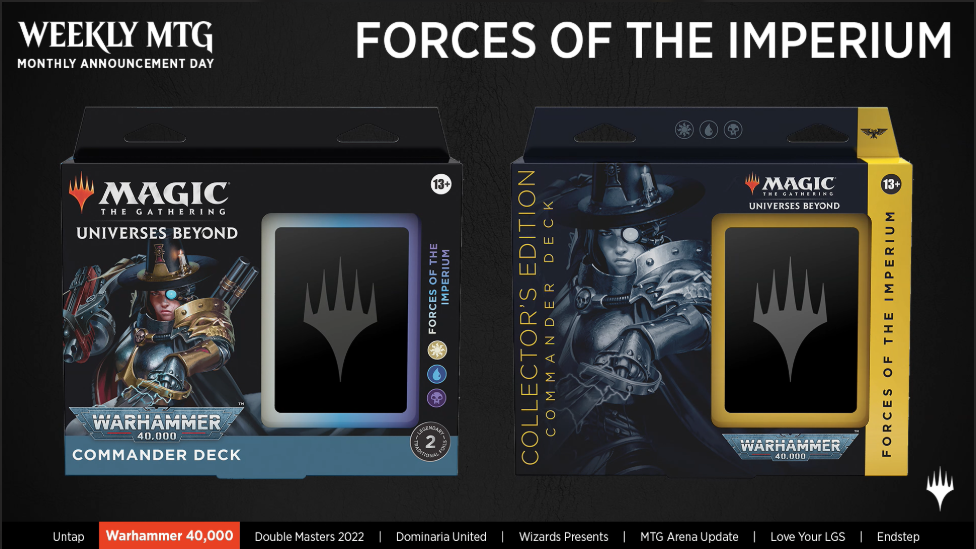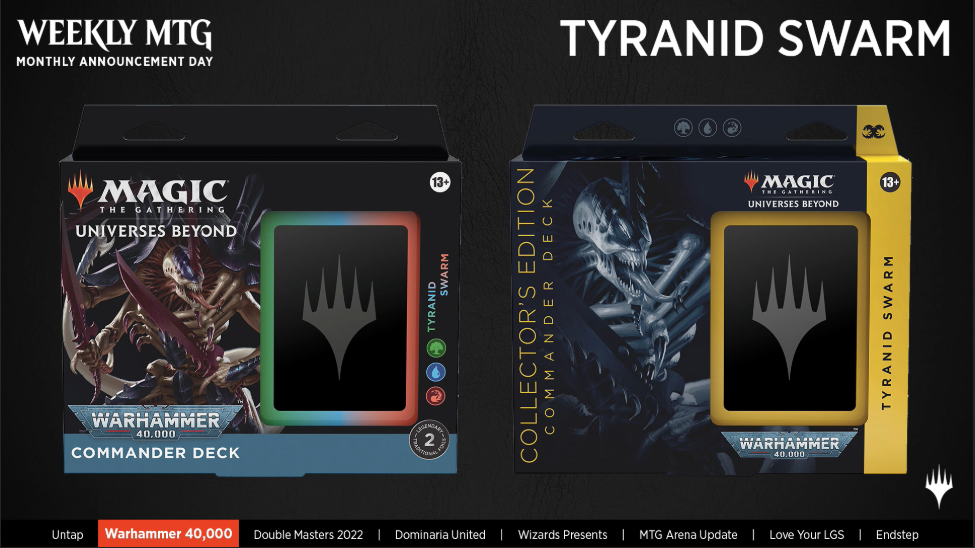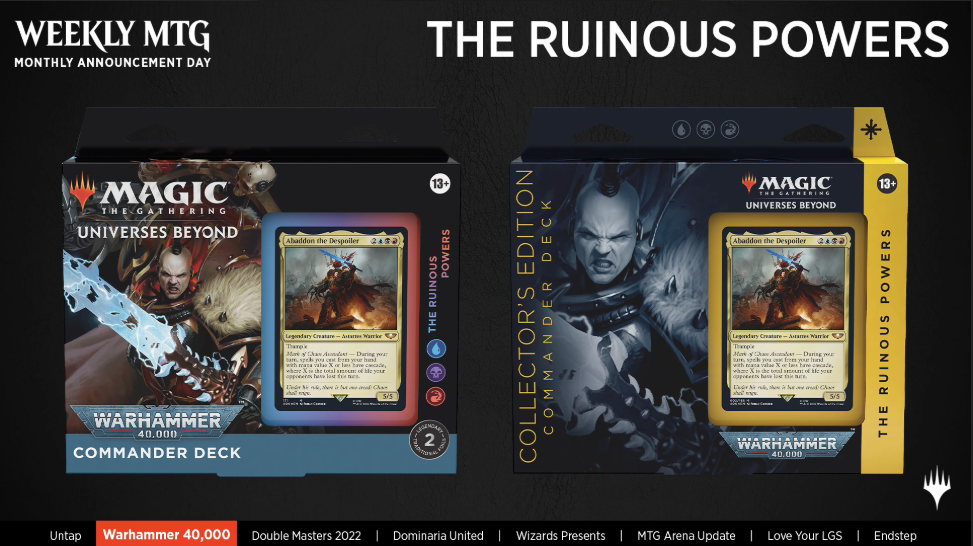 The Ruinous Powers deck is the only deck that featured a preview card, check out Abaddon the Despoiler.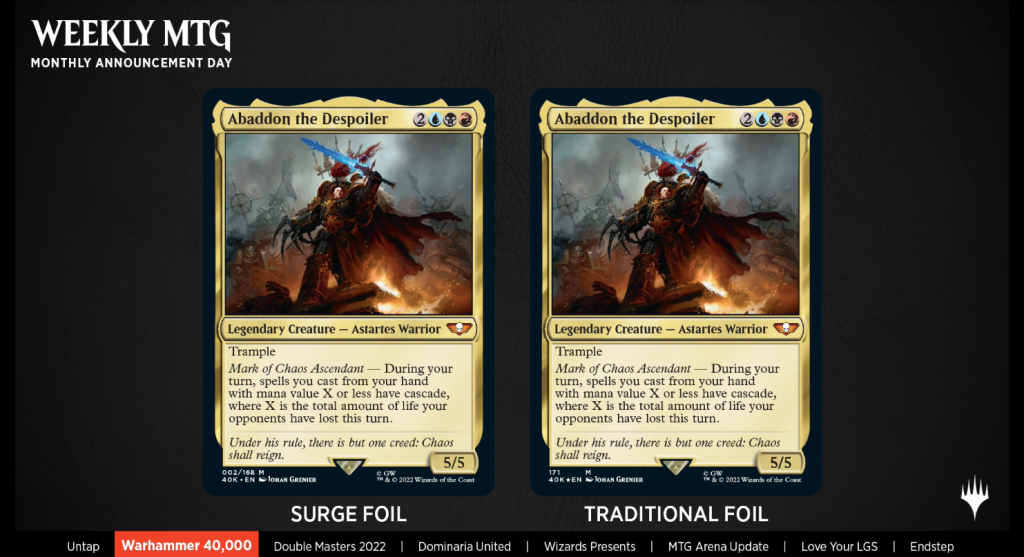 Abaddon, along with other cards from the decks, features flavor words, similar to cards from Adventures in the Forgotten Realms.
Three other flavorful previews from the crossover include: Blood for the Blood God!, Vanguard Suppressor, and Fabricate.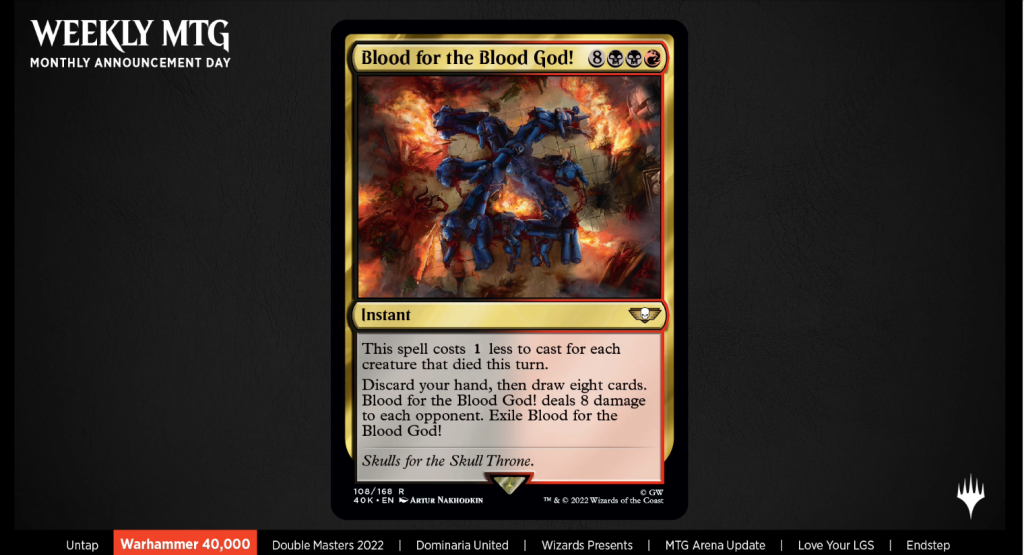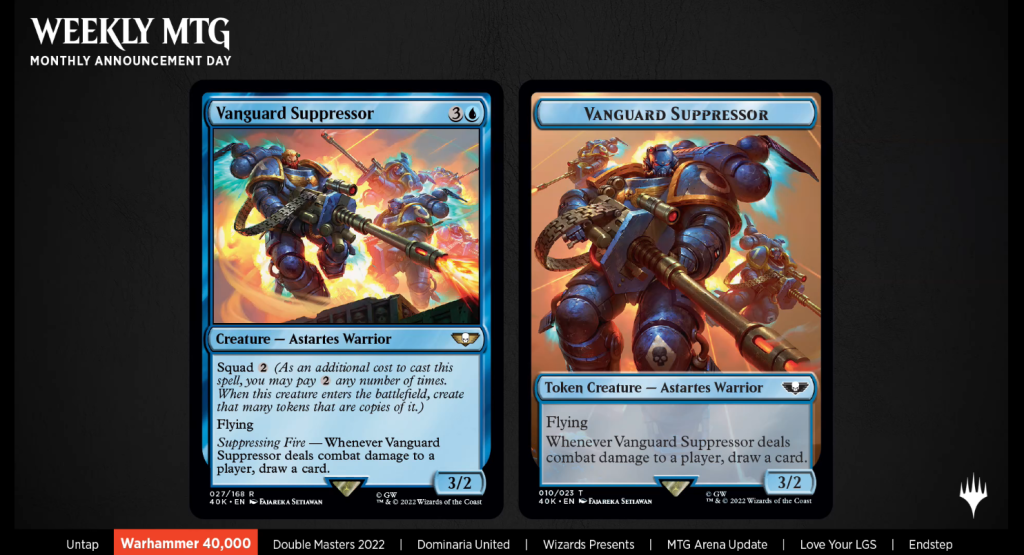 Fabricate shows off a reprint with Warhammer-themed art.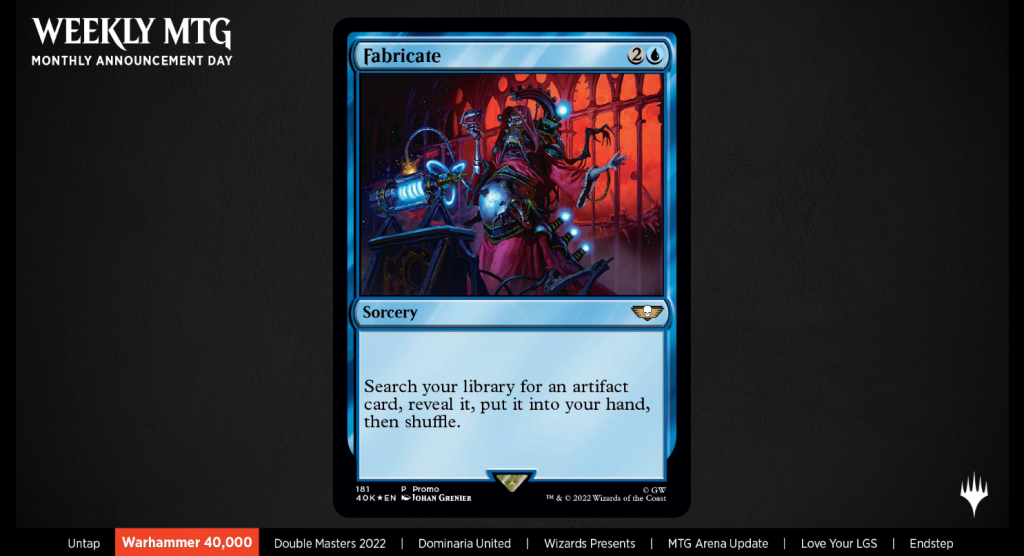 The Secret Lair drops will be named:
Secret Lair x Warhammer 40,000: Orks
Secret Lair X Warhammer Age of Sigmar
Secret Lair X Blood Bowl
Previews will begin on July 26 with the worldwide release coming on August 12. More details on the Warhammer crossover can be found here.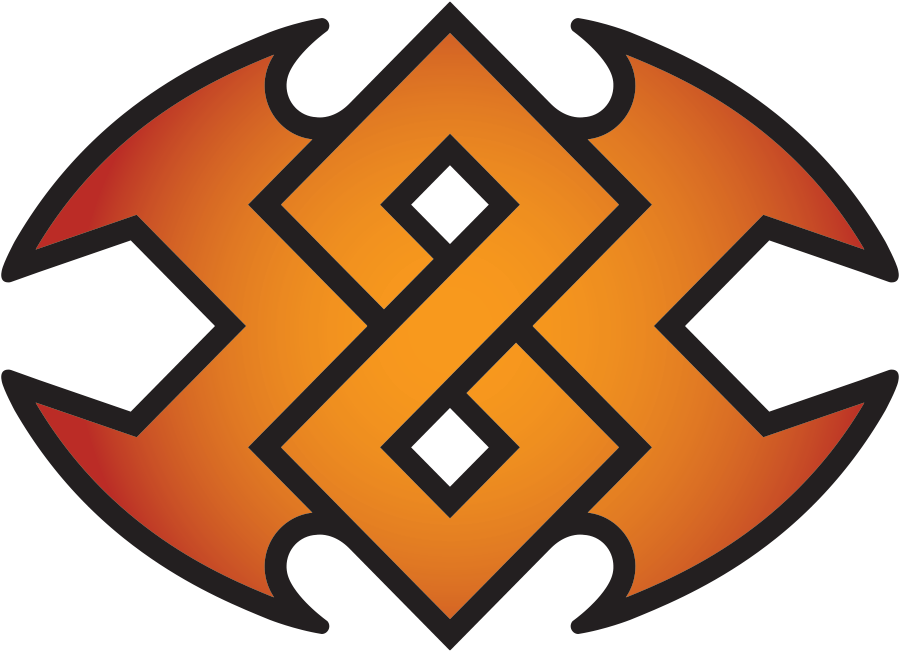 Double Masters 2022 was the second dish in the Weekly MTG sampler. Previews begin on June 16 and the full image gallery will be available on June 24. WPN Premium preview events are set for July 1-7 with the worldwide release coming on July 8. The set will follow the script for the first Double Masters, with each pack including two rares or mythic rares and two foil cards.
Double Masters 2022 will offer a new foil treatment — the textured foil. Borderless cards will receive the new foil treatment. Take a look at some previews including: Kozilek, Butcher of Truth, Wrenn and Six, and Lilliana, the Last Hope.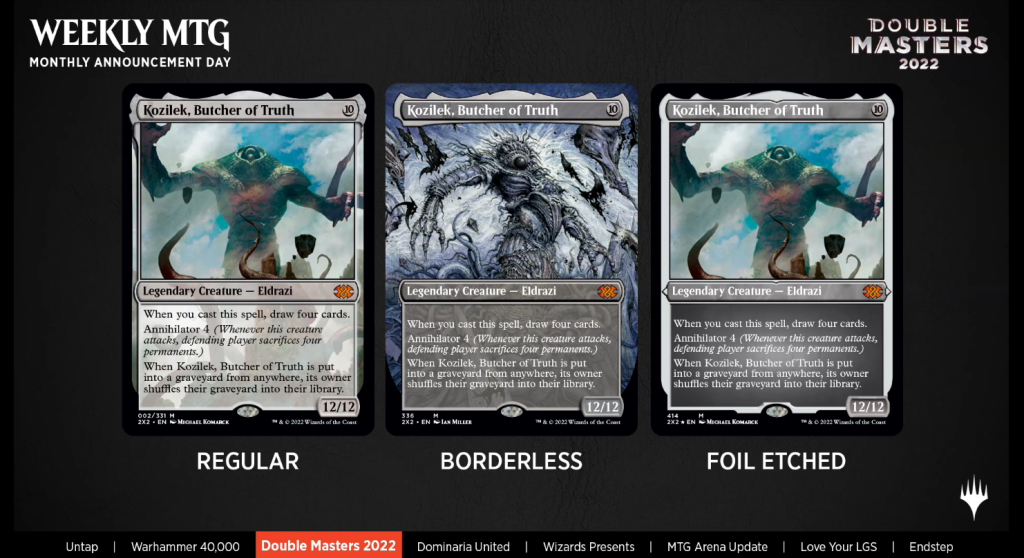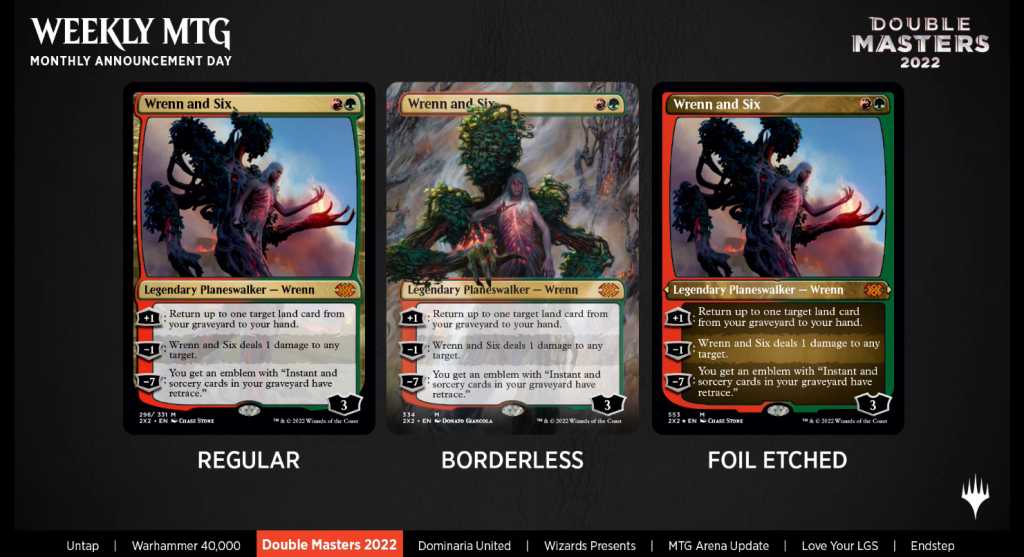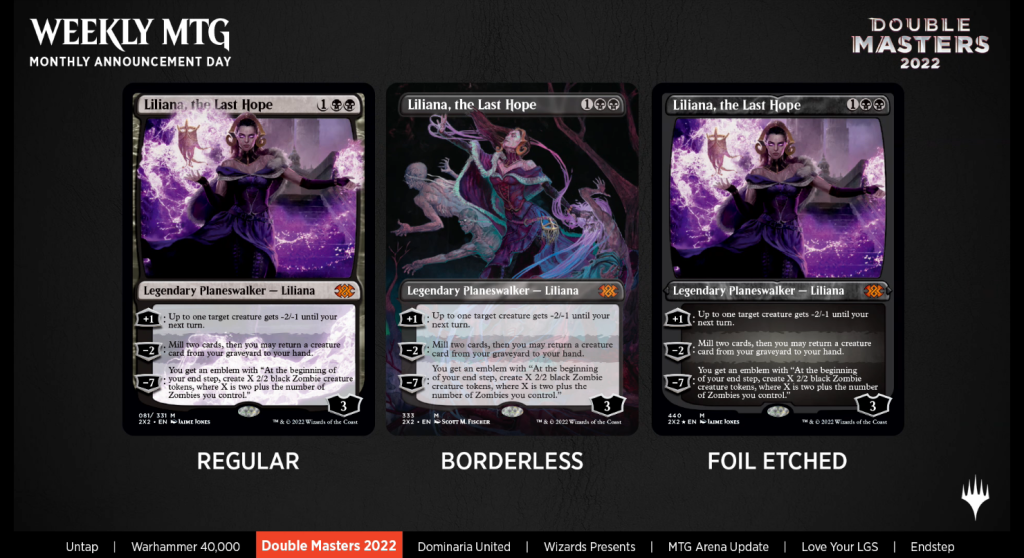 The first look at the textured foil cards can be seen on Liliana, the Last Hope.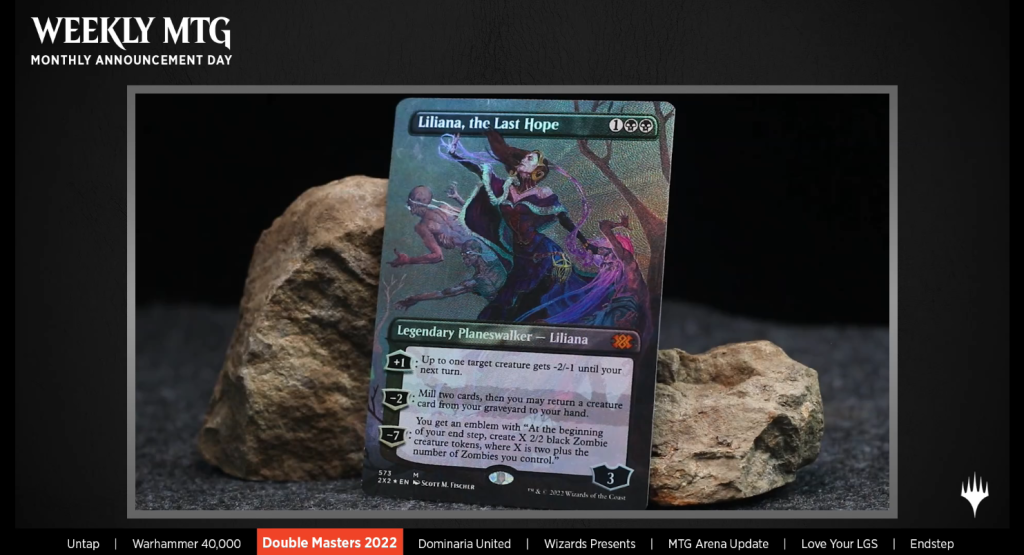 Weathered Wayfarer and Bring to Light will get special release promo art.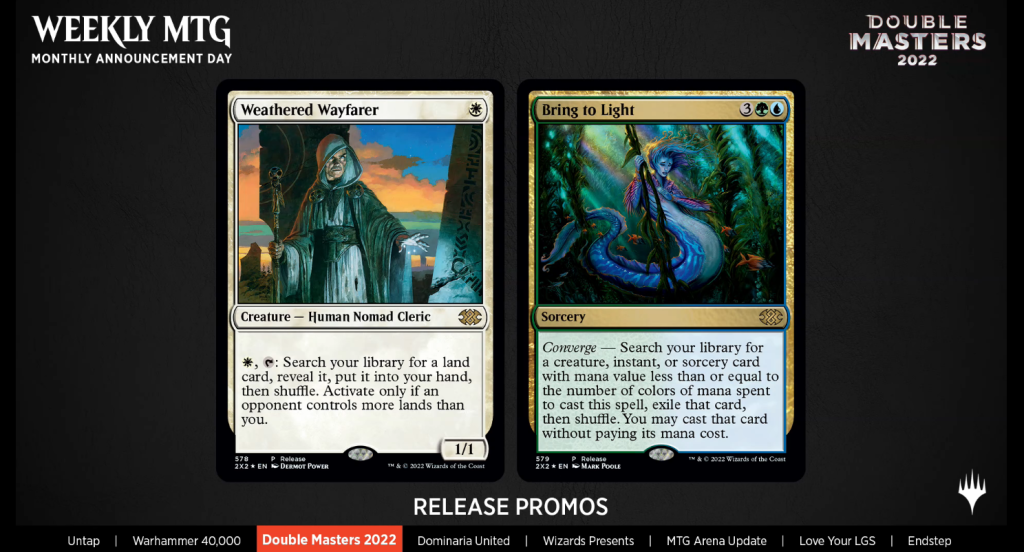 Double Masters 2022 will come in Draft Boosters and Collector Boosters.

Dominaria United will start the celebration of Magic's 30th anniversary with a return trip to the game's home plane. The set will launch a story arc that will carry out over four sets and determine the fate of Dominaria.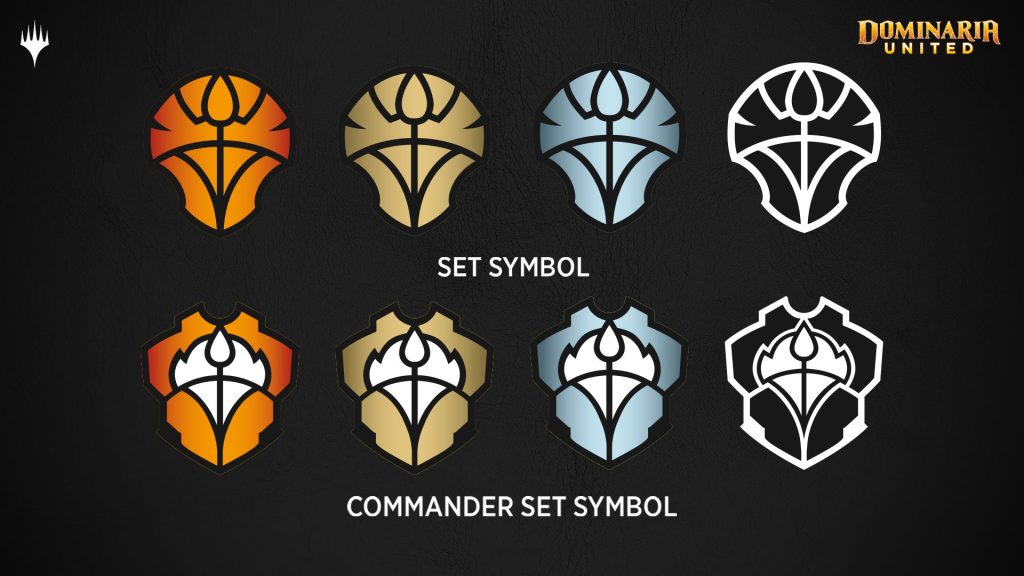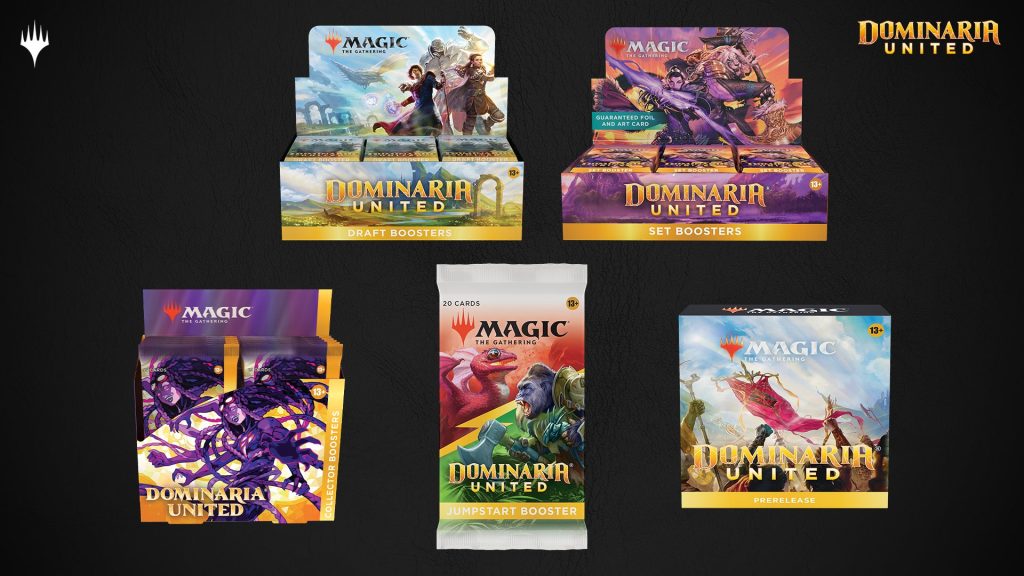 Dominaria United will also bring back Jumpstart, which will become a permanent feature of each new MTG set going forward. Jumpstart booster packs will replace theme boosters.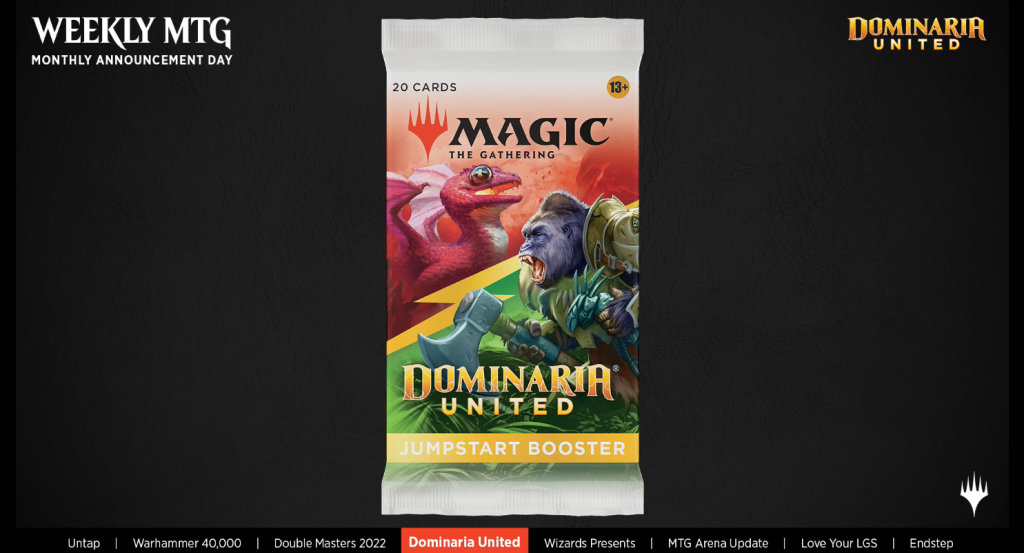 Dominaria United prerelease events are set for September 2-8 with the worldwide release on September 9.
Of course, what would a MTG announcement day be without another scheduled announcement? August 18 will be Wizards Presents, a special announcement date that will cover all things Wizards of the Coast (WotC). Mark your calendars now for a day full of previews.
MTG Arena got its own preview from the Weekly MTG stream, a teaser of Alchemy Horizons: Baldur's Gate. The fully draftable set aimed for Alchemy and Historic play launches on the client on July 7.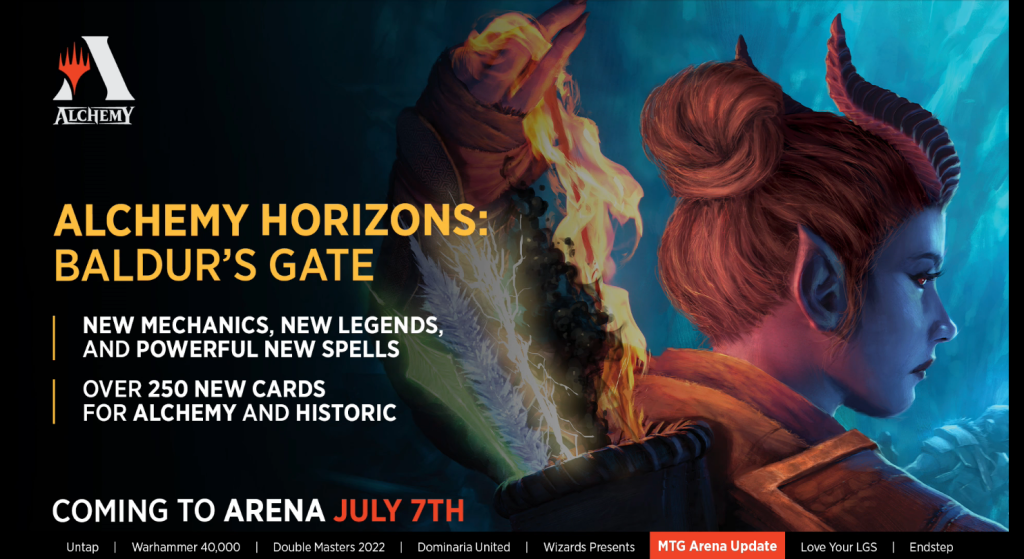 More love is coming to local game stores as well. Similar to last year's Fabled Passage promo, the Love Your Local Game Store promo this year will be a retro frame, foil Sol Ring. Spend $50 at your local game store on Sealed Magic products and receive the retro frame card with its more recent art.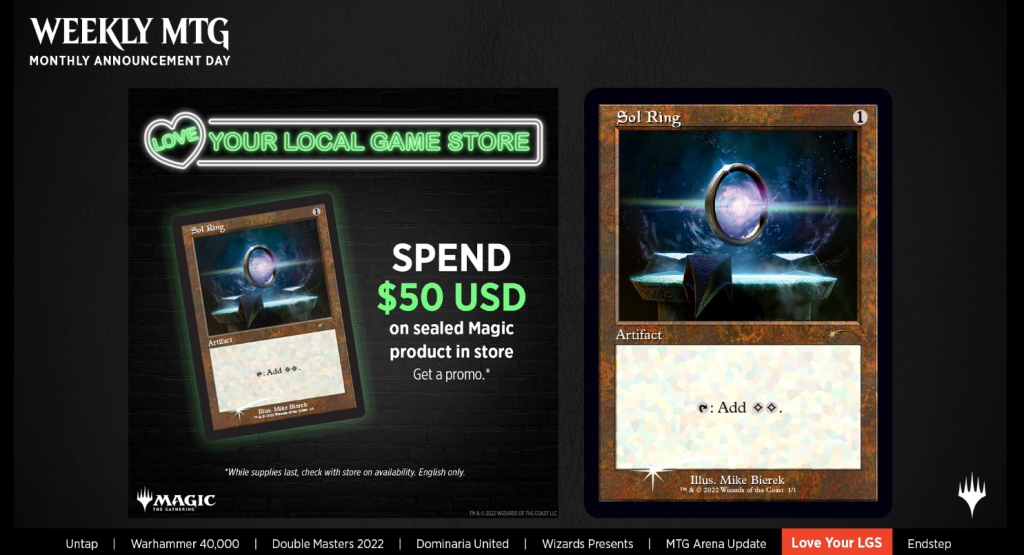 Also coming to LGS are these fancy Store Championship promos.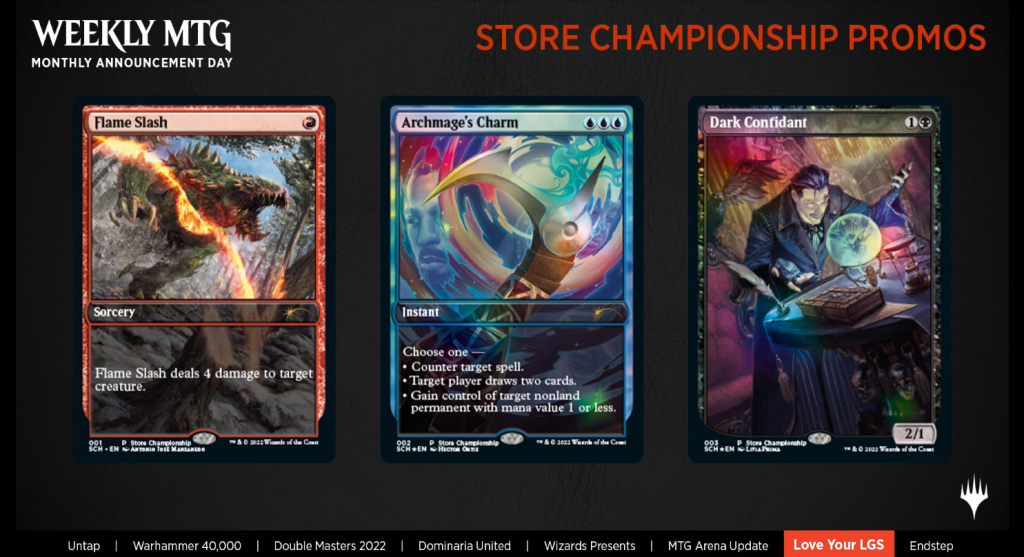 Players get a promo Flame Slash just for playing in a Store Championship, while making the Top 8 earns you an Archmage's Charm, and winning the whole thing nets you a textless Dark Confidant.
Lastly, we got a roadmap for the next two years in Magic.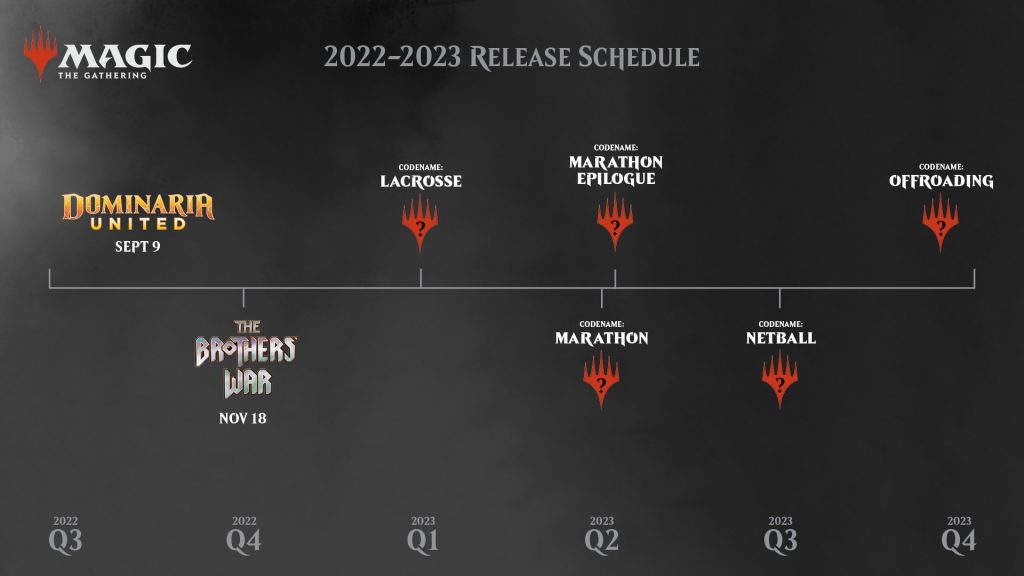 Read more about all the announcements from Daily MTG.