I hope everyone had a great time at a Streets of New Capenna Prerelease event this past weekend! In this week's article, I'm going to go over the financially notable rare cards in New Capenna. Note that I won't go through every single card in the set. I'm going to identify the cards I feel are currently undervalued and go over all the cards that are currently above bulk price. Next week, I'll tackle the mythics and cards from the New Capenna Commander set.
I'll draw a comparison between this set and Ikoria to start. Both sets have a similar set of dual lands that are driving the value of the rare slot – the Triomes. Both sets have few cards at rare that are worth much initially, and both sets have the majority of value concentrated in the mythic rare slot. It's important to remember that many of the rares in Ikoria took quite a while to climb in value.
Shark Typhoon: Started at $3. Hit $5 by the set release. Didn't cross $10 until three months after release.
Drannith Magistrate: Started at $3. Didn't get higher than $6 while Standard legal.
The Ozolith: Started at $5. Got up to $15 while Standard legal, but spent most of the time in the $8-$10 range.
Lurrus of the Dream-Den was an exception here, but Lurrus also went down significantly in value after being banned in multiple formats.
The Three-Color Problem
Looking at the rares in New Capenna, there are very few outside of the Triomes that have any extraordinary value. A lot of this issue is the Commander conundrum. Commander is the single biggest driver of prices in Magic at this point. Most sets focus on single- or dual-color themes. When we hit a set that has a lot of three-color cards, it's much more difficult to slot those cards into a variety of decks. How good Siege Rhino or Mantis Rider is matters less than the fact that you need to be playing three specific colors (minimum) to add those cards to your Commander deck.
There are a lot of three-color cards that have extremely powerful effects. Void Rend is a fantastic variant of Vindicate or Abrupt Decay. It also takes one more color than either of those other spells, making it a far reach for not only Commander, but eternal competitive formats such as Modern or Pioneer. The Ascendancy cycle, Endless Detour, Void Rend – these are all going to be perfectly fine cards for Standard but aren't going to go up too much in value. You aren't going to see me list many of these as "cards I think are undervalued" or that will hold value in this article, for these reasons.
The Triomes
Let's just get these out of the way. They are sure-fire wins for this set. We already have the other cycle of wedge Triomes in Ikoria, and they all clock in at between $13 and $20 each. We've got the newer five at $10 each, and I don't expect much movement downwards from here. There will probably be a short dip when the initial huge rush of product hits the market, but these five cards absolutely going to hold steady in the long term. There isn't really much question here, so it's a safe bet to buy these now and hold onto them.
Cut Your Losses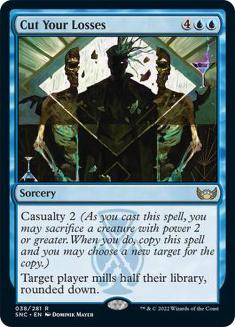 Traumatize is a solid $4 card, and Maddening Cacophony sits at $2.50. Cut Your Losses is comparable to both of these cards, and is currently being valued at bulk. Without the casualty, Cut Your Losses is Traumatize at one higher mana cost. With the casualty, you're missing three-quarters of your opponent's deck. Given that Cut Your Losses is being treated as a bulk rare right now, I think this is a safe card to buy up in the short term. It'll be a solid $2-$3 card a year from now, based on precedents on this effect.
Depopulate
Let's compare Depopulate to Shatter the Sky. It's more likely that someone will have a creature with power more than four than a player will have a multicolored creature, so it's less likely that Depopulate will have a drawback than Shatter the Sky. Shatter the Sky started as a $4 card and dropped quickly to the $2 range during the preorder period. I think that's going to be the fate of Depopulate. Wrath of God wants to have no drawbacks, so this will end up in the $1-$2 pile quickly after release.
Gala Greeters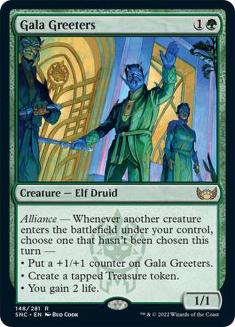 Normally Gala Greeters would have been worth more than bulk, but there will be a tremendous number of Gala Greeters put into the environment due to it being the box topper of all three box types for New Capenna. Gala Greeters isn't good enough to have its value survive having hundreds of thousands of extra copies thrown into circulation all at once.
Giada, Font of Hope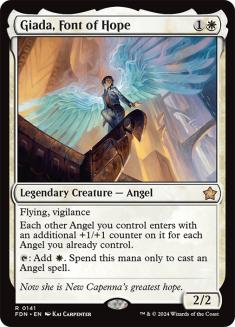 Angel tribal is extremely popular but lacking in relevant early drops. Giada is exactly what this type of deck wants – a two-drop that is both relevant to the tribe and has an actual effect on the battlefield. The power level on Giada is extremely pushed. Giada is the biggest flying / vigilance creature at two mana with no drawbacks. She only costs a single white mana to cast, so she's easy splashable. She also has two extremely relevant tribal abilities – mana acceleration and pump – that Angel decks are going to want.
I compare Giada to Youthful Valkyrie, which hasn't ever really dipped below $4 and is worse than Giada. While Giada might dip a little after the big rush of product hits over the next two weeks, I don't think she'll ever drop below $5. I also think that she's going to be a build-around for any future Angel decks!
Jaxis, the Troublemaker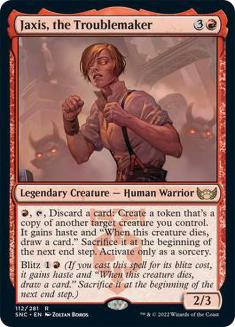 I personally believe that the blitz mechanic is being undervalued in general right now. I think it's perfectly serviceable to have a two-mana 2/3 haste creature that draws you a card when it dies. At four mana, Jaxis turns into the best Merfolk Looter ever printed – not only do you get to filter a card, but you also get a hasty attack creature to go along with your card. I think that people should look at the trajectory of Fable of the Mirror-Breaker before sleeping on this card. Is Fable better? Yes, you get two creatures and two cards for three mana. That doesn't mean that Jaxis is a bulk card (as it's currently being treated).
Jinnie Fay, Jetmir's Second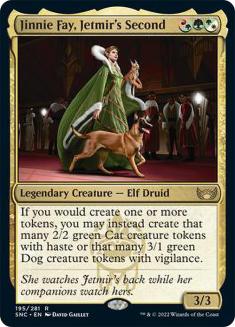 I'm including this hybrid mana card because she can be cast as a mono-green card, or as a Gruul or Selesnya creature. While the color identity on Jinnie will always been three colors for Commander identity, many play groups have no problem rule zeroing hybrid creatures into other-color decks. On top of that, Jinnie Fay can go pretty bonkers in multiple decks that create noncreature tokens! This is one of those weird cards that can turn Treasure/Food/Clue/Blood tokens into creatures. Bootlegger's Stash is already the most valuable card in this set (more on this later), and Jinnie Fay in combination with Bootlegger's Stash makes a never-ending stream of 2/2 haste creatures.
Ledger Shredder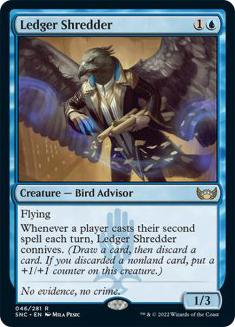 Two mana for a 1/3 flyer is about par for the course these days. Ledger Shredder will certainly trigger multiple times a turn in Commander and in Eternal formats. I think it's entirely reasonable to think you could cast Ledger Shredder on Turn 2 and have it be 3/5 or larger in a four-player game before your next turn. In addition to this, connive is looting with upside. While I don't feel as confident about Ledger Shredder as I do about Cut Your Losses, I do think this is a potential sleeper card.
Professional Face-Breaker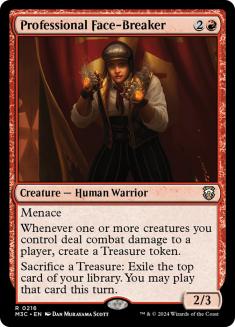 The most hyped nonland rare so far in New Capenna. We sold out of Professional Face-Breaker for presale, and the market is holding steady at $3.50-$4 right now. PFB turns any of your creatures into a pseudo-Ragavan, Nimble Pilferer – connecting gets you a Treasure token or an impulsive card draw. No, I'm not saying that this is Ragavan, but I am saying that the two non-menace abilities on Professional Face-Breaker are powerful enough that this will be a staple in both Commander and Standard. I'm not sure if it's good enough to see Pioneer play, but we'll find out as Pioneer starts taking the center stage of the paper competitive scene over the coming months.
Scheming Fence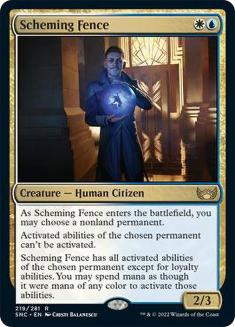 The comparisons I'd make for Scheming Fence are Meddling Mage, Phyrexian Revoker, and Pithing Needle. The difference between Scheming Fence and those other three cards is that you can preemptively name a card that isn't on the battlefield with the three older cards, whereas the permanent has to be on the battlefield for Scheming Fence to shut it down. The upside of Scheming Fence is that you don't target (so you can shut down otherwise untargetable things) and you don't choose until it enters the battlefield, so it's too late for an opponent to respond once you name the card. This allows Scheming Fence to potentially shut down things like Treasure tokens.
Even with that said, there aren't a ton of nonland permanents that Scheming Fence works well against that see play in older formats. In Commander, there are a ton of targets that Scheming Fence works well against. I think that it'll be a solid $2-$3 card over time, since it has a huge amount of versatility and has a good mana-to-body ratio for any sort of hatebear deck in formats that care about permanents with activated abilities.
Shadow of Mortality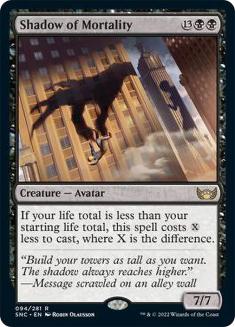 I'm putting Shadow of Mortality as a card to watch for three reasons.
Reason number one: In Commander, it'll often and safely be a two-mana 7/7 creature. That's a pretty good rate for a mid-game drop just to get a huge body on the board.
Reason number two: This is a fifteen-mana spell for decks that care about mana cost. This puts it slightly lower than Draco, but relevant for Modern and Pioneer for decks that care about mana values on cards. Autochthon Wurm and Emrakul, the Aeons Torn are the only other two creatures with this high a mana cost, and neither is Pioneer-legal.
Reason number three: Death's Shadow is a 6/6 creature when you're at seven life. Shadow of Mortality is a two-mana 7/7 when you're at seven life. Death's Shadow is a better card in general due to having a lower mana cost and being castable at any point you're below thirteen life, but I think Shadow of Mortality is being undervalued in general right now. In Modern / Pioneer / Standard – either this card is going to quickly get abused and jump up in value, or it's going to stay in the $1 range. I'd take a flyer and sit on a few of these just in case.
Shakedown Heavy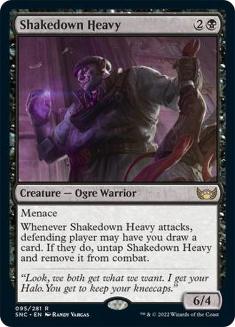 My choice for the sleeper rare of New Capenna. This is the closest we've come to Phyrexian Arena in a playable form in quite a long time. For three mana, you're getting a pseudo-unblockable 6/4 creature or a card a turn and a huge blocker. Unlike many punisher mechanic cards, I think you're pretty happy with either outcome here. I know I'd be happy either chunking out a third of my opponent's life with a three-mana creature or having a personal Howling Mine. It's also fantastic as a late-game blocker against creatures that a three-drop have no business taking down. At four toughness, it's also at that magical number that Lightning Bolt can't easily touch.
Structural Assault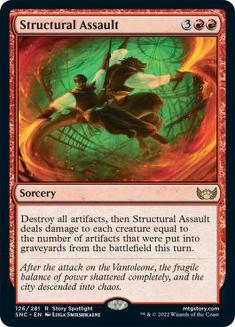 Structural Assault is currently at $1 but might be the best mono-Red Shatterstorm variant ever printed for multiplayer. We're combining Wrath of God and Shatterstorm into one red card, and it's not often that red gets this sort of battlefield wipe. The huge upside on Structural Assault is that people can't sacrifice their own artifacts to avoid the Wrath side of Structural Assault – it counts all artifacts put into the graveyard this turn!
With the huge proliferation of Treasure tokens in Commander games, Structural Assault is usually going to get rid of every artifact and creature at once. I think this'll take a little while to climb in value, but will end up being enough of a Commander staple that it's worth picking one up while it's cheap if you enjoy the red spells in multiplayer.
Topiary Stomper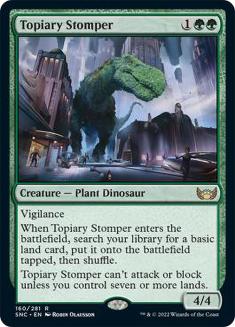 The inevitable comparison for Topiary Stomper is Wayward Swordtooth. While it's slightly easier to get the city's blessing than it is to have seven lands on the battlefield, Topiary Stomper is a genuine ramp spell, whereas Wayward Swordtooth relied on having extra lands in hand. Wayward Swordtooth is a solid $10 card. It also took almost a full year of sitting at $3-$4 to hit the double-digit price tag. I think Topiary Stomper is comparable enough that it's currently being undervalued as a $2 pickup.
Unlicensed Hearse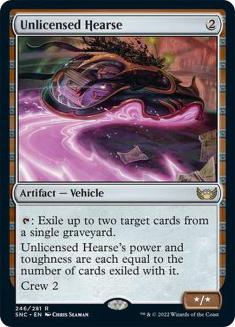 The Vehicle cards in Magic so far have either been too good, such as Smuggler's Copter and Esika's Chariot, or generally unplayed in Constructed. Very few of them do anything beyond existing for combat. Even those that have triggers almost always trigger on attacking or blocking. Notable exceptions include Reckoner Bankbuster, Cultivator's Caravan, and Shorikai, Genesis Engine.
I'm pretty excited about the possibilities of Unlicensed Hearse out of the sideboard in decks in many formats. It'll always be active to remove whatever cards are relevant, it's generic two mana to cast, and it can grow to insanely huge proportions very quickly. I don't see a lot of people talking about Unlicensed Hearse, but given that it can slot into any deck and serve as both a hate card and a late-game threat, I think that it should be getting more attention.
Workshop Warchief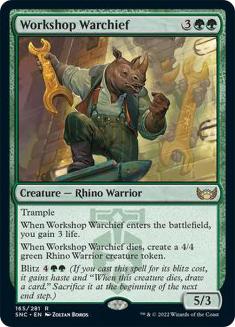 Is this Thragtusk? The answer is yes, this is Thragtusk. Both cost five mana, both gain you (enough) life when they enter the battlefield, and they both leave behind a large creature when they die. You're giving up two life and shifting a generic mana to green for Workshop Warchief, but you're also gaining a larger body left behind, having trample on the front end, and leaving open the possibility of blitz late-game to draw a card.
What people forget is that Thragtusk was a staple in Standard before getting reprinted in so, so many sets (Explorers of Ixalan, Jumpstart, Double Master, Modern Masters 2017, Time Spiral Remastered, a Secret Lair, and now New Capenna Commander). Pop quiz – what was Thragtusk worth at the height of it being in Standard back during M13? The answer is $6. In fact, Thragtusk was a solid $4-$6 the entire time it was Standard-legal, and only started dropping with reprints. Having a reprint a year from 2017 to present has decimated the value of Thragtusk, so now it has the reputation of a bulk rare.
I want to remind people of the history of Thragtusk in order to properly evaluate Workshop Warchief. Yes, creatures have generally experienced power creep since 2013. Thragtusk was far enough ahead of the curve that Workshop Warchief is going to be right there in Standard, with the occasional assist in Commander. I'd grab these while they are still in the $1 range, as they have price history from Thragtusk to prop up future value.
Talk to Me
Those are my thoughts on the rares of New Capenna. Join me again next week when I go over all the mythics of New Capenna, and the notable new cards from New Capenna Commander. See you then, and as always – I encourage you to join in on the discussion of this article on Twitter @StarCityBen! Until then, have a great week!