Welcome to the Essential Buyer's Guide to Commander Legends: Battle for Baldur's Gate Commander Decks! This is the companion piece to the Essential Buyer's Guide to Commander Legends: Battle for Baldur's Gate. If you haven't checked my initial Buyer's Guide out, you can find it below.
As a whole, the Commander Decks are much better value than the main set of Commander Legends! Where the value of the main set is concentrated in about a dozen cards, the reprints and new cards in the commander decks are spread more evenly. Here's a look at all four of the decks.
Draconic Dissent
Artificer Class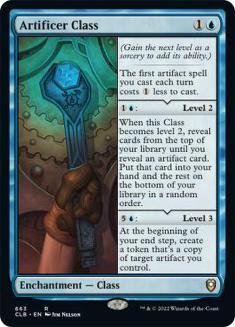 This is the only card in the set that is not available in extended art form from Collector Boosters, on account of being a Class. It helps that Artificer Class is eminently playable in many decks – including some Legacy and Vintage builds! As a whole, I find this to be a very good card to pick up early, since it'll be the card with the lowest supply from this batch of Commander decks.
Astral Dragon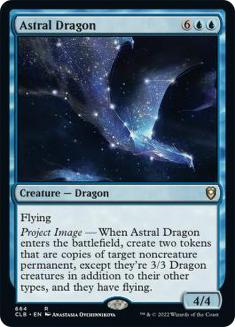 A unique effect on a huge finisher. This is perhaps the card that has people the most excited to brew with. For eight mana, you end up with three creatures (a 4/4 flyer, a 3/3 flyer and a 3/3 flyer), with two of those creatures being copies of any noncreature cards on the battlefield. It's easy to find infinite or close-enough-to-infinite combos with Astral Dragon. It's also amazing to be able to copy two of the best cards that your opponents might have on the battlefield.
Spectacular Showdown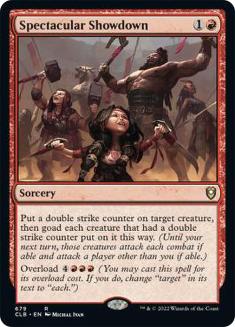 At a base cost, giving a creature double strike permanently for two mana is actually a pretty decent deal. Turning the end of the game into a complete bloodbath for seven mana is pretty nifty as well! Goading every creature on the battlefield ensures that you'll be the last to feel the pain of a fully committed Showdown.
High-Dollar Reprints ($5+)
Reprints of Note ($2-$5)
Exit From Exile
Delayed Blast Fireball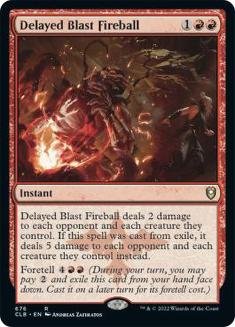 An extremely versatile Flame Wave or Pyroclasm. The fact that it hits all opponents and their creatures is huge! In addition, the five damage hits if it's cast from exile for any reason, not just from the foretell cost! It's very easy for red to exile the top cards of their library and play them these days (impulse draw), so it's pretty trivial to set this up to be a huge inferno for only three mana.
Green Slime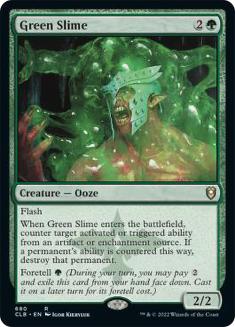 Cheap to foretell, able to take out triggered enchantments (a unique ability), and a usable body to cost as well. Green Slime is a card that helps green deal with troublesome enchantments or artifacts that might be problematic with even one activation. It's also a funny card to use with Green Sun's Zenith, or to kill Chalice of the Void.
High-Dollar Reprints ($5+)
Reprints of Note ($2-$5)
Mind Flayarrrs
Aboleth Spawn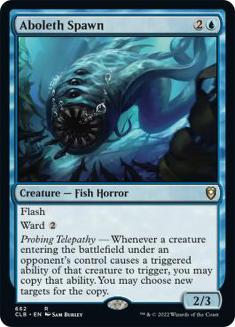 An absolutely absurd copy engine. This is to creatures with enters-the-battlefield effects as Opposition Agent is to tutoring or Hullbreacher is to drawing multiple cards. Aboleth Spawn can be cast on response as a trick – but afterwards it just sits there and copies everything that all of your opponents are doing with creatures. Note that it only triggers off enters-the-battlefield effects. Also note that if you get more than one free trigger from Aboleth Spawn, chances are you're ramping ahead on something in the game – be it creature kill, Treasure tokens, life, mana ramp, or card draw.
Brainstealer Dragon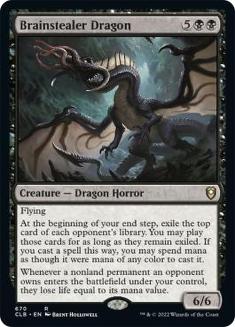 Brainstealer Dragon is a really cute trick. It's a great value engine since you're going to get one to three other cards in a Commander game each one of your turns. It's also a great high-end finisher for the Horror tribe. I think this one has some potential to go up in price, since there are fewer chase cards in the Mind Flayarrrs deck.
Endless Evil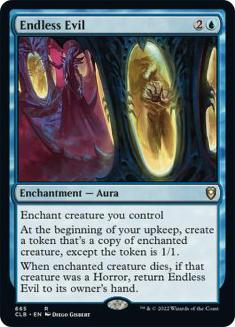 I am a huge fan of Followed Footsteps, even if it's been eclipsed by cards like Helm of the Host in recent years. This is the cheapest version of that effect that I can think of, and the only one that comes back if the creature it enchants dies. While this gets silly with Horrors, it's perfectly viable to create copies of creatures that have enters the battlefield triggers that matter more than their bodies. I think this is currently being undervalued and should go up a little as well.
High-Dollar Reprints ($5+)
Reprints of Note ($2-$5)
Party Time
Black Market Connections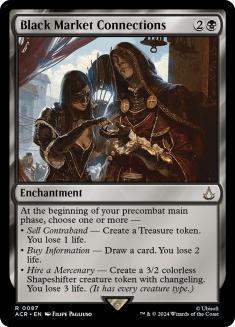 The Party Time deck is by far the highest-value Commander deck at the time it's been printed in years. I think I have to go back to when True-Name Nemesis first premiered in 2013 to find a Commander deck with higher value at launch. Party Time has multiple high-dollar reprints, and then the two most valuable cards ($20+) that are new.
Black Market Connections is one of these cards. This is an immediate Commander staple for any deck that runs black. All three modes are excellent. Having the ability to trigger any (or all) of the modes after you've drawn your normal card for the turn is a huge bonus in deciding whether or not you want to use Black Market Connections – which is not often the case for such enchantments. And speaking of which – while six life is a lot to pay, getting a card, a 3/2 creature and a mana accelerant each turn is a huge advantage that early in the game. The fact that this effect is repeatable, customizable, and does not require any further mana investment makes Black Market Connections an amazing card.
Deep Gnome Terramancer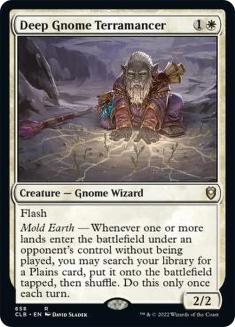 This is the other $20+ card out of this set of Commander decks. While Deep Gnome Terramancer can only trigger once each turn, it can trigger each turn. It gets you Plains off a ton of eminently playable cards. Fetchlands, mana ramp, Ghost Quarter – the list of staples that trigger Deep Gnome Terramancer is nearly endless. The Terramancer makes Path to Exile into a really losing proposition for your opponent – they lose their creature, and they may mana ramp you as well if they search for a land.
Deep Gnome Terramancer is going to see play in Vintage, Legacy, and Commander. That makes this a card that will hold value in the long term. I would not be surprised to see this end up being the most valuable card in this deck (even eclipsing Black Market Connections) in the long run. And as a reminder – since the wording is "Plains card," you can get dual lands and the like with Deep Gnome Terramancer. And since it can enter the battlefield at instant speed, it's the perfect response to an opponent cracking a fetchland.
High-Dollar Reprints ($5+)
Reprints of Note ($2-$5)
Foil Extended Art
There are two-card bonus Collector Boosters in each individual Baldur's Gate Commander deck. The twelve face cards from this set appear in foil extended art in these bonus packs, but do not appear in foil extended cart in regular Collector Booster packs. That means that the only way to get these cards is from Commander decks.
It also appears that these cards are extraordinarily rare. Estimates are that they appear once every 40 or 50 decks. In order to collect a full set of twelve, you'd need to open somewhere on the order of 600 Commander decks. That makes these twelve cards the actual chase cards of the entire set – rarer than anything else included in any other type of booster pack! Be on the watch for extended art versions of these twelve cards, as they are currently selling for $50+ per card.