Wizards of the Coast (WotC) has released their weekly MTG Arena update that includes details on this weekend's events, collection tracking updates, and more.
Play-In Event And Qualifier Weekend On Deck
Standard competitive action is the name of the game this weekend on MTG Arena. The Qualifier Weekend starts on Saturday, featuring Best-of-three Standard. If you aren't qualified yet, take part in the Play-In event on Friday for 20,000 gold, 4,000 gems, or 20 Play-In Points. The Play-In event starts at 6 AM PT on Friday while Day 1 of the Qualifier Weekend starts at 6 AM PT on Saturday.
More information on the Play-In event and the Qualifier Weekend are available here.
Collection Progress Tracking Now Live
Players can check on their collection progress by going to their profile then clicking on Set Collection. The page will let you know how far from finishing each set you are, with details on commons, uncommons, rares, and mythic rares.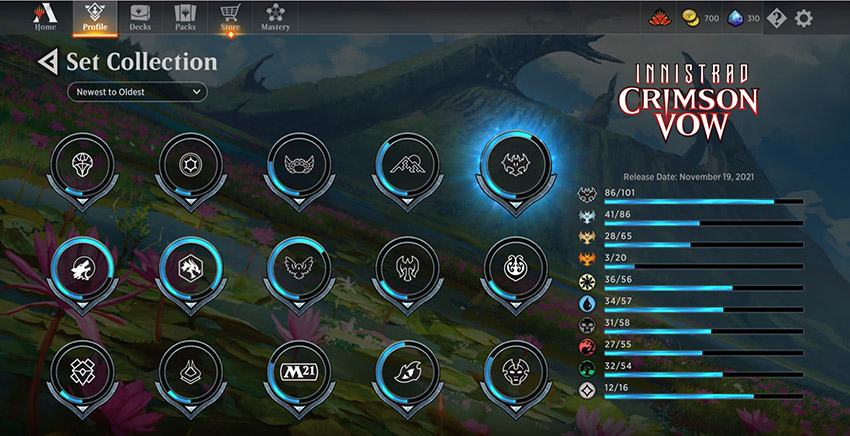 The Meathook Massacre Banned In Standard, Diviner Of Fates Rebalanced In Alchemy
The banning of The Meathook Massacre in Standard goes into effect tomorrow. WotC is also taking action of Diviner of Fates in Alchemy, rebalancing the card by removing two points of toughness from the creature. Making it a 2/1 will allow more interaction to be viable against the card-advantage creature.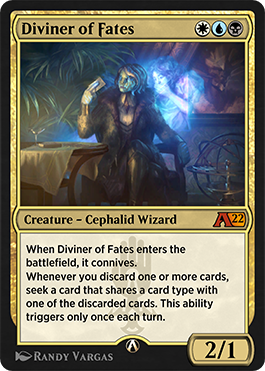 Event Schedule
Events open at 8 a.m. PT (UTC -7) and close at 8 a.m. PT (UTC-7) on the dates shown unless otherwise noted.
Midweek Magic
October 18–20: Explorer

October 25–27: Standard Shakeup
November 1–3: Singleton
November 8-10: Phantom Chromatic Cube Bot Draft
Quick Drafts
September 30–October 14: Innistrad: Midnight Hunt
October 14–28: Dominaria United
October 28–November 11: Innistrad: Crimson Vow
November 11–15: Kamigawa: Neon Dynasty
Additional Premier Drafts
October 6–17: Alchemy: Dominaria Premier Draft
October 13–21: Streets of New Capenna Planeshifted Draft
October 21–28th: Throne of Eldraine Premier Draft
Other
October 14–17: Alchemy Metagame Challenge

October 28–November 5: Dominaria Sealed
*November 6, 8 a.m. PT (16:00 UTC)–November 8, 8 a.m. PT (16:00 UTC): Chromatic Cube

Best-of-One and Best-of-Three
Qualifier Weekend Events
October
Qualifier Weekend

October 15, 6 AM PT–October 17, 4 PM PT

Format: Standard (Best-of-Three)
November
Qualifier Weekend

November 12, 6 AM PT–November 14, 4 PM PT

Format: Historic (Best-of-Three)
Arena Open
Arena Open October

Day 1, October 22: Alchemy Best-of-One and Best-of-Three
All participants will receive the Zur stained-glass card sleeve.
Day 2, October 23: Traditional Alchemy
Best-of-Three only

Arena Open November

Day 1, November 5: Dominaria Sealed Best-of-One and Best-of-Three
All participants will receive the Urza Assembles the Titans card sleeve
Day 2, November 6: Dominaria Sealed Best-of-Three
Note: There are two Sealed events for Day 2, with three wins or one loss.
Read the original article from WotC.