Welcome to Stirxhaven Exit Interview week!
If you missed Srixhaven First Impressions week, various members of the SCG Staff shared their thoughts on their Top 5 Strixhaven cards in each format before having the opportunity to play with them. With Dungeons & Dragons: Adventures in the Forgotten Realms preview season complete, we thought it would be fun to have those same folks update their lists now that they've had the opportunity to play with Strixhaven for the past few months and share what they got right, what they got wrong, what surprised them, etc.
On Tuesday, we knocked out Standard, on Wednesday, we Brainstormed our way through Historic, and yesterday we updated our thoughts on Pioneer. Today, we'll close things out with Modern. The same scoring system we had in place for Strixhaven First Impressions week will be in place here so that we can get an idea of what card ranked in what place in the aggregate to close out each article. The scoring system is as follows:
1st — 5 points
2nd — 4 points
3rd — 3 points
4th — 2 points
5th — 1 point
Today we, once again, kick things off with the leader of the Rudy Gobert Fan Club™, Ross Merriam.
Ross Merriam
Previous List
Clever Lumimancer
Silverquill Silencer
Vanishing Verse
Elite Spellbinder
Charge Through
New List
Expressive Iteration
Thrilling Discovery
Velomachus Lorehold
Prismari Command
Clever Lumimancer
Not my best work, but at least Vanishing Verse and Elite Spellbinder have shown up in small numbers. Strixhaven as a set was underpowered enough that finding cards that would show up in Modern was tough, so I went for some big swings that didn't quite connect, and was skeptical of a few that ended up hitting.
Expressive Iteration is the clear winner here, leading to Izzet Prowess being the clear best version. The irony being that Clever Lumimancer was supposed to decide the same debate but for the Boros lists. Iteration has been a huge upgrade on Light Up the Stage, with the extra mana not mattering nearly as much as seeing the extra card and more easily realizing the full potential of the card advantage. It's a staple card in the format at this point and the easy top Modern card in the set in hindsight. Lumimancer still sneaks in at fifth place since it has shown up quite a bit, but its prospects are on the decline.
I wasn't sure about Thrilling Discovery in Dredge since the mana in the deck is more awkward than you might expect, but the increased access to explosive draws is what Dredge needs to contend in a more powerful Modern metagame. It's still a fringe deck, but being a slam dunk addition is enough for me to put the card second.
Velomachus Lorehold comes in third because the deck that took over Historic has also made its way into Modern, albeit without nearly the same level of dominance. I think Four-Color Indomitable Creativity is an underrated deck because it has plenty of good, cheap interaction and Wrenn and Six gives you an alternate path to victory, protecting it long enough to emblem without it dying or using a second copy to recast a Time Warp every turn. If you're getting bored of the same Ragavan, Nimble Pilferer, Prowess, and Urza's Saga decks, I'd give this a look:
Creatures (2)
Planeswalkers (7)
Lands (24)
Spells (27) Rounding out my list in fourth place, I have Prismari Command, a card whose stock went up a lot since Urza's Saga brought a lot more artifacts back to the metagame. You see it in the aforementioned Indomitable Creativity deck as a way to both dig toward the namesake card and create an artifact for it to target, but it also shows up in Through the Breach decks as a way to speed up the combo.
I could've put Rip Apart or Vanishing Verse in this spot but while Prismari Command's stock is going up, those two are moving down now that they have to compete with Prismatic Ending.
Dom Harvey
Previous List
Clever Lumimancer
Thrilling Discovery
Vanishing Verse
Rip Apart
Elite Spellbinder
New List
Expressive Iteration
Prismari Command
Thrilling Discovery
Vanishing Verse
Rip Apart
This updated list looks a lot different from my initial predictions. Part of this is the same errors I made in other formats — missing the raw power of Expressive Iteration and the relevance of Prismari Command — but a bigger part is the seismic shift that has hit the format with Modern Horizons 2. The unique selling point of Vanishing Verse hitting Heliod, Sun-Crowned feels like an afterthought now. Dredge players were not thrilled to discover unbeatable and versatile hate cards like Endurance, Sanctifier en-Vec, and Dauthi Voidwalker.

Expressive Iteration vaulted Izzet Prowess to the top tier of Modern, giving it the staying
power to back up its explosive starts. The new breed of Izzet decks based on Murktide Regent
and a bunch of other powerhouses from Modern Horizons 2 still lean on Iteration as a source of card advantage. If someone manages to revive combo in these colours — from Storm to Underworld Breach to Jeskai Ascendancy — I expect Iteration to be a piece of that puzzle too.

Prismari Command has made good on my hopes of Indomitable Creativity becoming playable (Velomachus Turns is now a legitimate fringe deck in Modern) but has also excelled elsewhere. The Izzet Through the Breach decks popular post-Strixhaven were able to jump to the crucial five-mana mark for Through the Breach while digging for a combo piece or removing a permanent while this format's version of Five-Color Niv-Mizzet made even better use of it than its Pioneer cousin. Destroying an artifact is much more relevant in a world of Colossus Hammer, Amulet of Vigor, and The Underworld Cookbook.

Clever Lumimancer dropped off my list altogether as Izzet Prowess powered by Expressive Iteration proved more solid than all-in lists of Boros Prowess and even those decks are likely to turn to Dragon's Rage Channeler now instead.
Shaheen Soorani
Previous List
Vanishing Verse
Elite Spellbinder
Sedgemoor Witch
Rip Apart
Culling Ritual
New List
Expressive Iteration
Elite Spellbinder
Rip Apart
Vanishing Verse
Thrilling Discovery
The Strixhaven effect on Modern was minimal. My old list was only two cards off from my new one, with the same error I made with the other formats. Expressive Iteration is the top dog from Strixhaven, making Izzet-based aggro and midrange decks increase in potency after its inclusion. True card draw for these decks, at the low cost of two mana, is enough to bump its matchup percentage against the field.
Izzet-based decks were already having their way with Pioneer and Modern. The two-color combination has the perfect combination of cantrips, aggression, and disruption, making it strong against most decks. The other two-color spells on my new list are Rip Apart, Vanishing Verse, and Thrilling Discovery. These three spells have barely made a dent in the format but have seen more play than their Strixhaven competitors. Each has entered the format, replaced a slightly worse version of itself, and have not had the impact that Expressive Iteration has had.
Elite Spellbinder is the outlier in the two-color spell list, tormenting me across the various competitive formats. It has seen play in some midrange decks, as well as Human-variants, fitting the curve well and applying some disruption while effectively attacking the opponent's life-total. This is one of the better designed cards as I have mentioned, seamlessly entering the creature package of multiple white decks in Modern.
Making the Strixhaven Top 5 list for Modern was very difficult, but for a great reason. It's about time that the power level drops in these Standard sets. Even though they will have minimal impact due to their overall weakness, the future will be bright for competitive play. Someone had to rip the bandage off, produce a bunch of weak sets with little to no impact, to eventually make the competitive formats better again.
Ari Lax
Previous List
Thrilling Discovery
Clever Lumimancer
Vanishing Verse
Test of Talents
Expressive Iteration
New List
Expressive Iteration
Prismari Command
Thrilling Discovery
Vanishing Verse
Elite Spellbinder
Expressive Iteration yet again overperformed everyone's expectations. It's just so clean, and unlike all the other similar options in Modern, requires no downside (Night's Whisper) and no strategic commitment (Thoughtcast). Plus it's in the right colors for taking spell-based game actions being converted to extra value.
Prismari Command was also an important lesson to learn about pre-Modern Horizons 2 Modern. All of the clean kill combos shifted up the curve, and a Treasure token stapled to interaction or card filtering was huge in bringing that kill turn back down. Maybe it was just good for that short window before the format was reduced to hyper efficiency again, but it was really the card that brought home how different that era of the format was.
Thrilling Discovery and Vanishing Verse are boring and obvious like they were before, so let's move right along.
And now, without further ado, the SCG Staff's Top 5 Strixhaven cards for Modern are now…
5. Elite Spellbinder — 5 points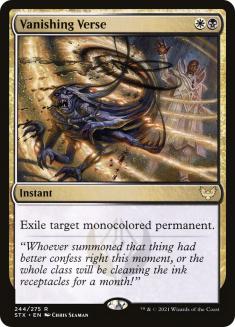 3. Prismari Command — 10 points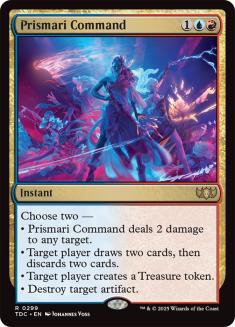 2. Thrilling Discovery — 11 points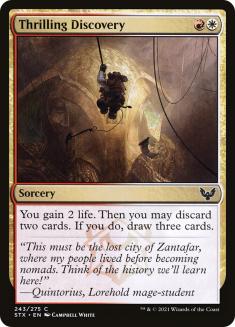 1. Expressive Iteration — 20 points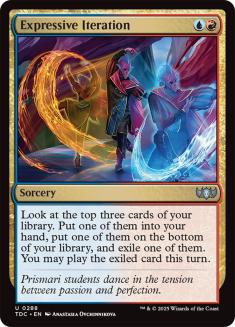 We hope you enjoyed our exit interviews on Strixhaven's impact on Standard, Historic, Pioneer, and Modern. Be sure to keep your eyes out for our Dungeons & Dragons: Adventures in the Forgotten Realms first impressions coming next week so you can see how the SCG Staff is dissecting Magic's newest set!