We've just completed the first week of Modern Horizons 2 previews, and there's already plenty to be excited about for Commander players. From high-demand reprints like the fetchlands and Cabal Coffers to collectors' dreams of cards never before printed with retro borders and the new sketch treatments, you'll be seeing these cards at your local tables by the middle of June. We'll talk about the new cards we've seen so far (as of the time I wrote this piece) and their impact on Commander.
Before we get there, I'd like to express an opinion on fetchlands. I'm convinced that Commander players overvalue them, creating the perception that they're necessary to play the format. Most importantly, no specific card is required for you to have a good time playing Commander. Still, accepting that players like them, they do make your deck slightly more efficient (the focus here being on slightly). I'm sure the math gurus could articulate it better than I can, but it's way less than one might think.
The sliver of additional value you get offers you an edge in competitive Magic, especially when you can run four-ofs. In Commander, not so much. I'm not saying that you shouldn't pick them up if you really want them and think they're cool. I'm just of the opinion that decks run nearly as efficiently with other land-searchers. Again, I'd really love to see one of the math folks crunch the numbers. That aside, let's get to these cards.
I'll do the rest in alphabetical order, but the first I'll talk about is the card we previewed on this past Thursday's Commander Rules Committee (RC) stream at twitch.tv/commanderRC.
Master of Death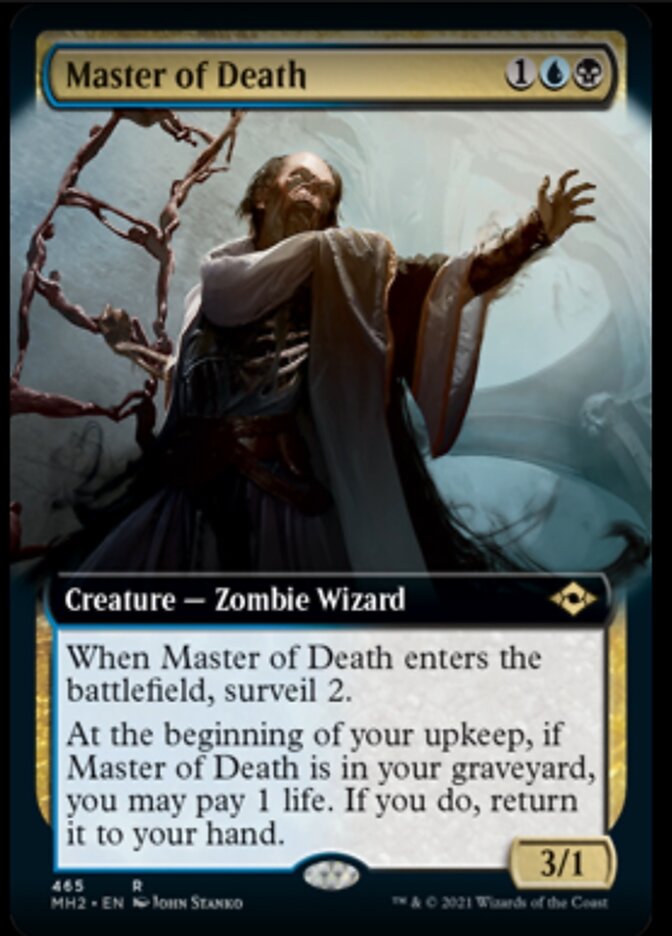 A Dimir Zombie Wizard, Master of Death just keeps coming and coming. When it enters the battlefield, you surveil 2, looking at the top two cards of your library, and keeping them there (in any order) or putting any or all of them in the graveyard. For Zombie decks (or anything Dimir-based), this is great, as it's a bit of self-mill that's selective enough for you to put into the graveyard the cards that you want, and keep the ones out that you don't.
It doesn't end there. At the beginning of your upkeep, if Master of Death is in your graveyard, you can pay a life to put it back into your hand. You can then cast it and repeat the process of sculpting your graveyard and future hand. This is a card that most of the RC was really excited to see, and we expect it to see a good deal of play.
Brainstone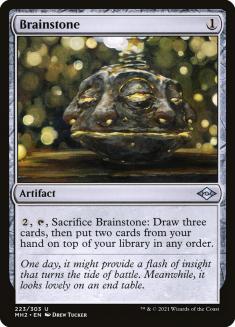 An artifact version of Brainstorm is my kind of card. You can play it in a deck with artifact recursion, like with Glissa the Traitor or anything that has Sun Titan in it, to get continuing value.
Sure, it's more expensive than Brainstorm, but I'm pretty sure there are more decks that do good artifact recursion as opposed to spells. It's cheap enough to bring back with Scrap Trawler every time another artifact you control hits the graveyard; fits in the requirements for Auriok Salvagers and Goblin Engineers; doesn't break the bank with Hanna, Ship's Navigator; and plays well with old favorite Trading Post.
Chatterfang, Squirrel General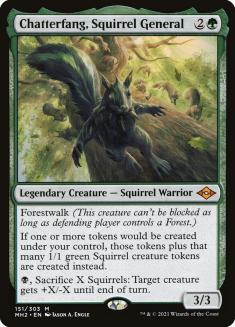 Golgari Squirrels are here and Chatterfang is going to wreck some faces. You'll clearly build it as a token deck, and many of those Witherbloom cards from Strixhaven and Commander 2021 will fit right in.
Chatterfang has forestwalk, so it's going to get through unblocked on quite a few decks, meaning there are some great Voltron possibilities. Captain's Claws is a cheap Equipment that creates a Kor Ally creature token every time the equipped creature attacks, adding a Squirrel to Chatterfang's army. Seraphic Greatsword makes Chatterfang larger and conditionally creates tokens. Of course Helm of the Host is the big dog in token-creating Equipment.
From the Modern Horizons reprint of Squirrel Mob to fellow RC member Toby Elliott's favorite, Squirrel Catapult, I think we'll be getting into the acorns for loads of fun.
Dakkon, Shadow Slayer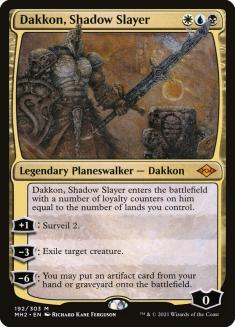 When I saw the first line of Dakkon, Shadow Slayer, I immediately skipped the next two lines and looked for the ultimate. I was pleased to see there wasn't one. This planeswalker Dakkon is strong, and honestly has the feel of a planeswalker that could be a commander (and no, we're not making that change).
It might be a little overpowered coming out of the command zone, but the fact that its loyalty counters are dependent on your number of lands means it can't be that much of a threat early — especially since it's Esper, which isn't great at ramping.
Diamond Lion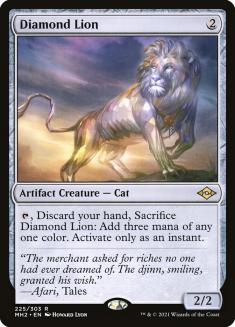 The creature version of Lion's Eye Diamond, Diamond Lion has lots of combo potential. Even if you didn't already realize that, a quick look at the top cards to go with Lion's Eye Diamond on edhrec.com are cards that you see frequently at the highest-powered tables. They range from fast mana, like Chrome Mox, Mox Diamond, Lotus Petal, and Mana Vault to power cards like Hullbreacher and Dockside Extortionist.
This will certainly be a high-demand card. Instead of the commons Wheel of Fortune and Windfall that tend to go along with Lion's Eye Diamond, I'd like to see a recursion build of some kind. I might try to find room for it in one of my (three) Karador, Ghost Chieftain decks.
Flametongue Yearling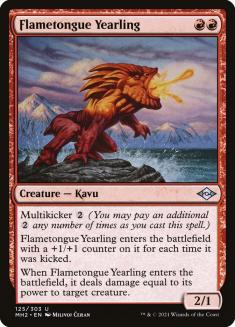 This card made me smile, thinking of playing lots of Flametongue Kavu back in the pre-EDH days. It'll be more expensive to get four damage out of the Yearling, needing 4RR to make it a 4/3. Then again, if it's late-game and you have lots of mana, you might be in good shape. I expect to see it in some Torbran, Thane of Red Fell decks.
Fractured Sanity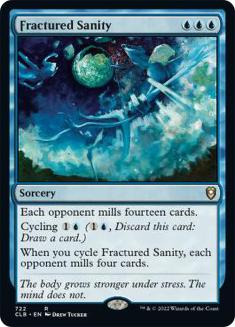 Your mill decks just got saucier, and I expect some heartburn from the folks who don't like mill strategies. Since it mills every opponent for a fixed amount, it's unlikely to get the big hit on a single player that Traumatize does. The cycling option is quite clever, useful when you don't have three blue, or just need a different kind of card in your current situation.
When cards have a specific large number on them, I wonder what the conversation during design and development looked like. Was thirteen not good enough and fifteen too much?
Grief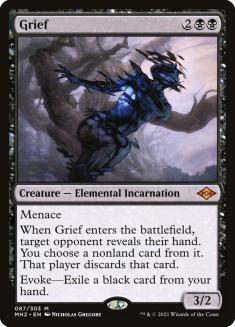 Grief is causing its namesake in a fair number of people who think no-mana spells might be getting out of hand. It's good to very good in Commander, but not as strong as it will be in Modern, where it's likely a Turn 1 play every time.
Even a first-play 3/2 with menace is going to get outclassed in short order in Commander, where you'll probably draw some ire for the early play. Its real value will be in recursion decks that can keep getting players to discard their bombs.
Prismatic Ending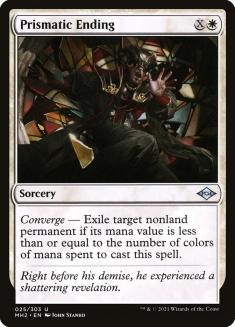 Another card that's likely to be stronger elsewhere (probably in Modern Horizons 2 Draft), Prismatic Ending doesn't look like a huge impact card in Commander. The most you can get is obviously five, which can exile a very important pieces in many decks, so its strength will be in your five-color decks. It might be decent in Child of Alara, which can have trouble getting rid of indestructible things.
Profane Tutor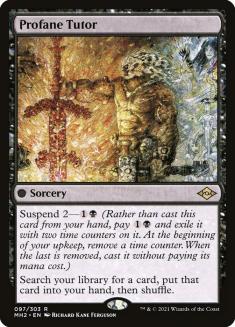 A Demonic Tutor that you have to wait two turns for is still decent in Commander. You can cast it not knowing exactly what you want to get with it, since the game state two turns from now might be very different. The players who want to combo off on Turn 3 or 4 will call this unplayable, but those of us who like longer games will find it a reasonably priced alternative.
Ravenous Squirrel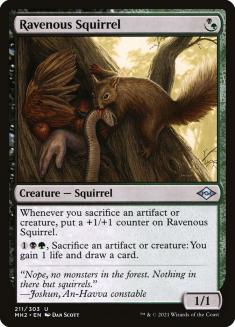 That Squirrel deck is starting to take some shape. With Ravenous Squirrel in your Chatterfang deck, there will be plenty of token Squirrels to eat for lifegain and card draw. You'll also be able to build up quite a few counters on Ravenous Squirrel with older, free-to-activate sacrifice outlets, like Altar of Dementia or Phyrexian Altar.
The obvious way to get lots of counters on it will be to create and sacrifice a bunch of Treasures. Of course, you're playing black, so you might just do the Treasure head fake and play Revel in Riches.
Rise and Shine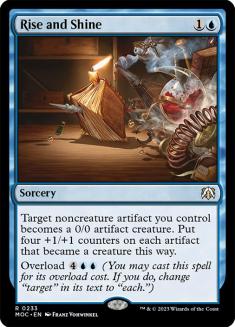 Previewed by friend of the show and Commander Advisory Group (CAG) member Josh Lee Kwai on The Command Zone, Rise and Shine can be huge and aggressive. Clearly meant for an artifact deck, for 1U, you can make a noncreature artifact into a 0/0 creature with four +1/+1 counters on it.
That's only the opening salvo, though. For the overload coast of 4UU, you can do that to all of your noncreature artifacts. It's March of the Machines on steroids. Skullclamp? 4/4 creature. Arcane Signet? Same. Rise and Shine is going to lead to some big, swingy games. It looks like you're just doing some mana rocks and other nonsense, and then boom! Someone is knocked out.
Rishadan Dockhand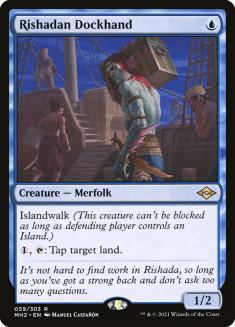 As we've seen, Modern Horizons 2 promises to resurrect lots of classic old cards in creature form. Someone who obviously works in the Rishadan Port knows the secrets of mana denial. The more casual the Commander deck, the less likely we're to see the Dockhand.
It'll be more useful in mid-tier decks than folks might think, since tapping Nykthos, Shrine of Nyx or the newly reprinted Cabal Coffers during someone's upkeep is usually a strong play. Also don't underestimate the value of tapping a Maze of Ith before combat starts.
Squirrel Sanctuary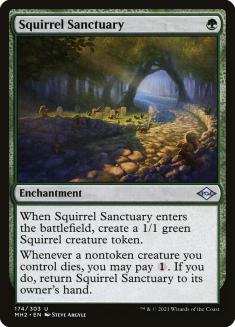 It's simple, but if you're all-in on the Squirrel tribal deck, Squirrel Sanctuary will be an inexpensive way to keep them coming. It's definitely going to provide more value than Squirrel Wrangler (which was printed at a time when creatures kind of sucked). Squirrel Sanctuary is also going to be great if you put together some sort of crazy Squirrel Enchantress deck.
Squirrel Sovereign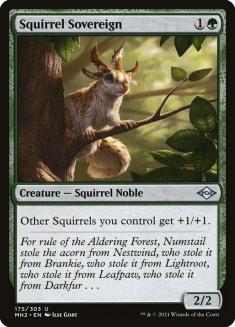 Deranged Hermit. Squirrel Sovereign. Profit.
Thrasta, Tempest's Roar
A new, bashy card for your Dinosaur deck! This thing has it all. You can cast other stuff to make it cheaper. It has haste, which is relevant because it has hexproof the turn it enters the battlefield, and trample. It also has the new ability trample over planeswalkers, which means no more chump blocking to protect them.
This is a very Timmy creature that those of us who love combat are going to enjoy. It's also going to be a little silly in an Animar, Soul of Elements deck.
Timeless Dragon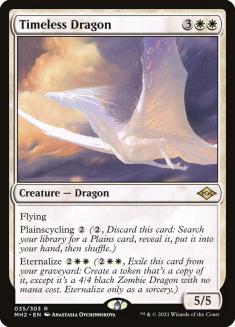 A nice callback to Eternal Dragon. Even the art is evocative of the card we first saw in Scourge. Timeless Dragon is a little more mana-friendly than its predecessor, swapping out the ability to regrow it for the chance to eternalize instead (although the eternalize ability really should also give the token indestructible; otherwise, it's pretty not-eternal).
An extremely strong Draft card, it's playble in Commander. It's the twelfth 5/5 flyer for five mana, and it's outclassed by Baneslayer Angel; Liesa, Shroud of Dusk; Sigarda, Host of Herons; and Thundermaw Hellkite. Its primary use is likely to be plainscycled and then recurred.
Unmarked Grave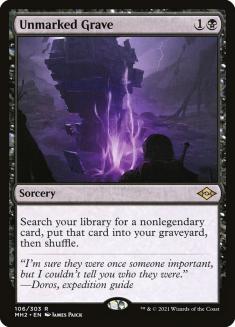 A powered-down Entomb, Unmarked Grave is going to do much of the same things Entomb does, for a nonlegendary creature, slightly more expensively, and, more critically, as a sorcery.
All those words make it seem way worse than it is. A Turn 2 Unmarked Grave for your favorite nonlegendary creature, Turn 3 Exhume or Reanimate is going to put you ahead in the game. I'll likely put it into one of my Karador, Ghost Chieftain decks in order to make casting Karador cheaper and in anticipation of a big Living Death.
Urza's Saga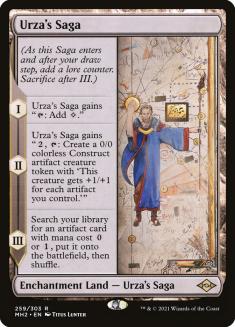 A complete flavor win, Urza's Saga has captured the essence of the story in an enchantment land. The downside is that you have to sacrifice it on Chapter III. The good news is that it'll replace itself with your Sol Ring early in the game and Skullclamp late game.
Chapter II seems much better later in the game, so I'd want to play Urza's Saga in a deck that can get lands (or enchantments, I suppose) out of my graveyard and back onto the battlefield. I like that it's a card that you have to tinker around with just a little. You can't just plop it down at any time and have it be great.
Yusri, Fortune's Flame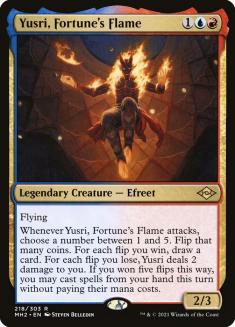 Break out your Krark's Thumbs, Paka, we've got coin flipping in the rutabagas. Yusri looks like the kind of card that will be at home leading a chaos deck, perhaps Efreet/Djinn tribal. Suffering a little damage to draw cards is fine.
Too bad you can't also play The Wanderer or Mark of Asylum in your Yusri deck. It needs to attack to get the trigger, so you'll likely want some protection, whether that's Swiftfoot Boots, Darksteel Plate, or your favorite Sword of (Whatever Colors You Want Protection From).
Although it's not a designed-for-Commander set, so far Modern Horizons 2 looks like it's going to have some cards that are super-splashy for the format. Although I have a lot of fondness for Master of Death, I think my favorite so far is Unmarked Grave. Who knows what bombs the next week will hold?
Visit my Decklist Database to see my Signature Decks, the Chromatic Project, and more!