It's the most famous (infamous?) deck in my collection.  It's spawned a Commander archetype that's popular and well-received across the format because it scales to most power levels.  You Did This to Yourself started with a single idea. Now it's a Commander meme and so much more.  What I'll do this time is explore the deck's origins, how it's influenced some of my other decks, and the kinds of cards and builds that you might consider in taking the idea in your own direction. 
The whole thing started as a local metagame response after being reminded of a thought-provoking card.  It was early 2012; I was playing a few times a week at Armada Games in Tampa.  We had a great crowd of both highly invested and more fringe players, all who quickly adapted to the malleable environment in which you could find the kind of game you were looking for.  There were both leagues and pick-up games, the latter nearly every day of the week.  Players of all stripes fell in love with a particular way of winning:  creating a big pile of mana and casting Exsanguinate. 
Enter Parallectric Feedback.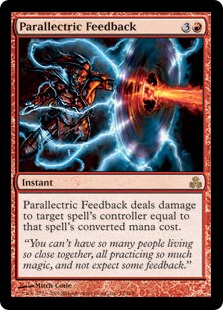 Close friend and Monday Night Gamer Todd Palmer was working at Armada Games at the time.  He was behind the computer when he called me over.  "Hey," he said.  "You ever see this card?"  Of course I had, but I hadn't thought about it in the context of the games we were having.  Primeval Titan was still a few months from being banned, so Prime Time into Cabal Coffers and Urborg, Tomb of Yawgmoth was quite common.  From there, the giant Exsanguinate or Genesis Wave would follow. 
Parallectric Feedback was the perfect answer, likely killing them before their giant spell resolved.  It was something that I immediately wanted to build around and You Did This to Yourself was born.  As I was building the deck, I wanted a commander that was the least likely to be leading a deck like this.  That's why I settled on Ruhan of the Fomori, who always wants to be battling—the exact opposite of what the deck does.  Over the years, I've occasionally played Zedruu the Greathearted as the commander without any modifications.  There are a few cards to give away, but not many.  I wanted to see how it worked.  Results were mixed. 
The current incarnation of the deck looks like this:
Creatures (12)
Planeswalkers (2)
Lands (37) I unfortunately don't have the original draft of the deck.  It's in our Deck Database with a create date of 4/22/2012, but since I have an update on the 14th of that month, the deck was built before that.  Our database version also has more recent updates in it.  Until I started putting all my decks in Archidekt, I kept a configuration control document for each of them.  I have it through Theros Beyond Death, so if we wanted to, we could reconstruct the original.  There are obviously steps between the Theros Beyond Death and now.  I think it's just more interesting to look at what went in and out over time.
Apologies on the missing cards in a few spots; there were obviously times I either got behind or just forgot to write down what the change was. Sometimes, cards went out because I had just played with them enough and I wanted to try new things. Cerebral Vortex on the following list stands as a prime example. It's a card that would still be quite fun to play, whether it's just drawing two cards for me or doing significant damage to someone who's drawn a pile of cards over a turn. Special mention to all those who have put their graveyard back in their hand with Praetor's Counsel.
Here are the changes, in reverse chronological order.
Theros Beyond Death
In: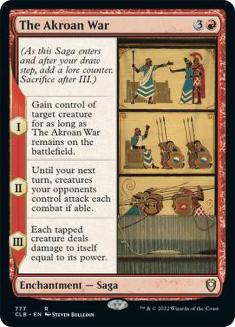 Out: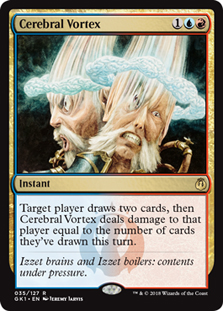 Throne of Eldraine
In: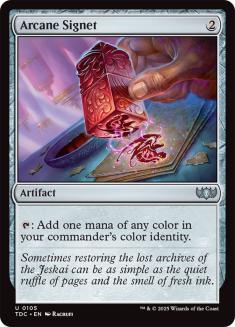 Out: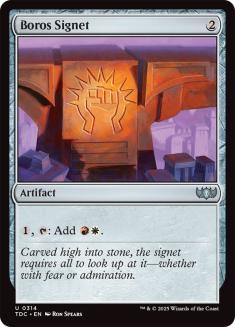 Magic 2020
In:
Out:
Modern Horizons
In: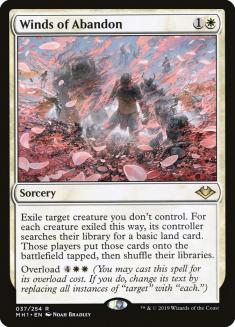 Out: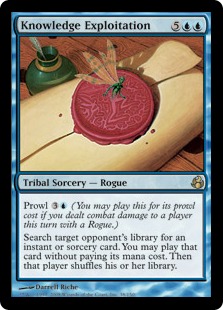 War of the Spark
In:
Out:
Ravnica Allegiance
In: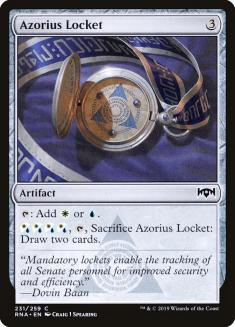 Out: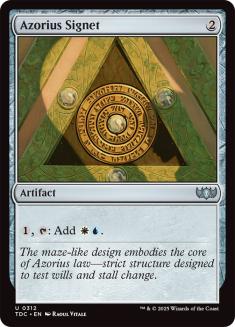 Guilds of Ravnica
In:
Out: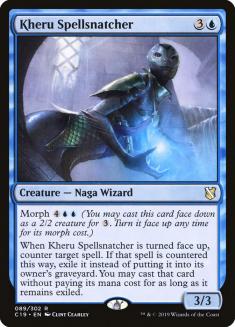 Commander 2018
In:
Out:
Battlebond
In:
Out:
2017 22 Sep
In:
Out:
2017 11 Jul
In: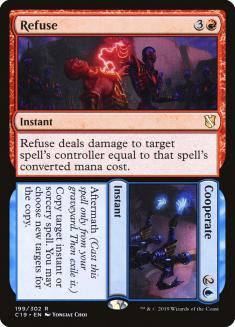 Out: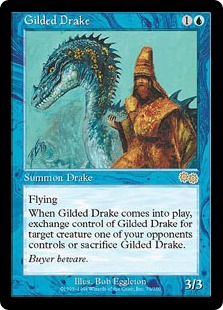 2017 22 Apr
In:
Out:
2016 1 Apr
In: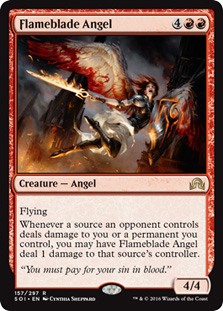 Out: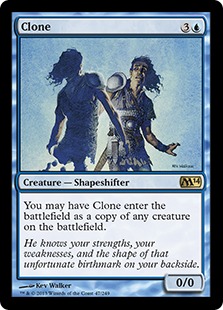 2016 15 Jan
In:
Out:
2015 21 Nov
In:
Out:
2015 29 Sep
In:
Out:
2015 27 Jul
In:
Out:
2015 6 Jul
In:
Out:
2015 15 Jan
In:
Out:
2014 22 Sep
In:
Out:
2014 20 Jul
In: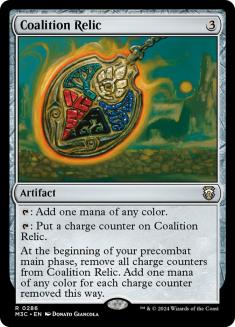 Out: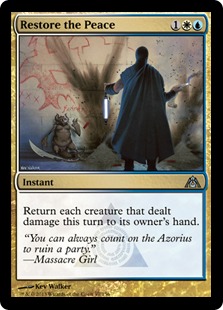 2014 15 Jun
In: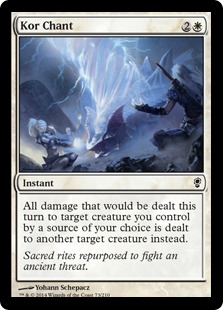 Out: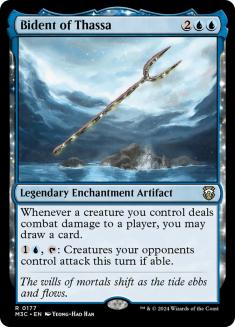 2014 1 May
In:
Out:
2013 1 Oct
In: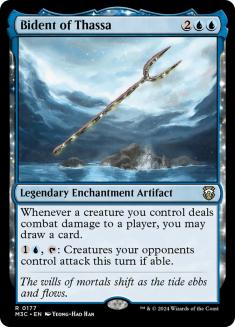 Out: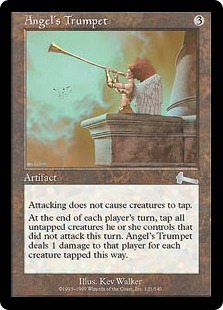 2013 16 Jul
In:
Out:
2013 1 May
In:
Out:
2013 9 Apr
In:
Out: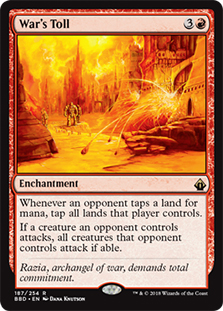 2013 6 Feb
In:
Out:
There are so many cards in the removed list that provided wonderful memories.  You'll see in the Guilds of Ravnica update that I took out Kheru Spellsnatcher.  It had served well, to include one of my favorite moments from an SCG CON.  I used it when someone cast Emrakul, the Aeons Torn.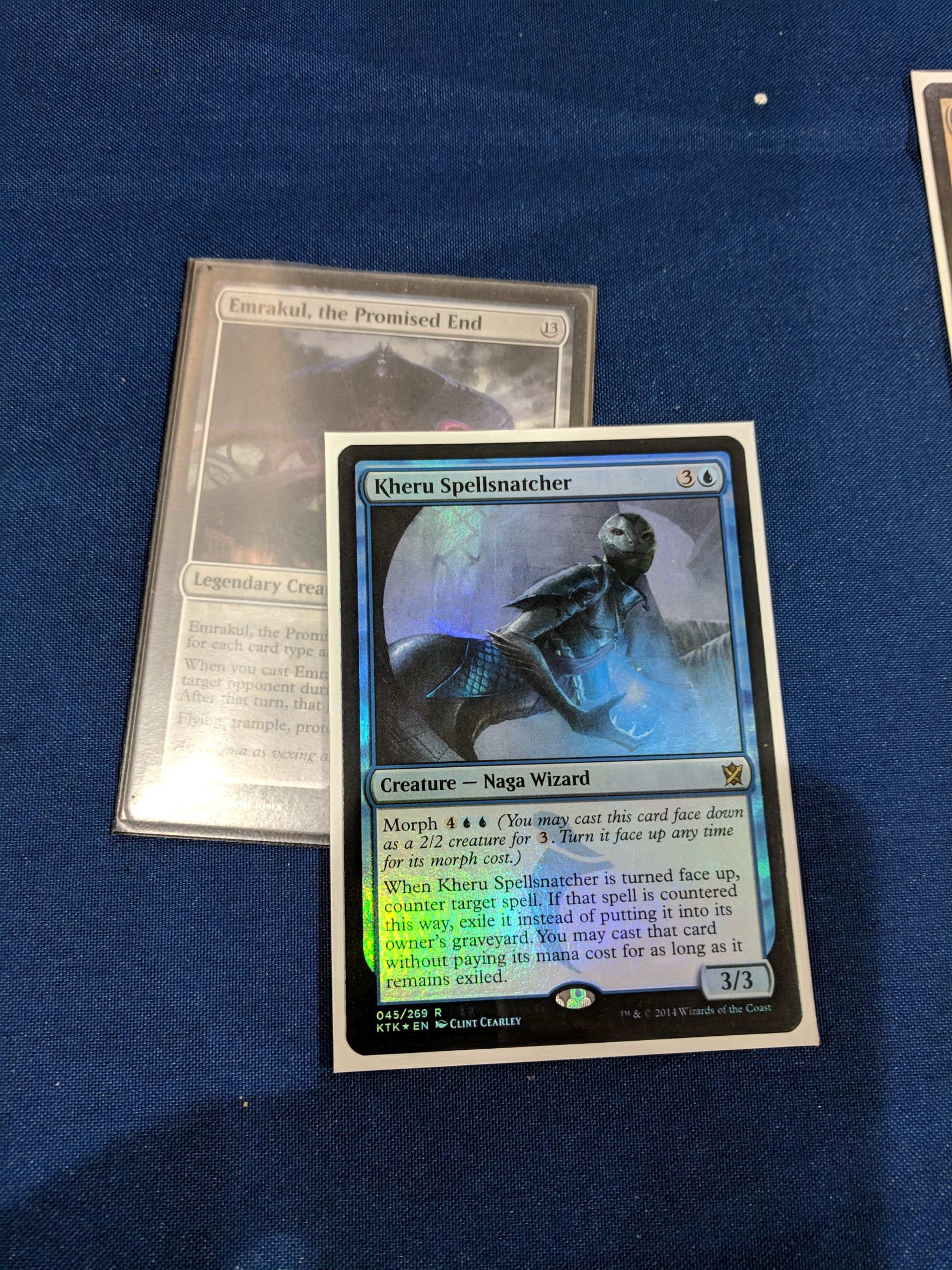 It was a moment that everyone got a big laugh out of—which is one of the deck's goals—but I noticed the player who cast Emrakul wasn't laughing quite as hard as everyone else.  When it got around to his turn, I found out why.  He had Hatred in his hand.
I could go on and on about some of those cards that the deck no longer plays; I encourage you to pore over the list and find something that really speaks to you. Angel's Trumpet was a particular favorite, as was Avatar of Slaughter—although it was also potentially dangerous to our own health. Instead of getting lost in individual cards, though, I want to talk about broader strokes.
The deck generally wins in one of three ways. The first is letting the rest of the table knock each other around until there's only one opponent left and then hitting them with one of the spells the send damage back their way. This has to come from them being justifiably reticent to attack us, so it's a plan fraught with danger when we don't have the right cards.
The second way is via Repercussion and either Blasphemous Act or Chain Reaction. This requires the opponents to have some creatures, although with Blasphemous Act, they don't really need that many. If we also have Boros Reckoner or Truefire Captain, so much the better. Having Gisela, Blade of Goldnight on the battlefield means that the opponents need even fewer creatures before things get lethal.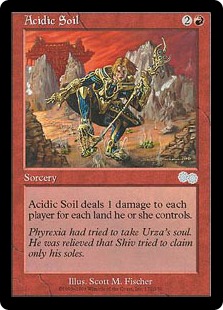 The final way the deck has piled up wins is via Acidic Soil.  It can happen in a mid- or late-game after other players have lowered each other's life totals into the teens and where they have more lands than life.  Then, Acidic Soil is a stone cold killer; The Wanderer is there in case our life total is low as well.  When life totals are higher, I've gotten folks a few times by copying Acidic Soil with Mischievous Quanar or the second half of Refuse // Cooperate (or other copy things in the past, like Dualcaster Mage). 
In the past, the deck also won games by forcing players to attack with all their creatures into Lightmine Field or Powerstone Minefield with Repercussion on the battlefield. Those cards are more defensive in nature now, preventing chip damage and attacks from swarms of small creatures.
I've gotten a surprisingly small number of commander damage kills with Ruhan over the years. Because of the random nature of the attacks and its normal lack of evasion, it just doesn't get through that often. I'd say in all the games I've played with it over nearly a decade, the number of commander damage kills is barely into double digits.
Of course, there's another way that the deck "wins," and that's simply by creating epic plays that people remember, even if I don't end up winning that game.  The aforementioned Kheru Spellsnatcher play is one of them.  Radiate has done some heavy lifting in this category as well.  Borrowing someone's army with Reins of Power can get there.  I once played in a game in which someone else cast Enchanted Evening, and then I dropped Aura Thief.  I don't remember if I won the game in which I cast Mirror Strike on someone's Turn 4 Blightsteel Colossus, but I'll certainly never forget the moment. 
While none of them do it to the same extent as the original, I have other decks which make use of You Did This to Yourself elements.  Some of them are as simple as playing the odd Mirror Strike, Deflecting Palm, or Comeuppance, while others are crafted around making attacking me risky for other players.  Such is the case with my Breena Will Do It to You and Marchesa, Long May She Reign decks.  They do it for different reasons. 
Breena keeps reflexively damaging cards back because the deck wants to just get into the red zone and continually battle (getting her trigger as often as possible), leaving back few, if any, blockers.  She can't one- or two-shot anyone until later, so there will be plenty times when I'm vulnerable.  If folks don't feel the incentive to also take advantage of her trigger, I want to make them wary of heading our way.  The deck has some Ghostly Prison effects as well, Nils, Discipline Enforcer being a particular favorite, but I'm a bigger fan of them coming to do the decision that they don't want to, rather than simply telling them they can't.  Wrecking them with an Inkshield just once goes a long way towards protecting us in future games. 
Marchesa's motivation is different. She wants to become the monarch and stay on the throne. Still, the attitude is the same. Since there's value in attacking the monarch, we have to make the penalty for getting caught, so to speak, worth more than the reward for getting away with it. The deck tends to keep back blockers, so chip damage can't just take the crown away. Combine that with a card like No Mercy and you'll leave them wondering if trading their good creature (the one good enough to get around the blockade) is worth that one card—not to mention the target one acquires when becoming the monarch.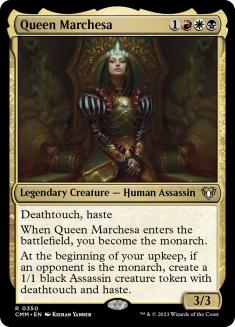 Although my particular Queen Marchesa build isn't full-on You Did This to Yourself, the Mardu wedge certainly opens you up to a potential build.  You still get all the white, Boros, and Orhov cards you want, like Comeuppance, Reflect Damage, and Inkshield.  Or you can go down the Repercussion lines if you like.  You also have Threaten effects, and nothing says "you did this to yourself" like bashing someone with their own creature.  You can certainly kill people with Rakdos Charm.  Your Mardu (and Rakdos) decks also have access to one of the most "did it to yourself" cards ever, Anathemancer.  The number of notches on that card's belt since the inception of this format would definitely make its pants fall down. 
I'd consider copy and steal effects as making someone do it to themselves, and blue is replete with them.  There are whole decks that do nothing but.  I have a Yasova Dragonclaw deck that uses Threaten effects, but I can easily see using the Temur wedge to build a deck that steals or borrows what it doesn't want to copy.  Having green means access to Progenitor Mimic, which is the gift that keeps on giving.  You also get its sorcery cousin, Spitting Image.  Yasova Dragonclaw feels like the best choice along these lines, since it can do some of the borrowing itself, but there's an argument for Kalamax, the Stormsire's ability to copy some blue steal cards.  Maelstrom Wanderer is just full of value, so you can certainly cascade into the cards that have the effects we want. 
You could similarly move into Bant, exchanging some of the Threaten effects for Fogs that punch back, like Comeuppance and Honorable Passage. You're likely looking at a Clone or steal-heavy strategy. Of the eighteen Bant commanders (yeah, eighteen!), Rubinia Soulsinger is the obvious choice, since getting creatures to come play for your team is her whole schtick.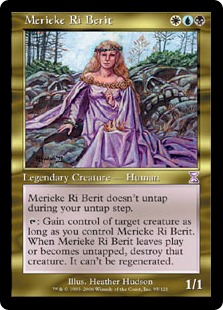 Similarly, Merieke Ri Berit, known to steal a creature to nefarious ends, gives you an Esper option.  It gets you back into the most delicious of spells, Inkshield, and all the previously mentioned mono-white spells.  Since you're in black, don't sleep on Wall of Souls.  Maybe play it with Vedalken Orrery or other cards that let you flash in permanents so you can flash it in after someone attacks and really ruin their day. Coming back to black also gives you graveyard recursion for other players' creatures, such as Sepulchral Primordial.  Of course, this means I'm going to have to do You Did This to Yourself <cue spooky music> Beyond the Grave Edition. 
You Did This to Yourself is an archetype that you can build around to fit your own personality and playstyle.  While it can take a wide number of forms, it's about casting spells and having permanents that use your opponents' resources and momentum against them—the Commander version of judo.  In the case of permanents, those spells often cost less than the thing you'll be copying or borrowing, letting you do more for less.  Although the archetype is an important part of the format's past and present, I'm sure we'll see more cards to work into these decks in the future.  We'll be making our friends do it to themselves for a long time to come. 
Visit my Decklist Database to see my Signature Decks, the Chromatic Project, and more!