I hope some of you got to play paper Magic this weekend! I had an absolute blast, having not played an in-person Prerelease in a couple of years. It felt like things are starting to regain some form of normalcy.
One of my favorite things about a Prerelease is finding the things that surprise me, or interactions I may not have expected. The retro artifacts really make The Brothers' War unique, and they have some powerful abilities as well. I wanted to talk about a few things that will hopefully serve you next time you play!
Altar of Dementia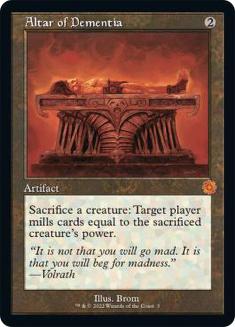 I never got to see Altar of Dementia in action during Modern Horizons 2, so I had actually misinterpreted how you are supposed to play it. You want to keep it in hand until you can amass creatures with power great enough to mill their entire deck in one swoop. It's always awkward if you're getting close and you ask to count your opponent's library, as it will immediately raise suspicion. My piece of advice is to count the opponent's permanents on the battlefield, graveyard, and cards in hand for a rough estimate until you think it's go time. Then you ask for a count!
Blackblade Reforged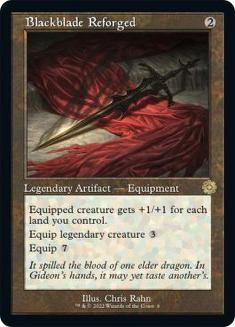 There are only a few uncommon legends and somewhere around twenty rare and mythic legends in this set if you're trying to get a deal. I just wanted to point out that Powerstones can pay for equip costs, so if you're in the mana-making business, Blackblade Reforged isn't a terrible investment if you need a win condition (though it's still not great). It also pairs well with Altar of Dementia and Key to the City.
Chromatic Lantern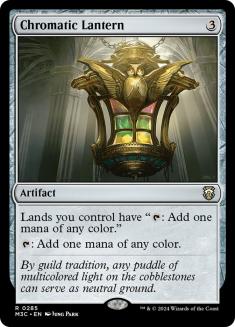 Chromatic Lantern is always sweet, and a personal go-to in Cubes. But it has much more to offer here while the brothers are fighting. On top of the natural mana fixing this set lacks if you want to do more than two colors, it also works well with Door to Nothingness, not that I'd encourage such reckless behavior.
Elsewhere Flask and Other Cantrips
It's really cool to see all the different cantrips here, because they are all unique and have a good place in certain archetypes. I already was a big Ichor Wellspring fan thanks to Kuldotha Rebirth aggro decks in Scars of Mirrodin. It has a great home in Rakdos, with lots of ways to cash it in. Elsewhere Flask is another really cool one, becoming a combo with the "land type matters" cycle of Corrupt, Blanchwood Armor, Sardian Cliffstomper, etc. Chromatic Star seems to be a fine way to fix mana if you need it, and Soul-Guide Lantern is there for the graveyard decks!
Key to the City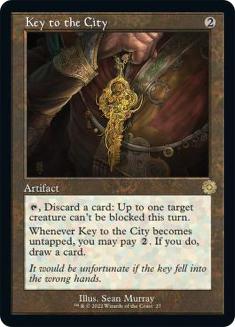 Key to the City is a really weird card, and a pretty skill-intensive one at that. It does a lot of different things, which aren't always good to do just for the sake of doing, and can be as amazing late-game as it is irrelevant early. I think Key to the City does look a little better in The Brothers' War than other sets, mainly because of how well it plays with Powerstones and Unearth. This is definitely a late-game card, as tapping your two mana to draw a card can be detrimental early. I could see this pairing well with a Simic deck, or anything with gigantic creatures that wants to play until the late-game.
Mesmeric Orb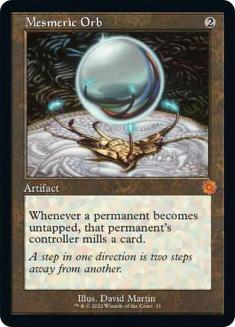 Mesmeric Orb is a funky one, so much so that I kind of just wrote it off. That was until I had an opponent just randomly throw one on the battlefield, completely warping the game. I was really worried about milling my artifact removal spells and getting milled out. I can picture this coming in from your sideboard in the right circumstances. If you drop this late-game and your opponent has to untap eight permanents or so, it really changes the game completely. I'll keep my eye on how to use this card.
Phyrexian Revoker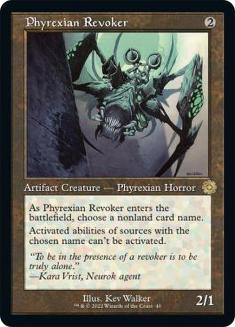 I had maindecked a Phyrexian Revoker this weekend in my Rakdos artifact build, because it just seemed like a better two-drop for things like my Scrap Trawler and Mishra, Tamer of Mak Fawa. Since I was maindecking it, I was always keeping my eyes on what would be good cards to name for my opponents in future games. I noticed that this set just has tons of activated abilities; even most of the retro artifacts are activated abilities. Aside from that, you can name an unearth creature and disable the unearth ability.
Precursor Golem and Friends
Precursor Golem is 9/9 worth of stats for five mana, which is insane. Yes, your opponent can kill the three Golems with one removal spell; on the other hand, you can likely kill your opponent with a pump spell. But ignore the preamble about the Precursor, because the reason for mentioning this card is that Golem is a relevant creature type in green. Cradle Clearcutter and Boulderbranch Golem will suffer the same fate as your Precursor Golem, so be careful!
Self-Assembler and the Squad
I'm not actually sure what the likelihood of getting two or more Self-Assemblers in a draft will be yet. But there are other Assembly-Worker creature cards this can retrieve from your deck! Mine Worker, Power Plant Worker, and Tower Worker are all eager to join, and if you're lucky, you can get the Autonomous Assembler. I heard a rumor that if you get all of them on the battlefield, they meld into a Transformer or something. [Copy Editor's Note: This is only a rumor.]
There are already some sweet combos, interactions, and even infinite loops – thanks, Staff of Domination – the retro artifacts make possible. I'm looking forward to discovering more along the way!
Remember to have fun out there! Lose and learn, learn and win!