Field of the Dead allowed decks to accelerate their mana while also having the payoff built-in. Now that Field of the Dead is (rightfully) gone, you have to work harder in your ramp decks. Rather than accelerate and be paid off incidentally, you need to look for the best way to utilize having more mana than your opponent.
Thankfully, we have plenty of options and ramp is alive and well.
The Enablers
The best way to ramp is to use Shrine of the Forsaken Gods and Castle Garenbrig to cast something very large. With Castle Garenbrig, you will get value from anything that costs six or more so you don't necessarily have to be pigeon-holed into casting ten-mana creatures.
You will want to accelerate starting on Turn 1. Pioneer has plenty of powerful aggressive decks and you need to keep up. Arboreal Grazer is worse in a vacuum than Llanowar Elves and Elvish Mystic but it does provide a strong blocker against aggressive decks. Since I'm mostly building for power in an undefined format, the Elves get the nod, especially because Arboreal Grazer would require a 28th land or more. 
Nissa's Pilgrimage is the backbone of the archetype. It's a reasonable accelerator at three mana and also provides you with a future land drop. There are times when you'll want extra resources and Nissa's Pilgrimage will typically fix those issues. Elvish Rejuvenator is a solid backup plan.
Font of Fertility competes with the other one-mana accelerants but typically falls short because it ramps to four mana on Turn 3 instead of three mana on Turn 2. With Nissa's Pilgrimage and Elvish Rejuvenator, you'd prefer the other one-mana options. Llanowar Elves into Elvish Rejuvenator curves into five mana, which is another key number for cards like Hour of Promise.
If you're searching for specific lands, Hour of Promise is incredible. However, when your manabase consists of Castle Garenbrig and Shrine of the Forsaken Gods, you'll often naturally draw enough copies of your two-mana lands that Hour of Promise isn't entirely necessary. We're not searching for Field of the Dead here, so we can look for other options.
As I noted, we typically ramp from one to three to five mana, so Hedron Archive doesn't really fit that curve. It's a powerful card that's underplayed but this isn't the place for it. I'm looking for five-mana options.
Cavalier of Thorns is worthy of consideration. You likely won't be getting the Zombies from Hour of Promise, so the difference is an extra land or a 5/6 body. The lack of choice is a downside but Cavalier of Thorns can also put a threat on top of your deck while being a threat and a defensive tool on its own.
Ulvenwald Hydra is mediocre in general but deceptively good here because of Castle Garenbrig. An Ulvenwald Hydra for five mana is a great deal. With both Cavalier of Thorns and Ulvenwald Hydra, we suddenly have a solid package of threats that also accelerate us, giving us a fine Plan B.

The Payoffs
The biggest, baddest threats in Pioneer are the Eldrazi like Ulamog, the Ceaseless Hunger and Emrakul, the Promised End. Unfortunately, Emrakul, the Promised End isn't where you want to be at the moment. There's an excellent control deck without access to any Stifle effects, yet Emrakul is weaker against them than Ulamog, the Ceaseless Hunger or even World Breaker. There's not a good answer to them holding a Supreme Verdict, plus there's very little damage you can do to them with Emrakul. 
One of the best cards in the deck is easily World Breaker. Going long, it will allow you to easily grind out Azorius Control and any sort of midrange deck. World Breaker also removes the necessity of sideboard interaction for artifacts and enchantments, which is a small bonus.
Ugin, the Spirit Dragon provides much of the same while also being the best sweeper Mono-Green has access to. It works well with Shrine of the Forsaken Gods and Sanctum of Ugin and tends to solve many random problems. Playing without Ugin, the Spirit Dragon is a reasonable choice but not one I recommend. There's some merit to dodging Stubborn Denial almost entirely but those decks aren't prevalent at the moment.
The best option for utility is Walking Ballista. It's a mana sink, gives you reach, kills planeswalkers, kills utility creatures, and potentially kills entire battlefields. You don't necessarily want to play four, but having some copies gives you some flexibility.
Sanctum of Ugin allows you to find the perfect answer and allows you to be threat-dense while still functioning as a land.
The Splashes
Splashing adds very little and actually disrupts your manabase quite a bit. When you're trying to cast Elves on Turn 1, play sweet colorless lands, and have enough basic Forests for Nissa's Pilgrimage, it's often not worth it.
There are some metagames where splashing could be necessary but those problems can probably be solved in color.
The Deck
Creatures (27)
Planeswalkers (2)
Lands (16)
Spells (15) Traditional ramp with Arboreal Grazer and Hour of Promise is still a fine choice but I've been far more impressed with this version, which was originally played by Pro Tour champion Remi Fortier. It has the best top-end in the format but actually interacts with its opponent before the late-game.
Running fourteen sources of green mana on Turn 1 is acceptable. Sometimes you don't have enough colorless mana for the sideboard Thought-Knot Seers and Spatial Contortions, so I could see shaving a Castle Garenbrig for another Radiant Fountain. Playing the fourth Hashep Oasis over a Forest is fine too.
Arch of Orazca is mostly nonsense. You have plenty to do with your mana and isn't that much better against Azorius Control than a Sanctum of Ugin would be. You could play a Nykthos, Shrine to Nyx to fetch with Ulvenwald Hydra but it's not necessary. Shrine of the Forsaken Gods is a stronger draw overall.
One of the last things I want to try is Nissa, Who Shakes the World. She could provide a quick boost in mana while also assisting the backup plan of pressuring the opponent.
Sideboarding Guide
VS Azorius Control
Out:
In:
You typically don't want all the mana creatures against a deck with Supreme Verdict but it's important to accelerate early. If you give Azorius Control enough time, they'll bury you with planeswalkers.
For the most part, I like lowering my mana curve in this matchup and adding some disruption. Pressure them and force them to interact, all the while ramping toward World Breaker and Ulamog.
VS Izzet Phoenix
Out:
In:
Spatial Contortion is meant for utility creatures, which Izzet Phoenix has adopted in the form of Young Pyromancer. I'm sideboarding lightly here but your big green animals do a better job of beating them than Ulamog does.
VS Mono-Black Aggro
Out:
In:
Mono-Black is an aggro deck but they also have the tools to grind and keep you resource-light. I'd much rather lean on a lower mana curve as a result. Since the games typically go long and tend to revolve around whether or not you can stop Spawn of Mayhem or Rankle, Master of Pranks from repeatedly hitting you, lifegain from Arborback Stomper isn't very relevant.
VS Mono-Red Aggro
Out:
In:
If they have Goblin Chainwhirler, you might want to consider taking out some one-drops on the draw but I would keep them all in on the play.
VS Gruul Aggro
Out:
In:
Similarly to the Mono-Black Aggro matchup, this matchup hinges on whether or not they are able to hit you with Goblin Rabblemaster. They will win the game in huge chunks of damage, so Arborback Stomper does little to stop that.
VS Mono-Green Ramp
Out:
In:
Do your thing and get to Ulamog faster. Barring that, you'll need to make big Ulvenwald Hydras or disrupt them.
VS Mono-Green Devotion
Out: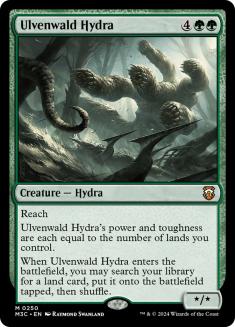 In: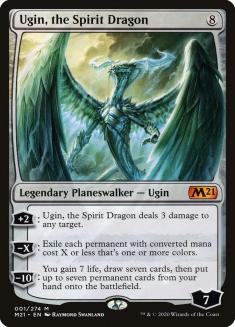 Rather than ramp incrementally, Mono-Green Devotion tries to be as explosive as possible, which means this matchup can be difficult. You could try to keep their devotion low by bringing in Spatial Contortion or take their payoffs with Thought-Knot Seer but neither of those plans is particularly good.
VS Sultai Dredge
Out: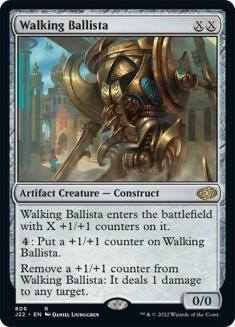 In: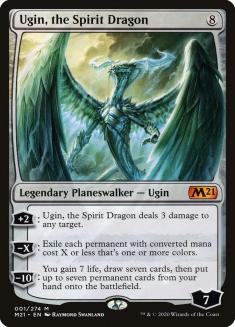 This deck isn't very popular, so I don't see a reason to sideboard anything specifically for it. Ugin, the Spirit Dragon is almost always game over barring a Gurmag Angler. They have the potential for explosive draws but their average draw is too slow to keep up with what you're doing most of the time.
VS Izzet Ensoul
Out:
In:
Izzet Ensoul is fast, disruptive, and has plenty of reach thanks to Shrapnel Blast, so this is one of the tougher matchups.
VS Lotus Field
Out:
In:
This matchup is the only reason for the Damping Spheres in the sideboard. It's not an easy matchup and if they have ways to remove Damping Sphere, you're basically helpless. Thankfully, this deck isn't very popular, so Mono-Green Ramp has a swath of matchups that are favorable or at least very close.